On October 26, 2011, a few months after I got back from my Fulbright in Syria, I noticed a new email in my inbox. From: Alan Janbay. Alan is Syrian American. He has extended family in Venezuela. And, like me, is also a food blogger. The coincidences seemed uncanny. I remember thinking, this guy is my digital doppelgänger!
We exchanged emails for about a year until we finally met in person in 2012. Alan was born and raised in the southern city of Sweida, Syria (السويداء), approximately 100km south of Damascus and 450km south of Aleppo. His birth name is Alaa' (علاء), which is short for Aladdin (علاءالدين) in Arabic. While our stories are similar, there are fascinating differences between our food cultures. Dishes in Sweida incorporate plenty of yogurt, specifically dried yogurt or jameed (also known as kitha in Sweida). Jameed is yogurt that has been salted and dried into a rock, which helps preserve milk through the long winters in the Hauran mountains, where Sweida is located.
Alan and his Nana Nadia in Sweida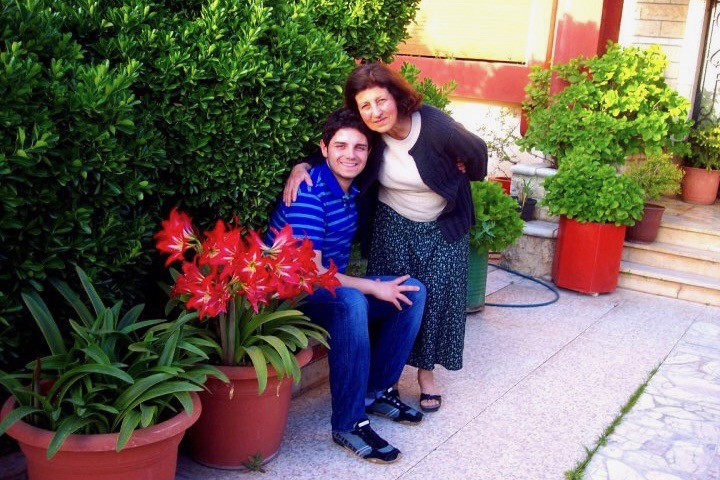 Alan and his mom in Sweida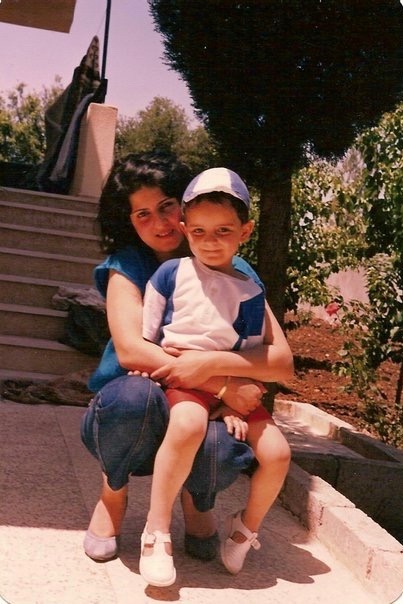 Alan learned how to cook from his grandmothers, Nadia ("Nana") and Raeefeh. He recalls sitting at the kitchen counter while Nana prepared his favorite dish, vegetarian stuffed grape leaves called yalanji. She often tasked him with the simple jobs like peeling potatoes and fetching utensils. This exposure to cooking influenced his perspective on food. Before moving to the US, he lived with his grandparents for four years. He woke up every morning to the aroma of Teta Raeefe's Arabic coffee brewing in the kitchen and his grandfather's BBC Arabic radio station playing loudly in the background.
Ever since he was little, Alan was fascinated by planes and airports. When Alan moved to the US in 2001, he pursued a masters degree in Aviation Management and was able to realize his dream. Upon graduation, he started working for Delta Airlines in Oklahoma City. Before the war broke out in Syria, he used to surprise his family in Sweida. Without them knowing, he'd hop on a last-minute flight on Delta to Amman, Jordan and take a short cab ride across the border to Sweida. Sadly, he hasn't been able to visit since the war broke out in 2011.
Alan has since moved to Atlanta, where he works at Delta's Global Offices. He is passionate about sharing his Syrian heritage with friends and colleagues. His delicious food offers a glimpse into Syria's rich culture. This is what prompted today's post. Alan recently developed a unique recipe for Syrian-inspired lamb chili that incorporates ingredients from his childhood. He seasons ground lamb with a mixture of aromatic spices and creates a delicious chili base using reconstituted jameed, the dried yogurt traditionally used in dishes like mansaf.
There is no such thing as "chili" in Syria, but Alan does an amazing job of marrying the concept of American chili with the flavor profile of his culinary heritage. If you love lamb (and even if you think you don't think you like lamb), you need to try this recipe!
mise en place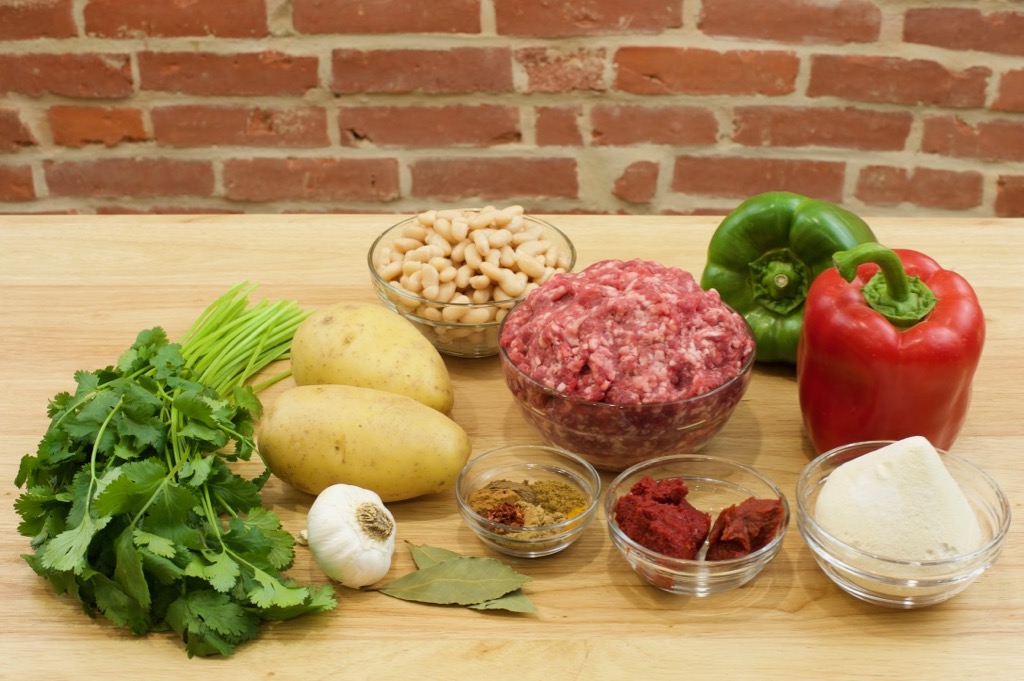 jameed (جميد)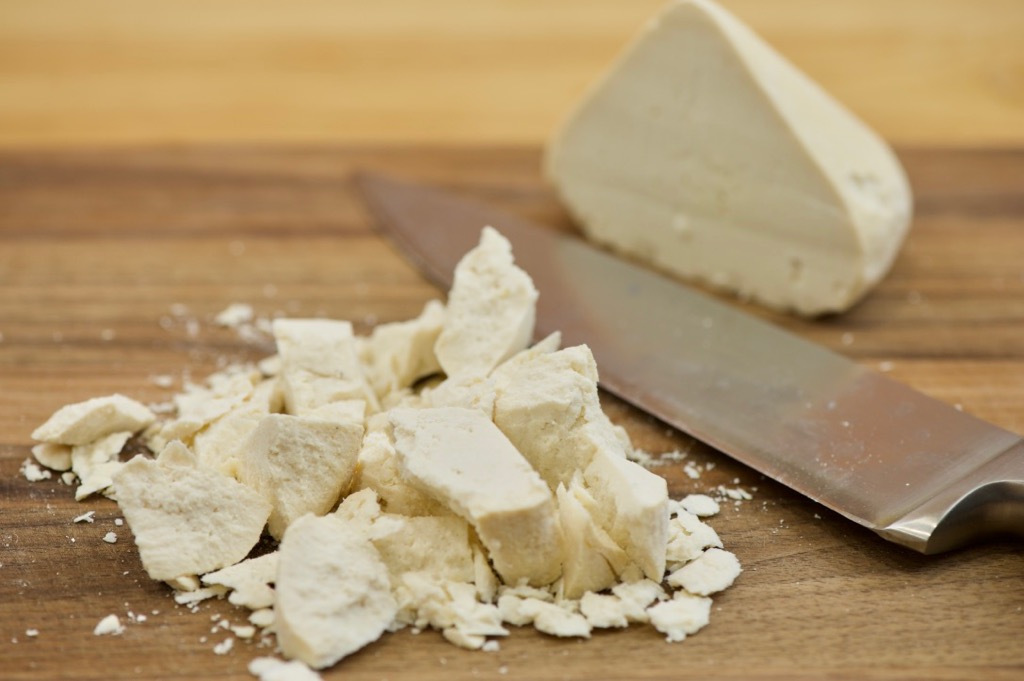 reconstituting jameed in hot water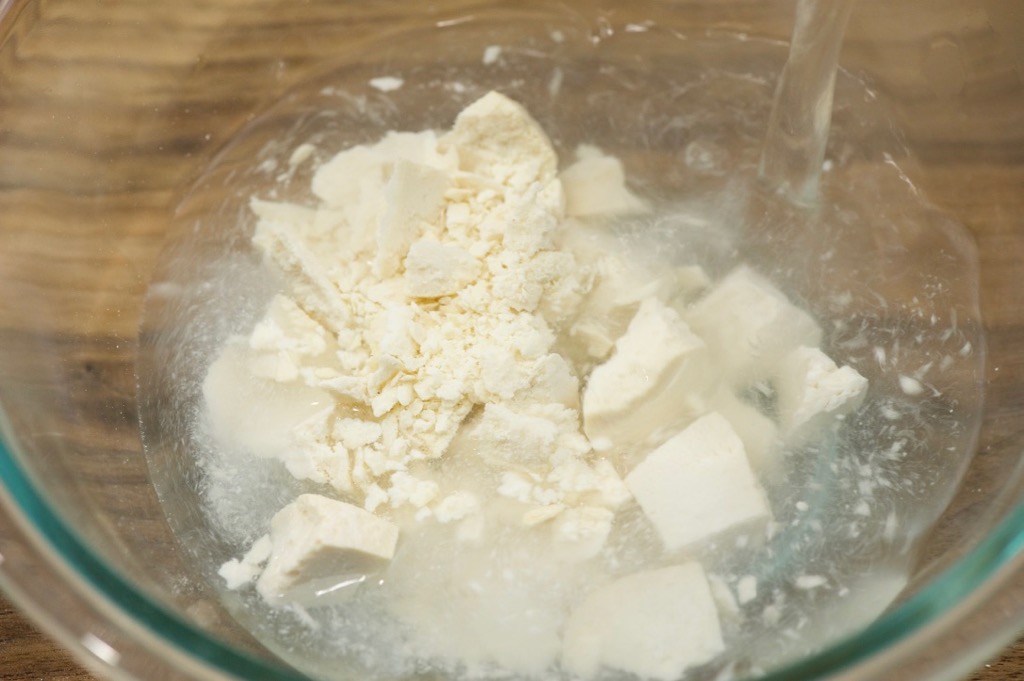 beautiful colors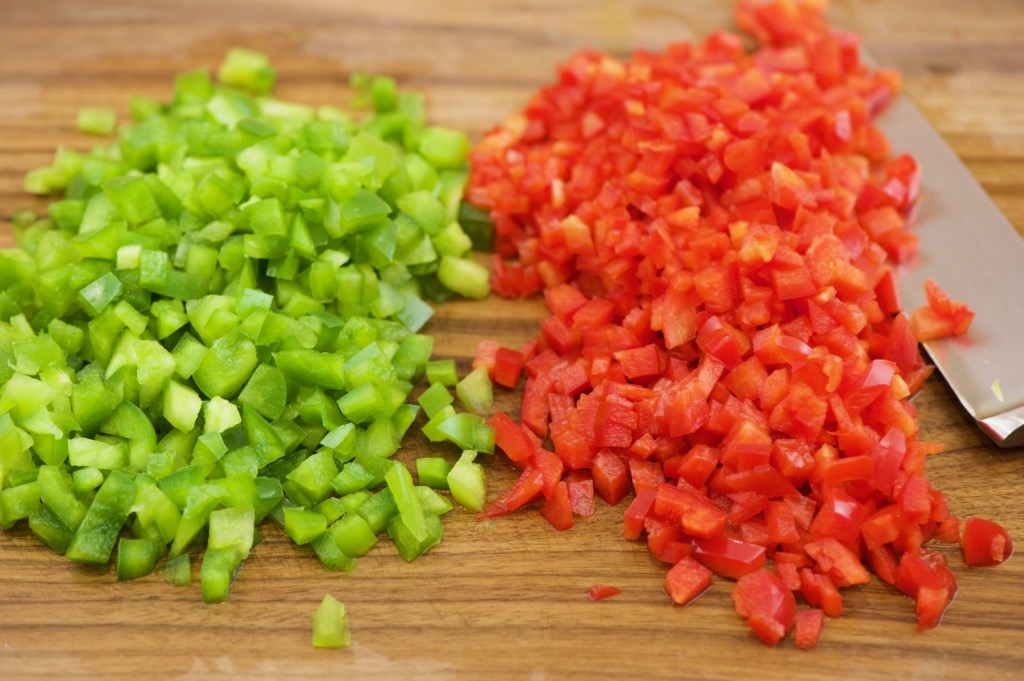 potatoes for richness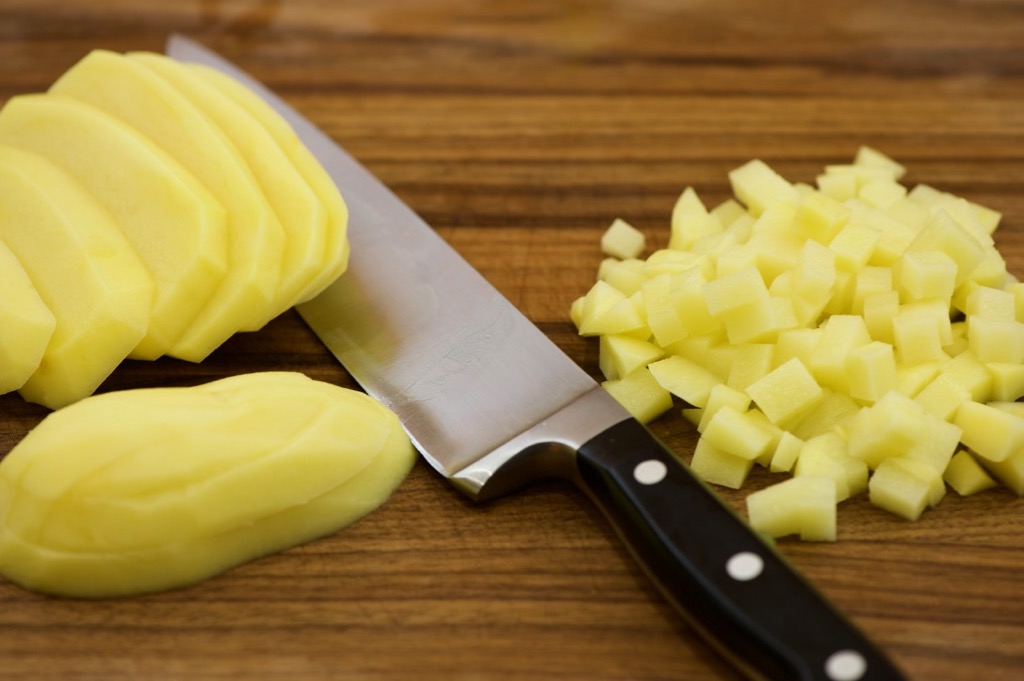 Alan's Syrian-Inspired Chili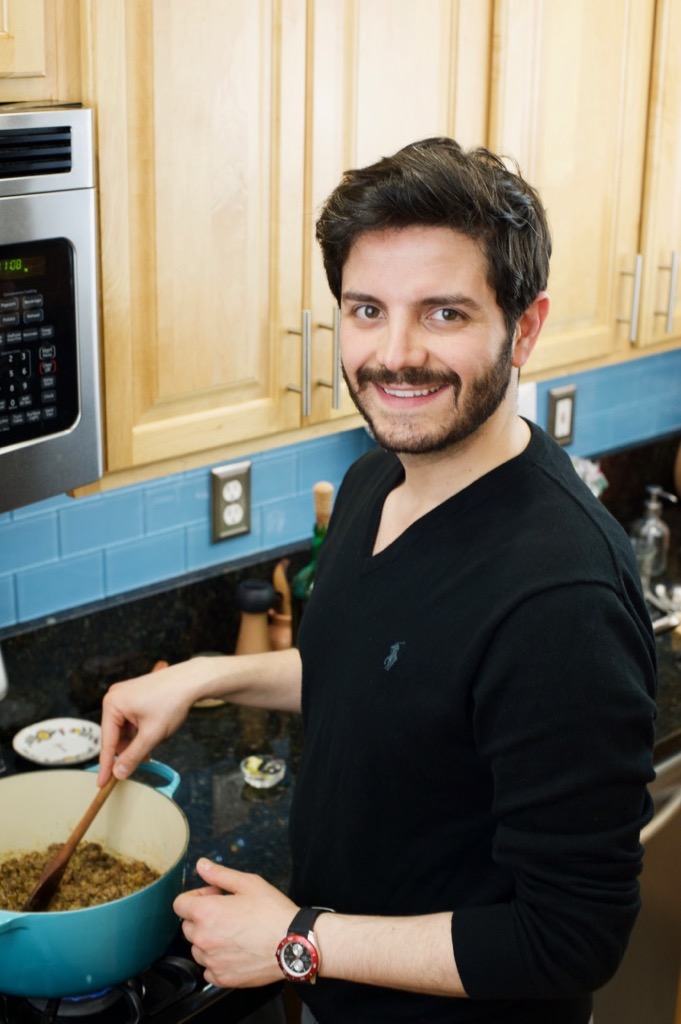 ground lamb + spices
blending jameed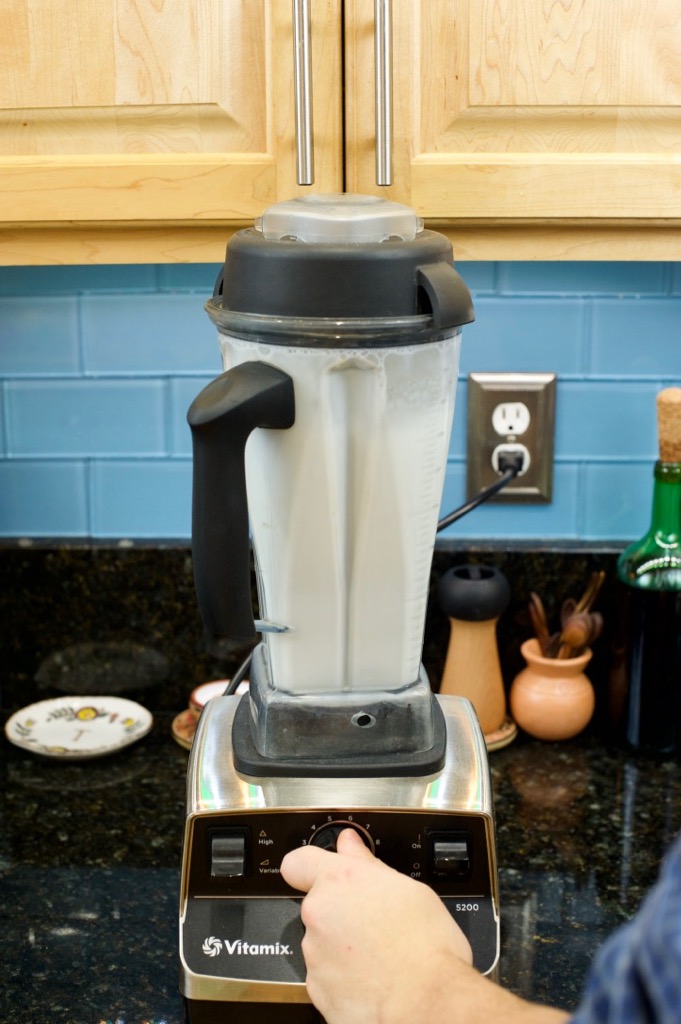 creamy jameed sauce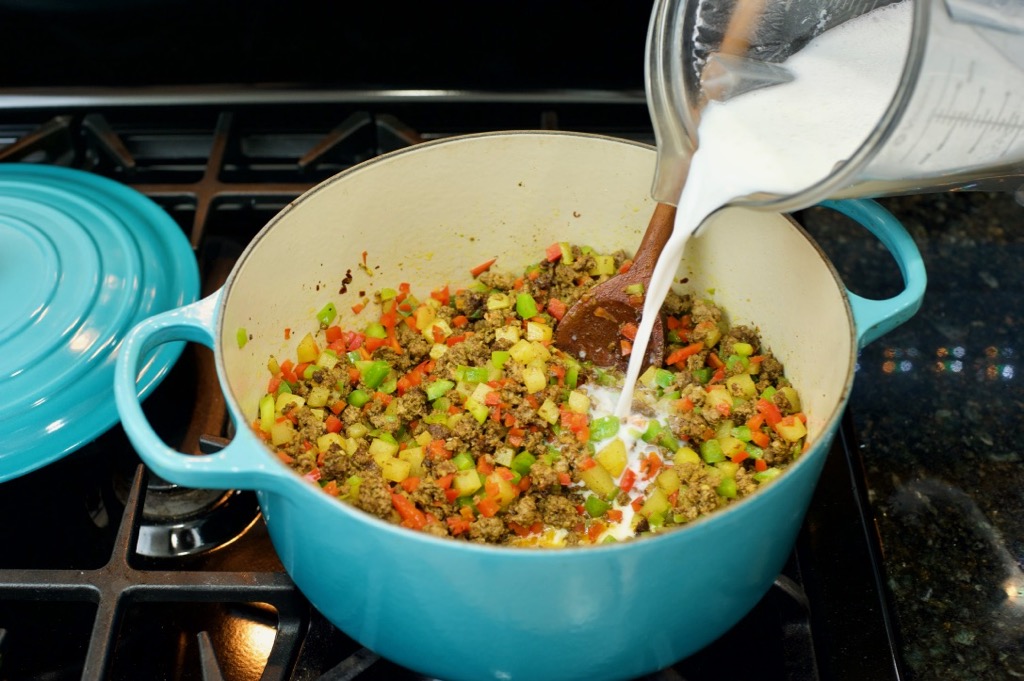 bay leaves, cilantro with reserved spices and garlic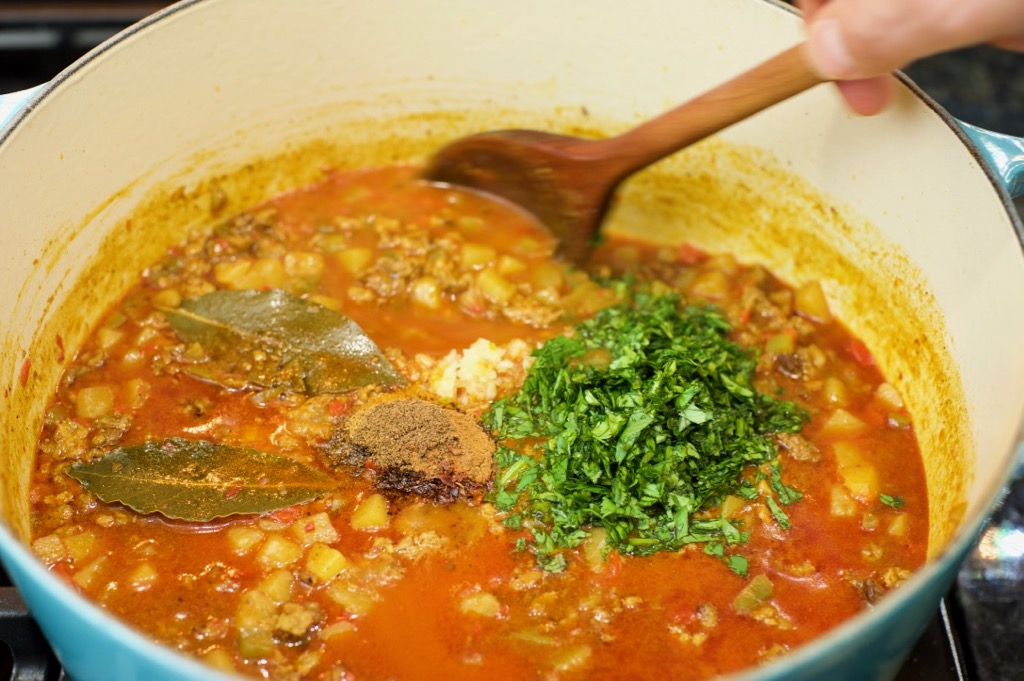 cannellini beans #beanchili
Syrian-Inspired Lamb Chili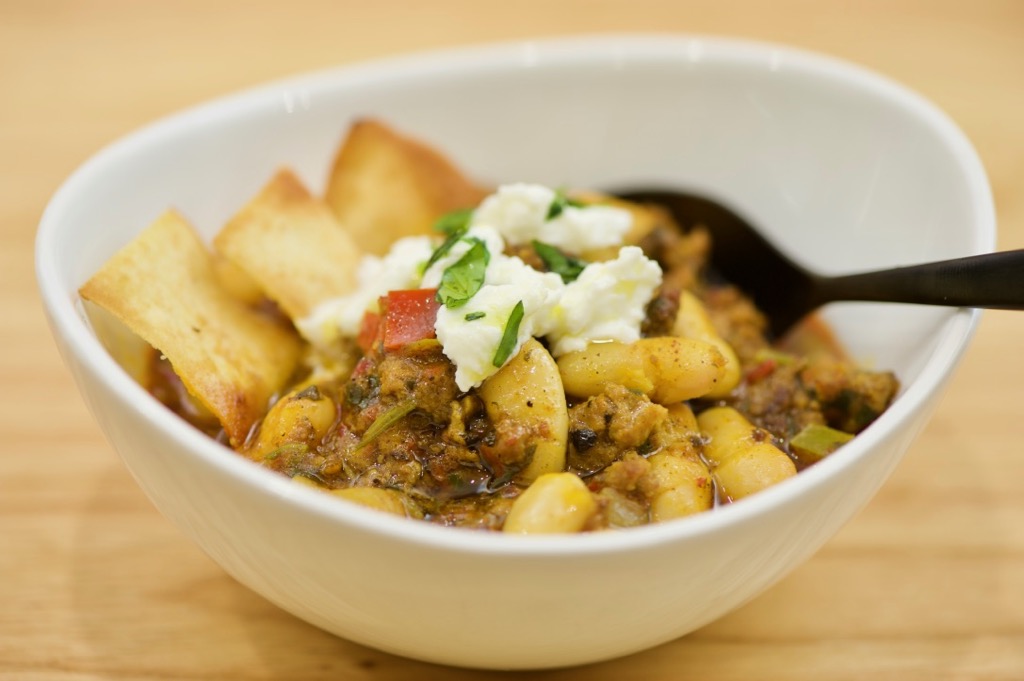 Syrian-Inspired Lamb Chili
yields ~6-8 servings
Components
2 pounds ground lamb
28oz cannellini beans, rinsed
100g jameed*
6 cups of hot water
2-3 yukon gold potatoes, diced
1 red bell pepper, diced
1 green bell pepper, diced
8 garlic cloves, minced
1 bunch cilantro, finely chopped
2 Tbsp red pepper paste
1 Tbsp tomato paste
2 Tbsp extra virgin olive oil, more for drizzling
2 tsp cumin, ground
2 tsp Aleppo pepper, ground
1.5 tsp turmeric, ground
1.5 tsp cinnamon, ground
1 tsp allspice, ground
1 tsp coriander, ground
1 tsp black pepper, ground
2 dried bay leaves
salt, to taste
Putting them all together
Roughly chop the jameed. Cover in a bowl with 6 cups of hot water. Set aside.
Mix all the spices in a bowl. Reserve roughly 3/4 for the meat and 1/4 for the broth.
Preheat large large dutch oven (or heavy bottom pot) over medium high heat.
Coat the bottom of the pot with olive oil and sear the lamb with the spices (do not add salt because the jameed has plenty of salt).
Set aside 1 teaspoon of minced garlic. Add the remainder of the minced garlic, red pepper paste, and tomato paste to the seared meat. Mix until well combined.
Add the diced potatoes. Coat with lamb fat and cook for 6-8 minutes or until potatoes are cooked halfway through.
In the meantime, pour the soak jameed (along with the soaking water) into a blender and blend until smooth.
Add the diced peppers to the potatoes and meat mixture. Cook for 1-2 minutes then add the blended jameed. Taste for salt and adjust accordingly.
Add the bay leaves, chopped cilantro, remainder of the spices, and reserved teaspoon of minced garlic to the pot. Mix until well combined. Lower heat to medium low, cover, and simmer for 30 minutes.
Gently mix in the rinsed cannellini beans. Cover until ready to serve.*
Note: You can find jameed at your local Mediterranean market. If you don't have jameed, you can substitute greek (strained) yogurt, but be sure to adjust the salt/water accordingly. Jameed is preserved with salt, so does not require (much, if any) additional salt. This dish tastes better the next day.
Award-winning Syrian-inspired Lamb Chili