The best recipes I learned in Aleppo were from home cooks. They have all the secrets. They taught me how to touch and feel food. They chided me for measuring ingredients. They always had the best stories.
Before the internet, this is how secrets were passed around. Person-to-person. Only the best tricks survived the test of time. During Lent, my grandmother's sister, Aunt Kiki, invited me to prepare yalanji with her. She explained that Yalanji is a Turkish word. It means "liar" or "fake." In the food world, yalanji refers to vegetarian variation of stuffed vegetables or dolmas. Since dolmas typically call for minced meat in the stuffing, the vegetarian version is often called yalanji or "lying" dolmas.
Even though these are vegetarian, don't let that fool you! The star of these yalanji is the incredibly flavorful and satisfying filling. The vegetable on the exterior is simply a vehicle for the wonderfully sour and slightly sweet stuffing. You typically find yalanji made from stuffing grape leaves and even tiny tiny eggplants, but my grandmother's sister loves the delicate, silky texture of Swiss chard. I've had yalanji at many restaurants and homes, but none come close to Aunt Kiki's recipe.
Yalanji takes time, preparation, and lots of patience. The day Aunt Kiki taught me her recipe, I remember we woke up exceptionally early to go to Aleppo's main vegetable market (سوق الخضرة). This was a real farmers market. The vendors were all local farmers selling what was plentiful and in-season. The vegetables were overflowing, freshly picked, with dirt still on the surfaces. Prices were competitive, too. As we walked past the carts, vendors belted their best prices. It was like walking into an auction hall of produce. It was loud and invigorating! I drew a lot of attention with the big camera strapped around my neck. Kids followed me around posing with their family's produce.
Aleppo Vegetable Market, 2010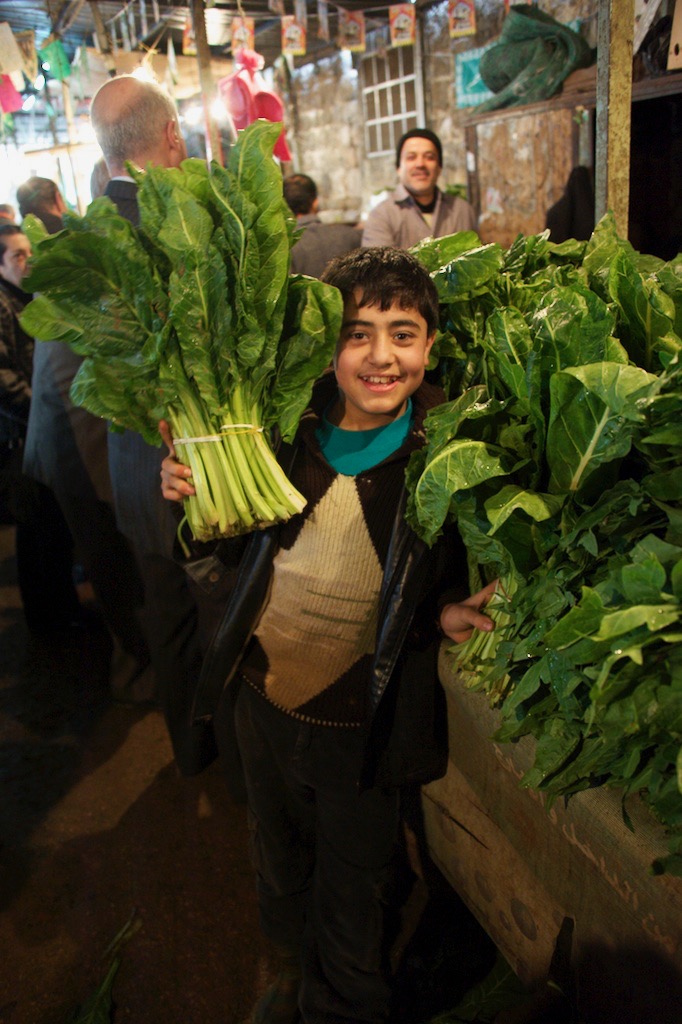 In order to make the best yalanji, you need to pack lots of flavor into the stuffing. Unlike meat-based dolmas, yalanji don't have the benefit of fatty meat. That's where Aunt Kiki's secret comes into play. Once we washed our produce from the market, I remember she asked me for Arabic coffee from the pantry. I assumed she wanted to re-energize. I reached for the brik (Arabic coffee pot) and handed her a couple of demitasses. She smiled and told me to put those away. I was confused. That's when she told me that the coffee was for the filling. At first, I thought she was joking. I tasted her yalanji before. They were amazing. Delicious, full of flavor, but they didn't taste anything like coffee. That's because a spoonful is all you need. The coffee adds a subtle depth that draws out the flavor of the other ingredients; it's barely noticeable.
mise en place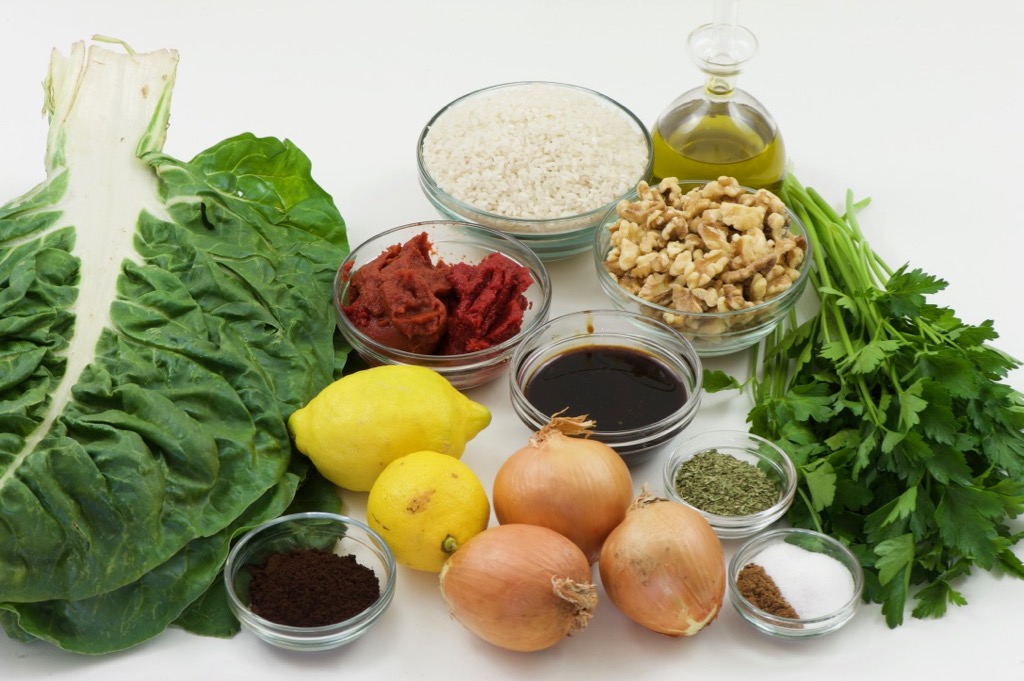 sweat yellow onions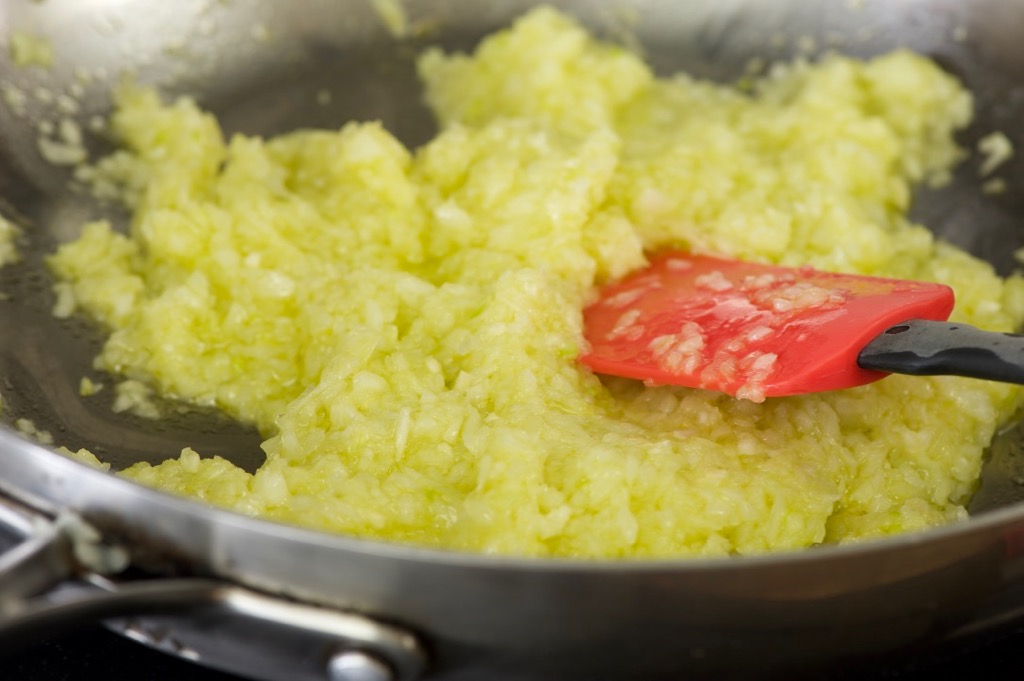 rinse rice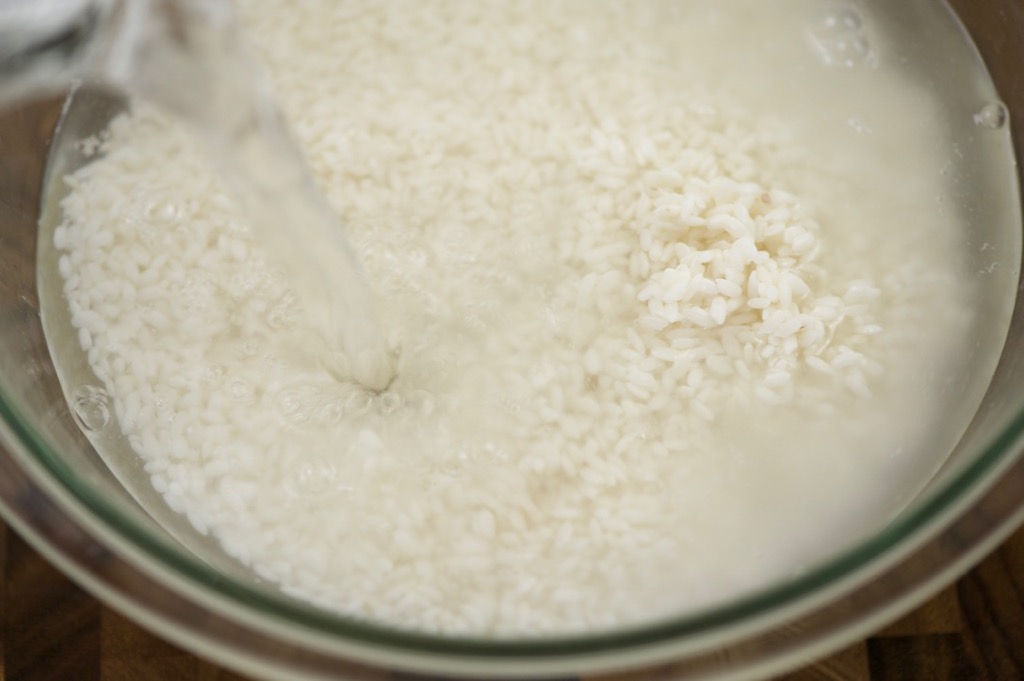 vegetarian stuffing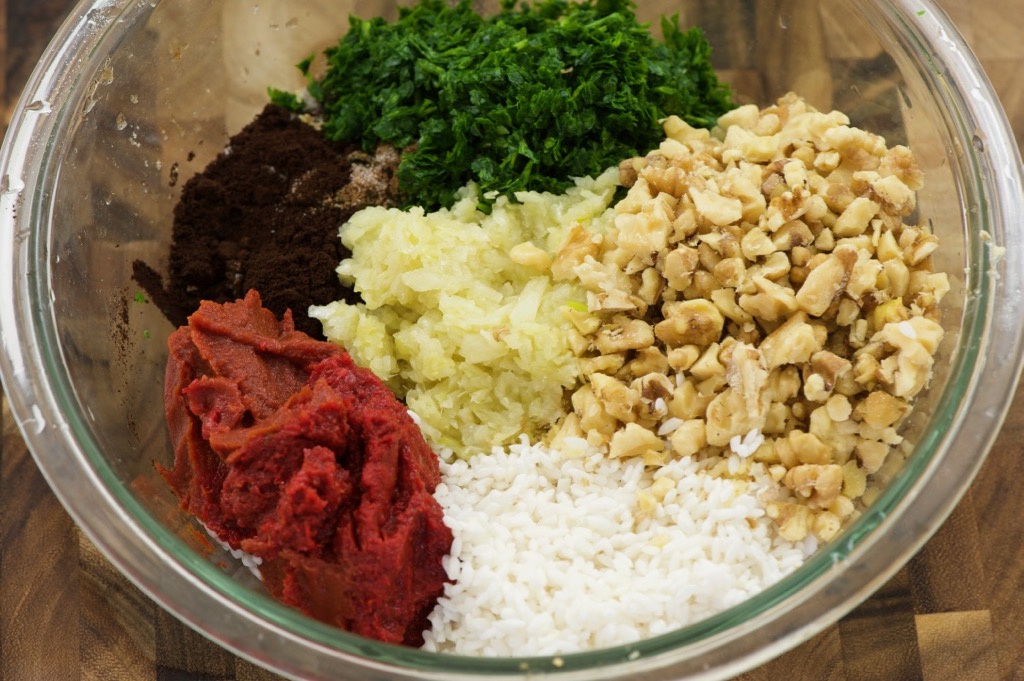 wash Swiss chard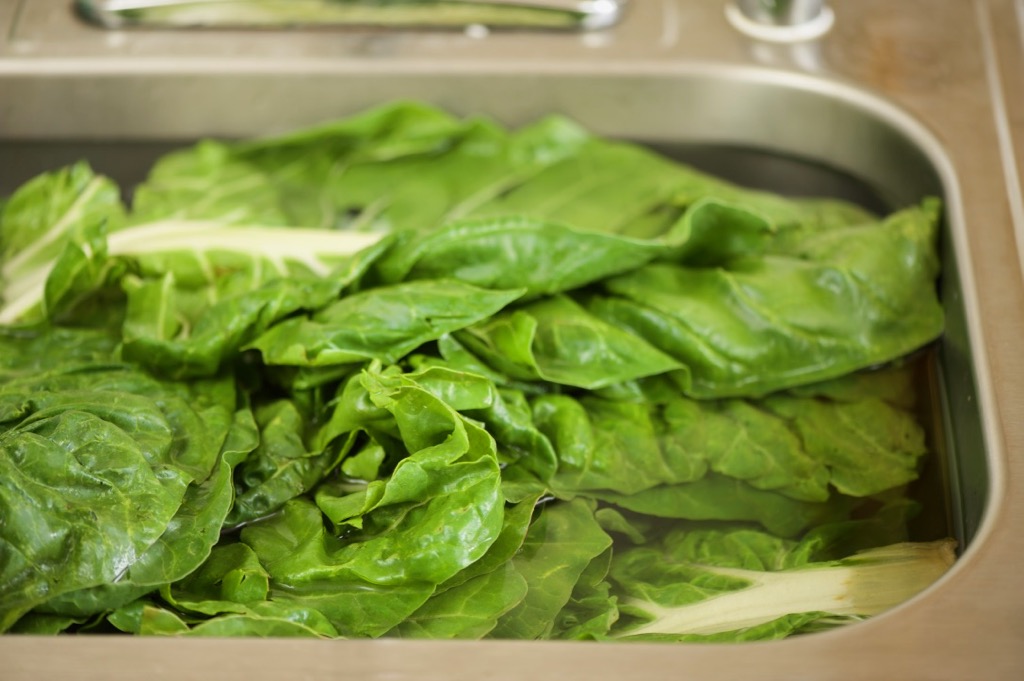 remove stems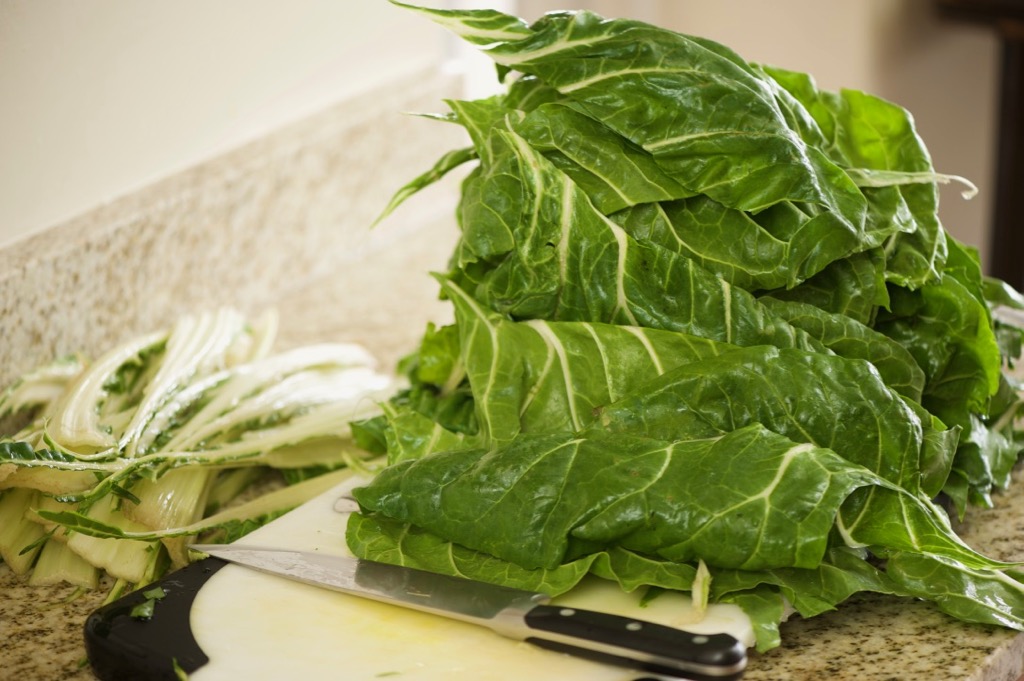 blanch chard leaves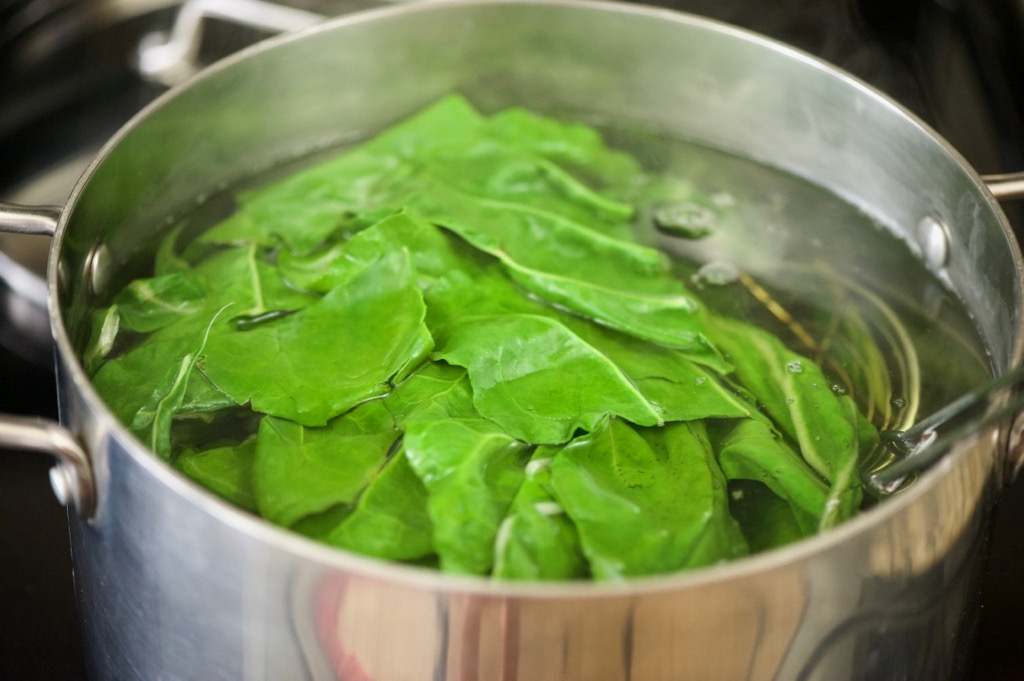 shock in ice bath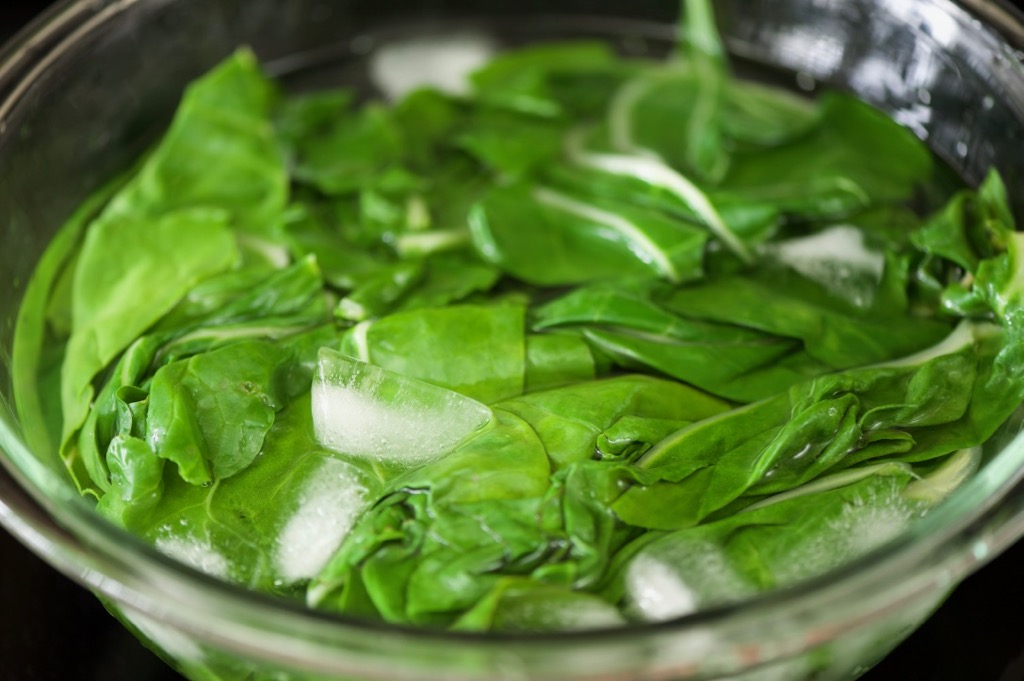 prepare to stuff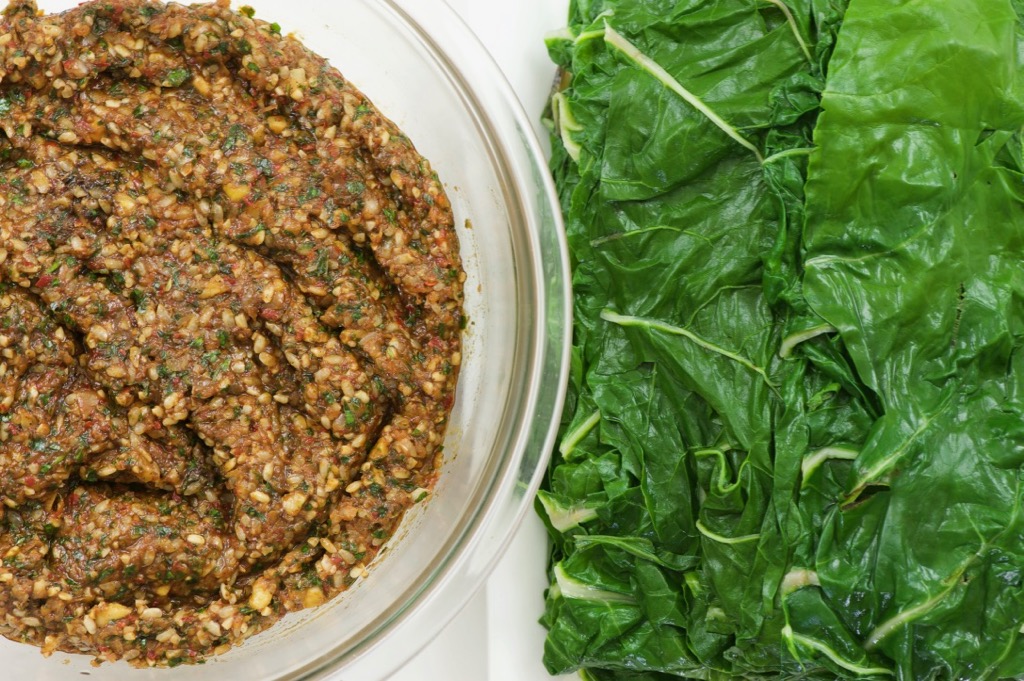 stuffing: step 1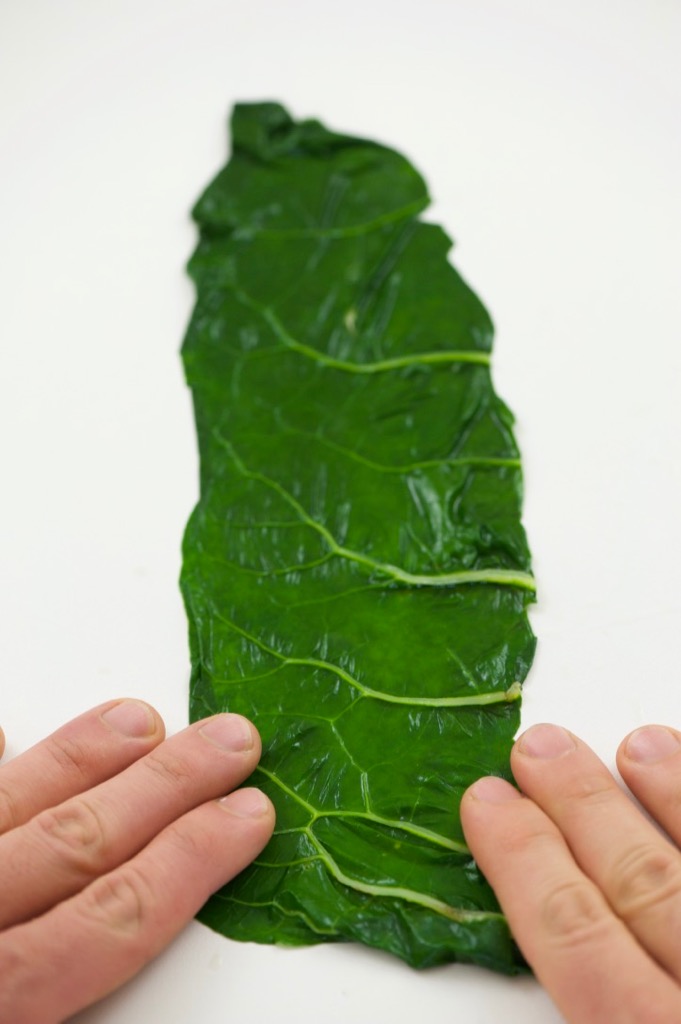 stuffing: step 2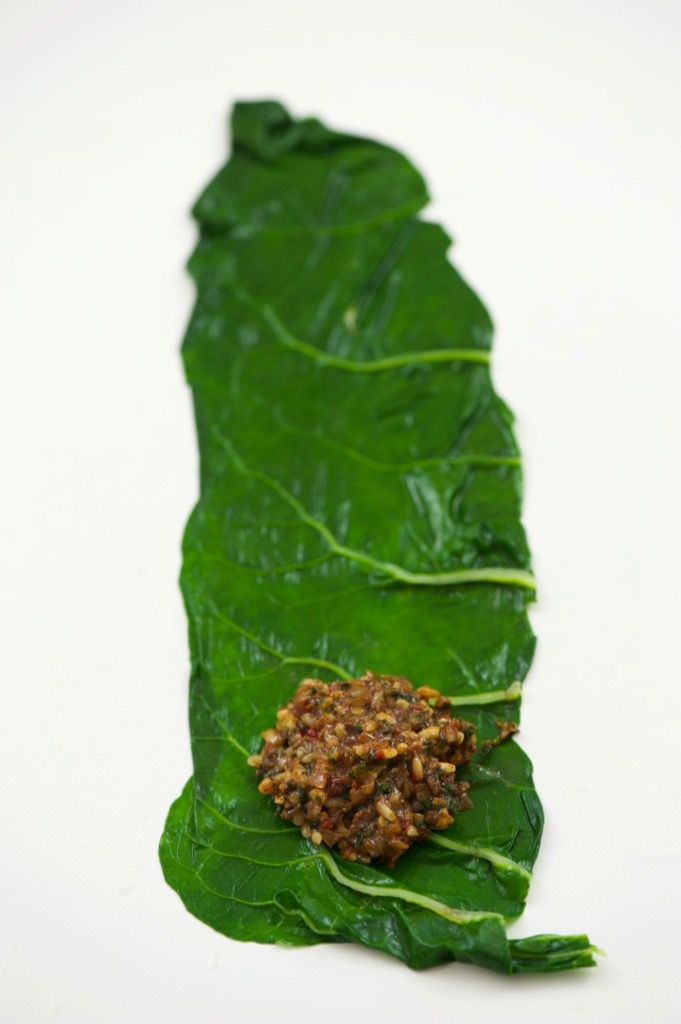 stuffing: step 3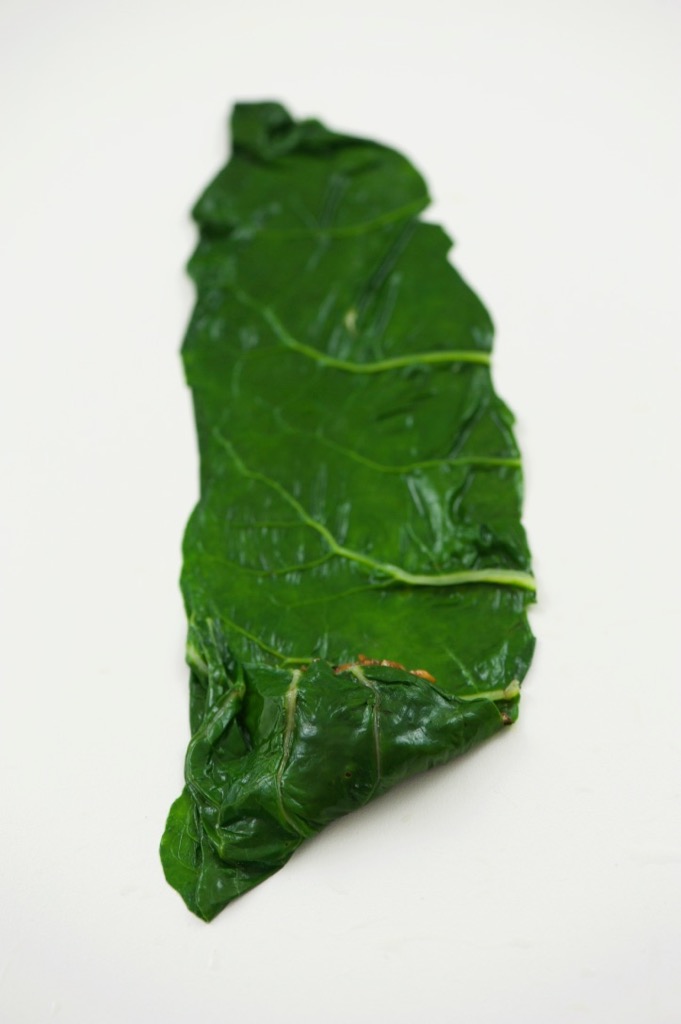 stuffing: step 4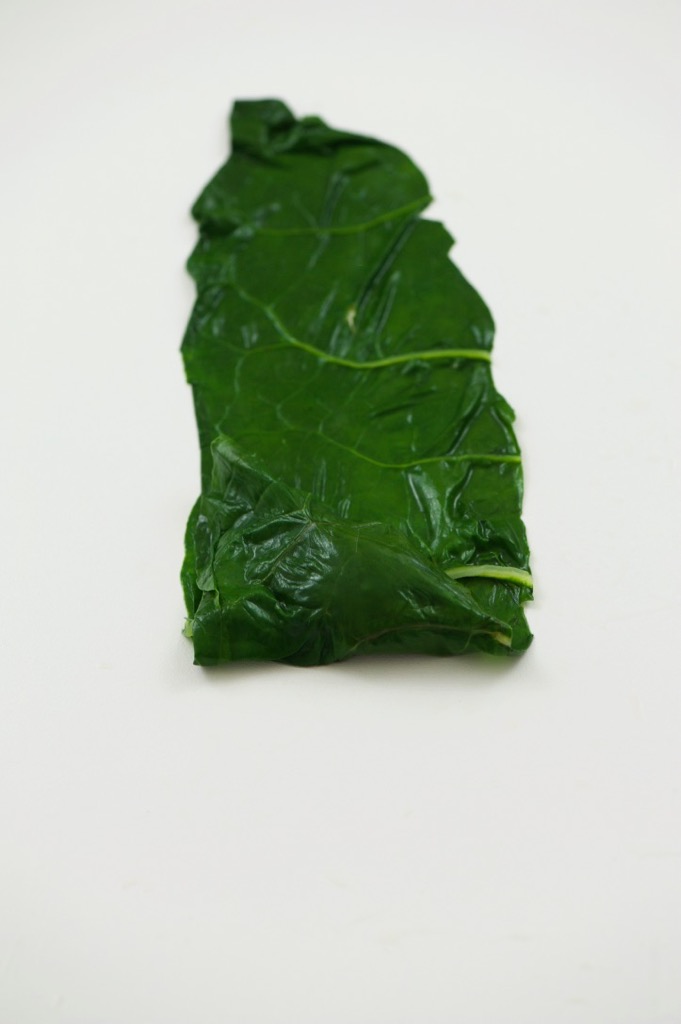 stuffing: step 5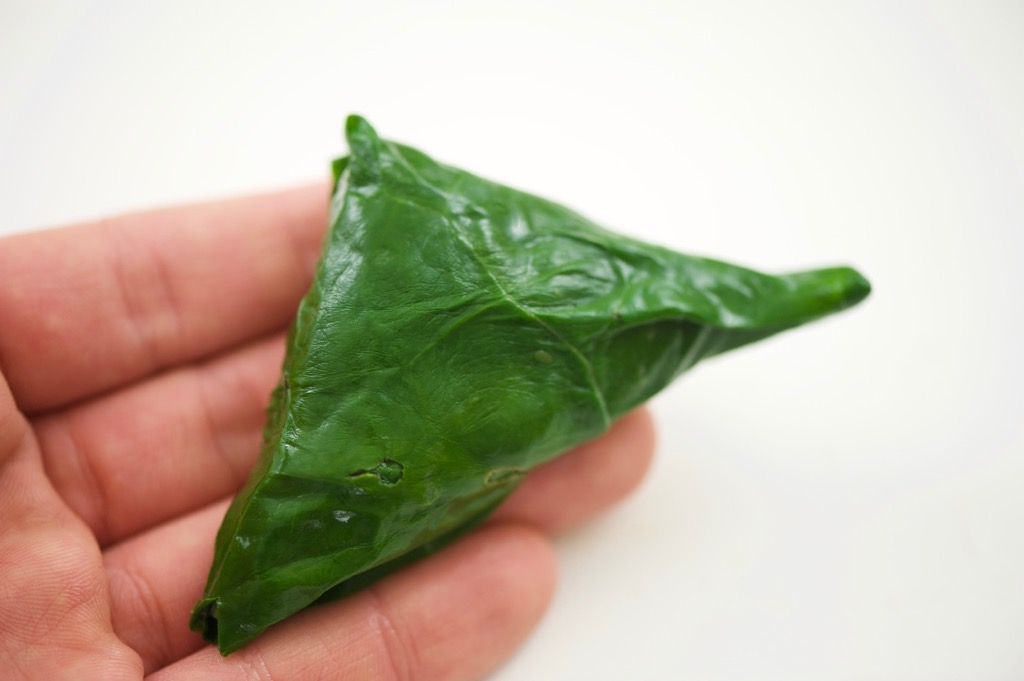 potatoes to prevent sticking/burning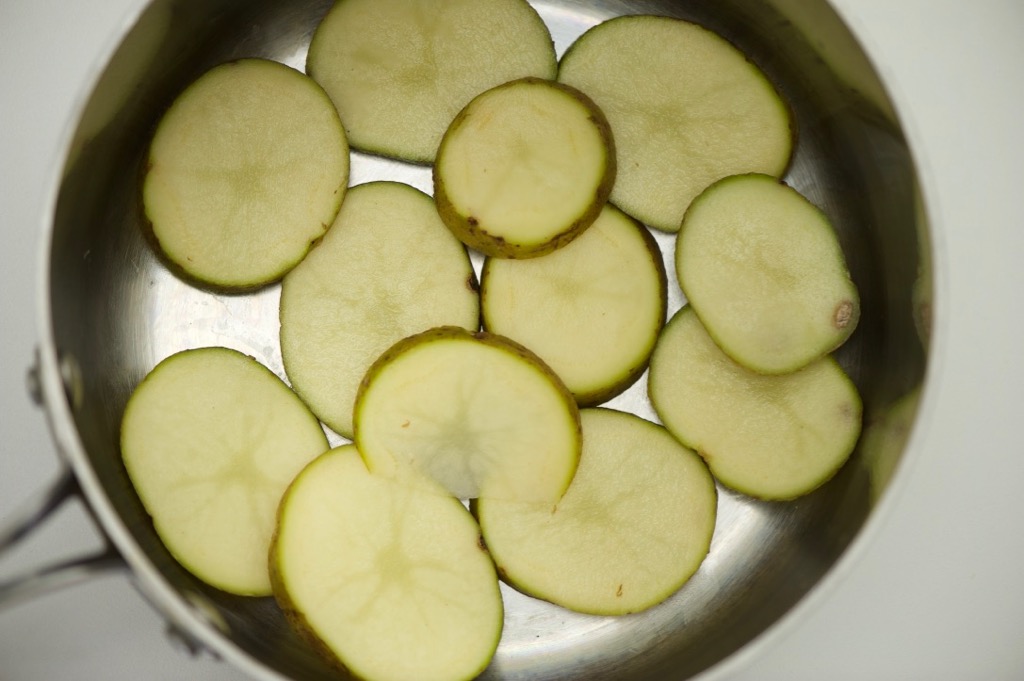 yalanji, organized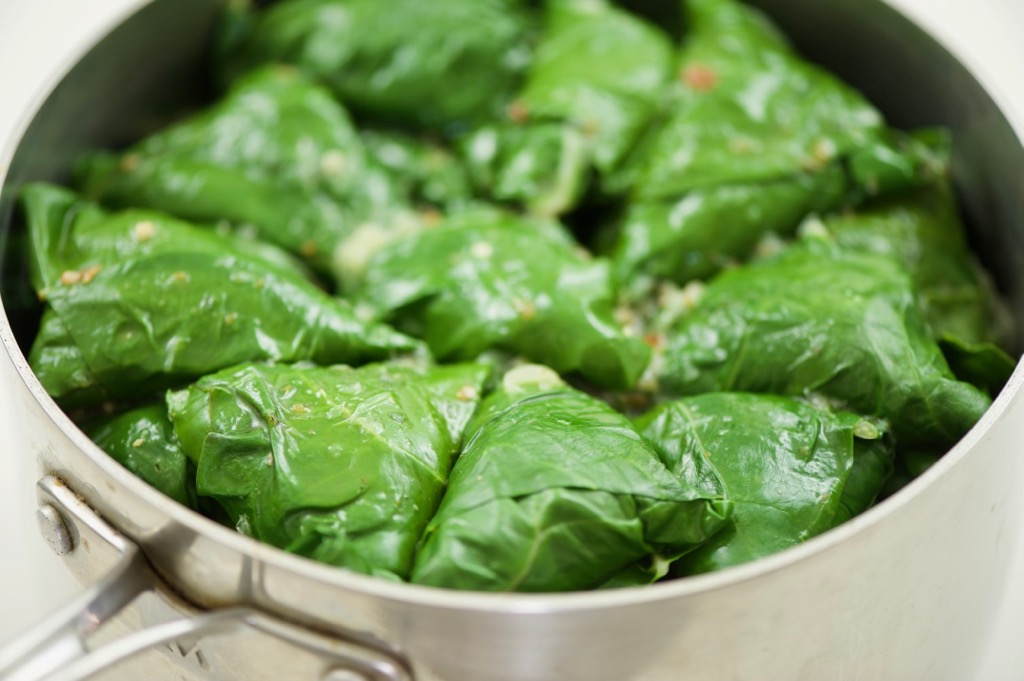 heavy plate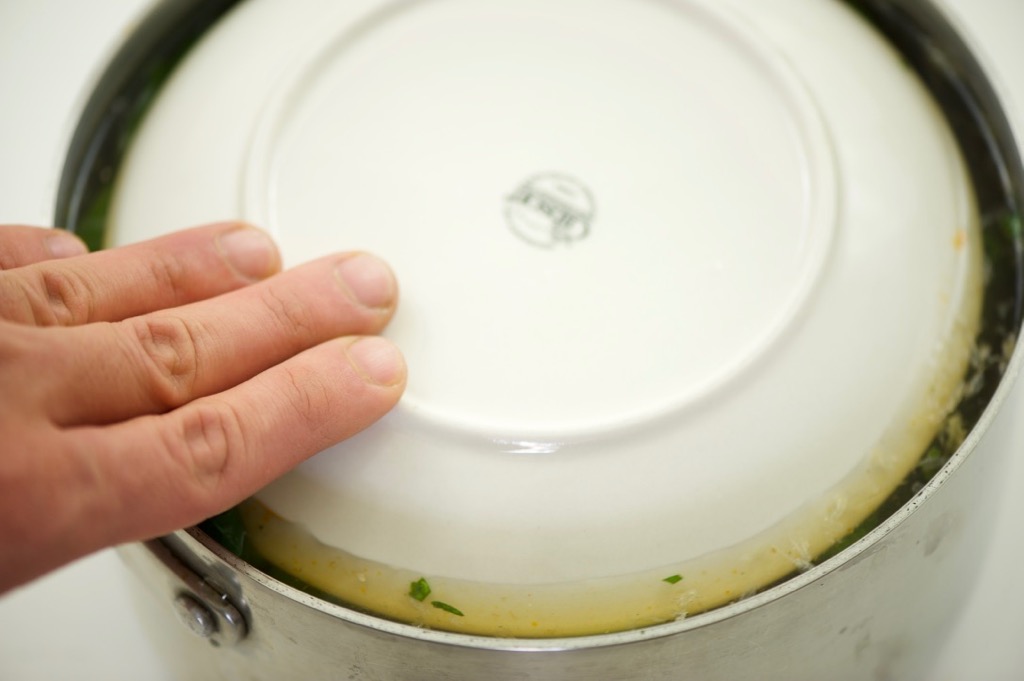 yalanji (يلنجي)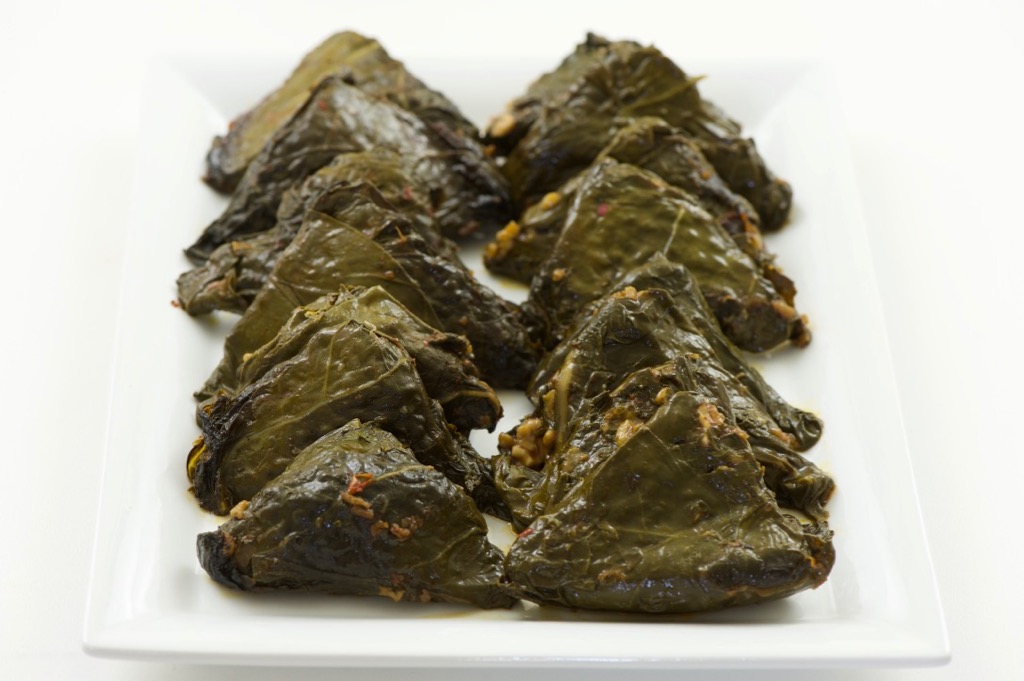 yalanji (يلنجي) with lemon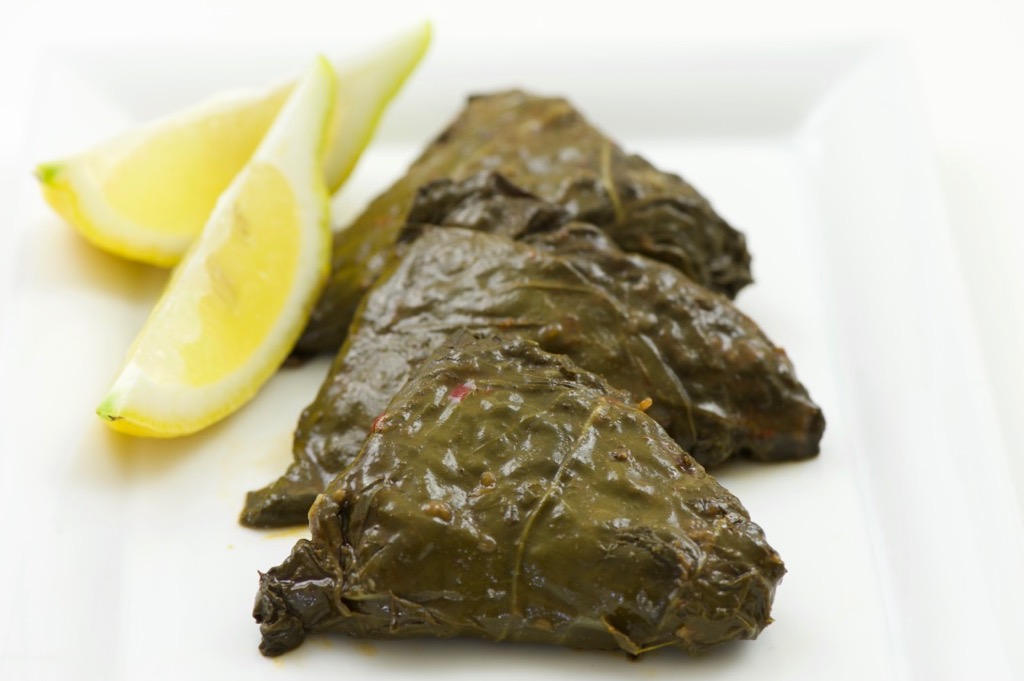 Yalanji Dolmas
yields ~32 pieces
Components
16 large Swiss chard leaves
1 cup medium grain rice
3/4 cup walnuts, chopped
3-4 medium yellow onions, diced
1 bunch flat leaf parsley, chopped
1/4 cup lemon juice, freshly squeezed
3 Tbsp extra virgin olive oil
1 Tbsp pomegranate molasses
1 Tbsp red pepper paste
1 Tbsp tomato paste
1 Tbsp Arabic coffee, ground
1 tsp dried mint
1 tsp granulated sugar
1/2 tsp allspice
salt, to taste
1 potato, optional
2 lemons, for garnish
Putting them all together
Wash Swiss chard leaves in cold water. With the chard leaves vein side up, flat on a cutting board, remove the stems by running your knife along both sides of the stem (do not discard stems*).
Bring a large pot of water to a rolling boil. Season with salt.
Blanch the Swiss chard leaves submerging them in the boiling water for 15-30 seconds, then removing them to a bowl of ice water to halt the cooking process. This preserves the leaves' vibrant green color and makes them easier to stuff. Drain leaves and set aside.
Rinse rice under cold water. Drain and set aside.
In a large sauté pan over medium low heat, add olive oil and diced onions. Season with salt. Sweat onions until translucent. Make sure not to brown or caramelize the onions.
Add the rice to the onions. Cook over medium-low heat for 3-5 minutes, stirring occasionally to give the rice a head start.
Mix all the stuffing ingredients together (everything except for the Swiss chard, potatoes, and lemons). Season with salt (taste and adjust accordingly).
Lay one strip of blanched Swiss chard leaf on a clean work surface. Add a tablespoon (Tbsp) of filling to the base. Fold in a triangular pattern as shown in the photos (like folding a flag) until the filling is securely tucked inside the leaf. Continue until all the leaves and stuffing are complete.
Line the bottom or a medium to large pot with sliced potatoes* to protect the yalanji from burning.
Arrange the triangular yalanji in the pot in a way that minimizes the space between them, like a game of Tetris.
Add 3/4 cup of water to the lemon juice. Season with salt (to taste). Pour lemon mixture over the yalanji. Add more water until it the top row is covered by about 1/2 an inch.
Insert a heavy, heat-proof plate over the yalanji to keep them submerged and prevent them from moving while cooking.
Place the pot over medium high heat until the water comes to a boil. Reduce heat to a simmer (low) and cook for 45 minutes.
After 45 minutes, taste a yalanji from the top to make sure the rice is fully cooked. If not, continue cooking until rice is slightly al dente.
Drain excess cooking liquid from the pot. Allow yalanji to cool to room temperature. Gently remove the yalanji from the pot and store them covered in the refrigerator until ready to eat. Yalanji taste better the following day, once they've had a chance to cool and the flavors have married.
Notes: Make sure not to add Arabic coffee infused with cardamom, otherwise that will throw off the flavor of your yalanji. If you don't have a potato, you could also use the leftover stems from the Swiss chard. If you line the bottom of the pot with potatoes, do not discard the Swiss chard stems. Chop them up into large chunks and cook them with thinly sliced onions and minced garlic in a bit of extra virgin olive oil. Season with salt, ground coriander, and serve over a bed of rice. You can finish off with a fried egg or serve it alongside a creamy, mint-garlic yogurt sauce.
the perfect bite