Kibbeh nayyeh, the Middle Eastern version of lamb tartare, is a festive dish steeped in culinary tradition. Before refrigeration, you used to prepare kibbeh nayyeh the day a lamb was slaughtered. This was standard for weddings or holidays. The entire village used to come together. There would be more food than anyone could possibly eat. There was music and dancing. It was a production.
The best kibbeh nayyeh is made with ultra lean meat. It shouldn't have any fat or gristle, lest you ruin the delicate flavor and texture of the meat. Before the advent of meat grinders and food processors, the meat used to be finely minced using a sharp knife and pounded into a smooth paste using a large stone mortar, called a jurn. The person behind the jurn would typically hand out samples and adjust the seasoning accordingly.
I have fond memories of my grandmother (teta) preparing kibbeh nayyeh at home. My mom and aunts would help prepare other dishes, but kibbeh nayyeh was my teta's specialty. She used to grind her own meat using a huge, commercial-grade meat grinder tucked away in a small room behind her kitchen. She used to pass the meat through grinder three times, using progressively finer disks. I remember staring into the machine as braids of meat streamed out of the extruder. After three runs through the grinder, she blended the meat in a food processor with a few cubes of ice until the meat resembled the smooth, creamy consistency that's emblematic of kibbeh nayyeh pounded in the jurn. The ice helps keep the meat chilled. I loved being around teta in the kitchen because she used to feed me bites of whatever she's cooking. Food always tasted better from her hands.
Unfortunately, I don't have a back room in my kitchen or space for a commercial-grade meat grinder, so I rely on my local butcher at Parts and Labor for kibbeh meat. If you work with a local butcher to prepare kibbeh nayyeh, it's important they know you plan to eat the meat raw. Ask for fresh meat without any fat whatsoever. They should grind it three times on a clean machine, before any other meat is ground. If you find a butcher who will do all this for you, bring them back some kibbeh nayyeh for them to try — they're a keeper.
mise en place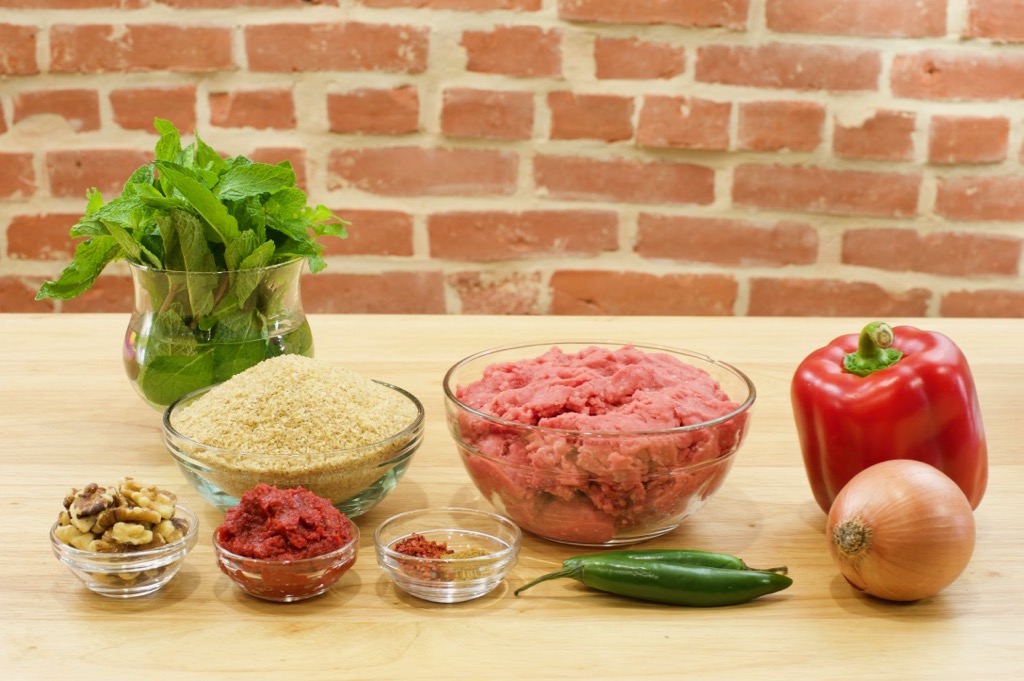 rough chop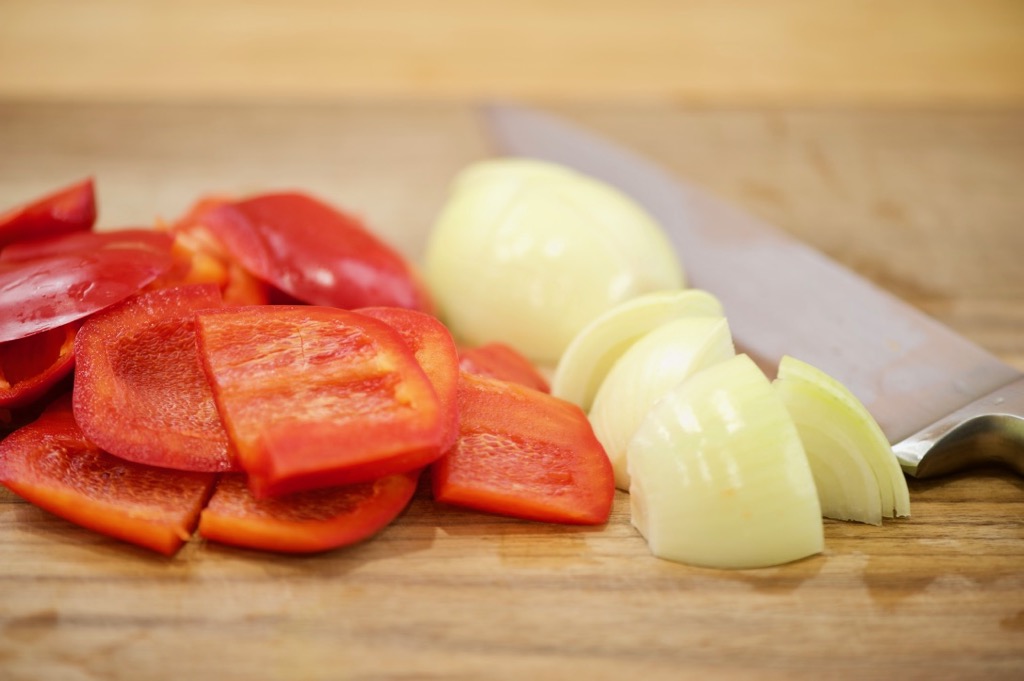 red pepper + onion pulp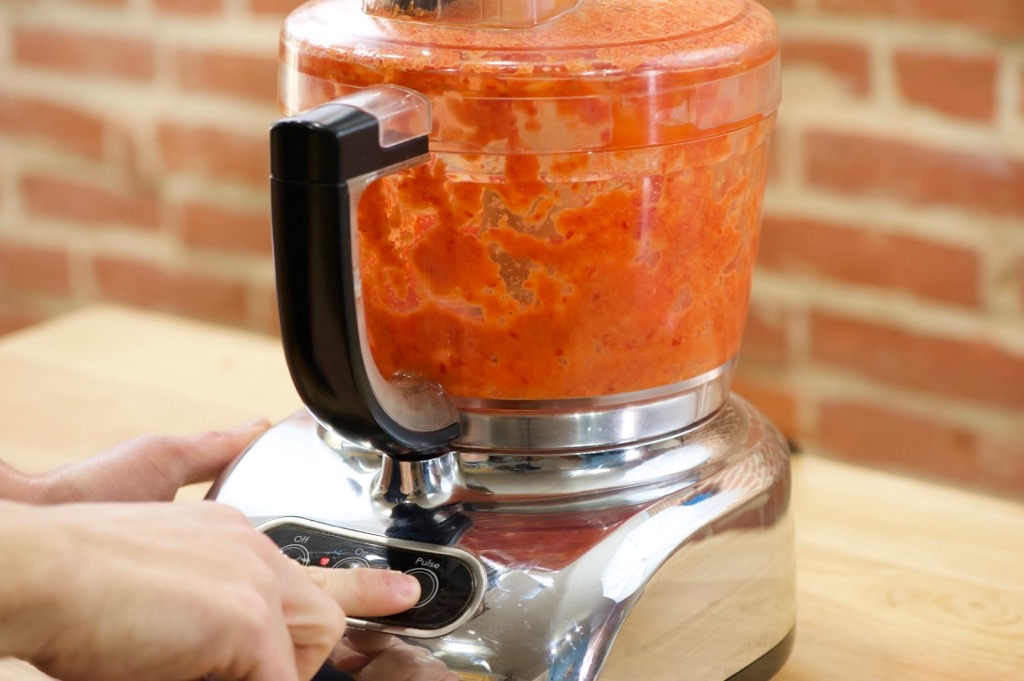 soaking bulgur wheat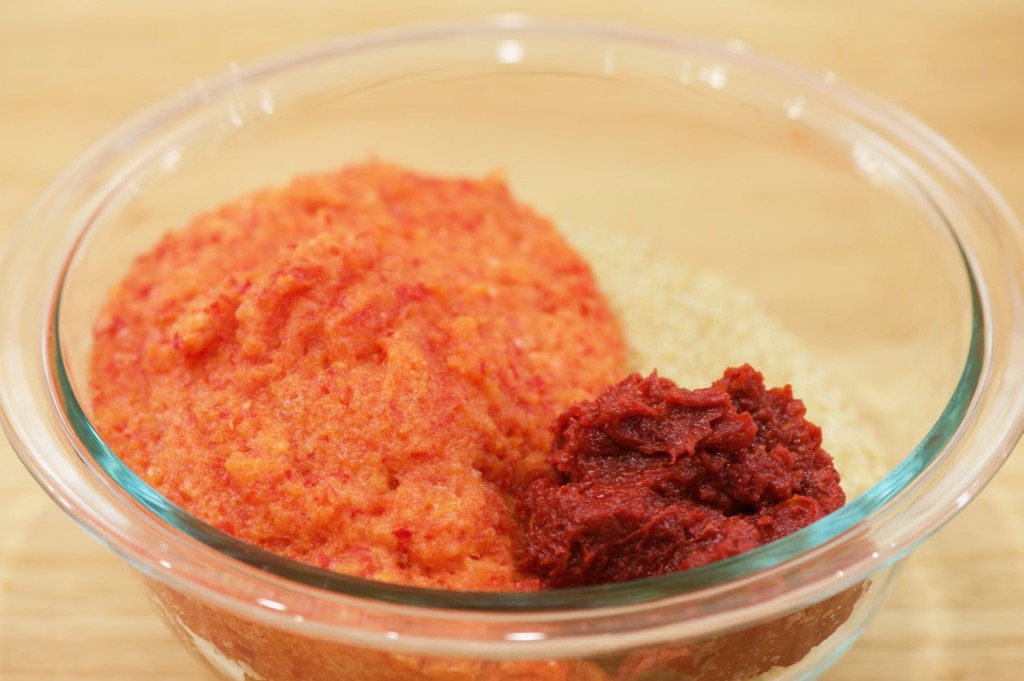 ice keeps the lamb chilled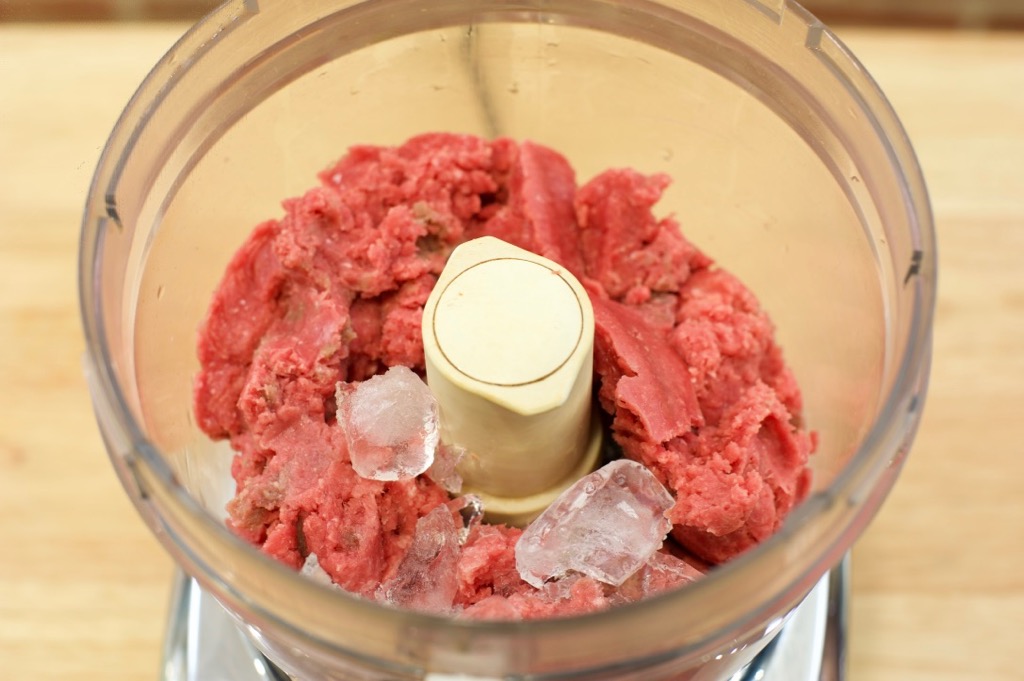 habra: lamb paste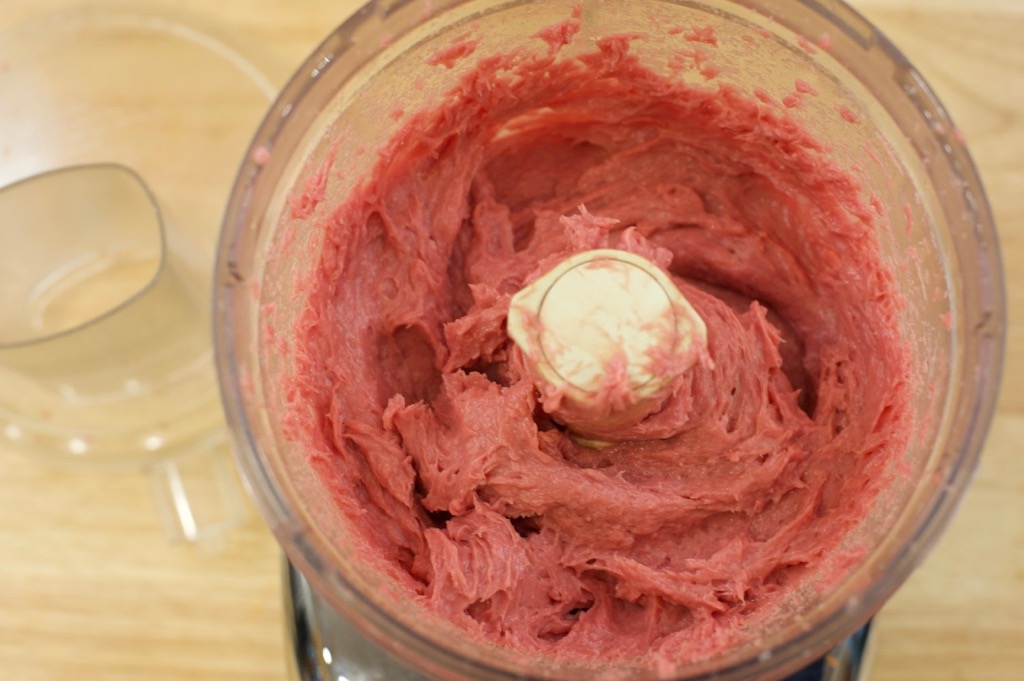 mix habra and seasoned bulgur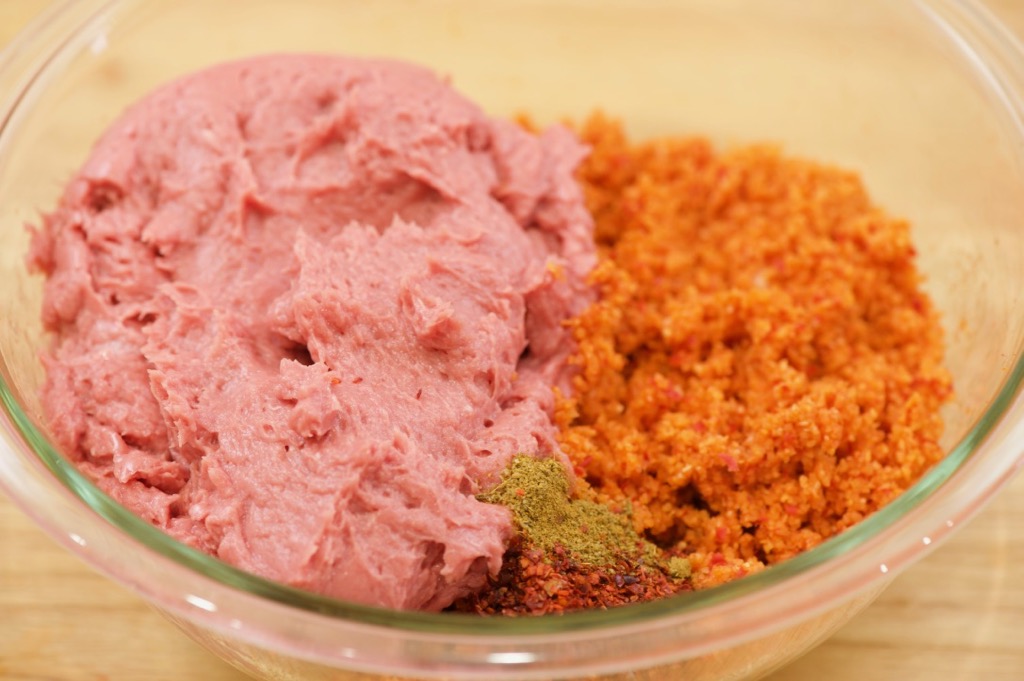 kibbeh nayyeh
, platter presentation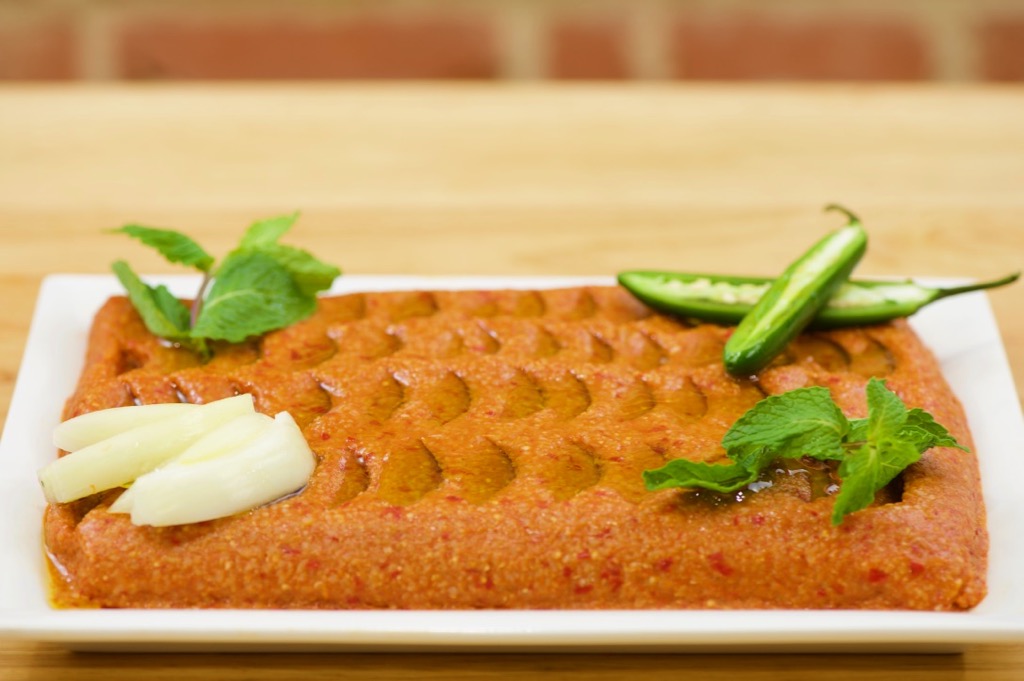 kibbeh nayyeh
, mezze presentation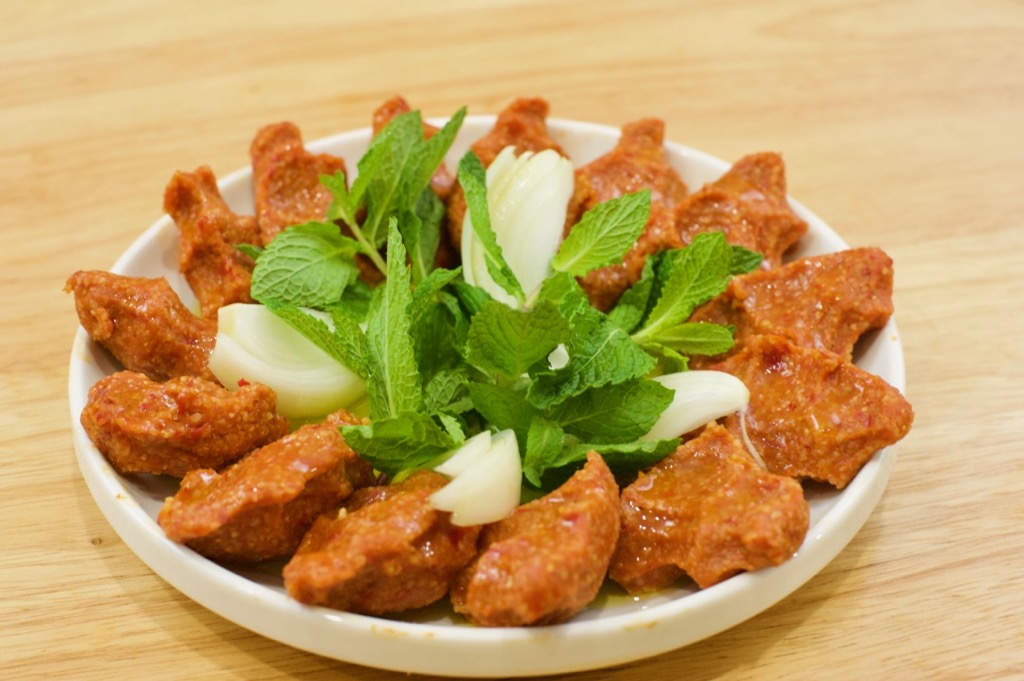 kibbeh nayyeh
(
كبة
نيّ
)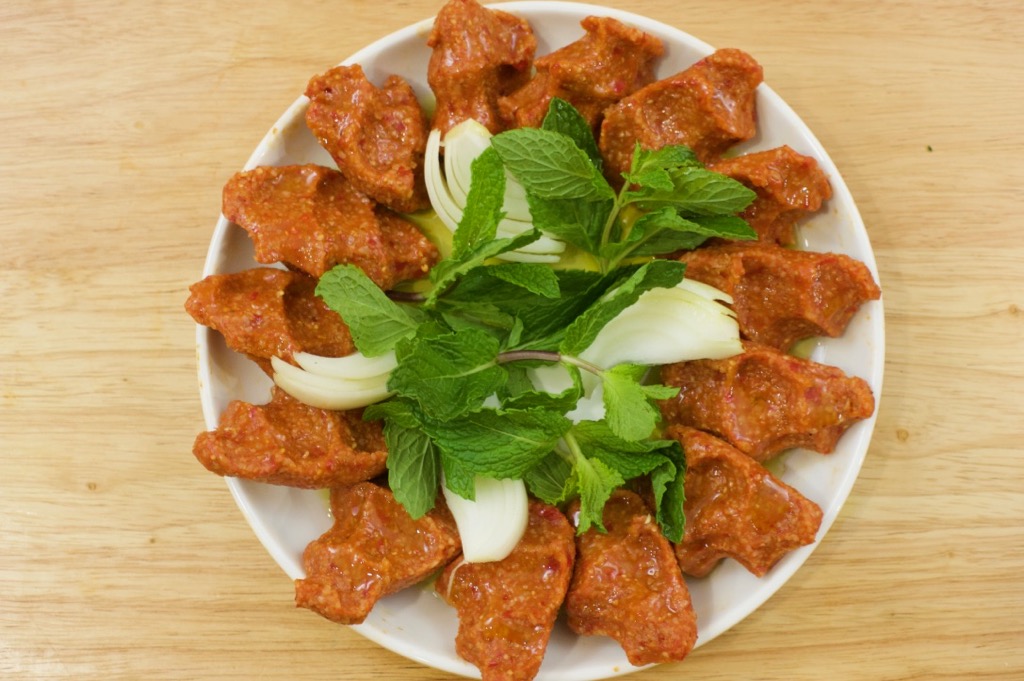 Kibbeh Nayyeh
yields 6-8 servings
Components
1lb fresh, lean lamb, finely ground
1/2 lb bulgur wheat, #1 (finely ground)
1 red bell pepper
1 yellow onion
1 Tbsp red pepper paste
1 tsp cumin, ground
1 tsp Aleppo pepper, ground
salt, to taste
Sides
fresh mint
fresh onions
fresh peppers
fresh pita bread
Putting them all together
Chill the freshly ground lamb in the freezer for an hour or until very cold, but not frozen.
Blend the onion and red bell pepper in the food processor.
In a large bowl, combine the red pepper and onion pulp, Aleppo pepper, cumin, red pepper paste, and salt. Add the bulgur wheat and knead until well combined. Set aside.
Blend the chilled meat in a large food processor with a couple cubes of ice until a smooth, creamy paste is achieved.
. In a large bowl, combine the meat paste with the bulgur soaked bulgur wheat. Knead until well combined. Check for seasoning and adjust accordingly.
Shape the kibbeh nayyeh on a large platter or into individual patties*. Drizzle with extra virgin olive oil and serve with fresh mint, onions, peppers, and pita bread.
Notes: Traditionally, kibbeh nayyeh is served alongside a glass of Arak, an anise-infused distilled drink made from grapes. To prepare the kibbeh nayyeh, form a small ball (the size of a golf ball) and gently squeeze it in your fist until it forms the appropriate shape. If you don't have access to lamb, you can prepare kibbeh nayyeh using fresh beef, either top or eye of the round cut.
the perfect bite