The first time I visited an actual butcher — the kind not inside a grocery store — was when I lived in Aleppo. I was 24. It took traveling halfway around the world to watch a professional meticulously break down an animal. It was both horrifying and intriguing. There were meat carcasses hanging around me while I struck up a conversation with Yasser, the head butcher, over a cup of freshly brewed Turkish coffee. It was such a surreal experience that I wrote about it on my blog. The irony, of course, is that this approach to butchery is much closer to the actual source of meat than anything we're used to finding at a grocery store.
I'm not vegetarian, but I care about meat. I care about how animals are raised. I care about their welfare. I care about what Michael Pollan describes as, their "creaturely character." Happiness for any animal, he explains, stems from their opportunity to express their essential "pigness" or "wolfness" or "chickenness." In his piece for New York Times Magazine, An Animal's Place, Pollan asserts that "for domesticated species, the good life […] cannot be achieved apart from humans –- apart from our farms and, therefore, our meat eating."
Michael Pollan is one of my favorite food writers. If you care about meat (or food in general), you should read his work. In this particular piece, Pollan interrogates his own practice of eating meat. He thoughtfully examines the moral and ethical qualms of slaughtering animals for food. This careful introspection is something most vegetarians have worked though. The meat we find in most grocery stores is processed and packaged to barely resemble the animals it came from. This disconnect is intentional. If only we knew the reality of how most of our meat is processed, more of us would probably be vegetarian.
The issue of meat production is complex. It's tied to socio-economic issues, health, the environment, and many other facets of our lives. Access to inexpensive, low-quality meat has triggered a public health criss in the US. Why would someone buy fresh vegetables when a hamburger and fries with a soft drink is less expensive and more convenient? Meat across the Middle East, for the most part, is still relatively expensive compared to vegetables, grains, and legumes, which are plentiful and cheap.
Ever since I moved back to the US, I go out of my way to buy meat from local farms. Not only does the meat taste better, but it's important to support local farmers who work hard to raise animals sustainably and with compassion. Parts & Labor is a local restaurant and butchery in Baltimore's Remington neighborhood that's committed to sustainable, whole-animal butchery. This means they buy whole animals from local farms, break them down in-house, and use as much of the animal as possible. The menu development process at Parts & Labor relies heavily on use of the whole animal. Wyatt Jaster, butcher at Parts & Labor explains, "we use trotters (pig feet) to thicken a sauce used on one of our sandwiches. Another dish we are very proud of is our crispy pork rind. It took a lot of trial and error to get that just the way we wanted it." Whole animal butchery is important because it fully honors the sacrifice of a living creature. Additionally, it reduces waste and introduces consumers to a variety of products that they might have otherwise overlooked or not known about.
Parts & Labor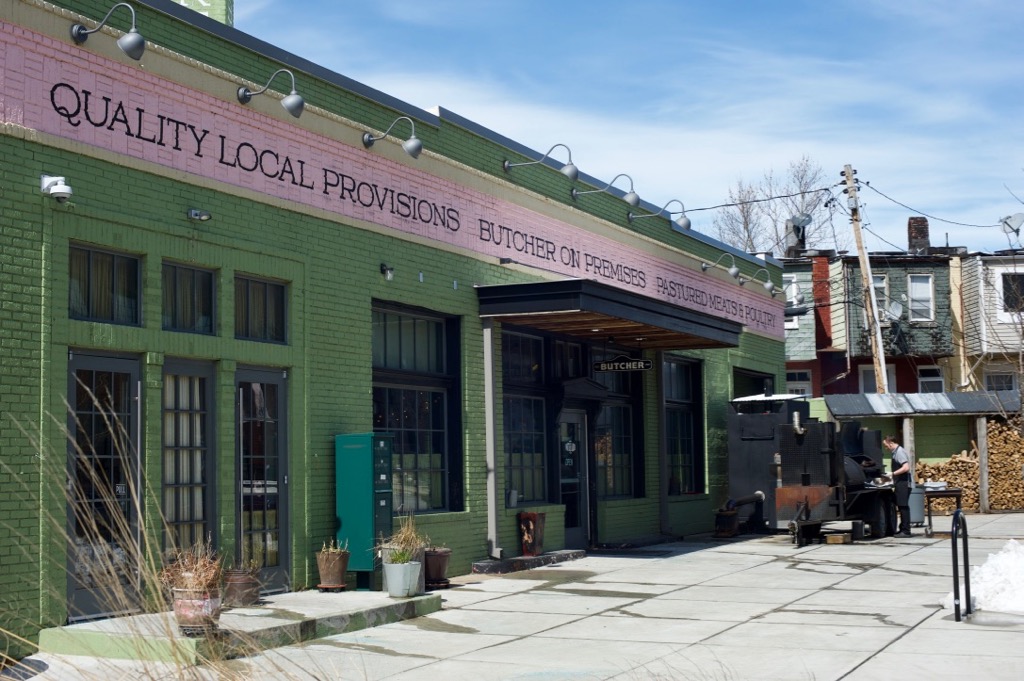 Committed to local, sustainable butchery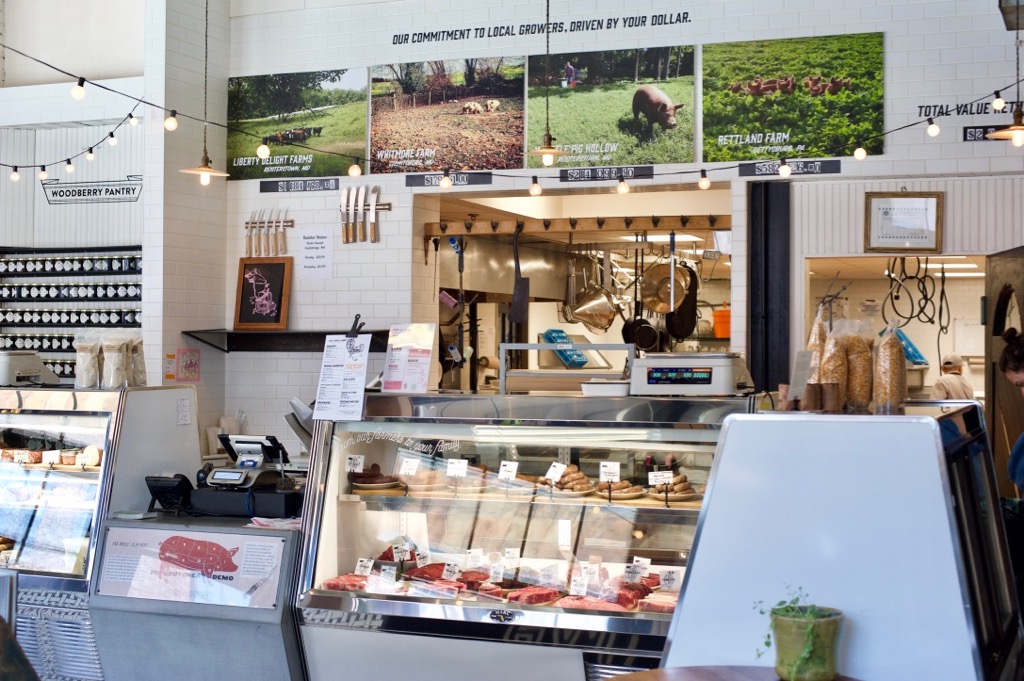 curing room at P&L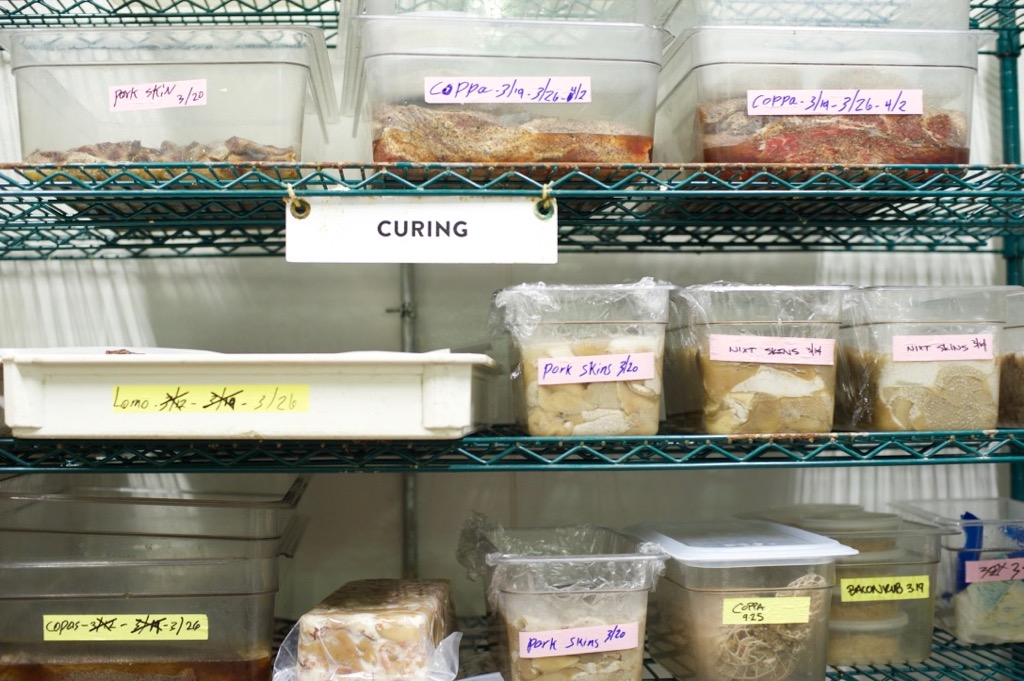 Parts & Labor opened their doors in April of 2014 in a space that used to be an auto body and tire shop. From steaks to homemade sausage and cured meats, the butchers at Parts & Labor pride themselves on seam butchery, a classic French technique of breaking down animals following the natural seams of muscles. Parts & Labor is the sister restaurant to Woodberry Kitchen, both of which are owned by James Beard award-winning chef and restauranteur, Spike Gjerde. Spike and and his entire team are committed to a local, sustainable culture of cooking and eating.
tending to the smoker
smoking pit
A couple weeks ago, I asked the team of butchers at Parts & Labor for ground lamb without any fat so that I can prepare kibbeh nayye, the Middle Eastern version of lamb tartare. If you're going to prepare kibbeh nayyeh, which literally translates to raw kibbeh, you want to make sure you work with a local butcher shop that sources their meat from reputable farmers. It's incredibly important that the lamb is fresh with as little fat as possible. Parts & Labor sources their lamb from Shenandoah Valley Lamb, a local co-op composed of small farms in Maryland, Virginia, and Pennsylvania.
fresh lamb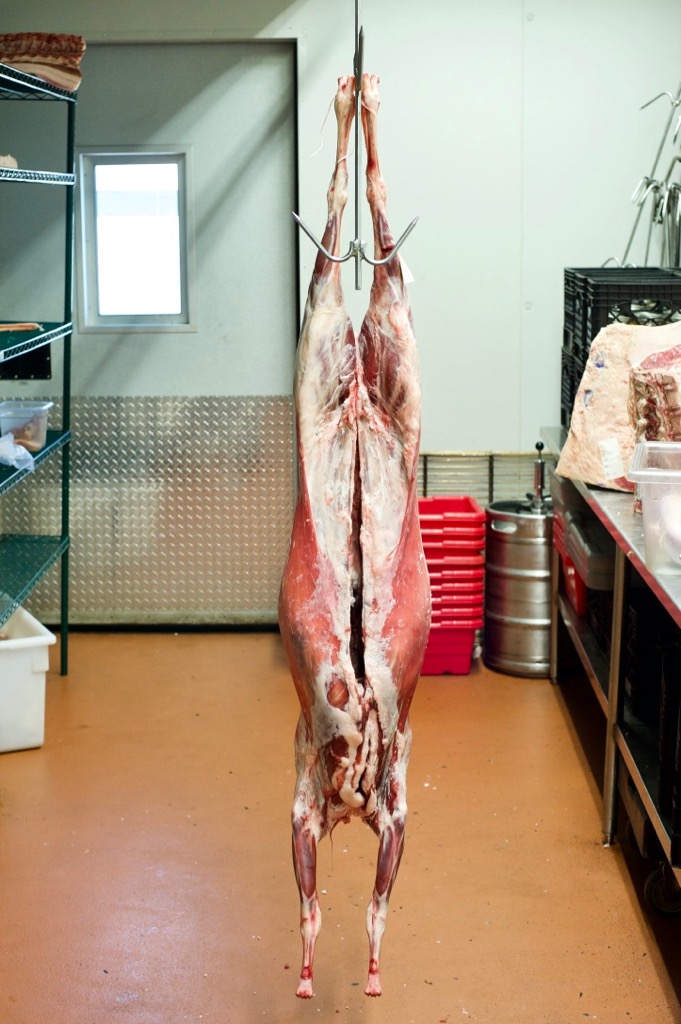 I was excited to go behind the scenes at Parts & Labor to recreate a similar experience I had while living in Syria. I shadowed Wyatt, who worked with his team to break down three lamb they had received that day. I also got a tour of their curing room, where they age all the salumi, which they prepare in-house.
If you're not a vegetarian, it's important to examine where your meat comes from. What conditions are the animals raised in? Are they treated with excessive use of antibiotics? Meat from a local butcher or a farm is more expensive, but that's only because we live under the illusion that meat is an industrial commodity that can be produced cheaply and in large quantities. That's simply not true. I want to thank the team at Parts & Labor for their commitment to local, sustainable practices and for allowing me shadow them for an afternoon. Stay tuned the kibbeh nayyeh recipe next week!
pulling lamb suet (hard white fat)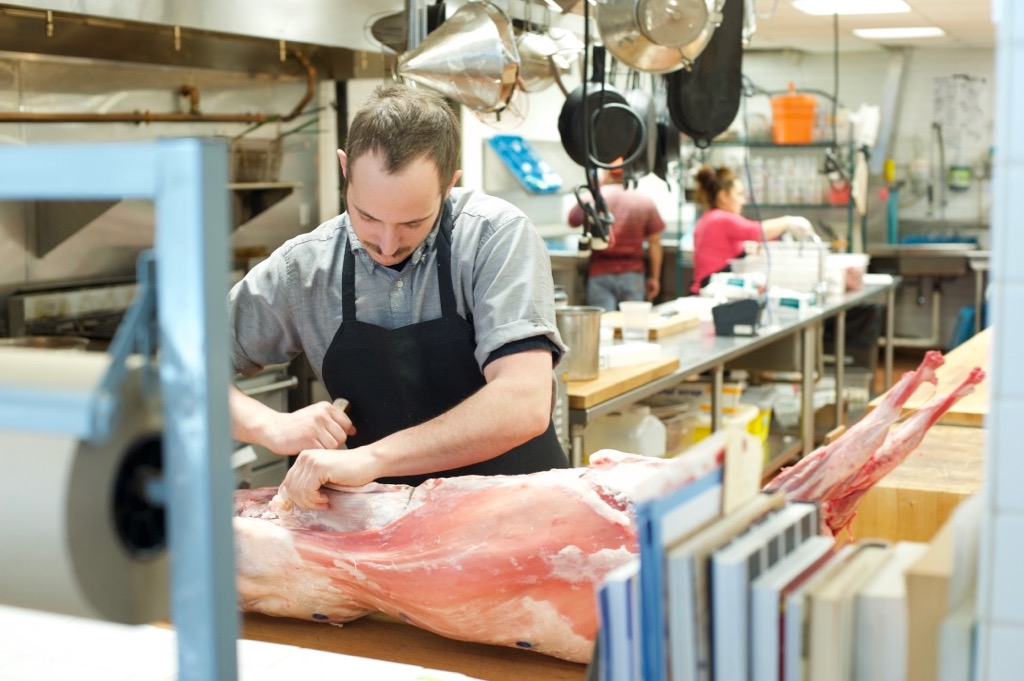 heavy machinery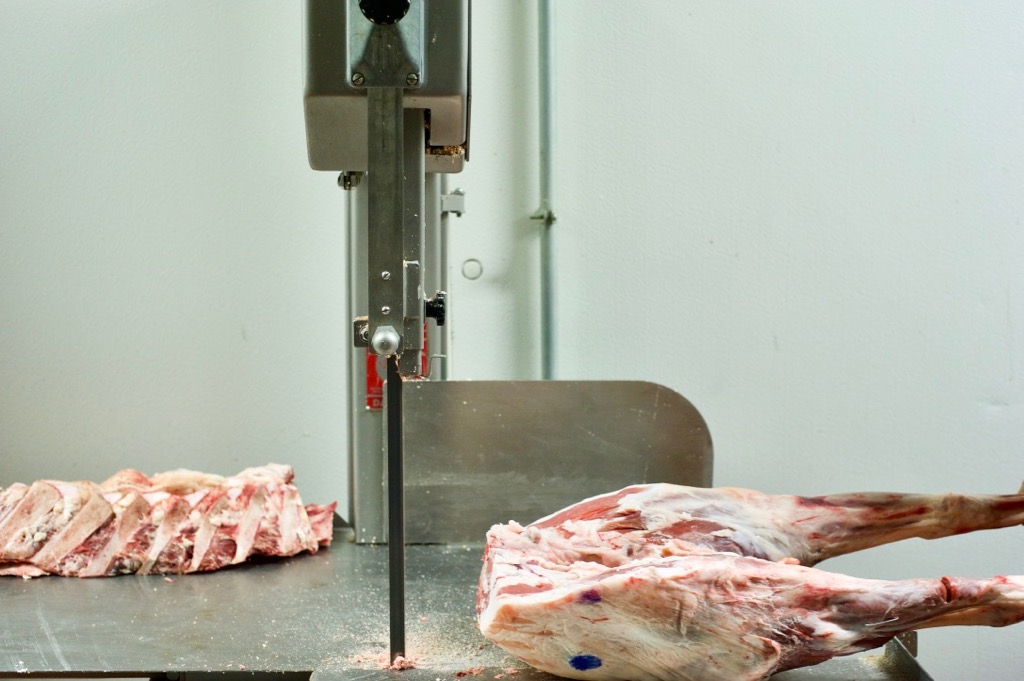 lamb cavity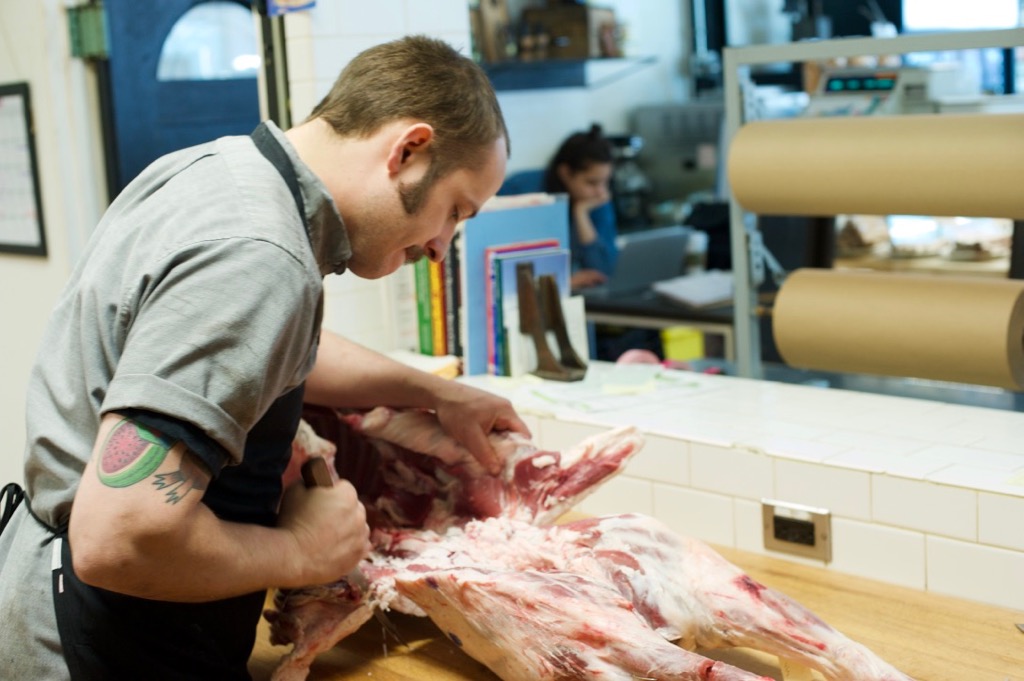 lamb breakdown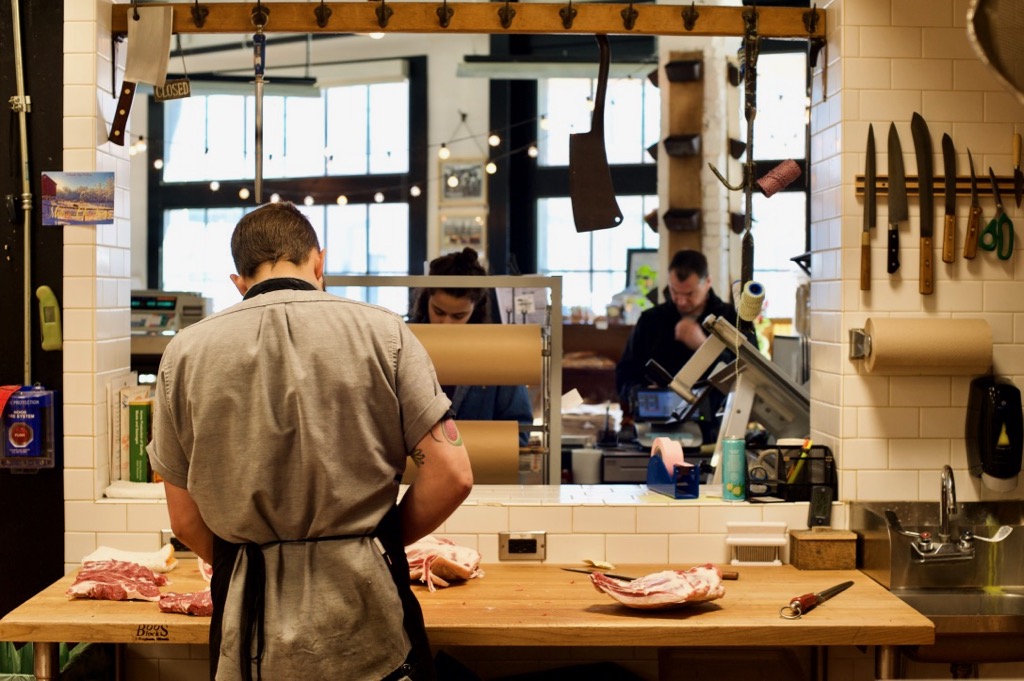 Manuel, 30 years of experience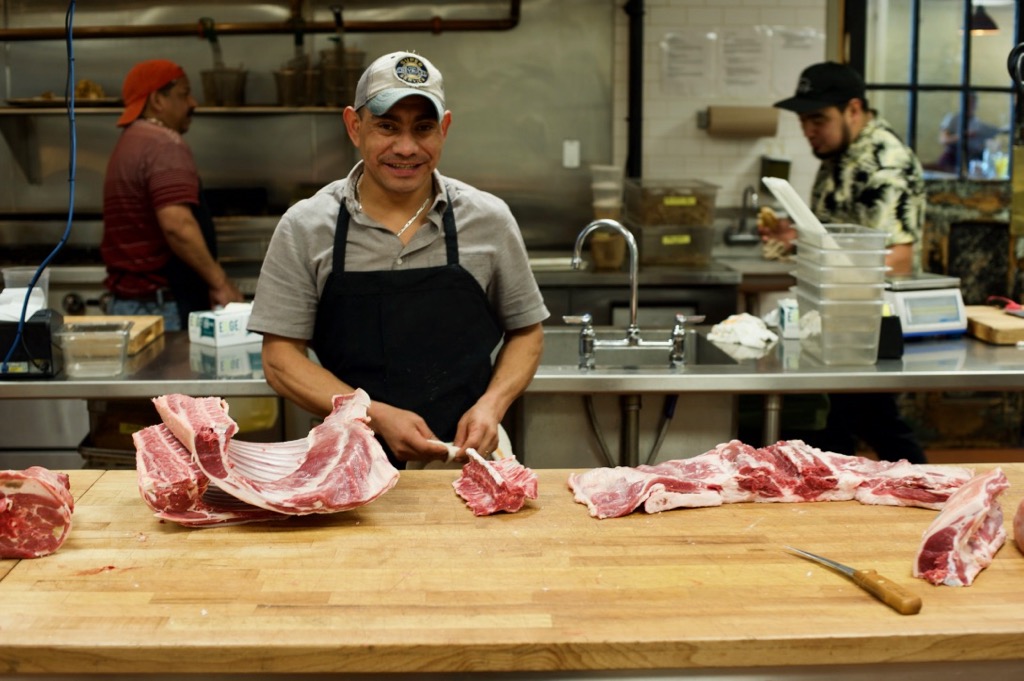 teamwork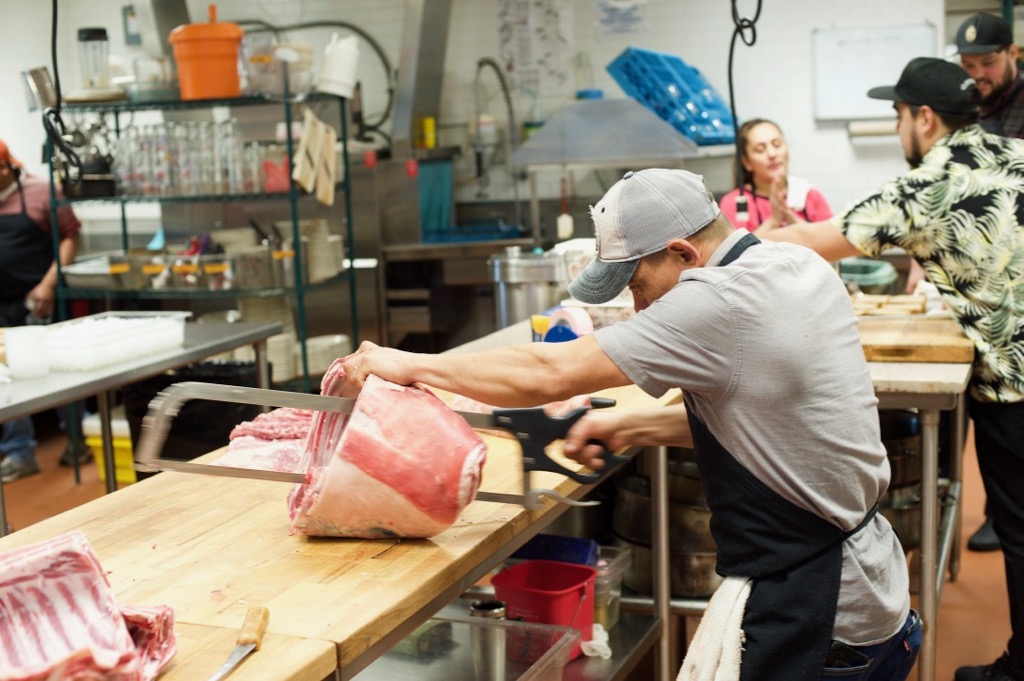 Wyatt debones leg of lamb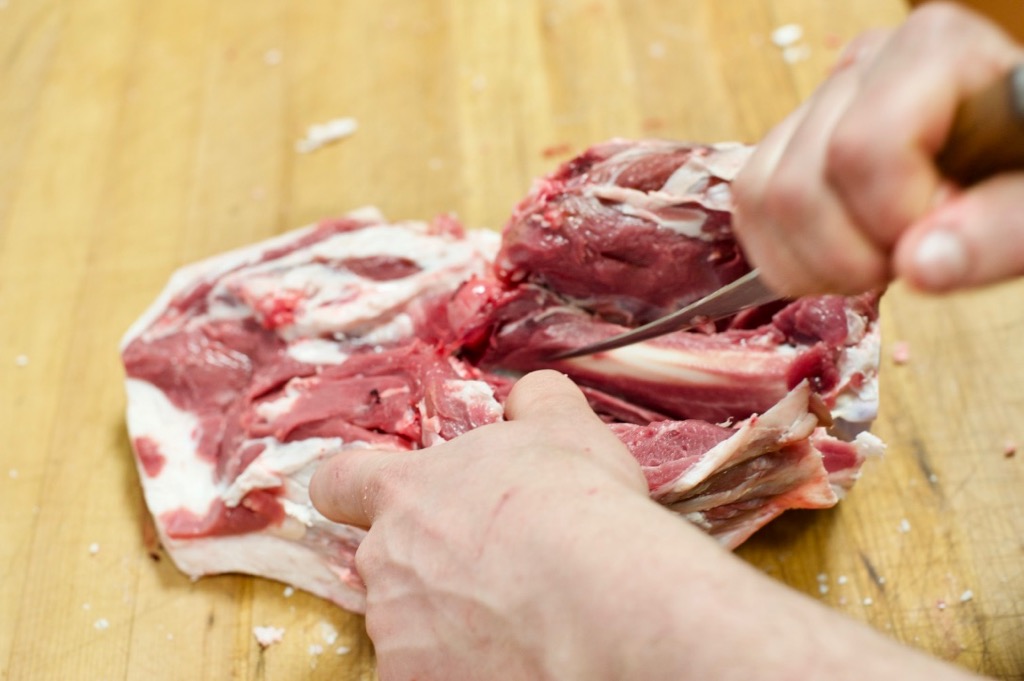 Parts & Labor