There is something about making a dish completely from scratch that is wonderfully satisfying — a feeling of merited accomplishment. A mixture of happiness and relief. I'm sure this is true of most things, really, not just food. It comes with any craft you can pour your soul into. With food, you appreciate individual ingredients; you savor every ounce of effort that goes into preparing a dish. Something magical happens in the cooking process; a part of you, your essence, probably while you're mixing ingredients and not particularly paying attention, dives into the bowl and adds that special something to the dish: warmth, brightness, love, something you can't really put your finger on, but everyone knows it's there.
In Syria, particularly Aleppo, wintertime means it's time for sujuk, an Armenian sausage made with beef, lots of garlic and a mix of aromatic spices. Sujuk is bold; it's a stick-to-your-ribs kind of sausage. And when it gets cold out, it's what my heart and stomach crave. Yes, sujuk is pretty fantastic.
In Aleppo you can find sujuk all over the place. This is one of the culinary gems the Armenian community brought with them when they moved to Syria. One of my favorite places to eat sujuk outside of home is Shtoura. Shtoura, named after the Lebanese town, is a 24-hour fatayer place famous for their heavenly dough creations. I'm a regular there.
shtoura (
شتورة
) at 11:11pm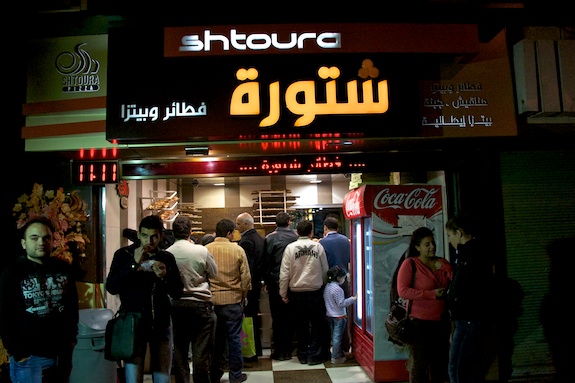 Nothing is better late at night than a couple Shtoura palm-sized pizzas topped with classic tomato sauce, liberal amounts of shredded mozzarella, and dotted with nuggets of spicy sujuk.
sujuk pizza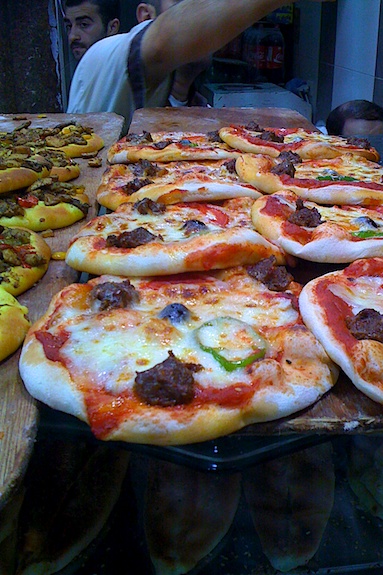 My aunt, luckily for me, makes her own sujuk at home. And to my surprise, it's pretty simple, and actually borders on effortless. It's a matter of combining a blend of spices with meat and allowing the mixture to air-dry in a cool place, away from any sunlight. Prep-time is no more than 15 minutes, tops. No sausage casings or fancy equipment necessary; my aunt stitches her own bags from scraps of cloth that are clean and have not been treated with scented detergent.
mise en place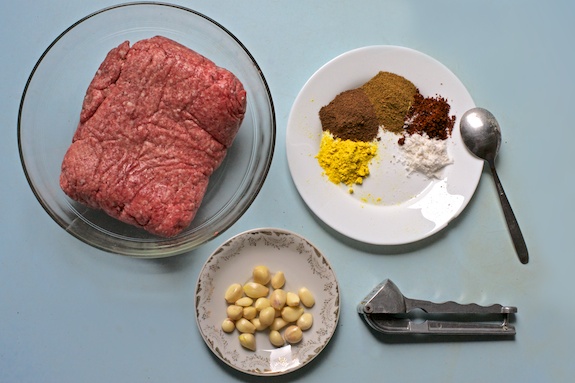 lots of garlic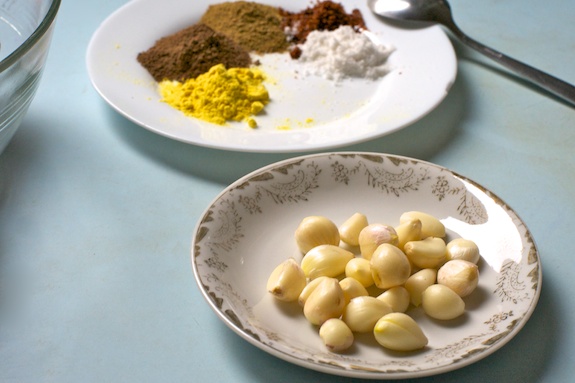 spices: fenugreek, allspice, cumin, Aleppo pepper, salt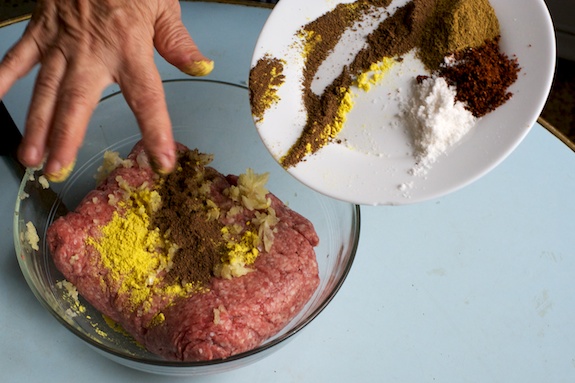 After asking a few of my Armenian friends in Aleppo, I've discovered that it is not common to add ground fenugreek to sujuk. If you can't find fenugreek, you can certainly leave it out, however, I like the taste it adds to the sausage.
mix well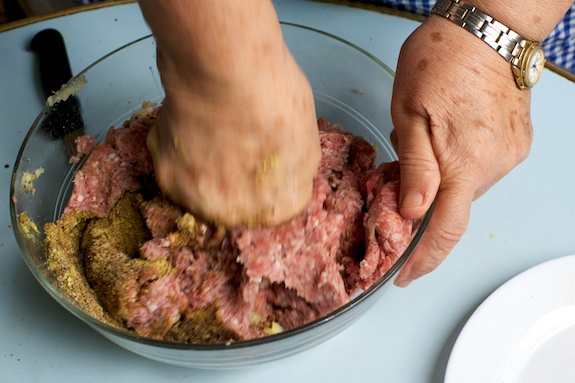 bags of sujuk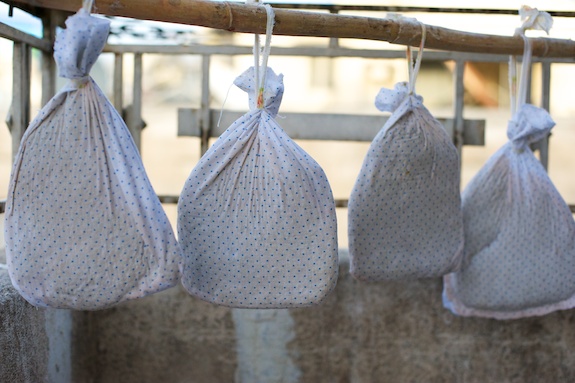 My aunt uses her balcony to air-dry her sujuk. She moves the rack of sujuk bags depending on the time of day to keep them away from any sunlight. Once the bags feel firm and dry to the touch, the sujuk is ready. This usually takes 3-5 days depending on the weather and the thickness of your sujuk bags.
Once they're done drying, my aunt and I keep all the bags, except one, in the freezer and bring them down to the fridge as we go through them.
sujuk sandwiches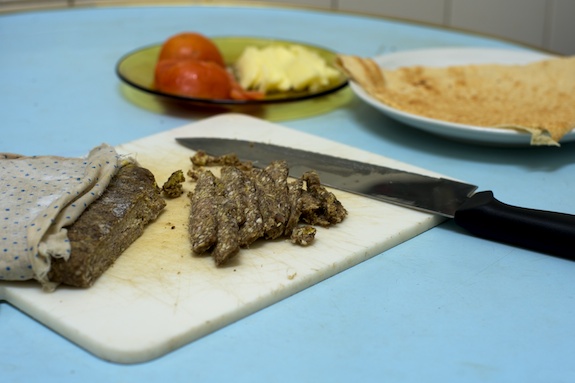 Sujuk is an extremely versatile sausage that you can eat any number of ways. It's great over pizza or mixed into pasta sauce. It's delicious with eggs for breakfast — a different take on the classic sausage and eggs. In Syria and Lebanon, however, it's popular to make sujuk sandwiches with pita bread. The grease from the sausage melts over the heat and toasts the bread to a pleasant crisp. No extra butter or fat necessary — just good, homemade sujuk.
cheese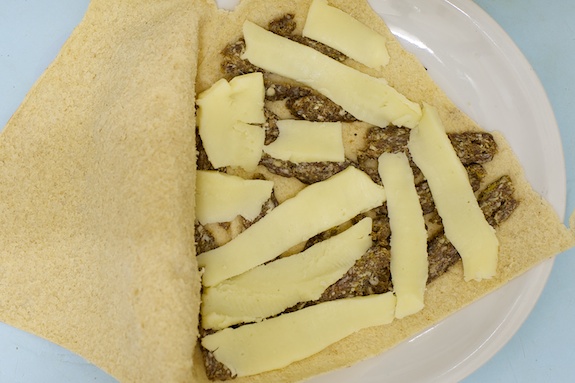 old school sandwich press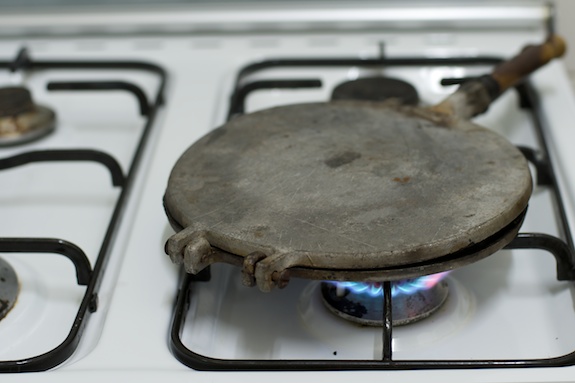 sandwich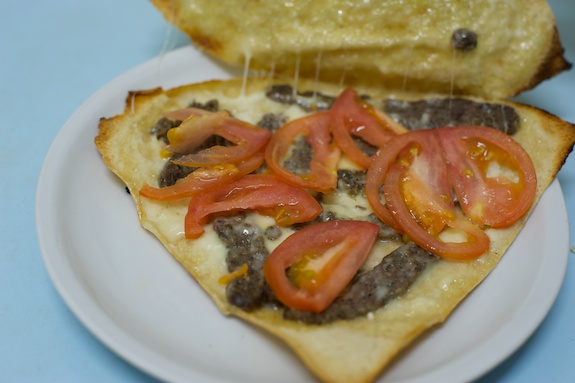 Sujuk Sausage
yields approx 1kg
Components
1kg ground beef, freshly ground
1/4 cup garlic, minced
2 Tbsp cumin, ground
2 Tbsp allspice, ground
1 1/2 Tbsp fenugreek (optional), ground
1 1/2 Tbsp Aleppo pepper
1 Tbsp kosher salt
Putting them all together
Mix all the ingredients together and refrigerate overnight.
Stuff meat mixture into clean, porous stockings and let hang for 3-5 days in a cool, dry place away from any sunlight.
Once pouches are dry and firm to the touch, remove from the hanging rod and store in the refrigerator — leftover pouches keep great in the freezer.
Notes:Make sure whatever you use to encase the meat is clean, but more importantly make sure it does not have any detergent scent. Sujok keeps great in the freezer. I bring down a pouch at a time from the freezer to the refrigerator as I go through it.