Sparkling lights, lively chatter, crisp air; Eid is the general term for holiday in Arabic. In the days leading to Eid al Adha shops in Aleppo stay open past midnight to meet the demands of eager shoppers rushing to purchase Eid gifts.
Eid al Adha, or the feast of sacrifice, is the holiday that commemorates Abraham's willingness to sacrifice his only son, Ishmael, to God. Before sacrificing his son, God intervenes and allows Abraham to sacrifice a ram instead. Eid al Adha spans four days and begins approximately 70 days after Eid al Fitr, the holiday that celebrates the end of Ramadan, the Islamic month of fasting. This year Eid al Adha began on November 16, 2010.
Once Eid al Adha was announced at sunset, shops across Aleppo closed and the streets emptied soon thereafter. This is the time when families gather at home to exchange gifts and try on their new Eid clothes. I walked around Aleppo the first night of Eid with a friend — the silence was uncanny. The streets that were crowded with hasty shoppers the night before were now completely deserted. We occasionally heard cars zoom in the distance or encountered the occasional wanderers, like us, who were enjoying a peaceful stroll along the empty streets.
Eid, day 1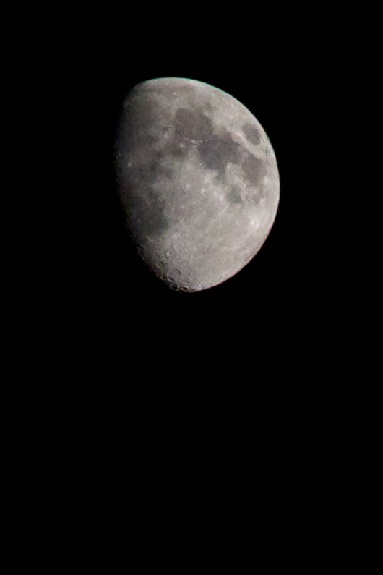 empty streets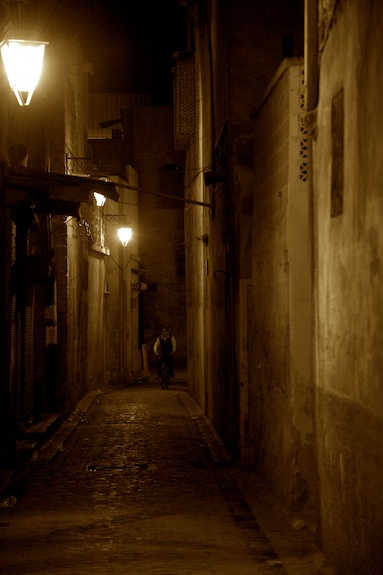 The next morning was when the sacrifices began. As a symbol of Abraham's devotion, Muslim families purchase an animal, traditionally a lamb, to slaughter for the Eid and distribute the meat from the sacrifice to the poor. The animals that are slaughtered for the sacrifice must be done so according to Islamic law. This involves a list of strict rules, including that the animal be ethically executed with as little pain as possible. A prayer is recited by the butcher. If done properly, the animals waiting their turn should not witness the slaughters or see any of the blood from the act.
Most of the slaughters during Eid take place early in the morning and continue throughout the day depending on the demand for meat. While my friend and I waited for a slaughter to happen, we met a group of kids playing with a small herd of sheep innocently waiting their fateful destiny.
As soon as the kids spotted me, rather my camera, they yelled out for me to take their picture — half in broken English, half in Arabic, with complementing hand gestures. It was cute. I received a nod of approval from an elder looking over them and proceeded to take their pictures. The kids were elated. After every picture they would run up to me to see how it turned out, tell me how beautiful the picture was, and ask for one more, one more. You could tell from their glowing eyes and big smiles how excited they were for Eid; I couldn't say no.
Eid festivities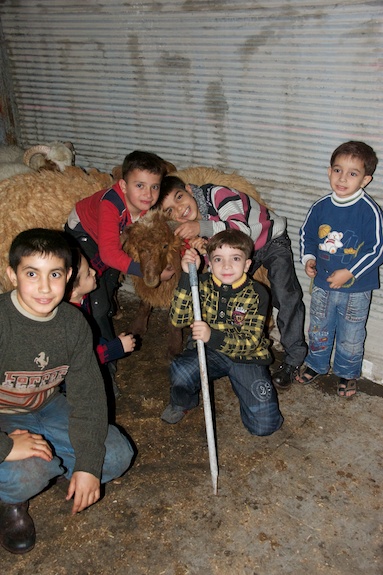 55 kg sheep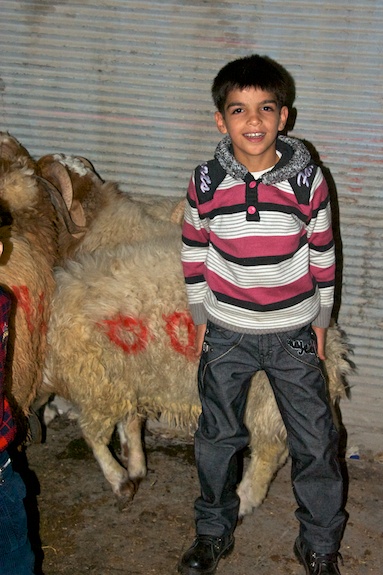 After a couple dozen photos or so, they went back to playing with the sheep. I stayed talking with one of the older kids who was eager to tell me everything about Eid. He explained how the sheep are weighed beforehand and are tagged with their corresponding weight. This makes it easier for someone who shows up to purchase one of the sheep as a donation to the less fortunate.
the sacrifice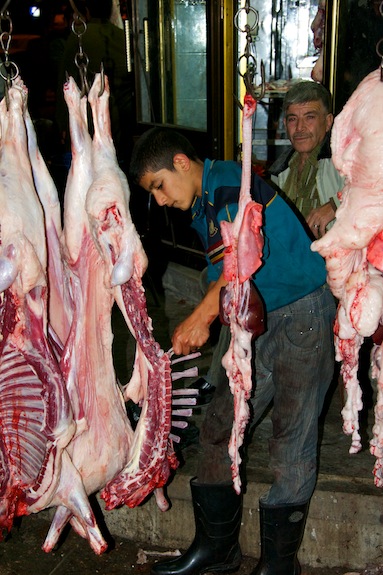 I liked the fact that the kids were involved in all aspects of the festivities, not just the presents and new clothes. They understood where the meat was coming from. They were connected; they weren't grossed out or traumatized. This is a healthy dose of food culture at a young age.
Eid, day 2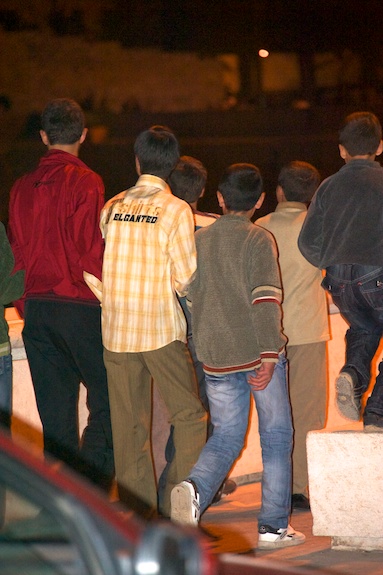 The remaining days of Eid are less gory, more fun. Slaughters still take place, but a lot less frequently than on the first day. On the second day you will see more families taking a stroll with their kids running around them, playing in their new Eid clothes. I met up with some friends at the Aleppo citadel where everyone was enjoying the sunny afternoon weather. Kids were eating colorful ice cream, running around freely, and enjoying every moment of their vacation. Parents took this time to catch up with friends as they looked over their kids from the sidelines.
ice cream!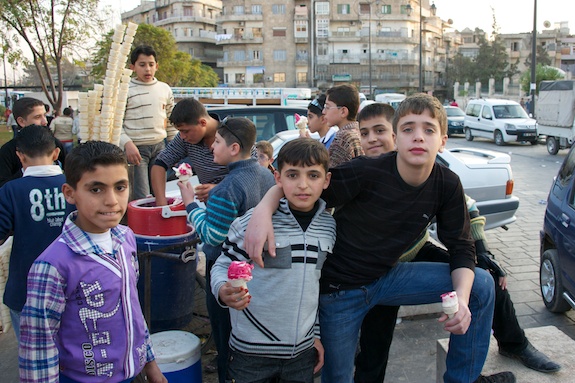 mobile drinks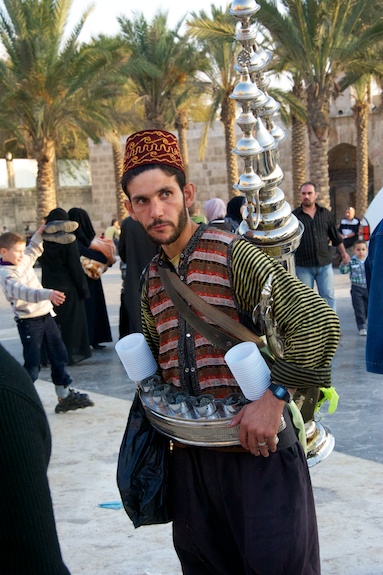 As the sun began to set, my friends and I found a cozy spot by a café alongside the Aleppo citadel, which dates back to the 3rd millenium BC. The air was nippy and soft gusts of winds were gentle reminders that winter is on its way. We sat there, enjoying the beautiful view of the historic castle while sipping hot tea.
tea, with a historic view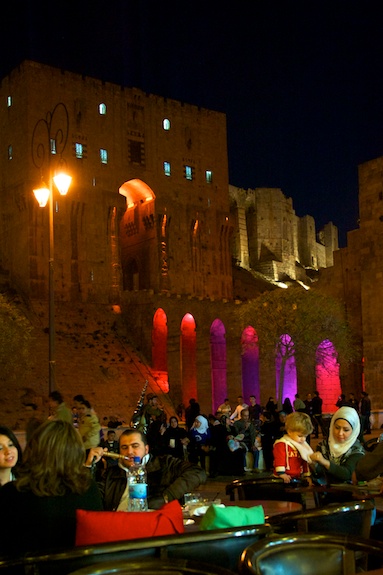 said tea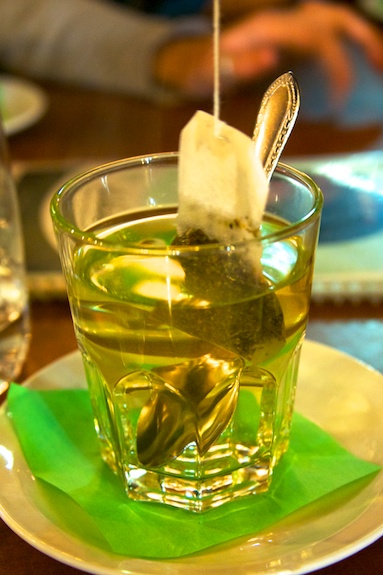 I hope everyone who celebrated had a wonderful Eid — Adha Mubarak w 3a2bel kil sineh.
Adha Mubarak!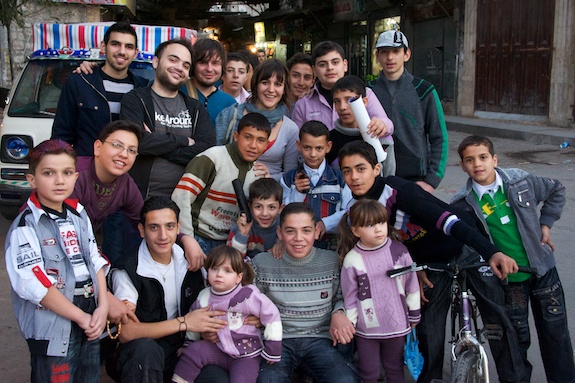 Posted in Fulbright by Antonio Tahhan on December 6th, 2010. You can follow any responses to this entry through the RSS 2.0 feed. You can leave a response, or trackback from your own site.