It's almost February, it's cold and it's the perfect time for soup, if there ever was one. Keeping true to my kibbeh promise from my last post, I made kibbeh b'laban (كبة بلبن او كبة لبنية), which literally translated means kibbeh cooked in yogurt. Not only was it my first try at making this on my blog, but it was my first attempt ever. In order to get everything right, I called my sito (grandmother in Arabic) and stayed on the phone with her until I got every last detail of this dish right. It also took a long time since I had to convert her measurements of "handfuls, half-handfuls and pinches" into more relative quantities. All in all, it was lots of fun and in retrospect, a major success.
mise en place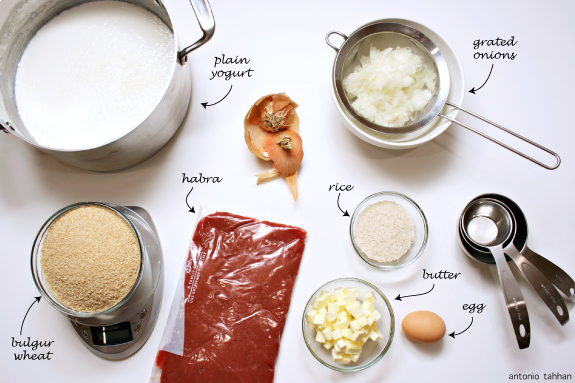 If you want to go for the absolute traditional method, you'll want to use goat milk yogurt instead of cow's milk. Although either works fine for this dish. The other main ingredient I want to talk about is the habra, which is basically ground inside round (with absolutely no fat) and then processed in the food processor with some salt, a little ice water and a tiny amount of baking soda. This makes the traditional meat paste used in every kibbeh recipe. I'll usually prepare kilos of habra at a time and keep 500g portions stored in the freezer for whenever I want to make kibbeh.
forming the kibbeh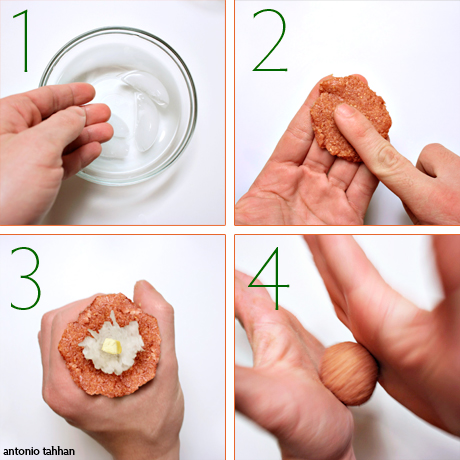 The meat itself has absolutely no fat, and is mixed with the soaked bulgur wheat to form the outside of the kibbeh balls. For moisture, the kibbeh is stuffed with grated onions and a tiny dab of cold butter. As the kibbeh balls cook in the yogurt, the butter will melt and combine with the grated onions to make for a sweet surprise in each bite.
rice helps stabilize the yogurt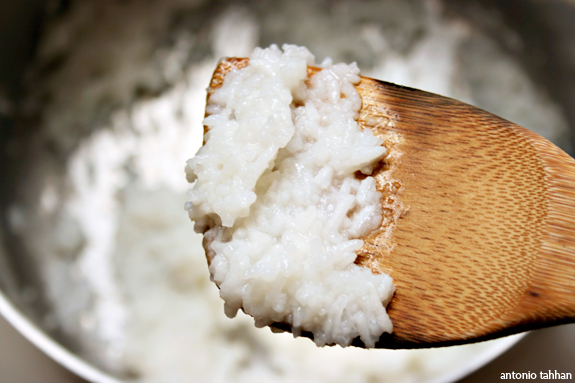 The yogurt is the foundation of the dish and requires some cleverness to avoid it from curdling over the heat. The first step is to cook about a quarter cup of rice in 3/4 to 1 cup of water (way more than you usually need) until it turns into complete mush. Once it cools a bit you'll want to blend the mushy rice with the yogurt, egg and a teaspoon of cornstarch. The egg, cornstarch and rice all act as stabilizers for the yogurt. A final precaution would be to cook the sauce over low heat and stirring only in one direction (either clockwise or counterclockwise). Don't ask me why, but it works… if anyone knows a more scientific reason to this, I'd love to know it.
kibbeh bil-laban (كبة باللبن)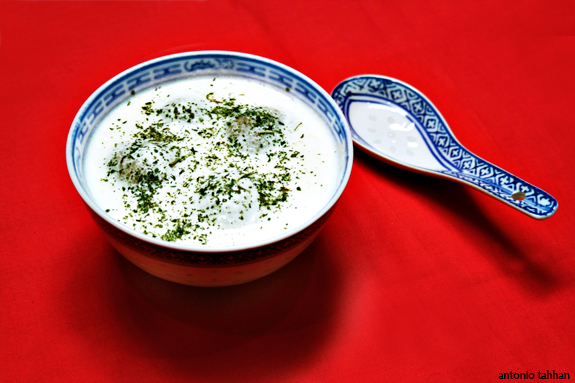 Once the yogurt begins to simmer, cook the kibbeh balls in the yogurt at a low simmer for about 7-10 minutes (depending on the size of your kibbeh) and you've got a fantastic Middle Eastern soup. Sprinkle with some dried mint and enjoy.
Kibbeh B'Laban
4-6 servings
Components
500 g. habra
300 g. bulgur wheat (finely ground)
1 large onion, grated
1/2 stick of butter, cut into tiny cubes
2 liters of goat or cow yogurt
1/4 cup rice
1 tsp of cornstarch
1 egg
dried mint, for garnish
1/2 tsp ground allspice
ice cold water, as necessary*
Putting them all together
Soak the bulgur wheat in water for 10-15 minutes (use enough water to cover the bulgur entirely by about 1/4 inch).
Mix habra, allspice and soaked bulgur together and set aside.
Cook the rice in 3/4 cup of water until mushy.
Blend the rice with some of the yogurt, the egg and the cornstarch. Mix this mixture with the rest of yogurt and place over low heat.
Stir occasionally and once it comes to a small simmer, add kibbeh balls and cook for another 5-10 minutes (depending on the size of the kibbeh).
Garnish with dried mint.
note: use the ice water to form the kibbeh balls. This will help make them smooth. For more specific step-by-step instructions read the blog post.
dried mint + paprika are optional garnishes