During the month of January, A Taste of the Mediterranean was all about the ubiquitous French tart. Crispy, buttery, but not always sweet; the challenge was to create your spin, either sweet or savory, on this classic French pastry. The winner for January is Maggie from Dog Hill Kitchen with her Vegan Orange Cream Tarts with Almond Crusts! Congrats Maggie! You could check out her entry and all the other tart entries here.

This month we're hopping from France over to the Greek islands with Peter from Kalofagas. For those (very few) who don't know who Peter is, well, he's a gifted Greek blogger who lives in Canada and who, I'm convinced, knows everything there is to know about Greek food. He's the host this month for the A Taste of the Mediterranean contest and he's calling on bloggers to make their own twists on the classic Greek pastitsio. To kick off the contest I decided to make my variation of this Greek lasagna using as many flavors from around the Mediterranean as I could.
mise en place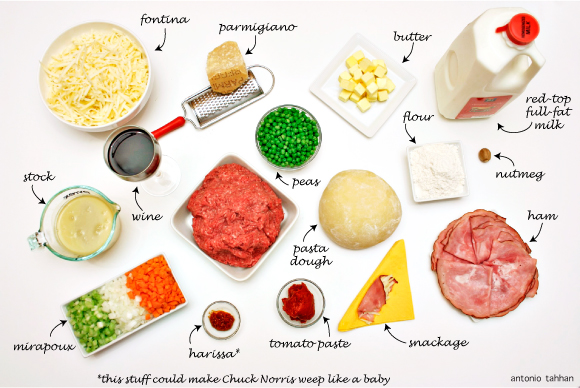 The classic recipe for pastitsio calls for meat sauce and bechamel spread between layers pasta. For my variation I incorporated Fontina cheese from Italy, red wine from France and harissa paste from Northern Africa, mainly because I had those ingredients laying around, but also because I enjoy mixing complimentary flavors from different regions of the Mediterranean.
this is where the flavor starts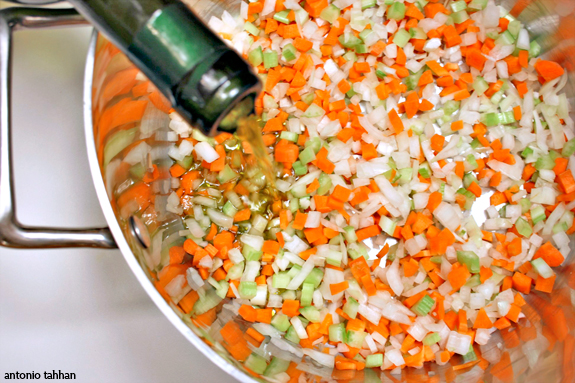 The first thing I did was get my meat sauce going. It's extremely easy, but takes time for the flavors to develop and turn into a proper meat sauce. The sauce starts with the classic mirapoux (i.e. the trinity) of carrots, celery and onions. The key is to cook them over medium heat so that they become soft, but it is important they don't caramelize.
food therapy
I decided to go into full-on Greek mode for this recipe. This means I took no short cuts and made sure to multiply the recipe by three. I then stored two pans of the pastitsio in the freezer ready to go for those days when the bachelor in me wants food to magically appear on the table without chopping an onion or stirring a pot.
a 30s dunk is all it needs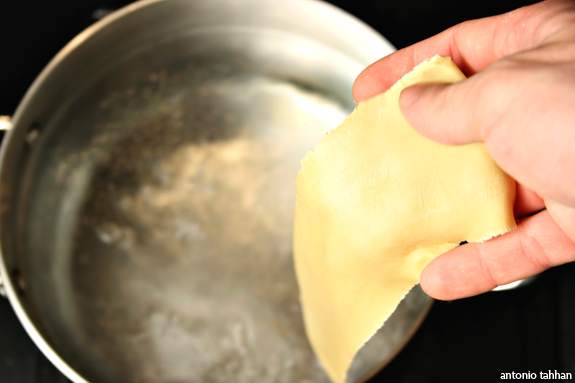 Once you're done rolling out the dough, all the pasta needs is a quick bath in boiling water. You don't want to cook it all the way though… this is just to give it a head start. Once the pasta boils for 1-2 minutes, shock it in an ice bath to immediately stop the cooking process. The pasta will then finish cooking with the rest of the ingredients in the oven.
my idea of being healthy: meat+greens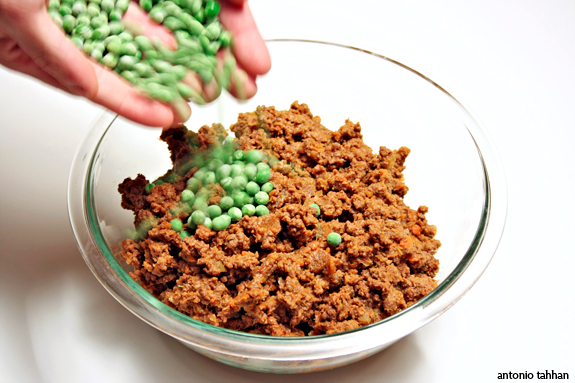 Once the meat sauce is done cooking, you'll be happy. Your entire kitchen will acquire the aroma of the meat sauce and you'll find yourself in the tasting stage, wondering if there is anything missing. Perhaps a little more salt and pepper might be good? Sometimes that helps, but often the addition of anything fresh and green will strike a balance with the rich flavors of the sauce. I used frozen petite peas for this because they're green, but also because they have a creamy bite to them that I enjoy.
flavor development at its peak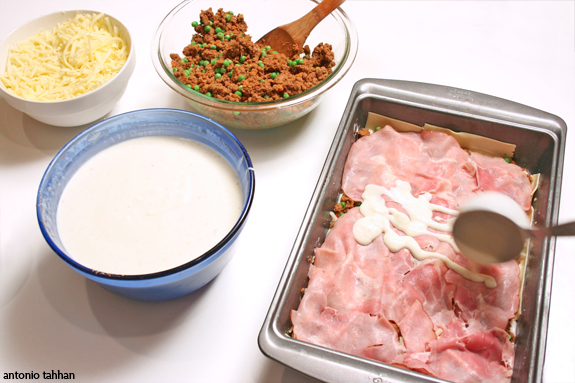 The layering is up to you and mostly depends on the ingredients you use and your own personal preferences. I always start with a thin layer of bechamel on a buttered pan because that helps prevent sticking. From there I start by layering pasta, more bechamel, meat, cheese, ham, even more bechamel and then pasta again. I do this until I reach the very top, which I finish off with a little more bechamel, a sprinkling of fontina cheese and a thin layer of parmigiano reggianno on the very top to develop a nice crust in the oven.
dinner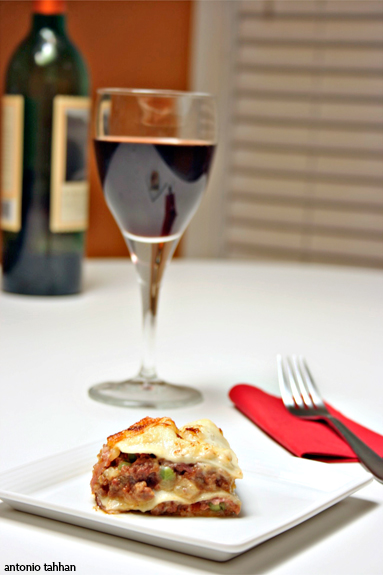 This was my humble recreation of Greek pastitsio done alla Mediterranean. It was my dinner last night, tonight and it will probably be my dinner for a few more nights this week. I can't wait to see other variations of this dish for A Taste of the Mediterranean! Remember that the winning pastitsio post will win a $50 gift certificate to iGourmet!
Pastitsio
yields one 9×13 pan
Components
4 cups bechamel
1 1/3 lbs ragú
1/2 lbs of sliced ham
1 1/2 cups fontina cheese, grated
1/3 cup parmesan for top layer
lasagna sheets, fresh or dry
Putting them all together
Prepare all the components to the pastitsio and set aside for assembly.
Preheat oven to 400 degrees and butter a 9×13 baking pan.
Begin by adding a thin layer of bechamel to the bottom of the pan.
Follow with a layer of pasta, a layer of bechamel, a layer of meat mixture, a layer of ham, and a sprinkling of fontina.
Repeat until you reach the top of the pan (usually 2-3 layers of meat).
Top the final layer of pasta with a final thin layer of bechamel, a thin layer of fontina and finish off with parmesan cheese.
Bake covered for 30 minutes and uncovered for the last 15 (broil for a couple minutes at the end if you want an extra crispy crust).
note: You can make your own pasta dough or use the dry lasagna sheets available at your local supermarket.
Bechamel
approx 4 cups
Components
50 g butter
50 g flour
4 cups whole milk
salt, to taste
nutmeg, to taste
Putting them all together
In a medium sauce pan, melt butter.
Cook flour in butter until mixture becomes pasty and begins to stick to the pan. Approximately 3-4 minutes.
Slowly add room temperature milk while whisking the mixture so that you end up with a smooth sauce.
Season with salt and ground nutmeg.
Basic Ragu
for 1 9×13 pan of pastitsio
Components
1 1/3 lbs ground beef, (90/10)
1 small onion
1 carrot
1-2 celery stalks
1 tbsp olive oil
1/2 cup of frozen peas
1 glass wine, red
3/4 cup stock, preferably beef
1 tsp harissa
1/4 tomato paste
salt and pepper, to taste
Putting them all together
Sweat the onion, carrot and celery by cooking in olive oil over medium heat until they become translucent (approx 8-10 minutes).
Move the softened vegetables to the side of the pot and raise the heat to high. Once the vegetables begin to sizzle, add the ground beef.
Deglaze the pan after a few minutes with the red wine and stock. Stir in the remainder of the ingredients (except the frozen peas) and cook over low heat for a couple of hours (stirring every 30 minutes).
Remove from heat, mix in frozen peas and set aside until ready to use.
note: This can be done the night before and refrigerated until ready to use.