In elementary school I was the kid with the weird food. No contest. My lunch wasn't cute like a pb&j nor was it stringy like the cheesy pizzas on Pizza Fridays. I had falafel, tupperwares of hummus brimmed to the top – typical Middle Eastern food, with the occasional 'I love you' note from my mom. This is what inspired today's post. For the longest time I thought I could get by just blogging about the famous Middle Eastern dishes, leaving the tricky ones that don't photograph well away from my blog, but that wouldn't be fair. I've blogged about the big names like tabbouleh (تبولة), baba ganoush (بابا غنوج), baklava (بقلاوة), but now it's time for habra (هبرة), one of the most important components for preparing kibbeh (كبة).
Kibbeh is a traditional stuffed meat fritter (although there are vegetarian variations) popular across the Levant. From kibbeh fritters and kibbeh pressed onto a tray to kibbeh cooked in yogurt and kibbeh made from pumpkins, there are seemingly endless preparations of this iconic staple. Kibbeh is near and dear to me because it's one of the most popular in Aleppo, where my grandparents are from. In fact, there is a saying in Arabic that states: Aleppo is the mother of all types of stuffed vegetables and kibbeh (حلب أم المحاشي و الكبب ). That said, almost all the different preparations for kibbeh start with the same particular cut of meat called habra (هبرة) and that's what I'm featuring today.
mise en place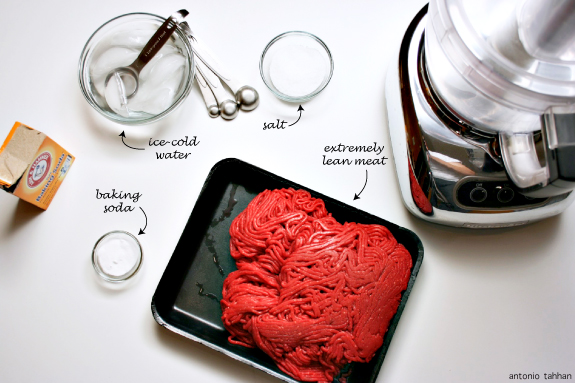 Habra is particular in that it cannot have any fat. Zip. Zilch – nada. This used to be an issue and a royal pain in the butt, but not anymore. Although my mom and grandmother still (stubbornly) de-fat their own meat, Sylvia is always more than happy to help me. Sylvia is my friend and head butcher at my local Whole Foods. I don't want to turn this into a PSA, but befriend your butcher, fish monger, produce (guy/gal?)… they can make or break your grocery shopping experience. Plus, they've always got interesting stories. So yes, if your butcher is willing, ask them to (kindly) de-fat some eye of the round and pass it through the grinder 2-3 times. Make sure to specify though that the meat have no fat, because this is what makes good habra.
a tiny pinch of baking soda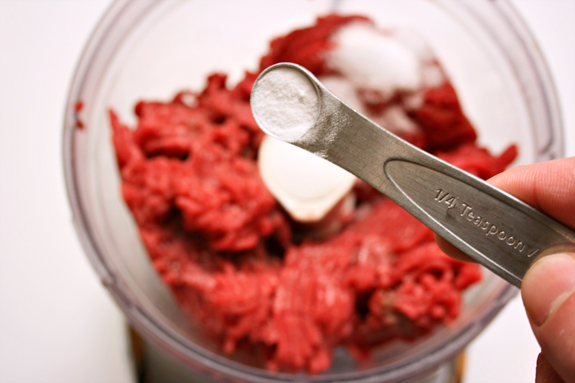 The rest of the job is done by your handy food processor, which has conveniently replaced the mortar and pestle. You want to pulse the meat with a tiny amount of baking soda, salt, and a little bit of ice, enough to make it sticky, but not watery.
habra: extremely lean meat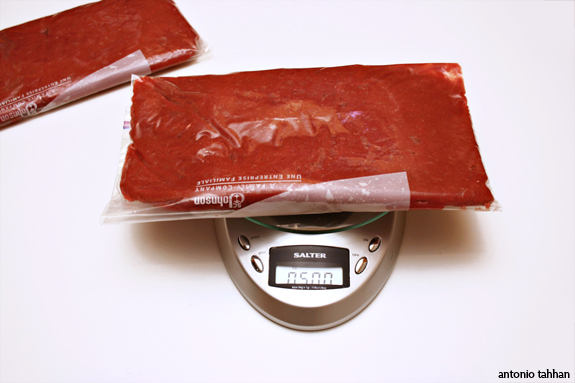 Once you're done, I like to divide the meat into handy 500g (1/2 kg) portions that I keep in the freezer for when I want to make kibbeh, which will be featured on my next post. These portions can last months in the freezer, so load up and get ready for some awesome kibbeh posts to come.
Habra
1.5 kg (3 500g portions)
Components
1 kg eye of the round meat*, extremely lean
1/4 tsp baking soda
2 tsp salt
1/4 cup crushed ice
Putting them all together
Trim and defat eye of the round cut of meat making sure that it is impeccable and no white spots are visible (ask your butcher nicely and they might do this for you).
Pass the cleaned meat through the grinder 2-3 times (can also be done by the butcher).
At home, pulse the meat in the food processor with baking soda, salt and the crushed ice. You want enough ice to make the meat sticky, but not watery.
Separate into two 500g portions and freeze until ready to use.
note: Traditionally this is made with (extra lean) lamb meat, but it has become very popular with beef as well.
Thank you to all those who submitted ideas and suggestions for my morning show appearance on Fox 5 earlier this month. Here's the clip of the baklava segment. Thanks for joining me on my blog and for making it so much fun! You rock 🙂