I grew up eating lahme b'ajeen (لحمة بعجين), meat pies, from my grandmother Muna's kitchen. It was a painstaking work of love, care, and devotion. Sitto Muna always prepared the dough and meat mixture the night before. She would then wake up before anyone else to begin forming the pies one by one. I often woke up to the scent of meat pies sizzling on her griddle. The process took a long time, but my grandmother went to great lengths to make sure my brothers and I connected with our heritage.
When I traveled to Syria for the first time in 2007, I was surprised to learn grandmothers don't prepare lahme b'ajeen at home. They prepare their own meat topping at home and would often send a young family member to deliver it to the local furn, or bakery. Most neighborhoods in Aleppo have a small, modest furn outfitted with a commercial oven. Ours was a block away, tucked away in an alley. For a nominal fee, the neighborhood baker would form and bake the individual meat pies using the homemade meat topping and their own dough. This exchange was more about social cohesion than anything the baker profited from. By the time lunch was ready, someone would walk down to the local furn to fetch the freshly baked stack of meat pies.
Every country in the Middle East has their own version of meat pies. Most Middle Eastern recipes call for sautéing meat and diced onions with a variety of fragrant spices. In Aleppo, the recipe is influenced by the Armenian community in the city. The Armenian version of lahme b'ajeen (lahmajun), makes use of fresh mint, a bunch of parsley, onions, red bell peppers, lots of garlic, and vine-ripe tomatoes. It's a celebration of spring and summer. With a couple weeks left of winter, this is the perfect recipe to kick off the warm weather. It's a great dish to prepare with friends. If you don't have a griddle that fits over your stove, you can use an electric griddle or bake them in the oven on a pizza stone.
mise en place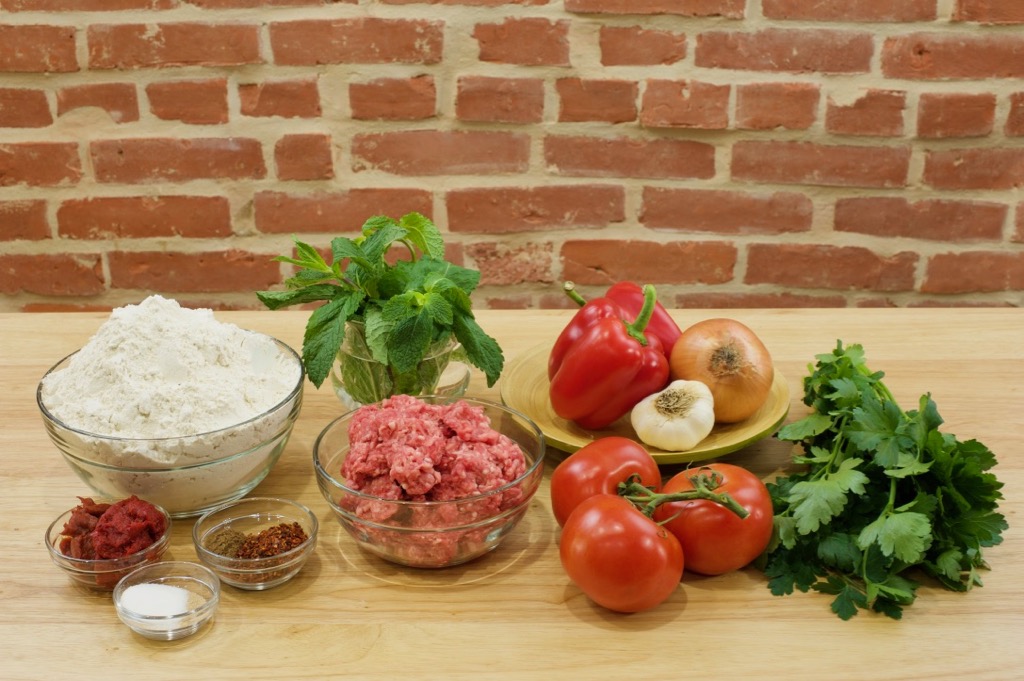 rough chop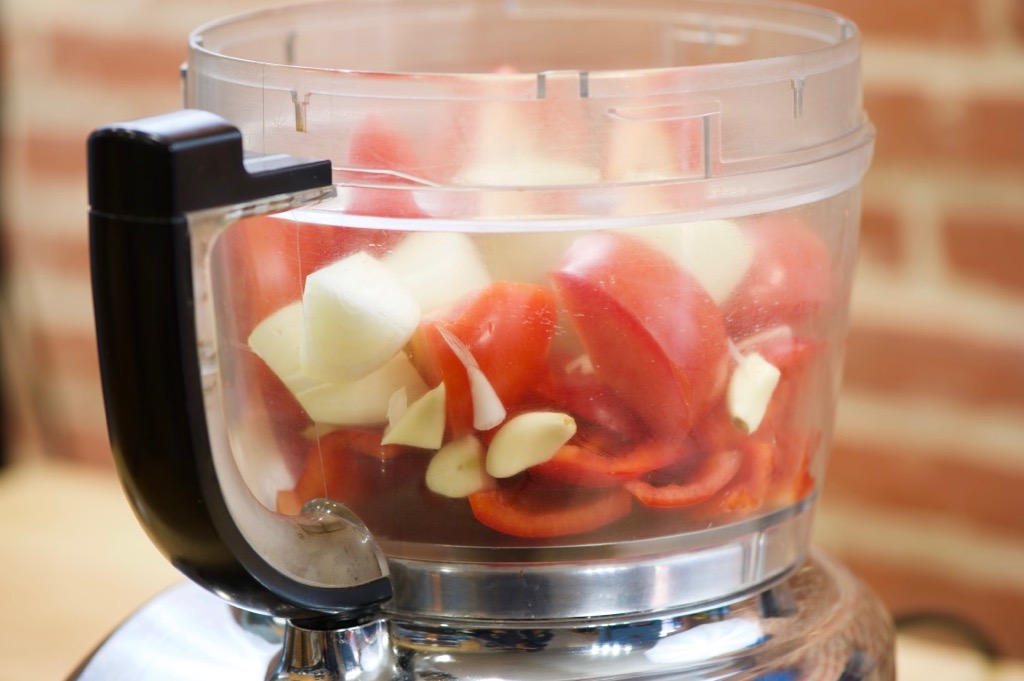 remove the stems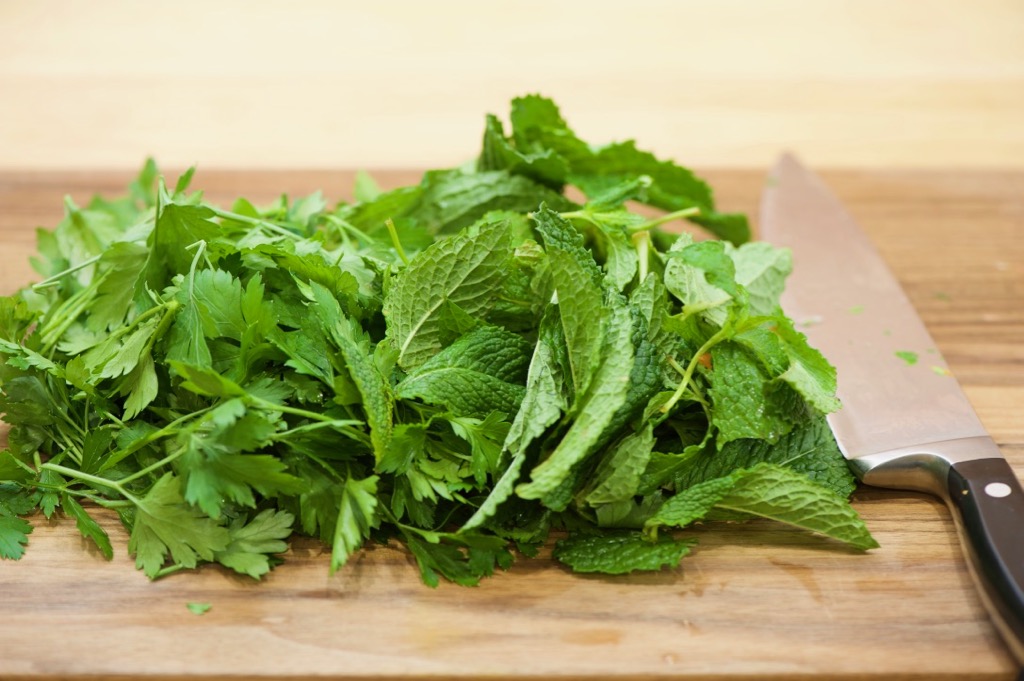 meat & vegetable topping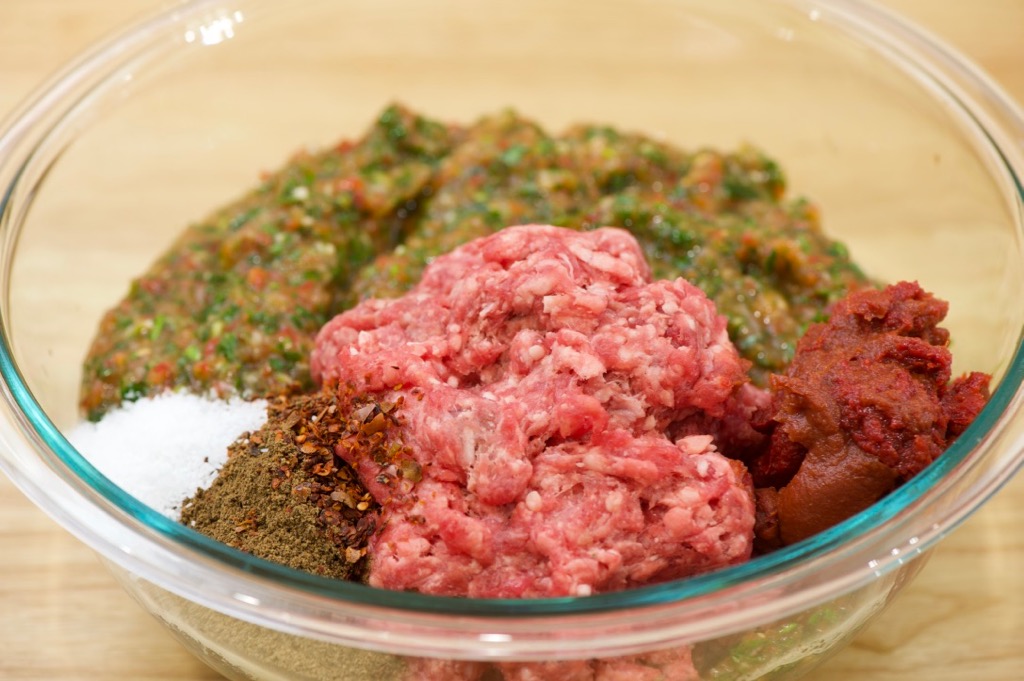 basic dough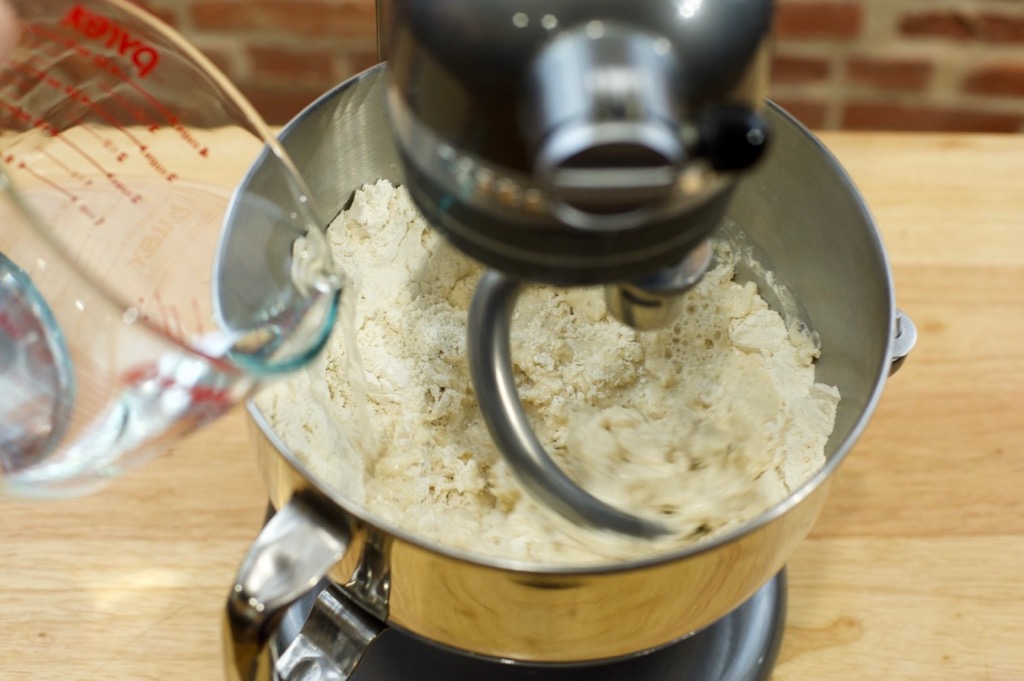 individual dough balls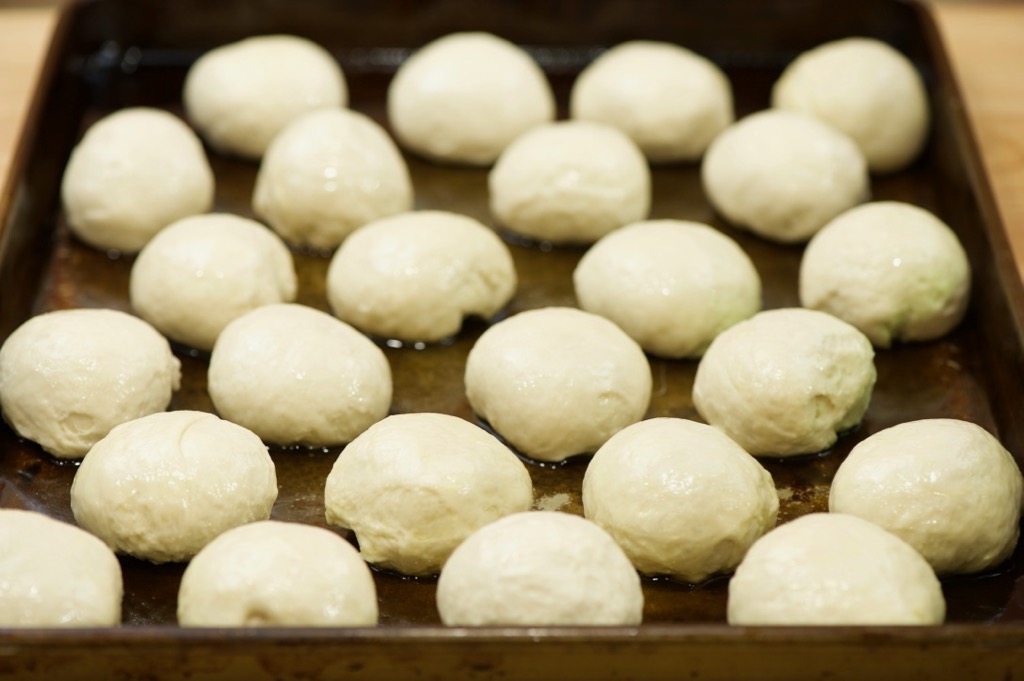 thin dough/thin topping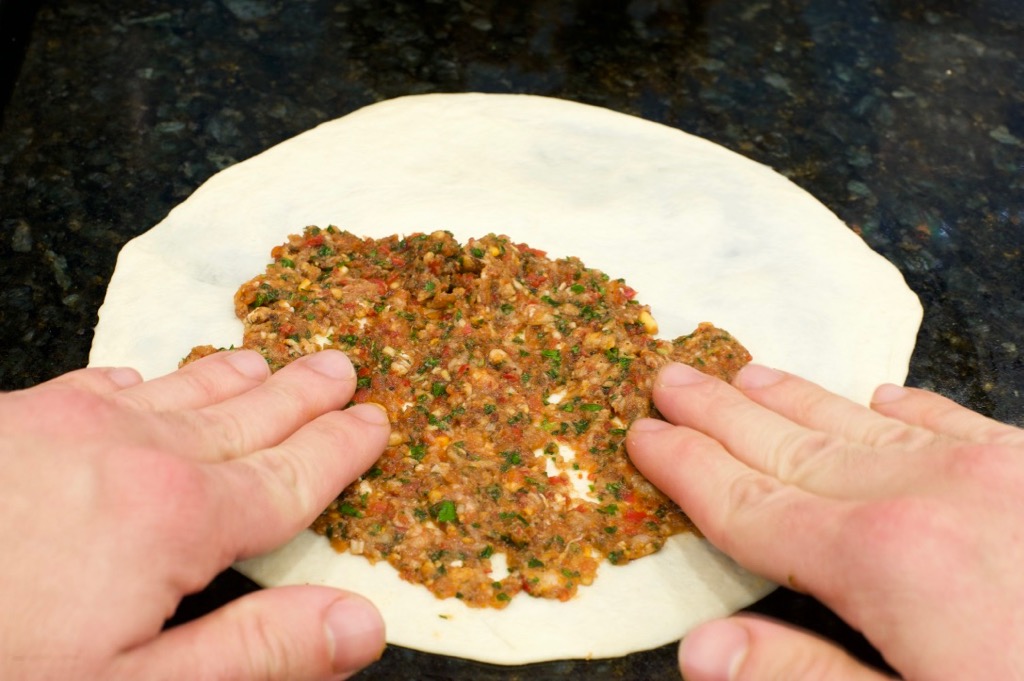 heaven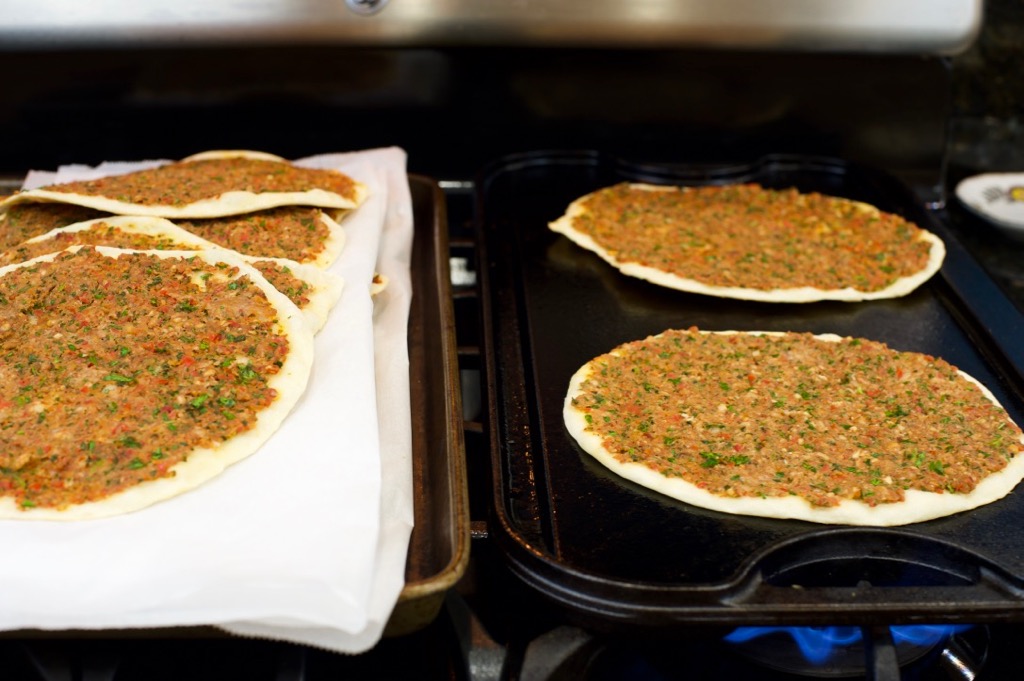 golden brown crust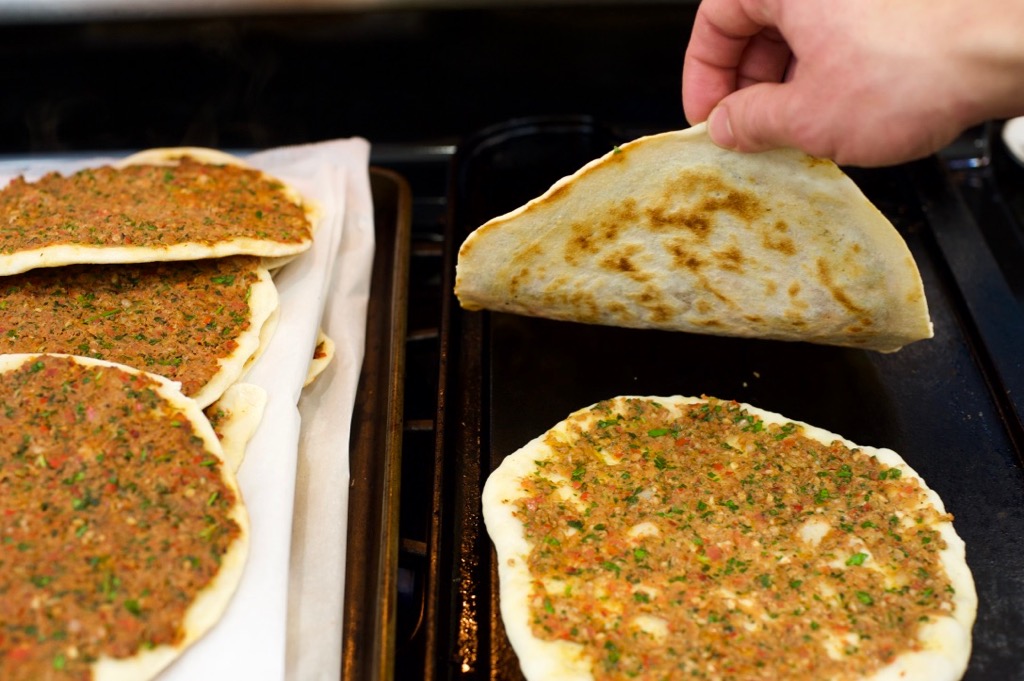 work of love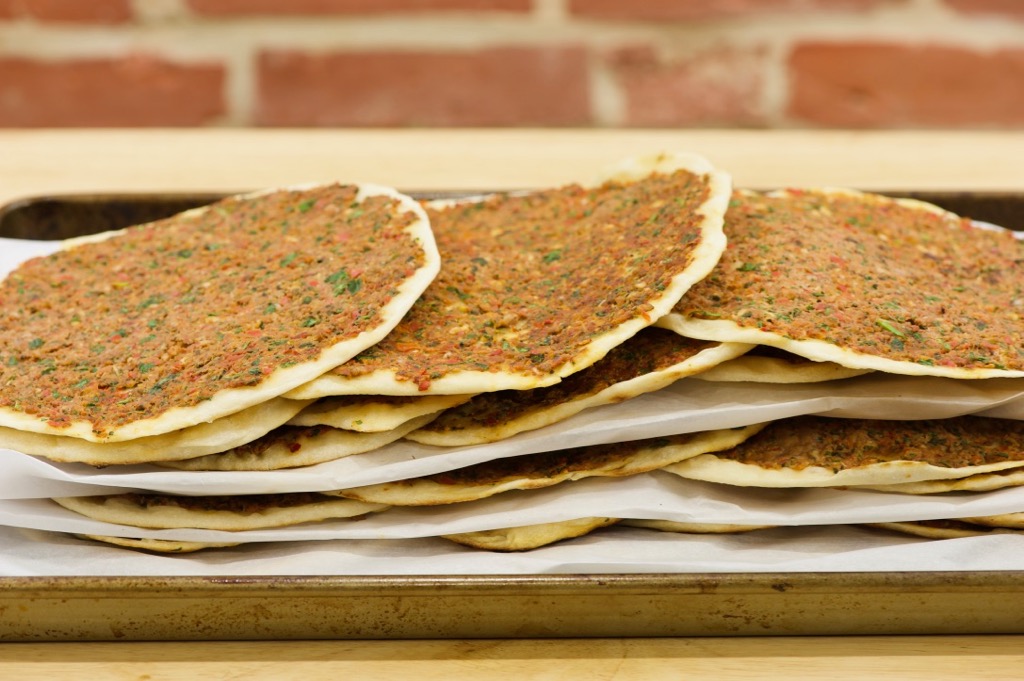 lahme b'ajeen (لحمة بعجين)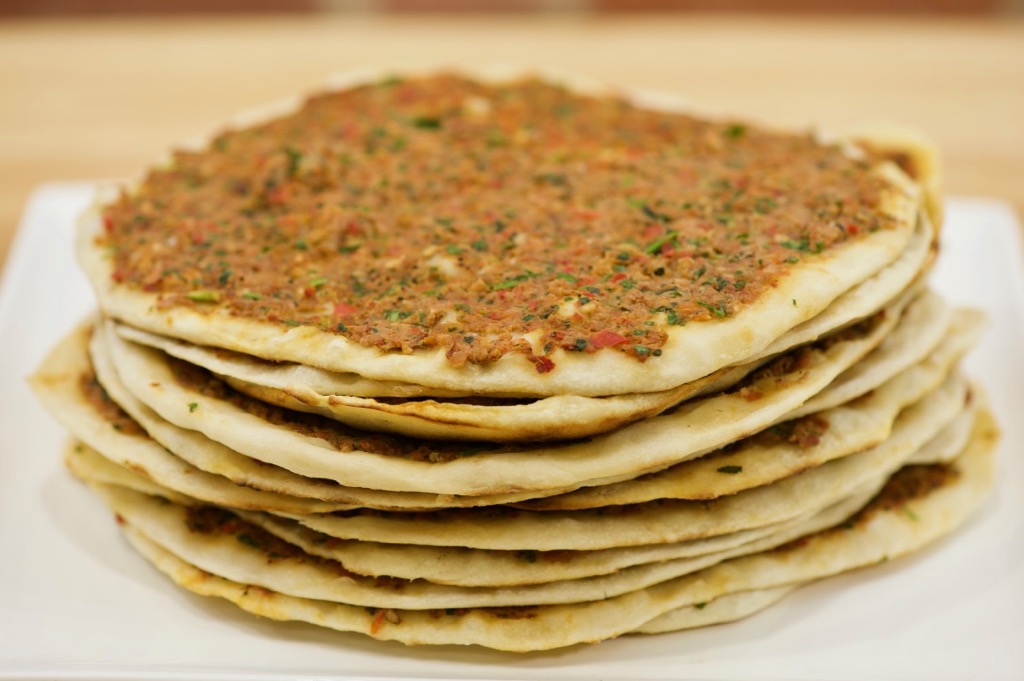 Lahmeh B'ajeen
yields approximately 24 pies
Components
Dough
1kg flour
1/4 cup canola oil
1/4 tsp dry active yeast
1 Tbsp salt
2 tsp sugar or honey
3-3.5 cups warm water*
Meat mixture
500g ground beef, ~85% lean
1 bunch of parsley
5-7 sprigs of mint
2 red bell pepper
500g tomatoes, ~2-3 large tomatoes
2 Tbsp red pepper paste
2 Tbsp tomato paste
4 cloves garlic, minced
1 medium yellow onion
2 Tbsp Aleppo pepper
2 tsp allspice, ground
salt, to taste
toppings (optional)
eggplant pulp
plain yogurt
mint leaves
arugula, baby kale, or your favorite greens
Aleppo pepper
Putting them all together
Mix together the flour, yeast, salt, and sugar until well combined (if you're using honey, add it with the oil in the next step). Add the canola oil (and honey) and begin mixing the warm water into the dough. Stop adding water once a smooth dough is formed. Kneed for 5-10 minutes.
Cut the dough into individual balls slightly bigger than golf balls but smaller than tennis balls (~65 grams each).
Brush some oil to prevent the dough balls from drying, cover with plastic wrap, and allow to rest overnight or until you're ready to make the meat pies (no more than 24 hours).
Add all the ingredients except the meat into the food processor. Pulse until you have a a pulpy mix. Mix the chopped vegetables with the meat mixture and refrigerate until you are ready to make the pies. The meat mixture can also be made the day before.
Add a touch of canola oil to a clean working surface. Open the dough by pressing on it with your hands until you reach a very thin disk. Be careful not to tear the dough.
Add a very thin layer of the meat mixture.
Carefully transfer the meat pie onto a hot griddle. Cook for 3-4 minutes or until the bottom is golden brown. Transfer to a baking sheet in a warm oven.
Continue forming the pies until the meat mixture is done.
Serve the meat pies with a variety of optional toppings for rolling into the meat pies.
Notes: The amount of water you use for the dough will vary on the flour, the season, and how dry the weather is. This dough isn't fussy — gradually add the warm water until the dough comes together.
lahme b'ajeen with homemade yogurt, fresh mint, and baby kale