Zaalouk (زعلوك) is an incredibly delicious Moroccan salad prepared with fresh eggplants cooked with ripe tomatoes, roasted peppers, and warm spices. It's a celebration of spring and all the delicious vegetables that are right around the corner. I can already begin to feel the rays of the sun stretching further and the days getting warmer.
When I visited Morocco in 2016, I ate zaalouk everywhere I went. It was printed on every menu at every restaurant. I was obsessed. You could eat it cold or hot, but I prefer it cold on a hot spring/summer day. It's very light and refreshing. It's one of those dishes that tastes better the next day. Think along the lines of picnic dip, sandwich spread, or straight up, digging in with your fork. You can't go wrong with zaalouk.
mise en place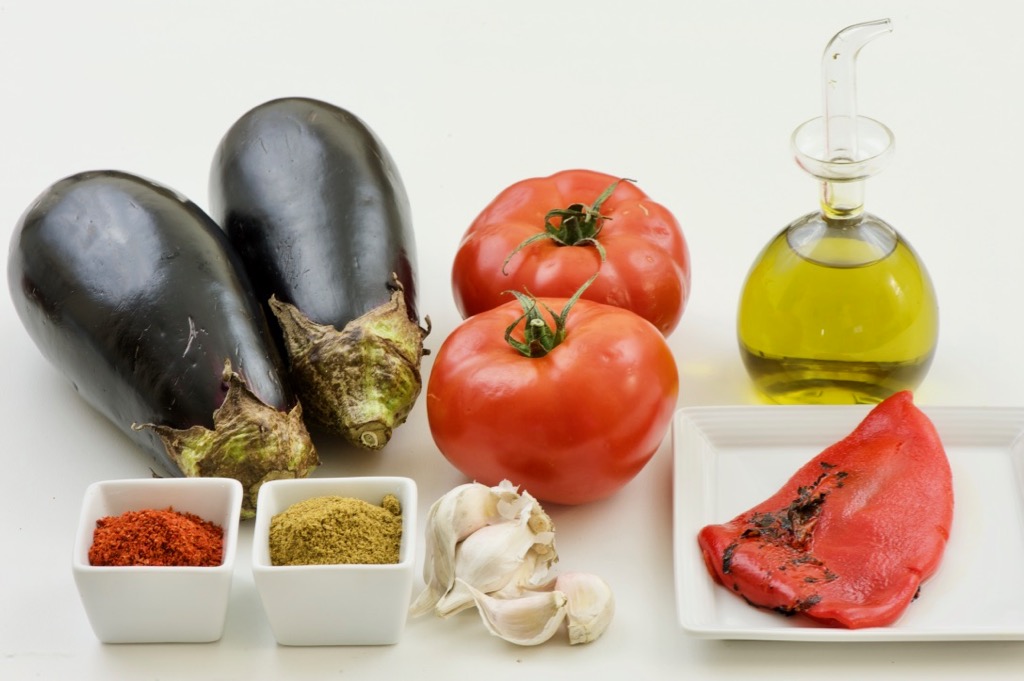 Although Moroccans and Syrians speak Arabic, the dialects couldn't be more different. Moroccan Arabic is influenced by Berber, French and Spanish. It's so different than the Syrian dialect that it was often easier to chat with locals in English than it was to try to use Arabic. Sometimes we opted for Modern Standard Arabic (MSA), the standard Arabic reserved for the press and news broadcasts. It's rarely spoken by locals. MSA sounds awkward in any context that isn't the news. It's like walking into a bakery and ordering a croissant in Shakespearean English.
In the Syrian/Levantine dialect, the root za-aa-la (زعل) means to sadden. In Modern Standard Arabic, za-aa-la means to anger. By extension, I thought zaalouk would be the word used to describe when someone saddens/angers you (3rd person). Not in Morocco. The word zaalouk comes from the term, m'zaalak, which is used to describe a mashed texture. It is an apt description for how the eggplants, tomatoes, and peppers, mash together to create an incredible burst of flavor. The only way zaalouk could be sad is if you missed out.
salt eggplants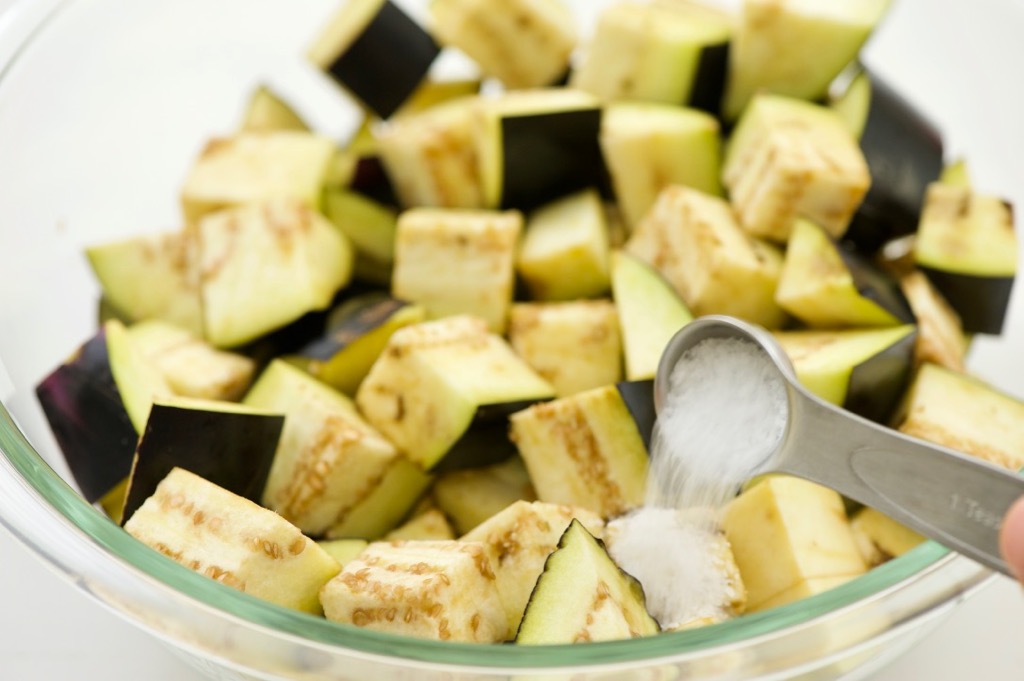 eggplants coated in olive oil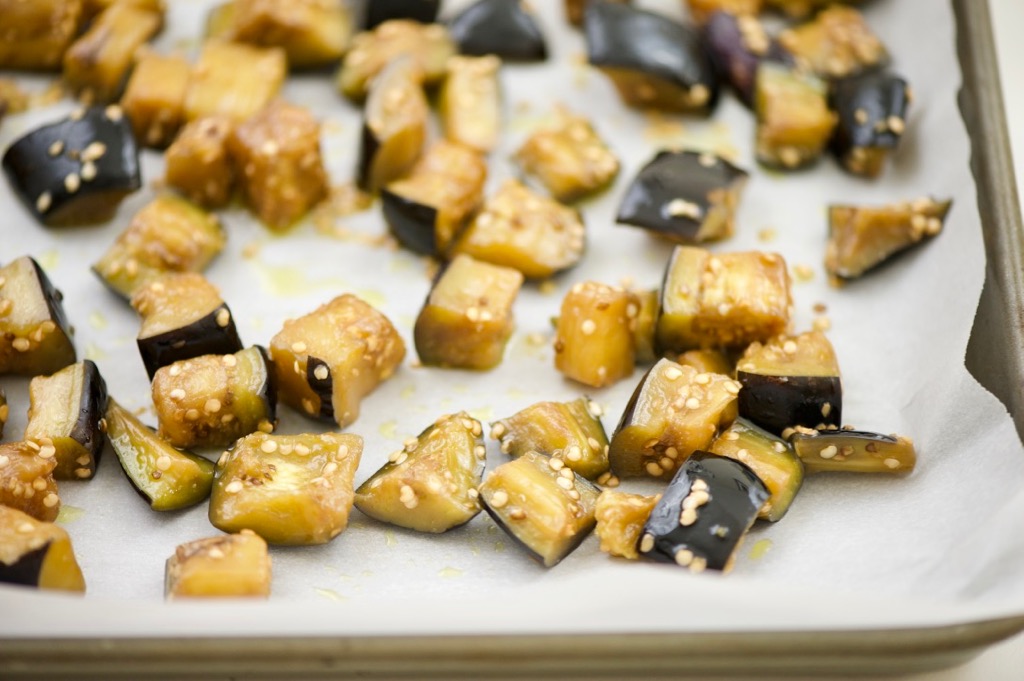 roasted eggplants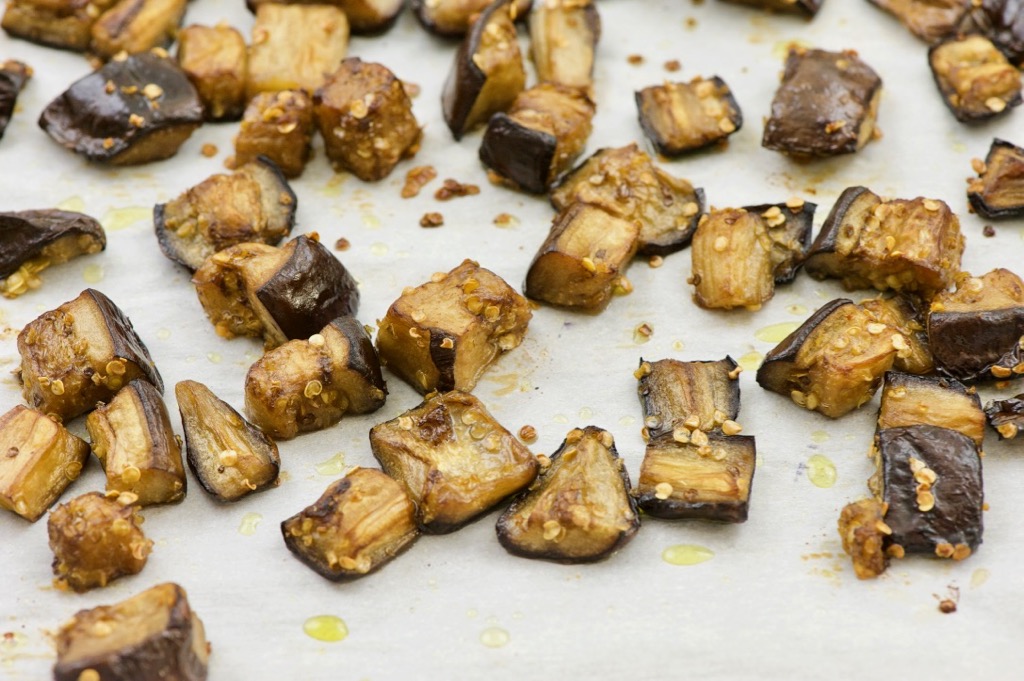 fresh tomatoes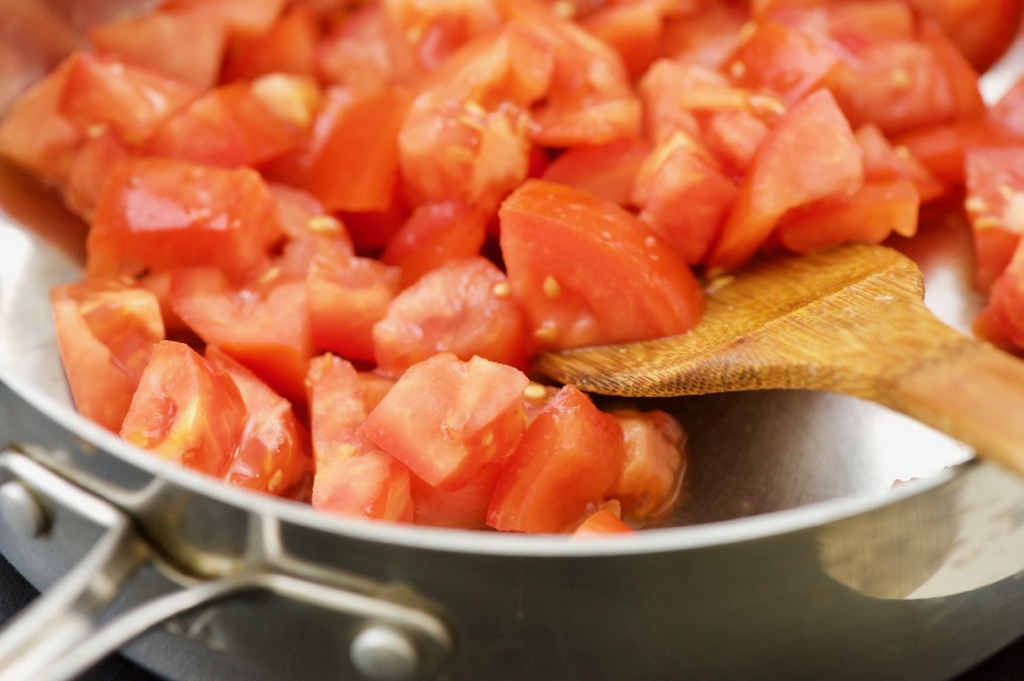 cooked tomato puree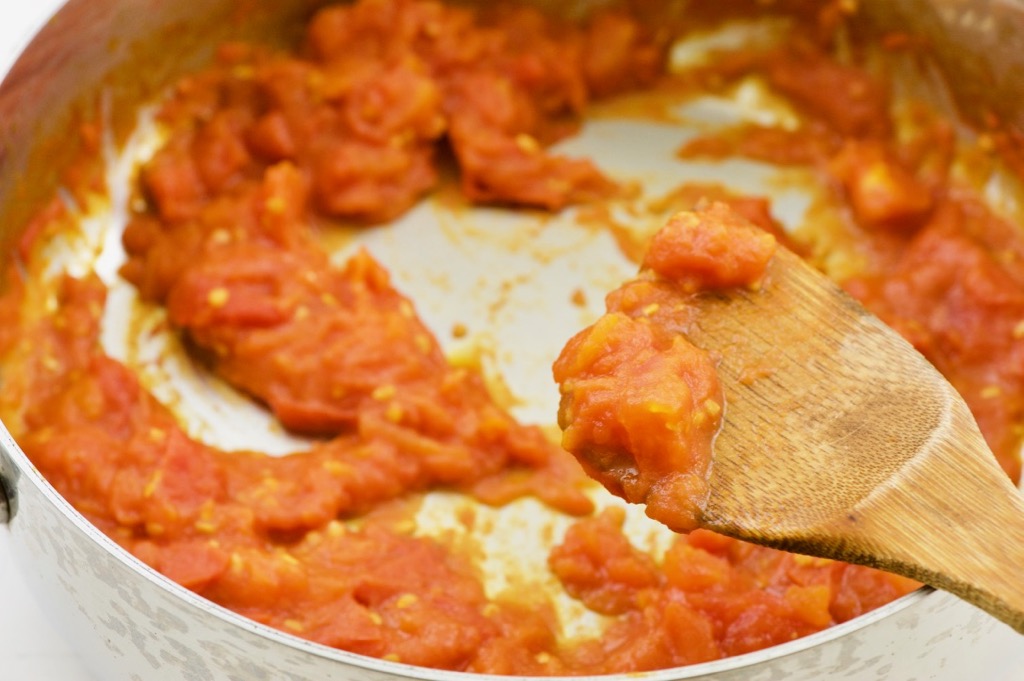 everything together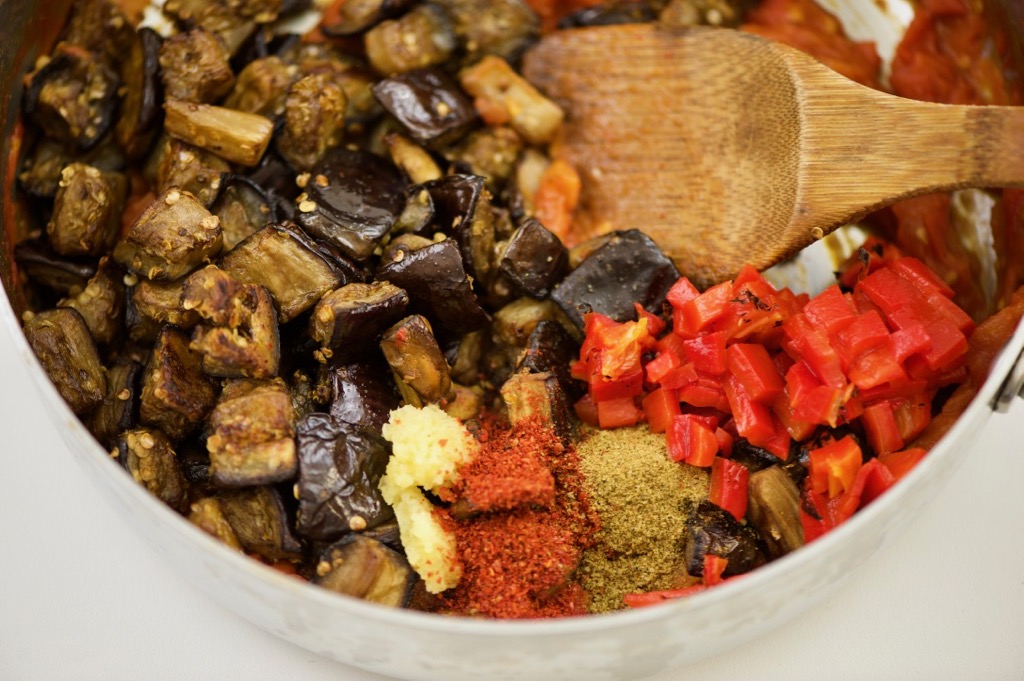 zaalouk (زعلوك)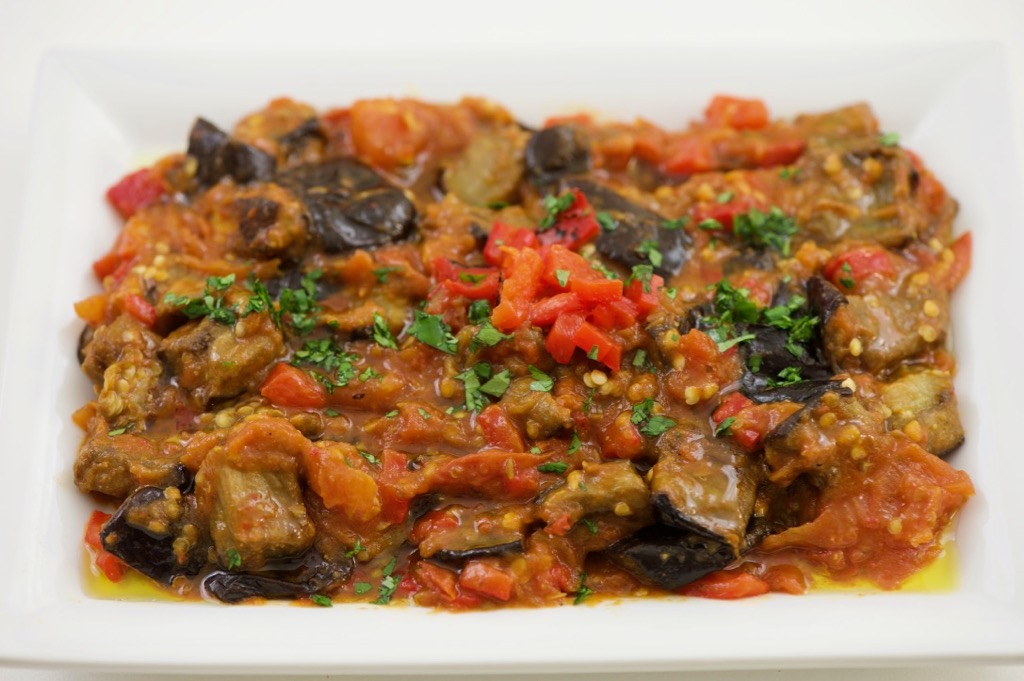 Zaalouk
yields ~4-6 servings
Components
2-3 medium eggplants
2 roasted red peppers, diced
2-3 cloves garlic, finely minced
1/4 cup chopped parsley
1/4 cup chopped cilantro, optional
1 tsp Aleppo pepper
1 tsp ground cumin
3 Tbsp olive oil plus more for pan-frying
salt, to taste
Putting them all together
Wash and remove the stems of the eggplants. Cut into 1/2 inch cubes.
Season the eggplants with a little salt. Line a baking sheet with a layer of paper towels. Scatter the seasoned eggplants on the paper towels and cover with another layer of paper towels. Press down on the paper towels to draw out the excess moisture.
Toss eggplants in olive oil. Scatter on a baking sheet and roast at 400 degrees for 20-25 minutes, or until cooked through.
Cut tomatoes into 1/2 cubes. Line the bottom of a large sauté pan with olive oil. Add tomatoes and season with salt and pepper. Cook until the tomatoes are soft and have lost their shape.
Add the roasted eggplants, diced peppers, cumin, Aleppo pepper, and garlic to the cooked tomatoes.
Cook for another 7-10 minutes until the eggplants have broken down into a chunky paste.
Mix the chopped parsley (and chopped cilantro). Serve hot, cold, or at room temperature.
zaalouk bite