I used to love exploring Aleppo by cab. Occasionally I'll catch myself daydreaming about these simple, ordinary memories: leaning forward from the sidewalk of a bustling street; hailing a cab in the ancient city. The experience made me feel like a local, like a halabi.
As I waited for a cab to pull over, I would practice how to pronounce the name of the street or destination where I wanted to go. "A'al jama'a, low samahet," I repeated softly, placing extra emphasis on the a'a sound — to the university, please. The a'a sound in Arabic, produced by the letter aeyn (ع), is the most difficult for me, as a non-native speaker, to pronounce. The sound is that of a deep "a" that is starts at back of your throat. Linguists refer to this as an epiglottal sound.
I miss these small yellow cabs (even with all their honking)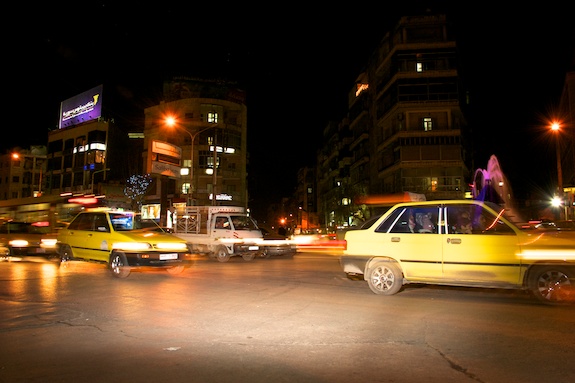 In Aleppo, if you're male, you're expected to ride in the passenger seat alongside the driver. This makes the experience more casual — it encourages conversation. It also ensures there is never a dull or quiet ride through the city.
Once I sat in the passenger seat, a few utterances of my soft-spoken Arabic were usually enough to cause intrigue. The Aleppan dialect is known for its rather sharp and assertive tone. When the driver would ask me where I'm from, I usually turned the question back to him, asking where he thought I was from. This way my way of breaking the ice. It was also how I informally kept track of my progress in Arabic. When I arrived to Syria, I started out as an ajnabi, a foreigner. Towards the end of my Fulbright some cab drivers actually thought I was an Armenian from Aleppo. I was elated the first time I heard that.
After a few guesses, I would clarify that I was an American studying food culture in Syria. Mentioning food in Aleppo is an ice breaker in its own right. Aleppans, as you may gather from my blog, are famous for their food. Once food entered the conversation, cultural barriers suddenly dissipated. Shoulders relaxed and polite smiles felt more sincere. If I was welcomed before, the driver would make sure to welcome me again: Ya ahla w sahla, ya meet el salameh.
Cab rides provided great opportunities for cultural exchange. On many occasions I was the first American the driver had ever met. Cabs were also a great place for me to interact with Syrians from all walks of life. I met professionals looking for a second source of income, religious men, young adults who had run-ins with the law (well, just one), business men, Kurds who played lovely Kurdish music, food enthusiasts, and many others. One cab driver, I will never forget him, entertained me with his Arabic-English riddles. "Cat in light" he exclaimed — "cat in light!!" I'm hardly good at riddles in English, let alone riddles between two languages. After a few seconds, he blurted out, ou't fil duow (قط في الضوء), and then repeated more fluently, ou'tfi el douw (أطفي الضوء). "Get it", he asked, cackling. You see, the Arabic translation for "cat in light," if pronounced quickly, will sound like someone is saying, "turn off the light." I laughed with him. He then presented me with another riddle, which I will leave for my Arabic-English readers to guess: "small donkey, my money." If you get it, leave your answer in the comments!
One thing I learned about Syrian cuisine is that it is resourceful. Recipes were never exact; more like simple instructions that vary between neighborhoods, and even families. A series of handfuls and pinches that, when executed properly, lead to extraordinary meals. One of the dishes that exemplifies this culinary ingenuity is called maldoum (ملضوم), an incredibly delicious layered meat and eggplant dish. The classic way to prepare this dish is over a grill, where you alternate meat patties and eggplant slices on a skewer. When the dish is prepared over the grill, it is called, kabob banjan (كباب باذنجان). But if you don't have access to a grill, you can prepare kabob banjan in the oven, and call it maldoum.
Either way you prepare it, the dish is incredibly simple and only takes a few basic ingredients: eggplants, ground meat, tomatoes, tomato puree, salt, allspice, and paprika.
mise en place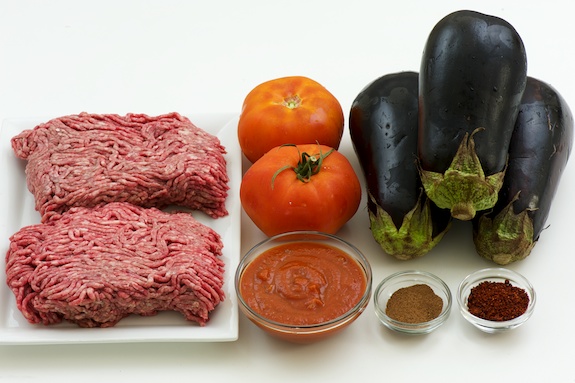 The eggplants should be sliced fairly thick, about an inch wide, because they will release a lot of water while they cook in the oven.
thick slices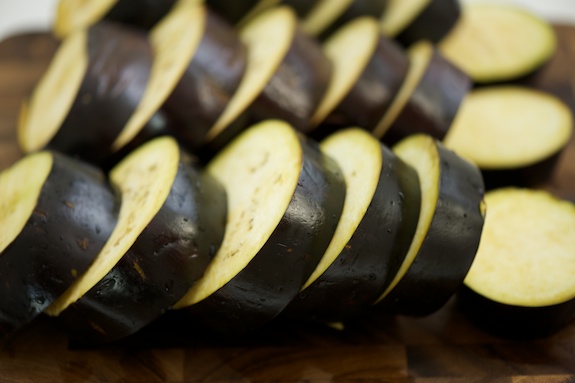 Traditionally, the eggplant slices are pan-fried and then layered into the casserole, but I think it tastes better when the eggplants are roasted in the oven. For one, it's healthier, but you also won't have to stand over the stove frying slices of eggplant individually.
Before I roast the eggplants, I sprinkle them with a bit of salt to help break them down and remove some of the liquid stored inside.
sprinkle with salt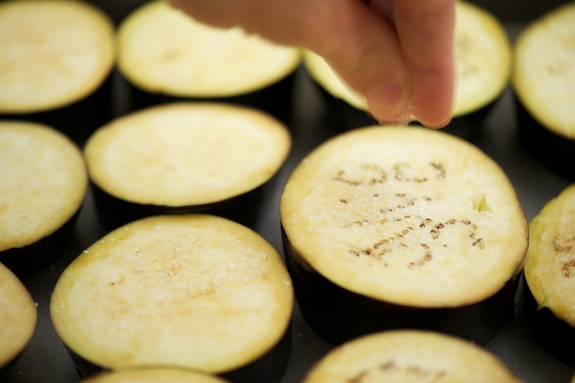 Then I cover the eggplants with paper towels and place a baking sheet on top. I weigh the baking sheet down with anything heavy to help the eggplants drain more quickly. I used my cast-iron wok, but anything heavy, like cans or even a brick, will do.
drain the eggplants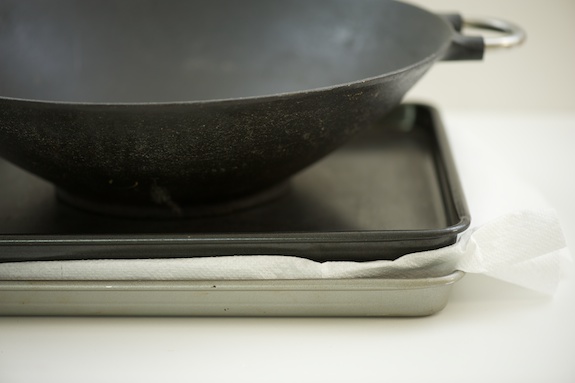 The meat is important. You can use lamb or beef, but make sure it is freshly ground and seasoned properly. I used beef. You might even try ground chicken or turkey for healthier alternatives. Remember, these are merely guidelines.
If you're using beef, I suggest using 90/10 ground beef (10% fat). The grilled version calls for 85/15 ground beef (15%), but that's because a lot of the fat drains into the grill.
simply seasoned: salt, allspice, paprika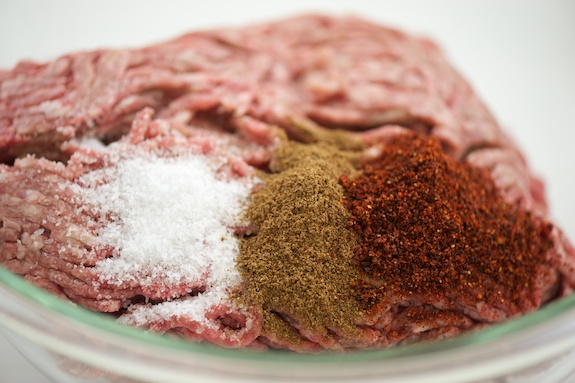 Maldoum is traditionally prepared in a large round metal pan, similar to cake pans, but slightly shorter. I didn't have one of those, so I used an oven-proof rectangular casserole dish. I also sliced the eggplants in half so that they can fit nicely in the casserole dish I had. Then I formed the meat patties and sliced the tomatoes to roughly the same size.
alternate: eggplant, meat, tomato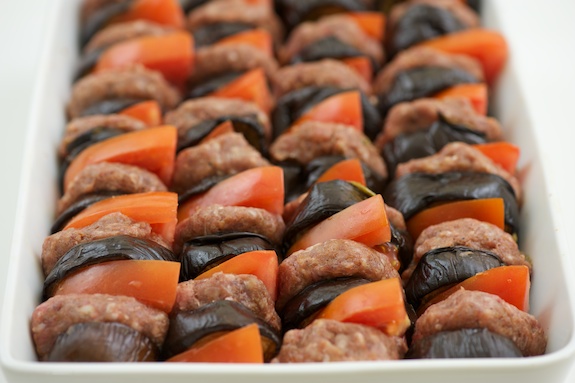 Top the casserole with your favorite canned tomato puree and bake in the oven for about an hour. The tomato puree not only compliments the flavor of the fresh tomatoes in the casserole, but also protects the meat from drying out in the oven.
maldoum (ملضوم)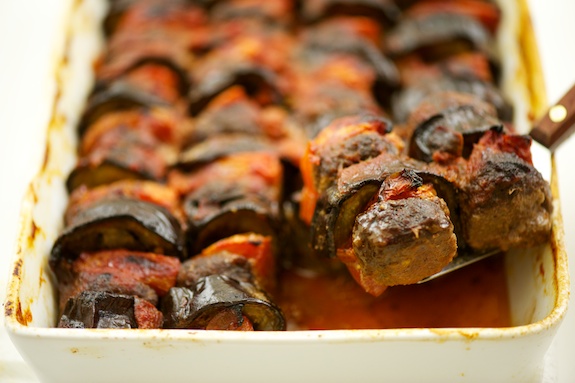 Bonne appétit,صحة و هنا
Maldoum
yields 6 servings
Components
1.5 lbs 90% ground beef or lamb
3 medium eggplants
2 large tomatoes
1/2 cup tomato puree
1 1/2 tsp salt, to taste
1 1/2 allspice, to taste
1 tsp paprika, to taste
Putting them all together
Rinse and dry the eggplants.
Remove the tip of the eggplants, then slice into thick, even slices (approximately 1 inch thick).
Season the eggplant with salt on both sides, cover with a layer of paper towels, and place a baking sheet with weights on top to drain some of the water from the eggplants. This will take about 15-20 minutes.
Roast eggplants in a 425 degree oven for 20-25 minutes until tender, but not soft.
Slice the eggplants in half if they are very large. Slice the tomatoes into roughly the same size as the eggplant slices.
Season the ground beef with salt, allspice (freshly ground, if possible), and paprika.
Divide the meat into even patties, approximately the same size as the eggplant slices.
Alternate between eggplant, meat patties, and tomatoes in the casserole dish.
Pour the tomato puree evenly across the top of the casserole and bake in a 425 degree oven for an hour.
Serve with rice or pita bread and enjoy.