I'm in Miami visiting my family — we're getting ready to go on a cruise, literally in a couple of hours, but first, I need to tell you about this delicious Pumpkin Kibbeh. It would be incredibly cruel if I kept this recipe to myself any longer. It's amazing, and I don't take that claim lightly.
mise en place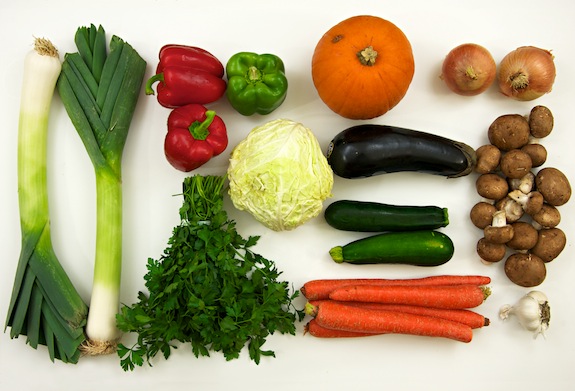 I actually packed some of the kibbeh I made for this blog post into my carry-on. I felt like my grandmother, who is incapable of visiting anyone without packing a feast into her luggage. I'm not exaggerating: she will show up with more food than clothes sometimes. She also refuses to rest; as soon as she settles in, she will find her way into the kitchen and begin to work her magic. I get my passion for cooking from her. I wrapped pieces of my Pumpkin Kibbeh in aluminum foil and bundled each parcel inside two plastic bags. I used my clothes for padding and made my way to the airport. This kibbeh merits a blog post.
pumpkin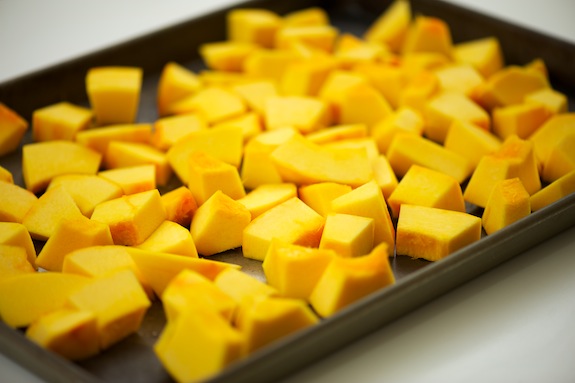 Kibbeh is a classic Levantine dish that can be prepared several ways. The traditional kibbeh is prepared with extremely lean ground lamb kneaded with bulgur wheat (cracked wheat) until a dough is formed. The dough is stuffed with a fragrant filling of pine nuts and minced lamb seasoned with allspice, salt, pepper, and a tiny pinch of cinnamon. This is only one kind of kibbeh.
roasted vegetables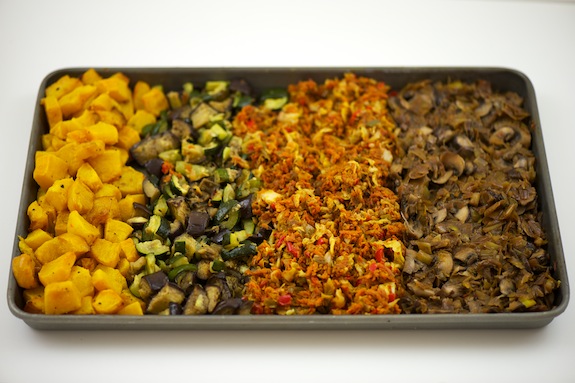 Legend has it that you can find 100 different kinds of kibbeh in Aleppo. That is why this ancient city in northern Syria is known as "the home of stuffed vegetables and kibab" (plural of kibbeh) — حلب أم المحاشي و الكبب. I've written a few blog posts on stuffed vegetables — swiss chard, eggplant, and grape leaves. Today, I want to focus on kibbeh, specifically the pumpkin kibbeh that I discovered at the beginning of my Fulbright. I arrived to Aleppo in early autumn of 2010. The blazing heat still carried over from the hot summer days, but nighttime brought with it a crisp, autumn breeze that swooped through the entire city. It was a beautiful time to be in Syria.
the dough: simple and colorful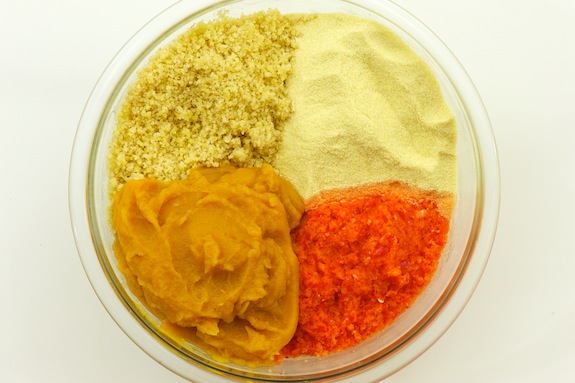 At that time I was living with my host mom, Tant Kiki, who prepared simple, but delicious meals. When she prepared this pumpkin kibbeh I am ashamed to say that I was not enthusiastic about eating it for lunch. When I asked what we were having, she said they were leftovers. Little did I know she had the powers to turn scrap vegetables into gold. You will never catch Tant Kiki letting any food go to waste; she gathered her unused vegetables and made this delicious kibbeh out of them. I ate my words. I thought it was the most delicious thing I had ever had.
beautiful color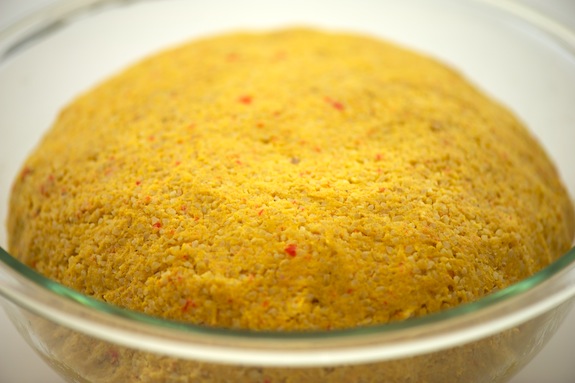 I made my kibbeh with eleven vegetables (I didn't end up using the parsley). The beauty of this dish is that you can make it with almost any vegetables you can think of. Whatever you have in your fridge will work, just like Tant Kiki makes it. This is also a great way to use any leftover pumpkin from Halloween or Thanksgiving. I hope you enjoy this recipe as much as I did — I will see you when I get back from my cruise! Bon appetit and Happy (early) Halloween!
the bottom layer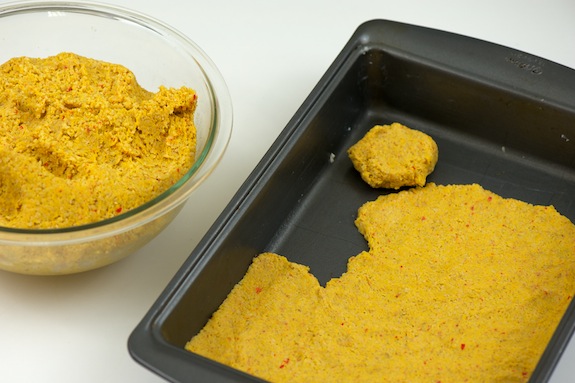 forming the kibbeh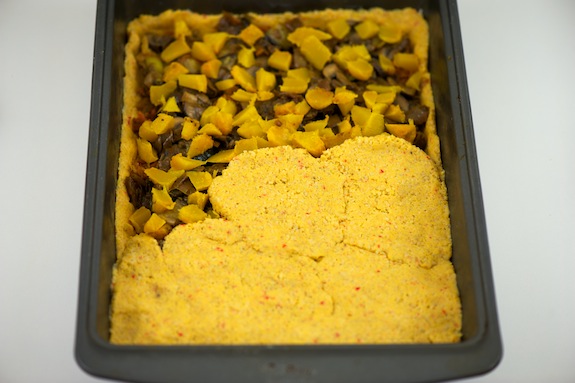 butter, the finishing touch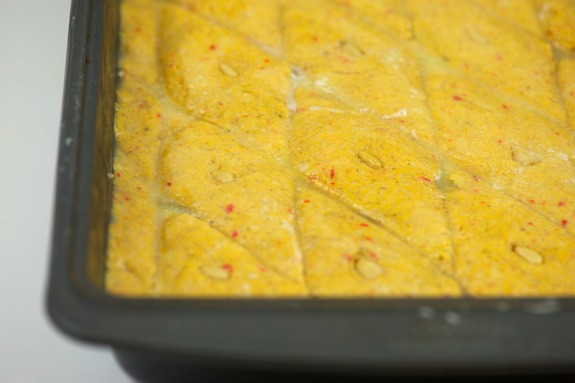 pumpkin kibbeh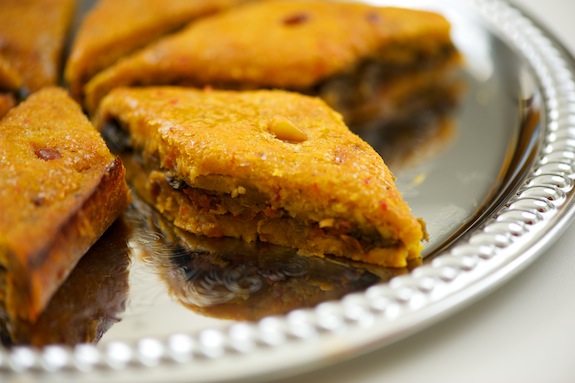 classic diamond shape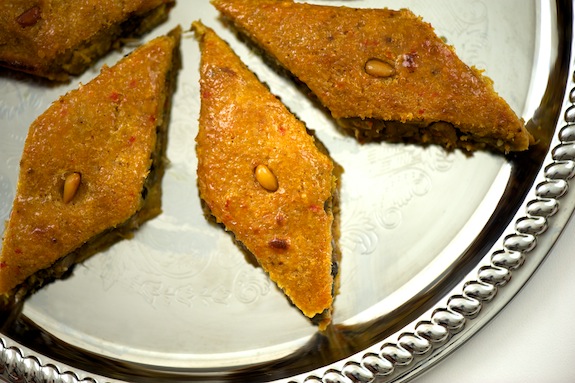 Pumpkin Kibbeh
yields 2 trays
Components
3 cups fine ground bulgur wheat (#1)
3 cups fine semolina
2 1/2 cups pumpkin puree
2 red bell peppers, one diced, one chopped
1 medium yellow onion
2 large leeks
1 green pepper, diced
1 small pumpkin, peeled and diced
4-5 carrots, peeled and grated
1 lb crimini mushrooms
1/2 head of cabbage, finely shredded
1 eggplant, diced
2 zucchini, diced
4 cloves of garlic, minced
extra virgin olive oil
1/4 cup pomegranate molasses
1 stick of butter
Pine nuts, garnish
salt, to taste
Putting them all together
Rinse and dry all the vegetables. Slice, dice, or grate the vegetables depending on the instructions on the ingredient list.

Toss the peeled and diced pumpkin with olive oil and season with salt and pepper.

Begin by roasting the pumpkin in a 400 degree F oven because it takes the longest. Roast for 30-40 minutes or until a knife easily pierces the flesh. Set aside.
Toss the eggplant, zucchini, carrots, and the minced garlic together with olive oil, salt, and pepper. Roast for 30 minutes in 400 degree F oven or until a knife easily pierces the flesh of the eggplant.
In a large skillet, sauté the leeks, mushrooms, cabbage, green pepper, and the diced red pepper in olive oil over medium high heat until leeks and cabbage are soft, approximately 20-25 minutes.
Deglaze the pan with some water, reduce heat to medium low, and add mix in the pomegranate molasses. Cook until the water evaporates and the sauce develops a syrup consistency.
Set all the cooked vegetables aside and allow to cool to room temperature. You can also refrigerate them at this point and continue preparing the kibbeh tomorrow.
Blend the chopped red pepper and onion in a food processor or blender until completely liquid. Combine the semolina, bulgur wheat, pumpkin purée, and liquified pepper and onion and knead until a dough is formed. You may need to add a couple tablespoons of water if the dough is still dry to the touch.
Grease a large baking dish with butter.
Flatten golf size pieces of dough on the bottom of the baking dish (1/4″) until the entire bottom is covered.
Scatter the cooled vegetables over the bottom layer of dough.
Repeat the process of flattening golf size balls of dough to cover the vegetables and create a top layer for the kibbeh. Don't worry if there are seams.
Once the top layer is covered, dip your hands in water and run your hand across the top of the kibbeh to flatten out any imperfections.
Slice the kibbeh in the design that you prefer. Add a pine nut to the center of each piece for garnish.
Melt the butter and seal the top of the kibbeh with a thin layer of butter. I used about a third to a half of stick per baking dish.
At this point you can either freeze the baking dish or bake it immediately in a 400 degree oven for 20-30 minutes or until the top is golden brown.
Notes: If you don't have pomegranate molasses you can season the vegetables with soy sauce to develop a deep flavor (it is not the same, but it is a nice variation). The filling for this dish is also versatile; feel free to use completely different vegetables for your kibbeh. Some people make the same pumpkin kibbeh dough, but fill it with the classic meat, onion, and pine nuts.
pumpkin kibbeh