It is difficult to write about my experiences in Syria knowing that the country is on the brink of civil war and chaos. It breaks my heart. I also realize that not writing anything won't necessarily make things better, either. And giving up on my blog — the thing that used to bring me so much happiness — is the last thing I want to do.
mise en place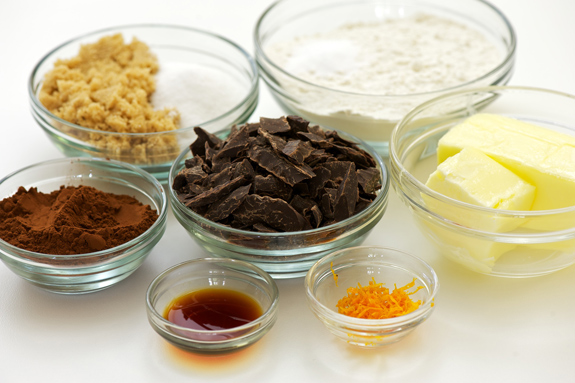 I want to keep today's post short with the promise that I'll be back again soon. I won't disappear like I did before, you have my word. Thank you to all those who nudged me (physically and electronically) and encouraged me to continue writing. It may have taken me a while, but I'm here.
creaming process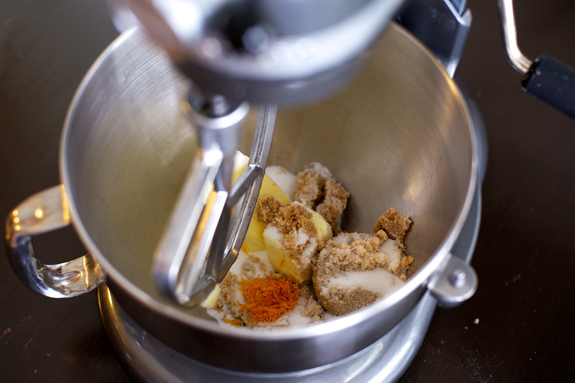 Today's recipe is not one that I learned on my Fulbright in Syria, although I still have plenty of those to share with you, too. This is a recipe that I've come across many times on some of my favorite food blogs: World Peace Cookies. It even made it to Saveur's list, Recipes that Rocked the Internet. Given all that is going on, I thought this was the perfect time to try such an alluring cookie.
sift for clumps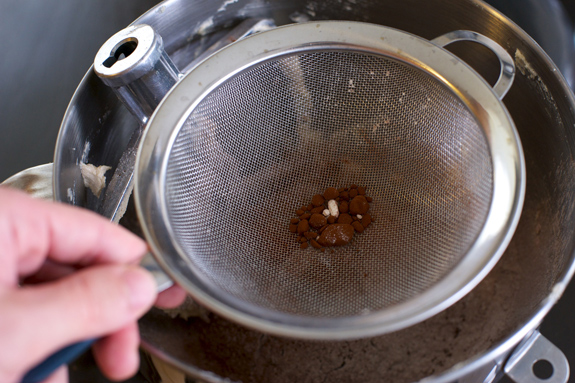 Pastry Chef Pierre Hermé originally developed these cookies for a restaurant in Paris, and Dorie Greenspan introduced them to the world in her book, Paris Sweets . The original name for the cookies was Sables Korova, or Korova Cookies, named after the restaurant off Champs Élysées that Pierre Hermé created the recipe for. It was not until Dorie's neighbor tasted these these ultra decadent, chocolate-intense cookies that the name changed to what we know today. Dorie's neighbor was convinced that a daily dose of these is all that is needed to ensure planetary peace and happiness; thus the new name was born.
chocolate: the 'peace' in 'world peace'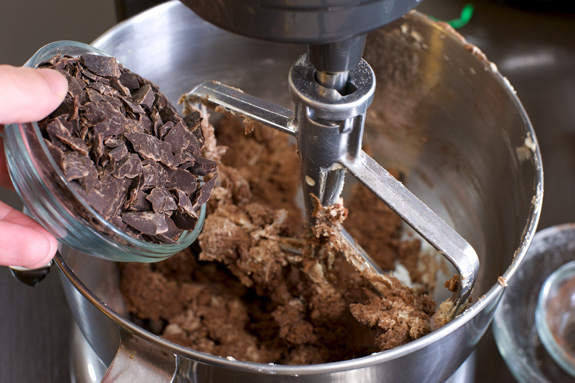 I used Dorie's recipe, except I took the liberty to add a pinch of orange zest to the dough; the combination of orange and chocolate makes my heart swoon. You could always leave that addition out if you'd like. The point is, these cookies are amazing any way you prepare them. They are crumbly and chocolatey and even if they don't bring world peace immediately, I'm fully convinced, as was Dorie's neighbor, that they are a step in the right direction.
refrigerate dough (in logs)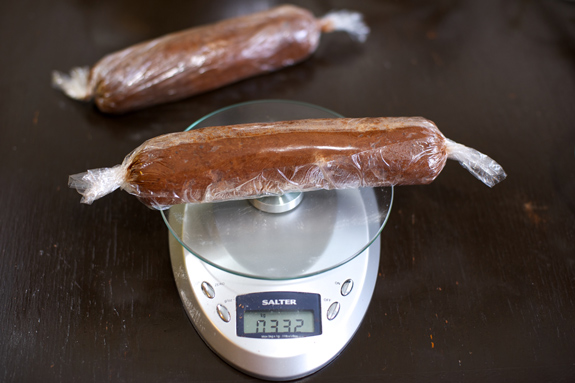 cookie dough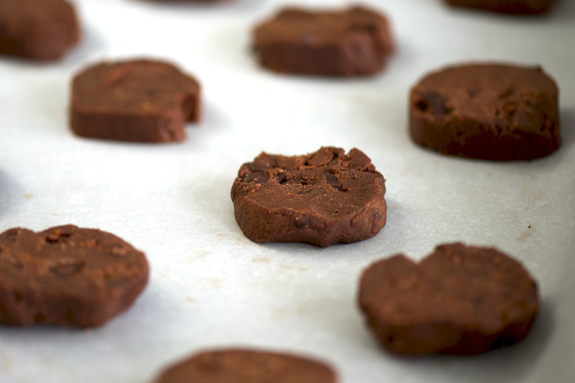 freshly baked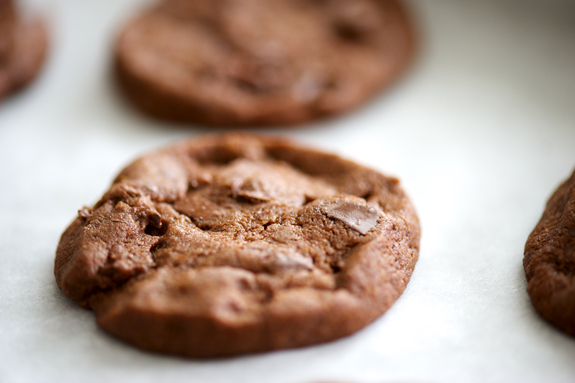 World Peace Cookies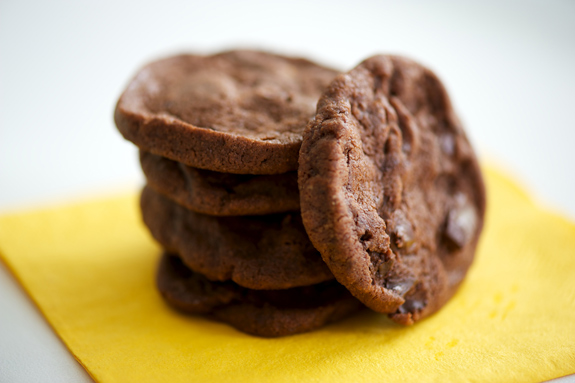 cold milk: enabler of world peace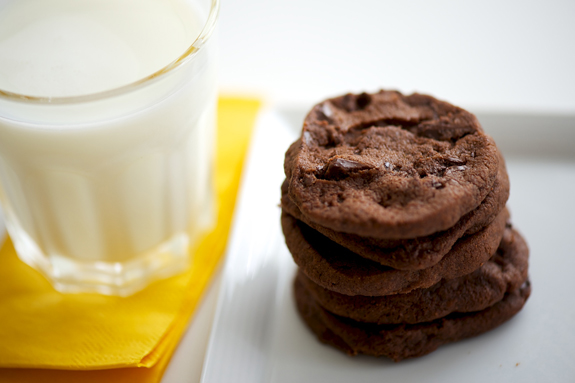 World Peace Cookies
yields approx 36 cookies
Components
1 1/4 cups (175 grams) all-purpose flour
1/3 cup (30 grams) unsweetened cocoa powder
1/2 teaspoon baking soda
1 stick plus 3 tablespoons (11 tablespoons or 150 grams) unsalted butter, at room temperature
2/3 cup (120 grams) (packed) light brown sugar
1/4 cup (50 grams) sugar
1/2 teaspoon fleur de sel or 1/4 teaspoon fine sea salt
1 teaspoon vanilla extract
5 ounces (150 grams) bittersweet chocolate, chopped into chips
zest of half an orange*(not in original recipe)
Putting them all together
Mix together the butter and sugars in a stand mixer on medium speed until the mixture becomes pale and creamy. You can also use a hand mixer. Add the salt, vanilla extract, and orange zest and mix for a couple more minutes.
Sift the flour, cocoa powder, and baking soda and add to the butter and sugar mixture. Pulse a few times at a low speed to incorporate the flour and prevent it from spilling. Add the chocolate chunks and mix on low speed for 30 seconds, or until the flour is fully incorporated. Do not overwork the dough; the dough should still look and feel crumbly. Divide the dough in two and form into logs approximately 1.5 inches in diameter. Roll each log in plastic wrap and refrigerate for at least 3 hours (you can refrigerate the dough for up to 3 days or freeze the dough for 2 months).
Preheat your oven to 325 degrees F (160 degrees C). Line two cookie sheets with parchment paper.
With a sharp thin knife, slice the logs into disks that are 1/2 inch thick. Don't worry if the disks crack as you cut them, just squeeze the bits back together. Arrange the sliced disks on your baking sheets, making sure to leave about an inch between each cookie.
Bake the cookies for 12 minutes. Note that they will still be soft and won't look done, but that's how they should be. Cool the cookies on a cookie rack and serve warm or at room temperature. Make sure to store leftover cookies (if there are any) in an airtight container.
Notes: Recipe adapted from Paris Sweets by Dorie Greenspan.
if not world peace, then happiness, for sure