I've had an incredible start to my Fulbright in Syria. It's been almost two weeks since I arrived — a perfect time for a quick update.
My flight landed in Aleppo on Saturday night, around midnight. After 28 hours of traveling, door to door, I arrived at my grandmother's sister's house in Aleppo. Like a true Halabiye (Aleppan) she had a delicious spread of mezze laid out as soon as I walked through the door: muhammara (محمّرة), olives, pickles, homemade mortadella, hummus (حمص), labne (لبنة), zeit w za'atar (زيت و زعتر); I slept like a baby that night.
meet my grandmother's sister
I spent my first few days doing administrative things: I got a cell phone, registered at the University of Aleppo, exchanged currency. I took a bus down to Damascus to meet with the other Fulbrighters as well as the Fulbright committee here in Syria. We were all invited to dinner at a restaurant called Marmara where we got to meet the Syrian Fulbright students who are getting ready to study abroad in the US.
University of Aleppo, College of Literature and Humanities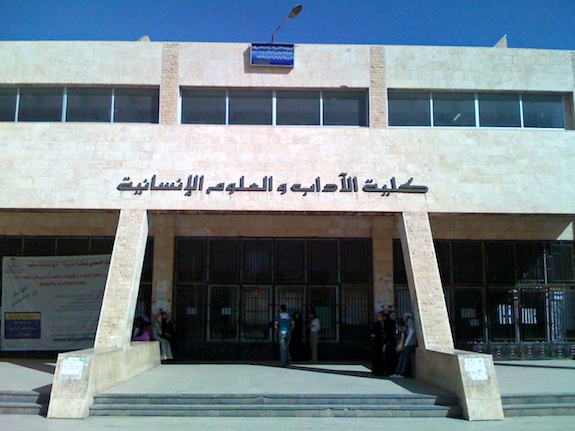 I think I've already gained five pounds since I've arrived. It's hard not to. Everyday I come across new recipes that I want to blog about. I walk as much as I could and take the stairs whenever possible. My grandmother's sister, bless her heart, pulled me aside the other day and asked whether I had a phobia of riding the elevator. I told her I take the stairs so that I can eat more of her delicious food. I'm sure she will hold me up to this for the next nine months that I'm here.
why I walk and take the stairs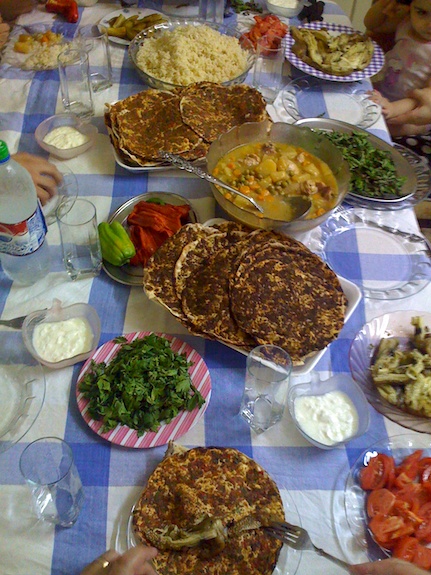 The picture above is from a lunch I recently had at a friend's house. The star of the meal was the traditional meat pizzas called lahm bil ajin (لحمة بالعجي). I will have to dedicate a complete blog post to these pizzas. They're incredibly delicious and are an important part of Aleppo's cuisine. There are small bakeries in Aleppo where you can prepare your own meat mixture, and the bakery will make dough and form all the pizzas for you. My friend's mom prepared her meat mixture in the morning and sent my friend and I later that afternoon to pick up the prepared pizzas from the bakery. I posted a few photos from the bakery to my flickr.
Last Friday my grandmother's sister prepared mujaddara for lunch. Mujaddara is a simple, but traditional Middle Eastern dish of rice and lentils. Some families make it with bulgur wheat, and in Egypt they add noodles to the rice and lentils, and serve it with a spicy tomato-based sauce. Egyptians call this dish Kosheri (كشري).
The same day I had mujaddara at my grandmother's sister's house, I visited two friends, and both their families had also made mujaddara for lunch. For families that abstain from eating meat on Friday's, mujaddara is a quick and healthy vegetarian meal for the family.
I had photographed mujaddara before I left the States, but never got around to posting the photos on my blog. These photos are from then.
mise en place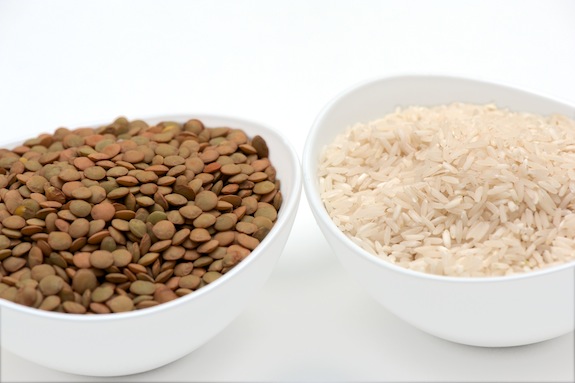 cover lentils with water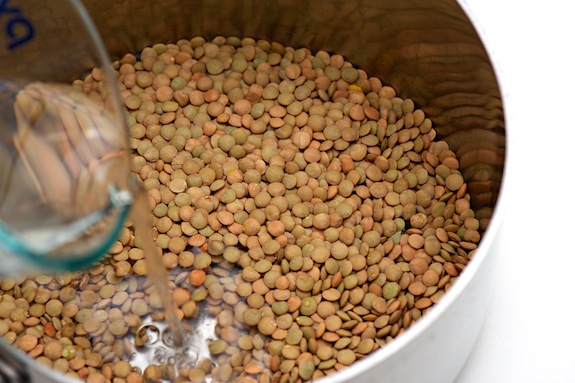 the more onions, the better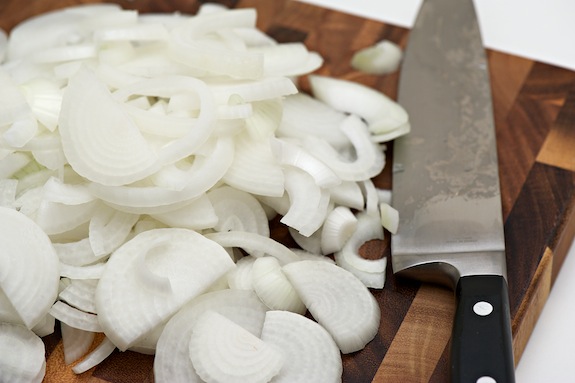 fried onions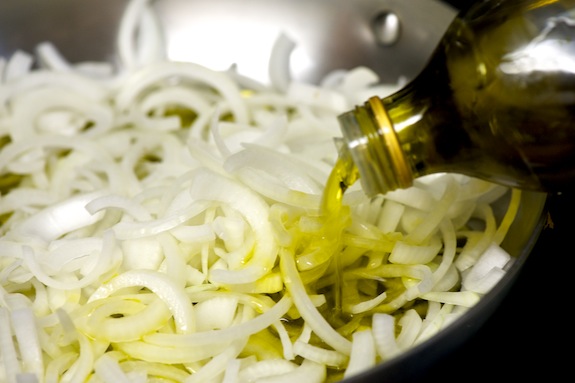 Usually people will not fry the onions in extra virgin olive oil because it has a low smoking point. I prefer the taste of olive oil, so I take extra time to cook the onions over low heat for a long time until they become crisp. If you're in a rush you can use canola oil or any relatively flavorless oil that has a higher smoking point.
cooked lentils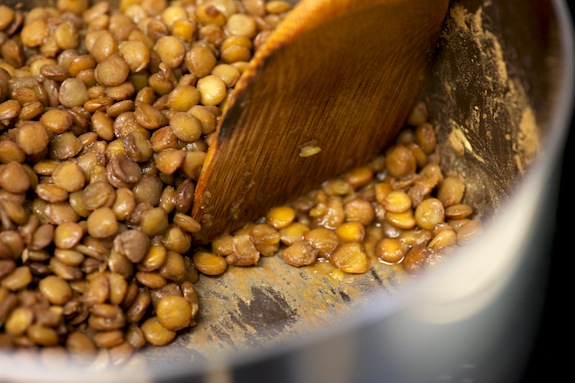 rice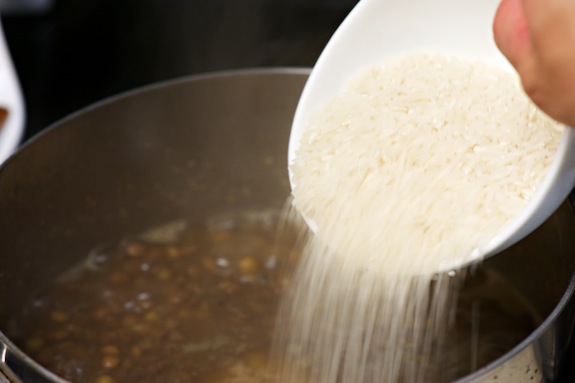 Mujaddara (
مجدّرة
)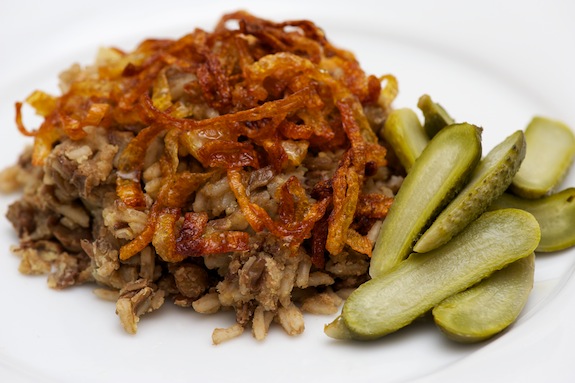 Pickles are traditionally served with the mujaddara. Saha w hana — bon appetit!
Mujaddara
yields approx 4-6 servings
Components
1 cup lentils
1 cup rice (or bulgur wheat*)
6-8 onions, sliced
1/2 cup olive oil
water
salt, to taste
pickles, optional
Putting them all together
Add sliced onions and olive oil in a large skillet. Cook over medium-low heat for an hour and a half, stirring occasionally. If you like them very crispy you can fry them in canola oil over high heat — this method takes considerably less time. Season onions with salt to taste.
Wash lentils under cold water and remove any pebbles.
Add lentils to a medium sized pot, and cover with water by 1 inch (approx 3 cm). Place lid on the pot and cook over medium heat for approximately 15 minutes, or until lentils are al dente. Important: do not add salt while the lentils are cooking. Adding salt at this stage will make the lentils grainy.
After cooking the lentils, discard any leftover water (if there is any). Add 2 cups of water to the pot and bring to a boil.
Add the rice (or bulgur wheat), season with salt, stir once, and cover the pot. Lower the heat to low, and cook for 15-20 minutes, the same way you always cook your rice.
Continue cooking your onions until they are crispy to your liking (the crispiesr the better, in my opinion).
Serve the mujaddara on a platter and top with the crispy onions. Serve with pickles.
Note: If you are in a rush, you can fry the onions at a higher temperature using canola oil. Thanks Samir for the tip to discard any leftover the lentil water before adding the rice.
Update (02/09/2013): Ever since I returned from Aleppo, I've been making my mujaddara with coarse bulgur wheat. I enjoy the flavor and texture more than the mujaddara with rice. You can find coarse bulgur wheat (often called Bulgur Wheat #3) at some Whole Foods or certainly in any Mediterranean market.
Disclaimer: The opinions I express in this blog are my own and do not reflect those of the Fulbright program.
Posted in Fulbright, Meats & Poultry, Middle Eastern, recipe, savory, Vegetarian by Antonio Tahhan on October 1st, 2010. You can follow any responses to this entry through the RSS 2.0 feed. You can leave a response, or trackback from your own site.