I don't know why or when it hit me, but the other day, as I was laying in bed after lunch, I realized I had been struck with a case of homesickness. My stomach was in knots and my thoughts floated home, across the Atlantic. We were told by the Fulbright committee during our pre-departure orientation that this is common; I wasn't worried. This period of longing, however gloomy, gave me time to clear my thoughts and get other work done. I took a trip with friends to the outskirts of Aleppo and also worked on programming — behind the scenes geeky stuff that secretly makes me happy.
sunset in the outskirts of Aleppo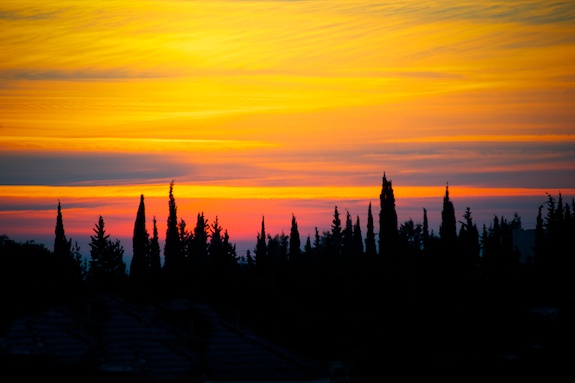 As for my blog, I think it has also benefited from this period of thinking and rethinking. It has planted in me a new seed of enthusiasm and great ideas.
I consider my blog my baby. As of today, it is 3 years and 5 months old. It may sound strange to those who don't blog, but I feel my blog has evolved over the years and has made me grow in ways I had never anticipated. My blog opened my eyes to web design and web development; it continuously fuels my immense passion for photography. My blog connects me to wonderful people and encourages me to try new foods and food techniques. It offers me a creative space to write and express my feelings in words, pictures, and videos. And although I have on-and-off spells where I feel unmotivated to produce, this is something I've realized is a part of life. I have learned to grow from these bursts of inspiration and grapple with the moments when my mind wanders and my stomach is in knots.
One of the things that makes food blogging so appealing, I think, is the community it is built on. When I write a blog and post it on this tiny corner of the internet, I feel I am sharing stories and experiences with friends gathered around my dining room table. It's an amazing feeling. It is real and intimate and funny and mushy and I love it. This is a metaphor that has stuck with me from early on, and one that has kept me focused on what my blog means to me. Thank you, always, for your encouragement.
Today, in celebration of rethinking, I want to share with you a recipe that I've blogged about before: Muhammara, a rich and tangy Middle Eastern spread of red peppers and chopped walnuts. It's a spread that should never be missing from your refrigerator. My aunt cleans red peppers and keeps them in a bag in her freezer for on-the-fly muhammara. It's a spread that you can put together in 5 minutes and tastes better if you prepare it the day before. The flavors meld and food magic happens. In Aleppo muhammara is commonly served as a side platter as part of the mezze spread, but I put in on almost everything. Sandwiches being my favorite so far. Just a light smear on the bread does the trick. Try it, and let me know.
In the olden days, muhammara used to be considered a spread for royalty and the wealthy upperclass because of the ingredients required to make it. Walnuts and red peppers still aren't cheap, but have become more accessible. Today the amount of walnuts you add to your muhammara has even become a pseudo status symbol.
Since we're friends, and I know you won't laugh (OK, you could laugh a little bit), I've also dug up this old video of me making muhammara for a Food Network audition. The video was filmed and produced by my very talented friend, Marilyn Rivchin, Senior Lecturer of Filmmaking at Cornell University. I didn't get the part, but this clip reminds me of how much I love cooking.
The ingredients for this muhammara are mostly the same as the last recipe I posted, but my aunt taught me to add a dash of sugar to the spicy dip. It's not traditional, but it works. It rounds out the spiciness of the pepper paste and balances the tang of the pomegranate molasses. I added it as an optional ingredient in the recipe.
mise en place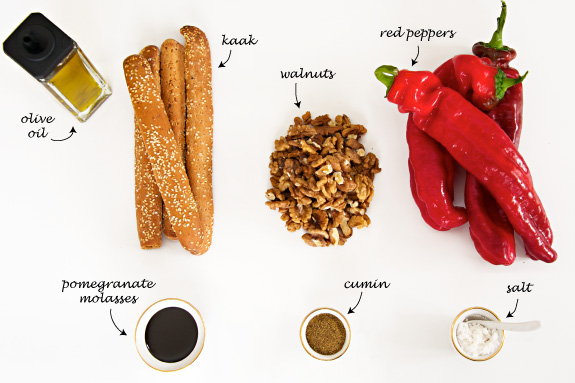 chopped walnuts + kaak (كعك)
clean peppers, inside and out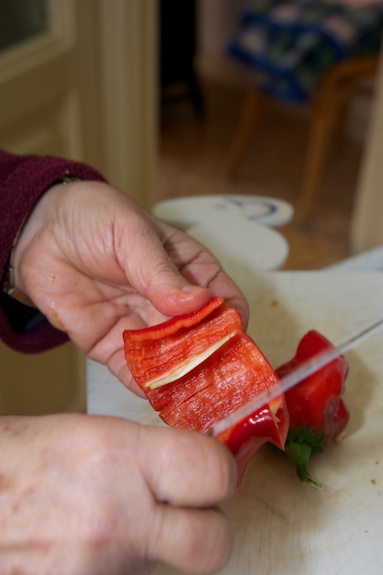 red pepper puree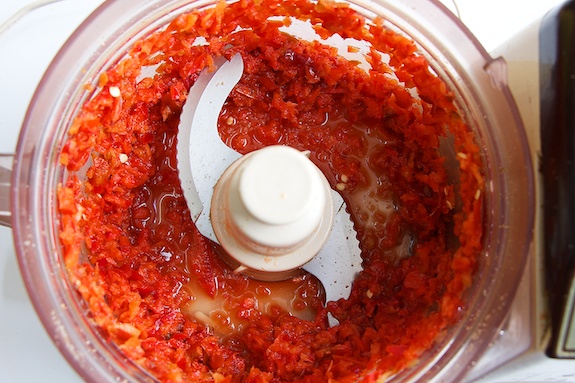 pomegranate molasses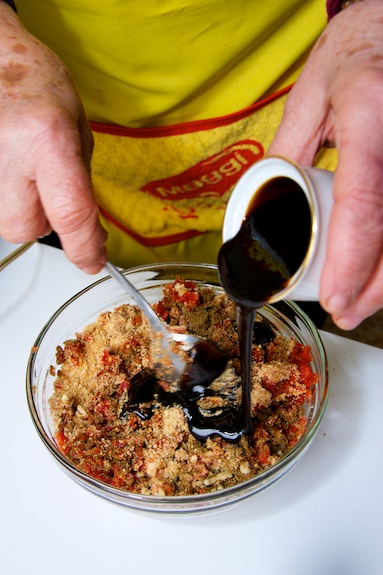 extra virgin olive oil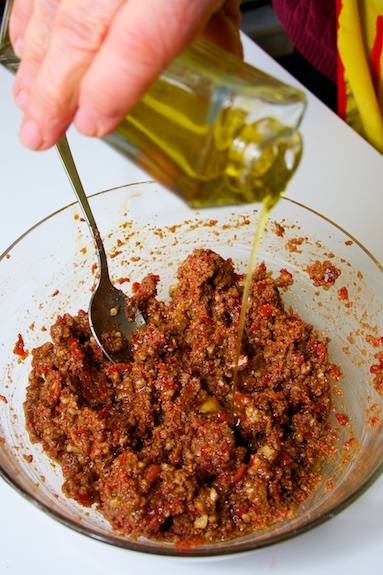 muhammara (محمرة)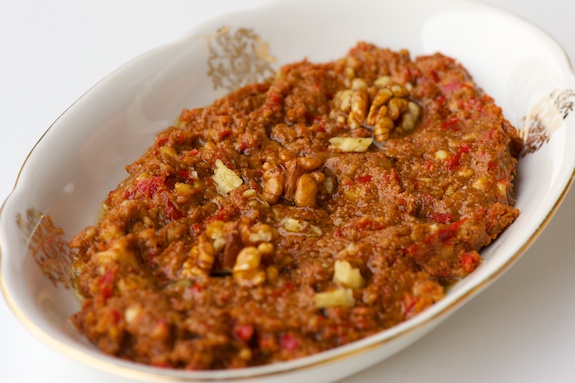 typical mezze spread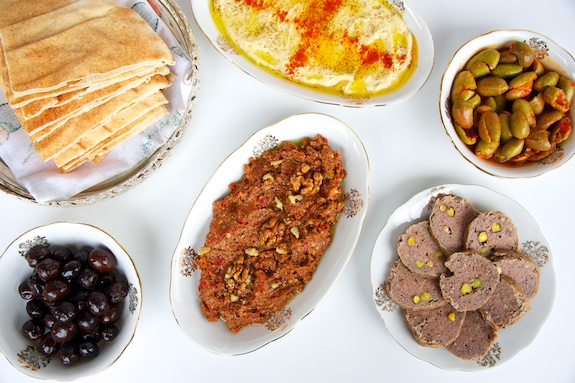 Muhammara (محمّرة)
yields approx 1 cup
Components
3 red bell peppers
1 cup walnuts, roughly chopped
1/2 cup kaak, finely ground
1/4 cup extra virgin olive oil, additional for garnish
1 1/2 tsp cumin, ground
1/2 tsp Aleppo pepper
3 Tbsp pomegranate molasses
3 Tbsp spicy red pepper paste
1 tsp sugar, optional
salt, to taste
Putting them all together
Fire-roast two of the peppers until the exterior is charred. Steam them in a bowl covered with plastic wrap for 5-7 minutes. Peel and discard the seeds.
Pulse the kaak in a food processor until finely ground. Set aside.
Chop the remaining red pepper into large chunks, discard the seeds. Puree the fresh and roasted peppers in the food processor until smooth.
In a large bowl, combine all the ingredients together, cover, and refrigerate until ready to serve.
To serve, spread the muhammara into a shallow dish, drizzle with additional extra virgin olive oil and garnish with toasted walnuts. Enjoy with warm pita bread!
Notes: You can find kaak in most Mediterranean or Middle Eastern markets, but breadcrumbs are a suitable substitute. Adjust the red pepper paste and Aleppo pepper for spiciness.
In my early days of experimenting with muhammara in Aleppo, I came up with this simple snack that I now eat on a regular basis. It's simple and incredibly delicious: a slice of Aleppan Mortadella, topped with a dollop of creamy hummus, and a kiss of spicy muhammara seals the deal. Enjoy!
my favorite snack