Almost every lunch, dinner, or formal event in Aleppo begins with an endless spread of mezze. Tabletops brimmed with plates of appetizers. Hummus and Muhammara. Labne and cured olives. Roasted nuts and homemade pickles. These are some of the popular ones. There is also yalanjii, vegetarian stuffed vegetables, which I still have to blog about. Every family has their favorites, their own style of hosting, but the common theme is abundance. The food should appear endless — this is the unspoken rule of Middle Eastern hospitality. You'd be hard pressed to find a gap between the plates.
A popular mezze in Aleppo is the Mortadella Halabiye, or Aleppan Mortadella. Not to be confused with the popular Italian cured meat, Aleppan Mortadella is much smaller in size and is blanched, not cured. Also, Italian Mortadella is made from pork, whereas the Aleppan version is made with either beef or lamb. On a couple of occasions, however, I've seen chicken varieties, as well.
Aleppan Mortadella is usually served as a starter as part of a spread of mezze — leftovers go into sandwiches. This is how my aunt taught me. You take fresh bread — pita or baguette — add a liberal shmear of hummus, cover with slices of Aleppan Mortadella, fanned out, and voilà. It's that simple. If you add some muhammara to the sandwich, even better; it gives it a spicy contrast, not enough to make you cry though, just smile.
Now, to make Aleppan Mortadella, you want to start out with kaak (كعك), a Middle Eastern kind of bread stick that is incredibly crunchy and usually served alongside tea. Middle Eastern or Mediterranean stores should have it. If you can't find kaak, however, you can use breadcrumbs; ultimately, its goal is to bind the mortadella.
kaak (كعك)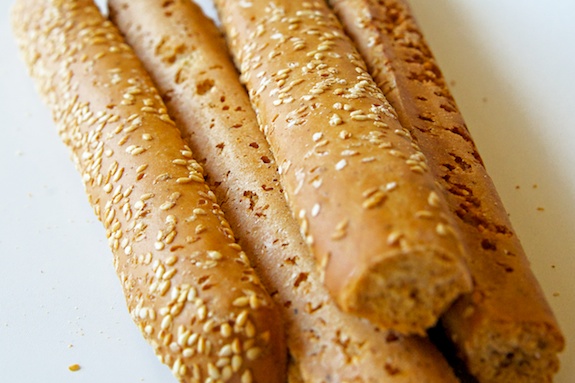 Middle Eastern style breadcrumbs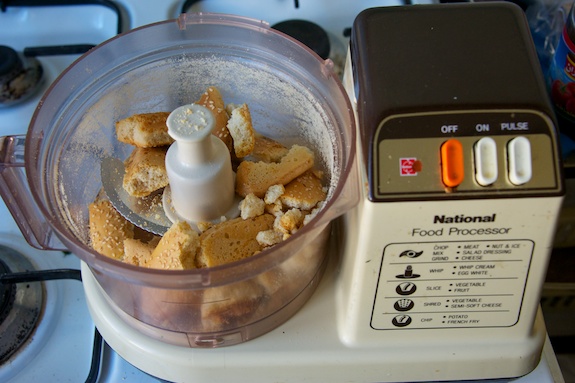 mise en place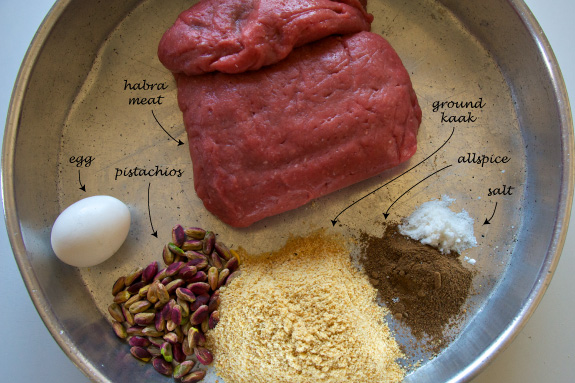 The next ingredient is the habra, which is basically very lean meat, essentially fat-less. A good habra should have no fat. I've blogged about it before. Habra is the basis of all kibbeh, which makes it readily available at any butcher in the Middle East. In the States, however, I usually ask my butcher to ground for me top-round beef, with all its fat removed. My butcher even goes the extra length to ground my meat early in the morning, before they ground any other meat, so that fat inside the machine doesn't get into my habra. Then, once I get home, I process the meat in my food processor with a few ice cubes until a paste is formed — that's all habra is.
The rest is mixing the ingredients together.
seasoned mixing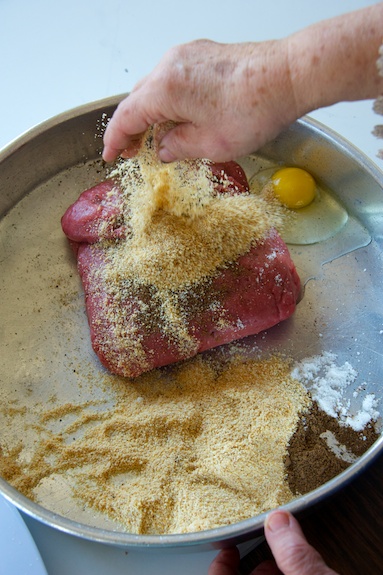 I noticed my aunt doesn't mix the ground kaak with the meat all at once, only handfuls at a time. The reason being you might not need it all. The best mortadella, she told me, is made with as little kaak as possible. Only mix in as much as you need. The goal is a mixture that barely comes together and holds its shape.
oh, there's garlic, too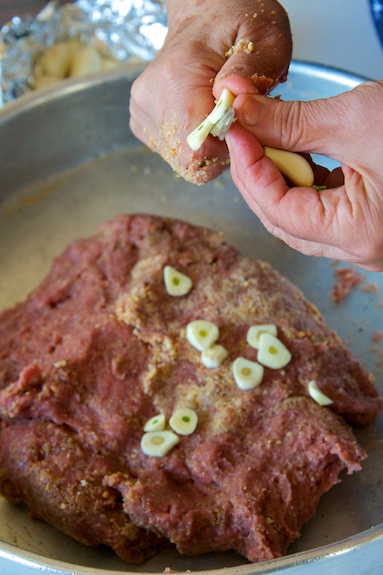 add the pistachios into the center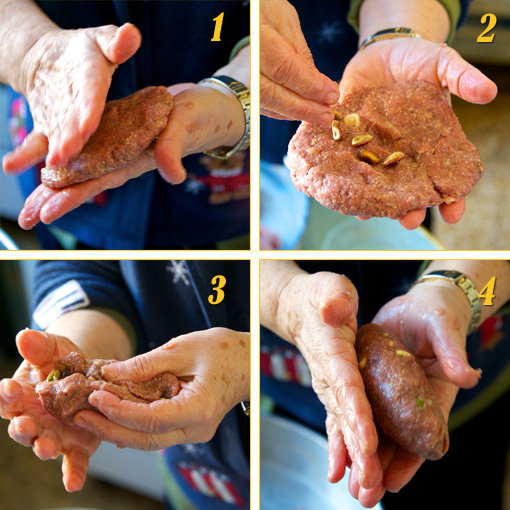 The reason for not mixing the pistachios in the beginning is so that they remain in the center of the mortadella. This is for presentation purposes.
cover and into the fridge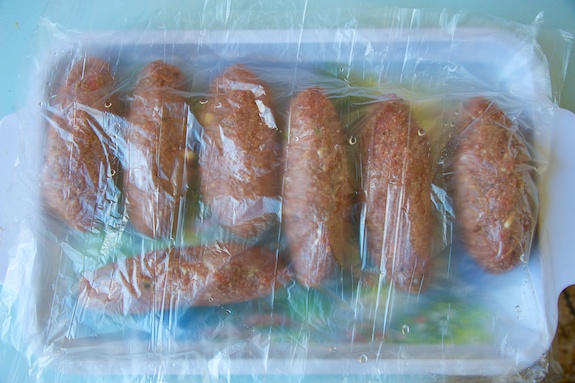 H2O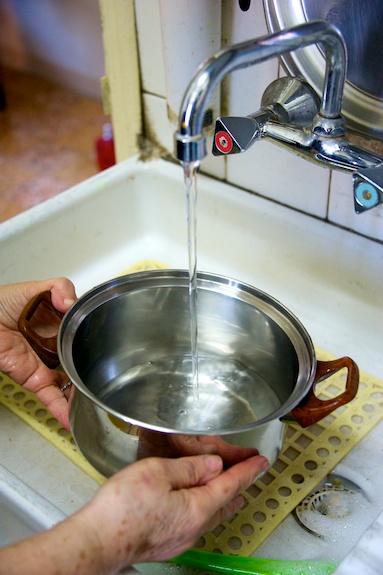 some apple cider vinegar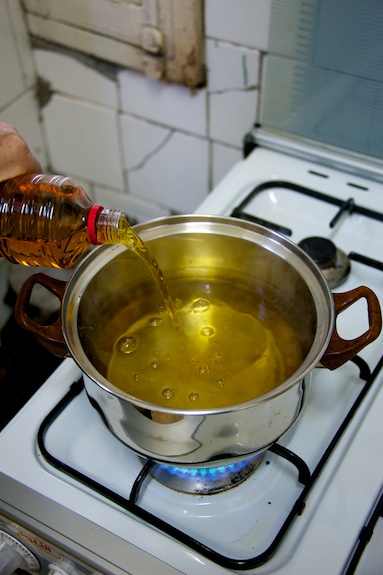 simmer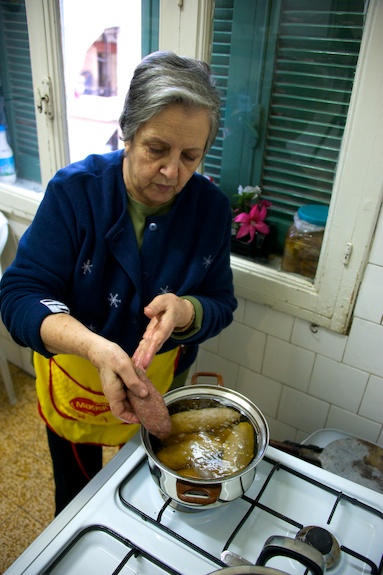 Aleppan Mortadella (مرتديلا حلبية)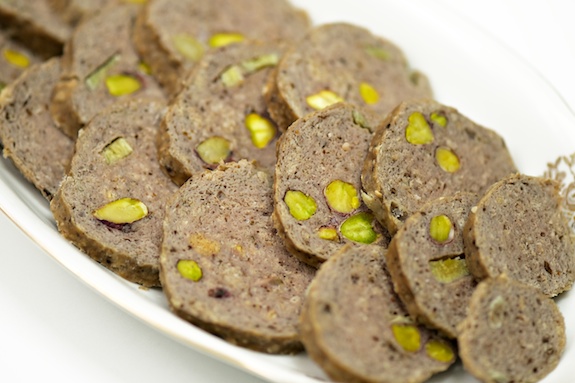 Aleppan Mortadella
4-5 logs
Components
500g habra
1/2 cup kaak, grated*
1 egg
1/2 cup unsalted pistachios
3 cloves garlic, minced
3 cloves garlic, sliced
1 Tbsp allspice, ground
1 Tbsp salt
8 cups water, for blanching
2 cups apple cider vinegar
ice water, for forming the mortadella
Prepare habra, the lean meat that comes from the top-round.
In a large mixing bowl, mix together the habra, ground kaak (or breadcrumbs), minced garlic, sliced garlic, and egg, until well incorporated.
Divide the meat mixture into 4 to 5 equal pieces.
To form the mortadella: flatten a piece of the meat mixture, sprinkle with pistachios, fold closed, and form into a smooth log. Use ice water to smooth the meat mixture if you feel that it is a bit sticky.
Refrigerate until ready to blanch (can be done a day in advance).
Prepare the blanching liquid by mixing 4 parts water to 1 part apple cider vinegar.
Bring the blanching liquid to a simmer.
Add the mortadella and cook over medium heat for 30 minutes or until the middle is no longer pink.
Refrigerate until ready to eat.
hummus + muhammara + mortadella = best friends