I can't believe I let January slip through my fingers. It went by incredibly fast and ended without notice. You should've seen my face when I found out it was already February; my heart sank. Only because I've been meaning to tell you about this fantastic recipe since I returned from Syria back in December; it's a Middle Eastern stew of sorts called Shakrieh.
While I was in Syria, I got to meet Abu Fares. Those who know Abu Fares, or have read his blog, will know why this encounter deserves its own post; this man is a talented writer, inspiring humanist, and simply put, a great person. He really is. Not to mention it is his Shakrieh recipe, which I've made four times in the past couple of months, that is outstanding.
Abu Fares lives in Tartous, a medium-sized city, quaintly situated along the Mediterranean coast of Syria; roughly a three hour train ride from Aleppo. We agreed to meet for lunch one afternoon while I was abroad. My grandmother and her brother decided to tag along, partly because they love to travel, but primarily because they're over protective of me, and I love them for that. Plus, I knew my sito would pack delicious treats for the trip in one of her over-sized purses; in her opinion, you can never have too many aaroos (pita wraps with labne and other condiments). I agree.
We decided to take a small detour and spend the morning site seeing in Latakia, a scenic beach town less than an hour from Tartous. As I stepped off the train, I immediately took a deep breath, allowing the light briny breeze to fill my lungs. I did this a few more times. It was invigorating. The morning crowds started to fill the streets; mostly women with their children going out to get produce. I noticed a few locals crowded outside this modest shop that sold freshly squeezed orange juice. I got us three glasses as my grandmother pulled a few aaroos from her purse.
now I want an OJ press with a wheel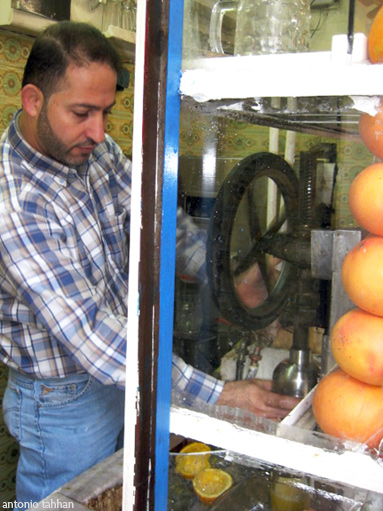 The weather in Latakia was too cold for swimming, and maybe that's why the city wasn't packed with people; the soft sunlight, however, was perfect for taking shots of the shore that morning. We spent the rest of our time leisurely strolling the city: we walked along the boardwalk, visited some historic sites, had coffee at a cozy café, and by noon we were back on our way to Tartous.
Latakia (اللاذقية)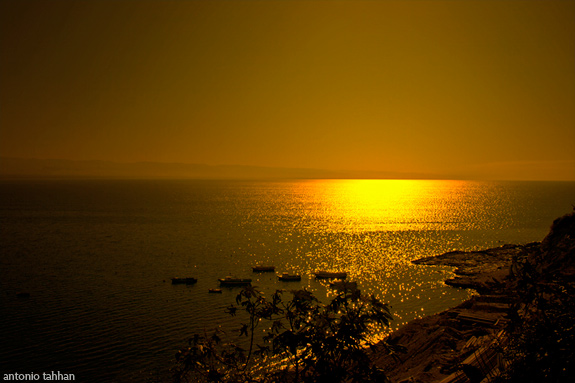 During the slightly rowdy and bumpy hour-long bus ride from Latakia to Tartous, I rested my head on my sito's shoulder and closed my eyes. It's a gift that I can nap almost anywhere. I eventually woke up to the driver announcing the different stops. We had finally made it to Tartous.
The Three Bloggers: Fares, Abu Fares and Me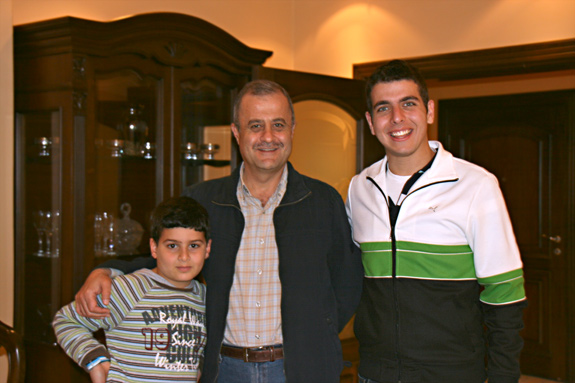 Abu Fares and I greeted each other like old friends and I introduced him to my grandmother and her brother. We spent the next hour or so exploring Tartous. Abu Fares knows this city better than anyone, and many of the locals knew him, too. After the tour we went for some coffee at Abu Fares' home where we got to meet his family.
Abu Fares has a son named Fares, hence his nickname Abu Fares — literally Fares' Father in Arabic. Fares, like his dad, has his own blog called Superkid Chronicles where he writes about astrology and the different planets; his favorite show, SpongeBob Square Pants; and probably my favorite, the ultimate hot dog pizza.
Later that day Abu Fares took us to lunch at this charming restaurant up in the mountains, on the outskirts of Tartous. The meal consisted of lots of different mezze, and probably the tastiest freshly-caught fried red mullet (سمك سلطان إبراهيم) I've ever had. I posted more photos from my excursion to Latakia and Tartous on my flickr page.
Lunch with Abu Fares in Tartous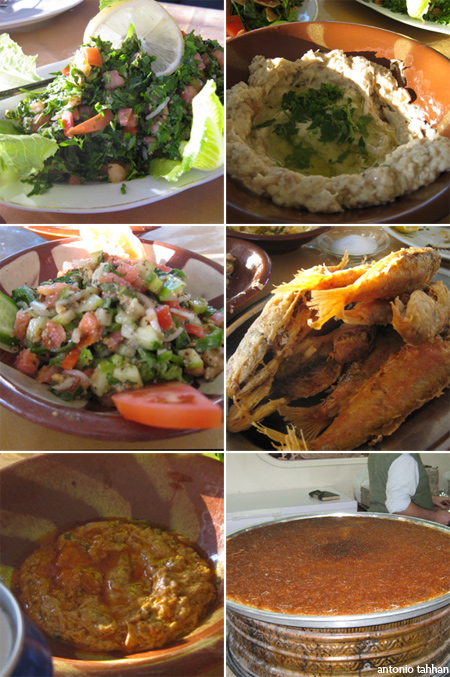 What I really need to do is tell you about is this amazing Shakrieh recipe.
mise en place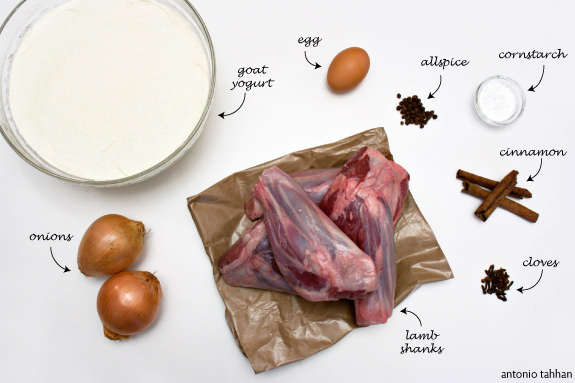 Shakrieh is a traditional dish from Damascus. In fact, very few people knew about it in Aleppo, where my family is from; some knew about it by a different name, which I can't think of at the moment, while others hadn't heard of it at all. This dish is pretty fantastic though. If you love slowly cooked meals that make you smile and feel warm inside, you need to try this dish. It's essentially braised lamb (or beef) that is cooked in a creamy yogurt sauce. Traditionally it's served with rice or bulger wheat (cracked wheat).
spices: allspice, cloves and cinnamon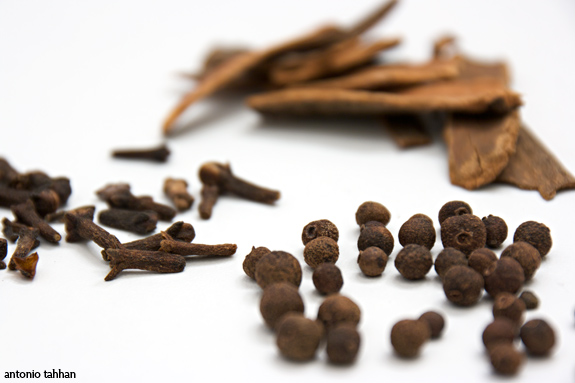 Abu Fares' recipe doesn't call for these spices, only cinnamon. After a bit of experimenting, I found that the lamb here in the States has a stronger, more pungent, aroma than in Syria. If you're sensitive to that gamy flavor that lamb is known for, I would suggest adding some of these spices, or even par boiling the lamb before braising it. The other alternative is to use a cut of beef that is suitable for braising, such as beef shanks, instead of the lamb.
Shakrieh (شاكرية باللبن)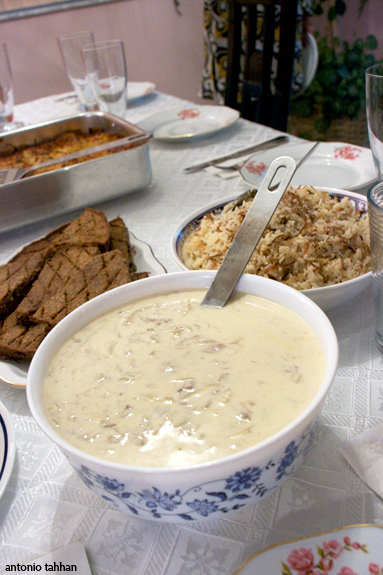 Shakrieh is symbolic because of it's pearly, white color; representative of purity, new beginnings and happiness. Abu Fares explains that it has been a tradition in his family to eat this dish on the first day of Ramadan. Going along with the symbolism, I prepared shakrieh for my friends and family for lunch on New Years. Saha wa hana (صحة و هنا) — Bon Appétit.
Shakrieh
approx 4-6 servings
Components
1 kg lamb shanks (Mozat)
3 large onions, sliced
6 to 8 cups plain yogurt
1 tablespoon cornstarch
1 egg
2-3 cloves, whole
4-5 allspice, whole
2 cinnamon sticks
1 tablespoon extra virgin olive oil
water
salt and pepper, to taste
Putting them all together
Bring a large pot of water to a boil, roughly 1/2 to 3/4 of the way full.
Sweat the sliced onions in a large saute pan with the olive oil (be sure not to brown them) . Then, season the lamb shanks with salt and pepper and add to the onions along with the spices (cinnamon, cloves and allspice) and cook for about 5 minutes.
Once the water comes to a boil, add the onions, lamb and spices to the water and lower the heat to medium-low.
Braise for a 3-4 hours, until lamb is fork tender. Strain and the broth.
In a blender, or with a whisk, mix together the yogurt, cornstarch and raw egg and bring to a simmer over medium heat. Make sure to stir constantly and in one direction* in order to keep the yogurt from separating.
Once the yogurt begins to simmer, reduce the heat to low and add the braised lamb chunks, tender onions, plus one cup* of the lamb broth to the yogurt.
Cook uncovered for 10-15 minutes and serve alongside rice or bulger wheat.
Notes: Recipe adapted from Abu Fares' blog. Stirring the yogurt in one direction helps keep it from curdling–I don't know the science behind it, but if you do, please leave a comment; I would love to know. Also, you may need to add more or less lamb broth depending on how thick your yogurt sauce got from the cornstarch.