Throughout the two-plus years that I've been writing this blog, I've never dedicated a post exclusively to yogurt. I've used it as an ingredient here and there, sure, but it's never played a leading role. That's not acceptable. Not for a Mediterranean food blog, at least. I plan on changing that today.
On my recent trip to Aleppo I was reminded how important yogurt is in Middle Eastern cuisine. It's everywhere. Cow, goat or sheep. Strained, plain or cooked. In the Levant there's even a popular refreshing drink called Ayraan (عيران) that's made from yogurt, but more on that later. Today I need to set things right. Today is all about yogurt.
Before we begin, I'd like to dispel the myth that suggests you should buy a fancy yogurt maker to incubate your milk. Please don't. If you already have, I won't hold it against you, but you really don't need one. If the machine made the job any easier, I can understand, but the truth is, making yogurt is pretty simple.
While I was in Aleppo, Leila (my maternal grandfather's brother's wife's sister), shared with me her way of making yogurt. Take a look:
Before I met Leila, I used to make my yogurt in the pot I heated the milk in. Not anymore. I really like her idea of dispensing the yogurt into smaller jars.
mise en place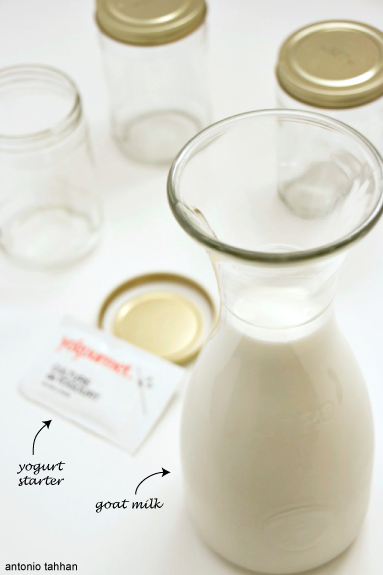 Midway through the process (usually as the yogurt is cooling), I like to turn on my oven to the lowest setting and turn it off after 5 minutes. This helps keep my oven barely warm enough to properly incubate the yogurt — which is essentially what the yogurt machine does, except it doesn't cost extra money and doesn't limit how much yogurt you can make.
heating the milk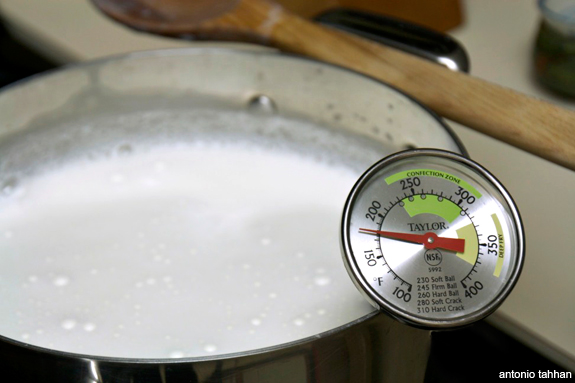 Once you heat the milk to 180 degrees F (a near boil), you need to cool it. I like to use a thermometer, particularly for this step, so that the yogurt starter has an ideal environment to initialize the incubation process. That temperature should be between 107 and 112 degrees F (41 and 44 degrees C).
nestled inside the oven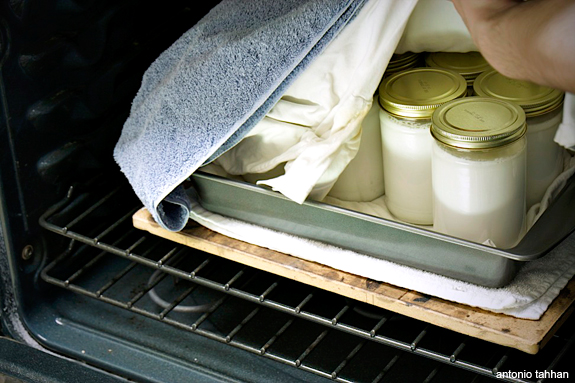 Since the pizza stone in my oven can retain lots of heat (as can the metal rails), I like to line the base with a kitchen towel before placing the jars of yogurt inside the oven. Then, as Leila mentioned in the video, you want to cover the jars with another towel so they remain warm throughout the incubation.
plain goat milk yogurt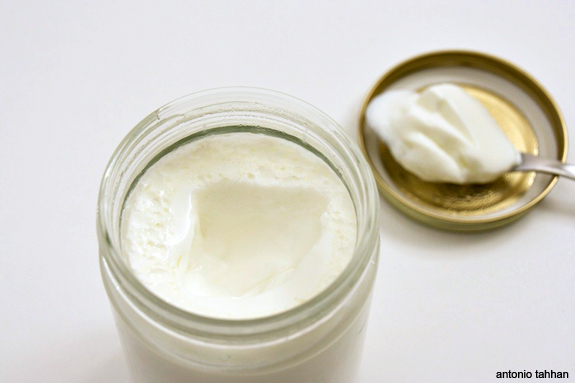 Keep the jars overnight in the oven and move them to the fridge first thing in the morning. It's that simple — saha wa hana (صحة و هنا)/bon appetit!
Homemade Yogurt
Yields 1/2 gallon
Components
1/2 gallon milk
3 Tbsp plain yogurt (starter)
Putting them all together
Bring milk to a rolling boil, stirring occasionally to make sure the milk does not stick to the bottom of the pot.
Remove milk from heat and cool to 110-115ºF (43-46ºC). If you don't have a thermometer, the milk ready to incubate when you can keep your pinky submerged for 15 seconds. The milk should still be warm.
Mix a couple spoons of the warm milk into the yogurt starter. Pour the yogurt starter into the pot of warm milk and stir for 30 seconds to make sure it's well combined.
At this point you could dispense the inoculated milk into mason jars, a clay pot, or keep it in the original pot. Cover milk with a lid and wrap it in a large towel. Keep in a warm, undisturbed part of the house for 6-8 hours (preferably overnight).
Confirm that the yogurt has set and transfer to the refrigerator until ready to use.
Notes: Make sure the plain yogurt you use as your starter has "live active cultures." These are the micro-organisms that transform milk into yogurt. Pick your favorite brand. I usually use 2% cow's milk as the base, although you could use whole milk if you want a richer flavor.