I just got back from Aleppo last week and have already made this sauce twice. I had it for the first time alongside grilled chicken, but I'm convinced this sauce goes with everything. It's that good. I'm not even kidding you.
I would classify this sauce as a mayonnaise of sorts, but not really. It's not as overwhelming as a mayonnaise. On a side note, I find mayonnaise to be overwhelming; store-bought mayonnaise at least. It's too rich, flavorless and, to be honest, its texture is too wobbly for my liking. This sauce is different. It's not as wobbly — velvety would a good word to describe it, but it has its secrets.
mise en place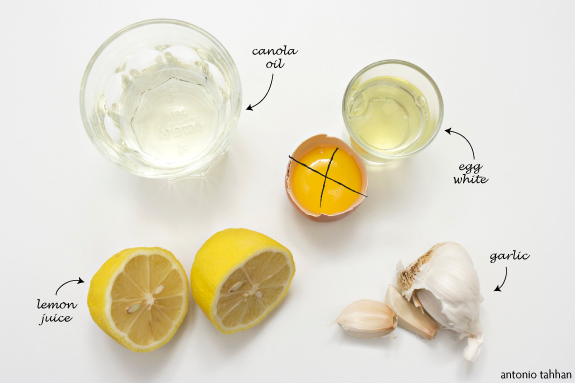 Most Arabs call this sauce toum (ثوم) or creme toum (كريم ثوم). Toum is also the word for garlic in Arabic. That's because the sauce is loaded with garlic. Loaded. I have some Lebanese friends that will make this sauce with so much garlic that it will make a grown man cry and smile, all in one bite. My version isn't so strong, relatively.
very, very slowly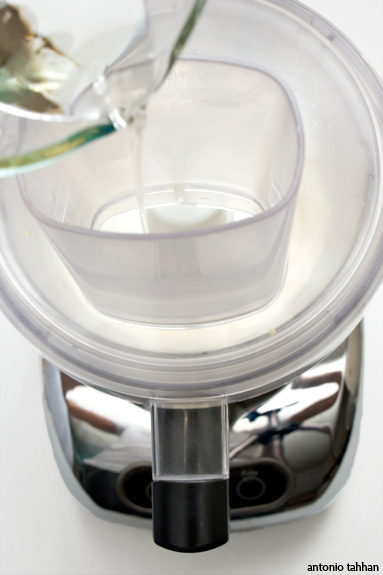 There are different ways to prepare this sauce. Purists will make it with just garlic, lemon juice and oil — no egg white. And it emulsifies. I know it sounds like magic, and maybe there's a little food magic at play, but it works. Fouad from The Food Blog makes his this way. According to Fouad slow and steady is the trick — 10 minutes to be exact.
Some home cooks will prepare creme toum with an egg white. That's how I've been making mine. The emulsion happens quicker and the protein in the egg white will also help keep the sauce from breaking. It also lets you get by with using less oil. In the Middle East, you'll find that restaurants and street vendors will start the emulsion with a tiny bit of cornstarch slurry or boiled potatoes to help stabilize the sauce for a longer shelf life. Either way you decide to go, as long as the garlic is prominent, this sauce will knock you off your feet.
toum sauce (كريم توم)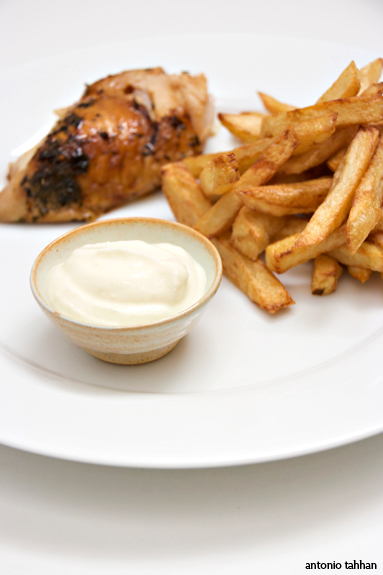 Garlic Sauce
Makes 3/4 cup
Components
5-7 cloves of garlic
1 egg white
3/4 cup, canola oil
1-2 tsp. lemon juice
salt, to taste
Putting them all together
In a small food processor (or a large one fitted with a small bowl), pulse the garlic and the egg white until you can't see the garlic anymore.
With the food processor on, slowly begin to add the oil in order to start the emulsion. Make sure that the stream of oil going in is no more than a thin thread, or you risk the possibility of your sauce breaking.
Once all the oil has been added, add the lemon juice while the food processor is still running.
Season the sauce with a little salt and refrigerate until ready to use.
Video of Shawerma place in Aleppo, Syria. Notice the creme toum spread on the pita bread: