Desi, one of my closest friends from high school, was my first official guest in my new home. After her, my mom came up for the 4th of July weekend. And now, everything is back to the way it was, but I do have lots of photos to share from all the cooking that ensued. First, Desi:
After a 3-year gap without seeing each other, we seamlessly picked up right where we left off. It was beautiful; we were laughing and joking as though we had seen each other the night before.
One of the things I forgot to mention about Desi is that she is also quite the lover of food. Her only request for dinner that evening was that we make some kind of fresh pasta. No big deal; in fact, it was brilliant. Ever since I read my friend Afaf's Sheesh Barak post, I've been meaning to blog about it myself. If you've had this Middle Eastern pasta-like dish before, you know perfectly well how delicious it is. Sheesh Barak (شيش برك) is essentially meat-filled dough slowly cooked in a refreshing yogurt sauce infused with garlic and mint. It takes time, it takes patience, but when you're making it with people you love, none of that matters.
Caboose (the dough that could)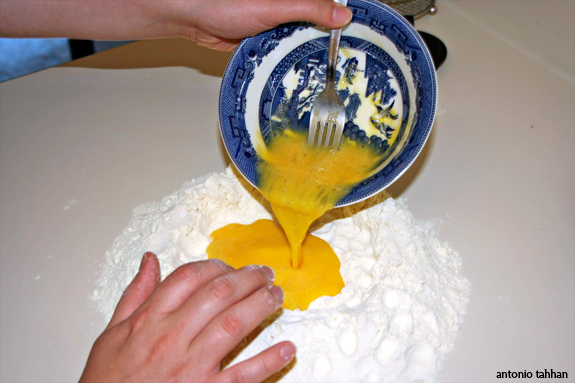 basic semolina pasta recipe: 1 egg for every 100 grams of semolina flour, a pinch of salt, to taste, and a drizzle of extra virgin olive oil is optional. Mix the ingredients together and knead until a smooth ball of dough is formed (if too firm, add a little bit of luke warm water; if too soft, dust with a little more flour). Cover the dough in plastic wrap and allow to rest for 30 minutes. The dough is then ready to roll and be used as desired.
I guess you could, theoretically, use Won Ton wrappers if you were craving sheesh barak and were running short on time; but, for the sake of delicious food and a good time, I suggest opening a bottle of wine, inviting some friends over and going through the wonderful sheesh barak experience.
mise en place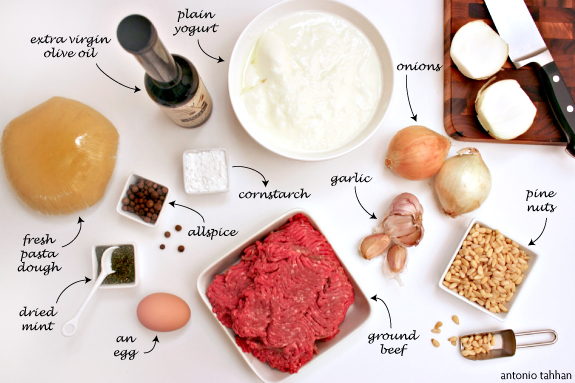 The ingredients for this dish are pretty standard. Nothing you wouldn't be able to find in your local market. I'm convinced, however, the gossip that goes on while Middle Eastern women crowd around a table to make these types of involved Middle Eastern dishes adds something special to the dish.
Middle Eastern Gold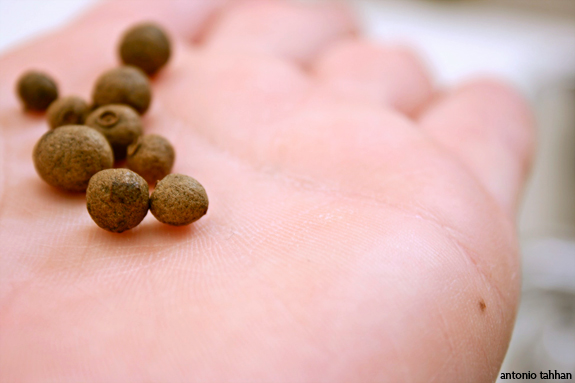 Allspice has got to be one of the most commonly used spices in Middle Eastern cooking. They sprinkle it over hard-boiled eggs, use it to season their poultry – they even add it as a garnish for some of their dishes. Because of how often I use it myself, I keep a large jar of whole allspice in my pantry and grind it small batches to preserve its freshness.
meat & onion love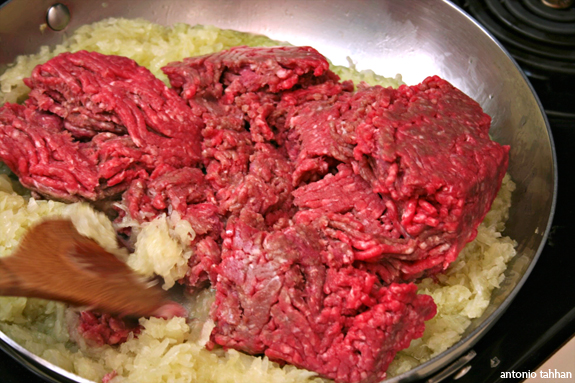 The meat filling couldn't be simpler. You'll want to chop the onions finely and cook them in a little olive oil until translucent. After five minutes or so, add the meat, salt and allspice and cook until most of the moisture in the pan evaporates. My dad is notorious for sneaking into the kitchen at this point and helping himself to some of this meat mixture, which he'll scoop into a warm pita pocket and sprinkle with some of the toasted pine nuts my mom reserves for garnishing.
filling the dough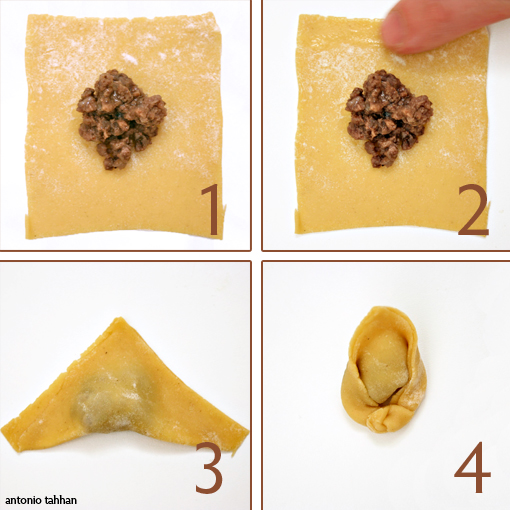 You can shape your sheesh barak a different number of ways. I personally like the tortellini shape because it creates a perfect little nook for extra yogurt sauce to sit in. Desi went so far as to cross the arms, which make them look even cuter, but I'll leave that detail up to you.
plan for leftovers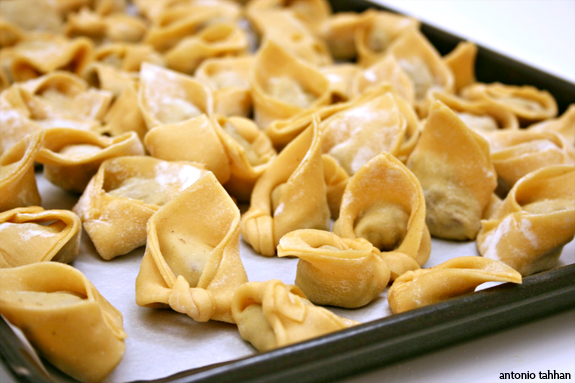 For the sauce you'll want to mix together a tiny bit of cornstarch, an egg, the yogurt and place the mix over medium heat. Add the sheesh barak and slowly bring the sauce to a simmer. The egg and the cornstarch are there as stabilizers so that the yogurt won't separate, but to be on the safe side, make sure not to apply high heat as it could ruin the suace. In a separate skillet you'll want to quickly sauté the garlic and dried mint in some extra virgin olive oil and add it to the sheesh barak.
Sheesh Barak (شيش برك)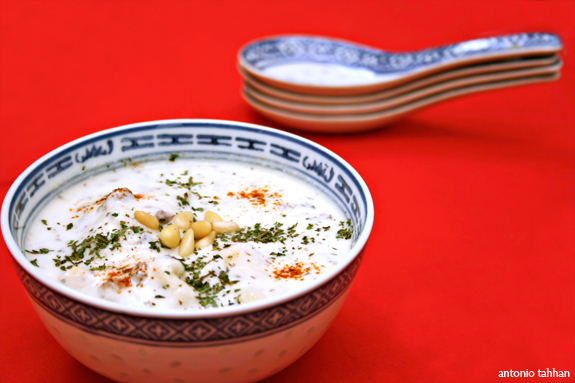 For garnish I like to use some more of the dried mint, a bit of spicy ground red pepper and toasted pine nuts. Saha wa hana (صحة و هنا) bon appetit!
Sheesh Barak
yiels 4-6 servings
Components
1 lb ground beef or lamb
1-2 medium onions, finely diced
2-3 tbsp extra virgin olive oil
1 tbsp allspice, ground
300 g fresh pasta dough
24 oz plain yogurt
1/2 tsp cornstarch
1 egg
2 tbsp dried mint
2 tbsp extra virgin olive oil
4 garlic cloves, minced
salt, to taste
pine nutes, toasted for garnish
Putting them all together
Make pasta dough and set aside (recipe in post).
Cook the onions in extra virgin olive oil over medium heat until translucent, approximately 5-7 minutes. Add meat, allspice and salt and cook over medium high heat until most of the liquid in the pan has evaporated.
Once the meat mixture has cooled, roll out the dough. Make tortellini, ravioli or your favorite pasta shape.
For the sauce, mix the yogurt, cornstarch, and egg in a large sauce pan. Add the sheesh barak and place over medium heat. Stir occasionally to make sure the sauce does not separate.
In a separate pan, sauté the garlic and dried mint until fragrant. Mix into sheesh barak.
Garnish with some more dried mint, a little spicy ground red pepper, and toasted pine nuts.