In t-minus 3 days, all my things should be in boxes, ideally, and ready for my big move. Except I know myself. I know that in 3 days, I'm going to look at my room, or my kitchen, in dismay and ask myself what in the world I've been doing. Something my mother would ask in the most disapproving of voices. This is when I would blame youtube for my perpetual procrastination, and thank Warda for her amazing chicken and olives recipe. If you need a break from anything, life, packing, the economy?, turn up your speakers and listen to this song. If you're hungry afterwards, do what I did, and make this incredible North African chicken and olives recipe (aka دجاج بالزيتون). Everything else can wait.
mise en place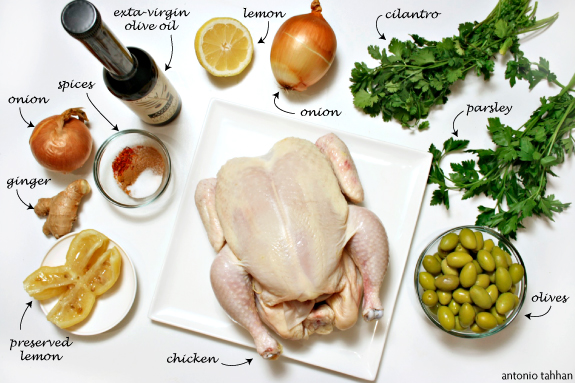 My plan is to pack up the rest of my room today and make a dent, at least, in the kitchen department. Since I was in the mood to relax and cook last night, I went with a whole chicken, but you could've just as well gone with already-cut, bone-in chicken. The bone is important here because that is what will keep the chicken moist during the cooking process.
happily marinated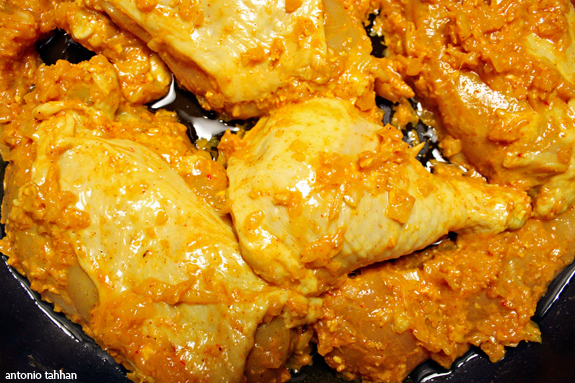 The marinade for this dish is one of the best I've tasted in a long time. You basically throw in the spices, ginger, onion, and half a preserved lemon into a food processor with some olive oil and you're set. You can technically skip the preserved lemons, but if you feel compelled and don't have some laying around, Whole Foods and other specialty stores should carry them. If you want to start getting a jar ready for 6-months down the road, you won't regret it.
chicken & olives (دجاج بالزيتون)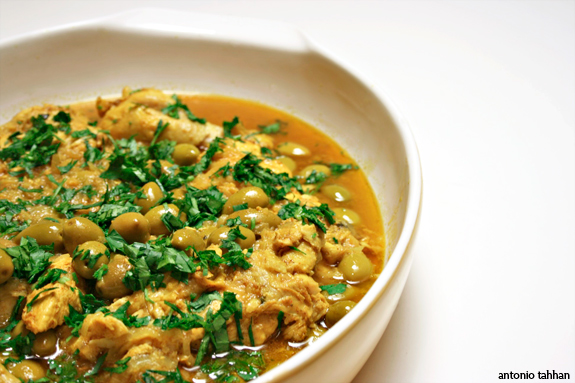 Rice, cous cous or bread are all perfect sides for this dish. This dish is also being featured for this month's A Taste of the Mediterranean, where we're showcasing the cuisine of North Africa throughout the month of May. iGourmet has agreed to sponsor the contest and is offering a $50 gift certificate for the winning dish. Make a variation of this meal, be creative and enter to win!
Chicken with Olives
serves 4-6 people
Components
For the Marinade:
2 tsp turmeric
1 tsp sweet paprika
1/2 tsp salt
1/4 tsp pepper
1 inch piece of ginger
1 small onion
1/2 preserved lemon
pinch of cinnamon
pinch of saffron
2 tbsp extra virgin olive oil
For the Dish:
1 whole chicken, cut into pieces
small bouquet of parsley
small bouquet of cilantro
1/2-3/4 cup water
1 onion, quartered and sliced
1 cup green olives
bread, rice or cous cous
extra parsley, for garnish
Putting them all together
Make the marinade by pulsing all the ingredients in a food processor.
Wash the chicken under cold water and butcher into 6 or 8 pieces. Dry and marinate over night (or at least 1 hour, if rushed).
Tie the bouquet of parsley and cilantro with a string for easy retrieval after cooking.
Place marinated chicken, with marinade, in a large heavy-bottomed pan (or tajine) along with the rest of the ingredients, except the olives.
Bring to a boil, cover and cook for 30 minutes on medium-low heat (simmering), making sure to turn the chicken pieces in the sauce every once in a while.
Remove the parsley and cilantro bouquets, add the olives and transfer to a 375 degree F oven to finish cooking.
Serve alongside rice, cous cous or bread and enjoy!
notes: Recipe very slightly modified from Warda. Also, rinse olives if excessively bitter.
packing my things