Yesterday, my Friday started out like a dreadful Monday in disguise. It was pouring, I was running late for work and I had a flat tire. In retrospect, this wasn't too bad. I called in late, pulled up my sleeves and youtubed: how to change a tire. I was mildly amused by the number of videos there were for this topic. After watching a few I thought I was fully-trained, if not an expert, on how to put on those silly-looking donut wheels. To make a long, miserable story short – my spare also turned out to be flat, the tow truck took 3 hours to pick me up, and it took 2 hours to get my wheel changed – never in my life had I felt so much relief in returning home and closing the door behind me.
Before going to bed last night, I finished Molly's book: A Homemade Life. If you haven't already bought it, you need to go and pick up a copy. In her book she has a chapter appropriately titled and dedicated to happiness, which apparently is achieved by slow-roasting tomatoes for six hours. I was convinced. After my miserable chain of events, I set out to make this recipe on Saturday morning, and ran errands while the tomatoes did their thing in the oven.
mise en place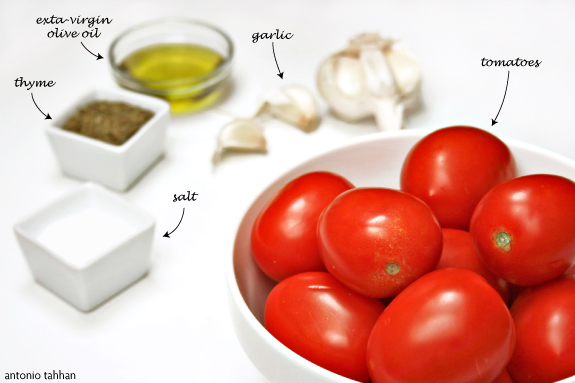 Molly's recipe calls for coriander, which I didn't have, but I sprinkled some dried thyme instead, and added couple cloves of minced garlic for good measure. I cook under the illusion that anything roasted should have garlic in it. Ultimately though, I was happy that I found a recipe for the large bowl of tomatoes idly resting on the dining room table, just waiting to be used.
tossed in olive oil, thyme & garlic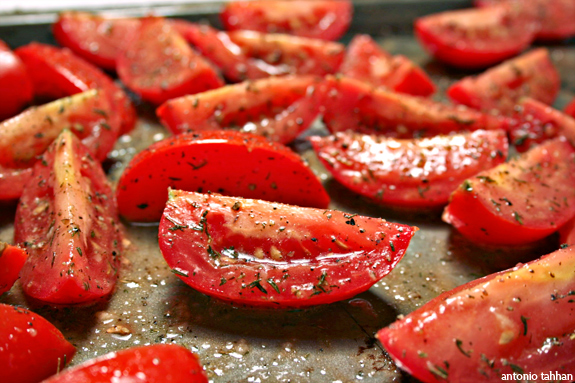 The dish couldn't have been easier to put together. I sneaked a taste of a couple the quartered tomatoes, put the rest in the oven at 200 degrees F, and went on with my errands. *I knew I wasn't going to take long, but if you're going to do this, I recommend using the cook-time feature in your oven so that it could turn itself off automatically.
ready to combine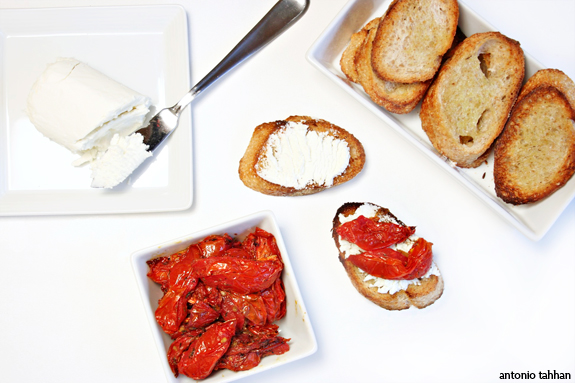 After six hours, your entire house will take on the wonderful scent of the roasted tomatoes and lemony thyme. In order to make it a meal, I toasted a few slices of a day-old baguette, topped them with a healthy smear of fresh goat cheese, and a couple pieces of the slow-roasted tomatoes. Molly was right, this is happiness.
roasted tomato, goat cheese crostini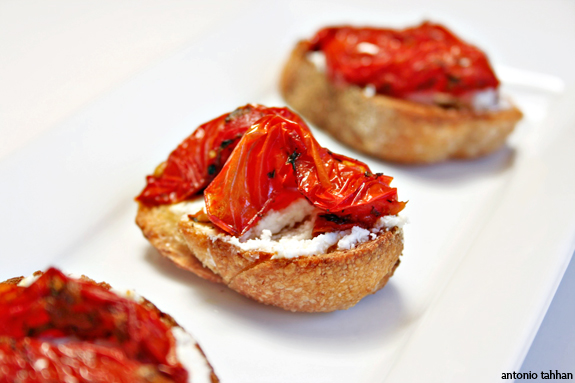 As she describes in her book, the possibilities for flavoring or using these tomatoes are virtually endless. Tomorrow, for instance, I can't wait to wake up and throw a couple of these in with my scrambled eggs. I can then layer a few more pieces inside my sandwich for lunch, or toss them in with my salad – you get the idea.
Slow-Roasted Tomatoes
approx 1 cup of roasted tomatoes
Components
2 lbs roma tomatoes, quartered
1 tbsp extra virgin olive oil
1-2 cloves of garlic, minced
thyme, to taste (approx 1 tsp)
salt and pepper, to taste
Putting them all together
Wash and dry tomatoes. Quarter them and scatter them on a large baking sheet.
Gently, using your hands, toss the tomatoes with the oil, garlic, thyme, salt and pepper.
Bake at 200 degrees F for 4-6 hours or until tomatoes crinkle at the edges and shrink by about half.
Pull them out of the oven, let them cool and eat as desired.
notes: Recipe adapted from A Homemade Life by Molly Wizenberg. Roma tomatoes are best for this recipe, but any tomato will work just as fine. You could go longer than 6 hrs if you'd like, I actually went 7hrs when I made these and they were excellent.
deliciously wrinkly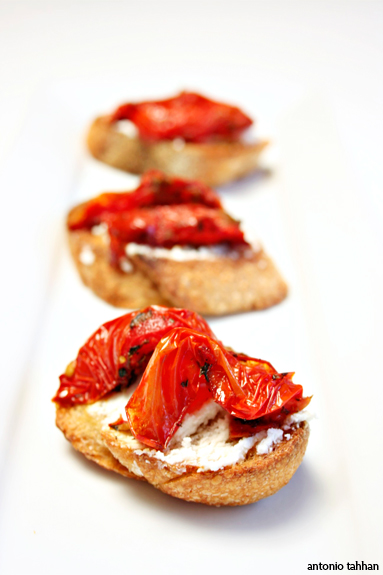 ---
According to the atmospheric noise generated by this random-number generator, these three commenters will be receiving a pack of mahlab in the mail.

Congratulations to Hélène, Katie and Hannah, respectively, and thank you to everyone who commented and e-mailed me with their support.