Middle Eastern spreads are plentiful, but very few have been able to jump the cultural divide into restaurants and homes in the States. In the Middle East, families, neighbors and even strangers gather around these homemade delicacies to talk for hours about absolutely anything.
Hummus is by far the most recognized Middle Eastern spread, but you don't need to look far to find plenty of others that are just as tasty (or tastier!). Baba Ganoush is a traditional spread that uses charred eggplants to create a rich smoky pulp that is out-of-this-world delicious. For maximal fire-roasted goodness, roast the eggplants over an open flame. For those of us, however, who are only granted this luxury 2 weeks out of the year (if we're lucky), we must turn to other alternatives. When it's subzero outside I use my broiler or grill pan and find that both deliver a comprable fire-roasted flavor.
Baba ganoush literally translates into father who spoils (with an over-caring and positive connotation) in case you were wondering. This is a family recipe that was given to me by my grandmother who grew up in Aleppo, Syria (one of the greatest culinary centers of the Middle East). In this region of Syria pomegranates are abundant and bursting with flavor, so it isn't surprising that a pomegranate version of this tasty spread evolved. Not only does the pomegranate add a more subtle citrus bite, but it also balances the bitterness of the seeds in the eggplant with its natural sweetness.
Baba Ganoush (بابا غنوج)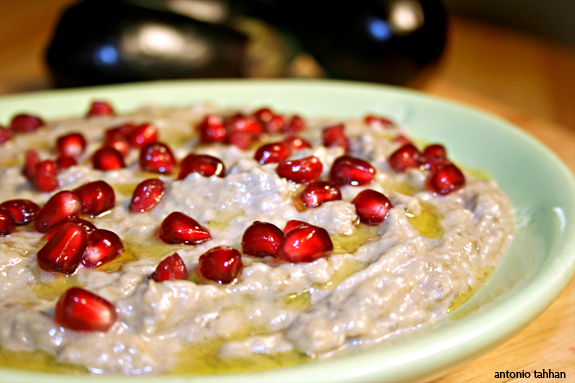 Baba Ganoush
Components
2 medium sized eggplants
2 tsp. extra virgin olive oil
2 tbsp. tahini
1 tsp. lemon juice
2 tsp. pomegranate juice
1 tsp. pomegranate molasses
1 garlic clove
fresh pomegranate, for garnish
salt, to taste
Putting them all together
With the tip of a paring knife, poke the eggplant all around.
Cook the eggplants over an open fire (preferably), under the broiler or on a grill pan for 5-7 minutes on each side or until completely charred and soft on the inside.
Place eggplants in a bowl and cover in plastic wrap for about 5 minutes (or until they cool down enough to work with).
Peel the skin off eggplant and place back in the bowl. Add olive oil, lemon juice, pomegranate juice and molasses and mash with a fork.
On a cutting board, mince the garlic clove with the salt in order to create a garlic paste. Then, mix into the eggplant puree.
Cover in plastic wrap and refrigerate until ready to serve. Garnish with fresh pomegranate and extra virgin olive oil and serve alongside pita bread.