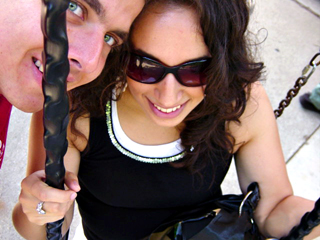 Festive green, nutty and full of fragrance; Pasta alla Zarina is my spin on the classic pesto Genovese. This dish is fresh, modern and was inspired by my fashionista friend, Zarina (and her love of spinach).
Zarina and I met at an internship one summer and were practically joined at the hip. Between our Shakira-tuned car rides to work and our late-night mint chocolate chip sessions, there wasn't much we didn't do together. This pasta dish is her absolute favorite (or so she tells me) and the least I could do was name it after her… and blog about it.
The tiny pearls of slightly melted mozzarella cheese cling to the penne and envelop your taste buds with creamy goodness. There is a science to the mozzarella, though: if you add it too soon, you risk the mozzarella melting completely into the sauce (no good). And, if you add the mozzarella straight from the fridge, you'll just have hard cubes of cheese in your pasta (also, no good). The trick is to cut up the mozzarella first and add it last, after it's reached room temperature. The rest is up to you!
Pasta alla Zarina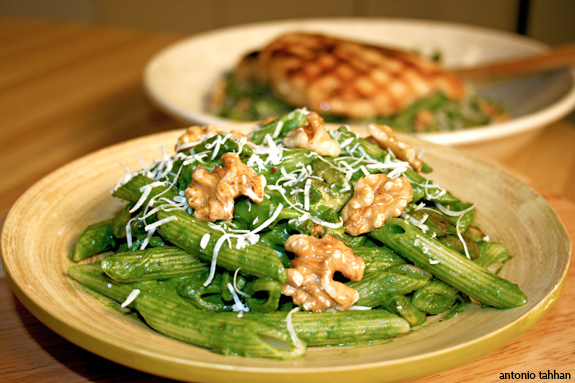 Pasta alla Zarina
Components
1 lb. penne rigate pasta
10 oz. baby spinach
¼ cup whole milk
¼ cup + 3 tbsp. extra virgin olive oil
2 oz. Pecorino Romano
1 tbsp. basil paste*
¼ cup + ¼ cup walnuts, toasted
½ tsp. red pepper flakes (optional)
½ lb. crimini mushrooms
1 tbsp. balsamic vinegar
5 oz. low fat mozzarella cheese
* Basil paste is my new secret weapon in the kitchen since I don't always have fresh basil laying around. If you have fresh basil, a few leaves should do the trick.
Putting them all together
Dice the mozzarella into ¼ in. cubes and set aside.
In a large sautee pan, toast the walnuts over medium heat and set aside (approx. 5-7 minutes).
Remove the stems from the mushrooms and quarter them into roughly equal sizes. Coat the same sautee pan with 3 tbsp. of extra virgin olive oil and sauté mushrooms over medium-high heat for 5 minutes, or until tender. Season with salt and pepper. Deglaze the pan with the balsamic vinegar and set the mushrooms aside.
In a blender, blend baby spinach, milk, the rest of the olive oil, Pecorino Romano, basil paste, red pepper flakes and ¼ cup walnuts until smooth. (You might have to stop the blender and help it along a few times with a spoon)
Prepare your favorite pasta (I use penne rigate) and toss with the spinach pesto, mozzarella cheese and the remaining ¼ cup of the toasted walnuts.
Plate alongside some grilled chicken and enjoy!