This entry is dedicated to Dean Davidis, one of my favorite people to chat food with. Thank you for your endless inspiration and support; here's to you – OPA!
My tzatziki recipe was born on accident after having strained yogurt too far while making a Middle Eastern spread called labne. I eventually tended to my forgotten disaster, but it was already too late – the once creamy yogurt had turned into a solid cheese-like mass. This is when the 1/16th Greek in me chimed in with the thought of turning my losses in for a spectacular tzatziki sauce.
Tzatziki is traditionally made with semi-strained yogurt (i.e. sour cream consistency) and salted, drained cucumbers. Well, what if I don't drain the water from the cucumbers, what then?
Aside from receiving angry e-mails from Greek purists, the sauce turns out just fine. The moisture from the cucumbers perfectly compensates for the excess loss of moisture in the straining process. Personally, I even find the accident sauce tastier just because the cucumber liquid is more refreshing than the stuff that drains out of the yogurt.
You can execute the following recipe either way: traditional or not, just by adjusting how far you strain your yogurt. Regardless of the route, the final sauce is a tasty complement to almost anything your culinary mind can conjure. My favorites pairings for this sauce are kebabs, sandwiches and salads.
tzatziki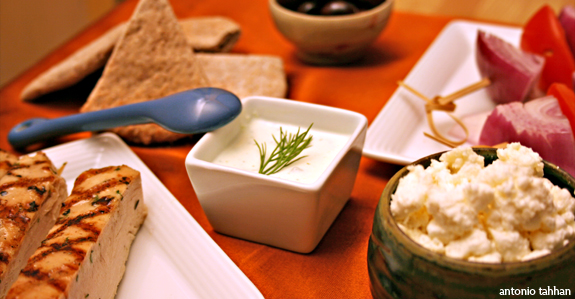 Tzatziki Sauce (Greek Yogurt Sauce)
(yields approx. 2½ cups)
Components
16 oz. super strained yogurt (2 cups)
6 oz. cucumber
2 tbsp. lemon juice
1 tbsp. fresh dill
1 clove of garlic, minced
salt, to taste
5 oz. drained cucumber, diced (optional)
Putting them all together
Either make or buy strained yogurt (also known as Greek yogurt). To make strained yogurt, strain plain yogurt in a cheese cloth overnight with ½ tsp of salt per cup of yogurt.
Process all the ingredients except for the drained cucumber in a food processor.
Optional: dice cucumbers and salt lightly. Let sit for 15-20 minutes in a colander. Squeeze out any excess moisture and stir into tzatziki sauce at the end for extra texture.
Refrigerate until ready to use.