When the bomb cyclone hit the New England area a few days ago, I was prepared. The cyclone may have packed bitter cold wind chills and the ability to crush my soul like a popsicle, but I had soup. Specifically, Fadi's red lentil soup. The bomb cyclone didn't stand a chance. Before I get to the soup though, let me tell you about Fadi.
Fadi aka Abu Jack (Jack's dad)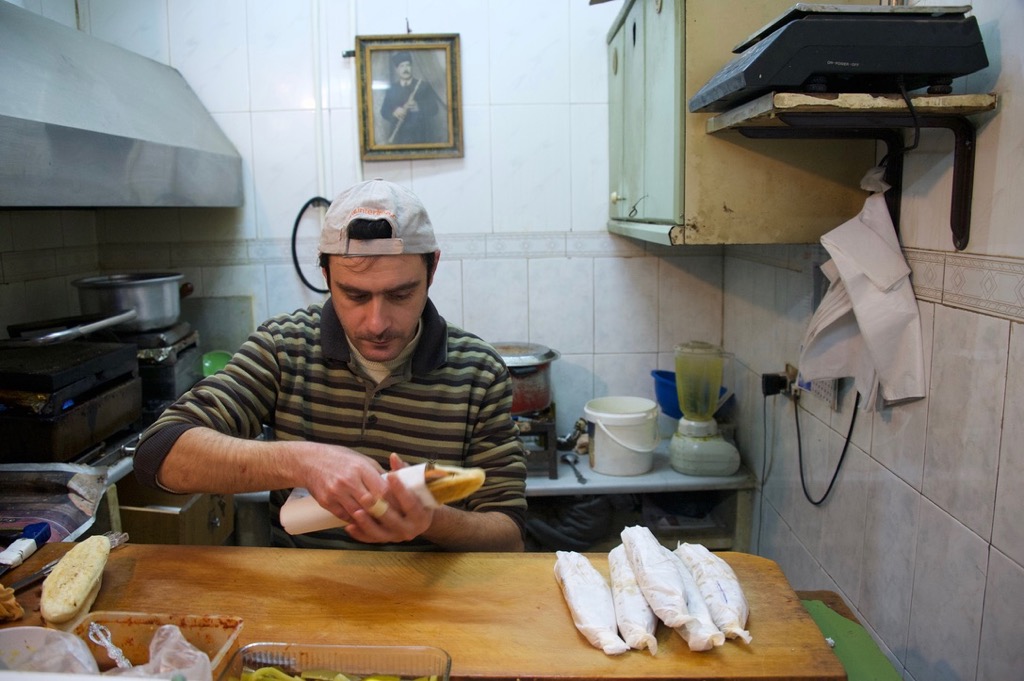 Fadi makes some of the best sujok sandwiches in all of Aleppo. Sujok, if you haven't had it before, is an Armenian sausage flavored with lots of garlic and a variety of fragrant spices such as cumin, fenugreek, Aleppo pepper, and allspice. That's what drew me to Fadi in the first place. His sujok is legendary. Once the temperature in Aleppo begins to dip, butcher shops throughout the city prepare their own sujok recipes and hang them out front to dry. You can't miss the aroma of garlic and spices as you walk around the city.
hanging sujok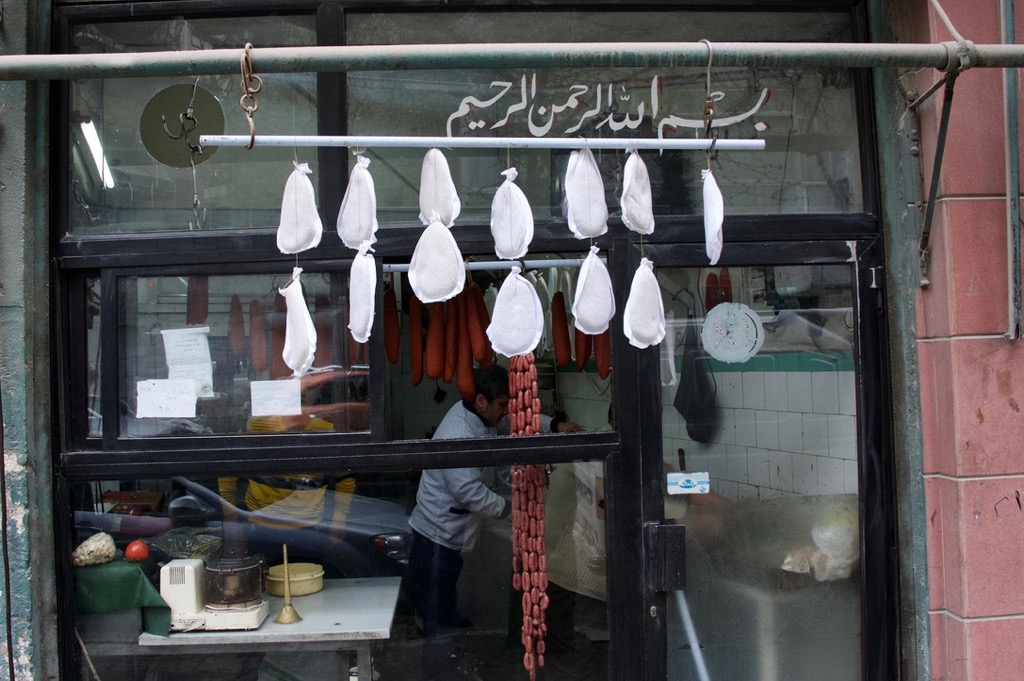 Fadi is second generation Syrian. His grandfather fled from Urfa, Turkey to Aleppo during the Armenian genocide. You can see a photo of Fadi's grandfather hanging above Fadi in the first image. Fadi inherited his small sandwich shop, Abu Jack's Sandwiches, from his grandfather. When you walk into Fadi's shop, you'll be greeted by the scent of sujok sizzling on a sandwich press and the sound of a soccer match playing loudly on the tv hanging above your head. The shop is pretty small — it can barely fit four adults standing in front of Fadi's counter. This usually means there's a line out the door.
Fadi's shop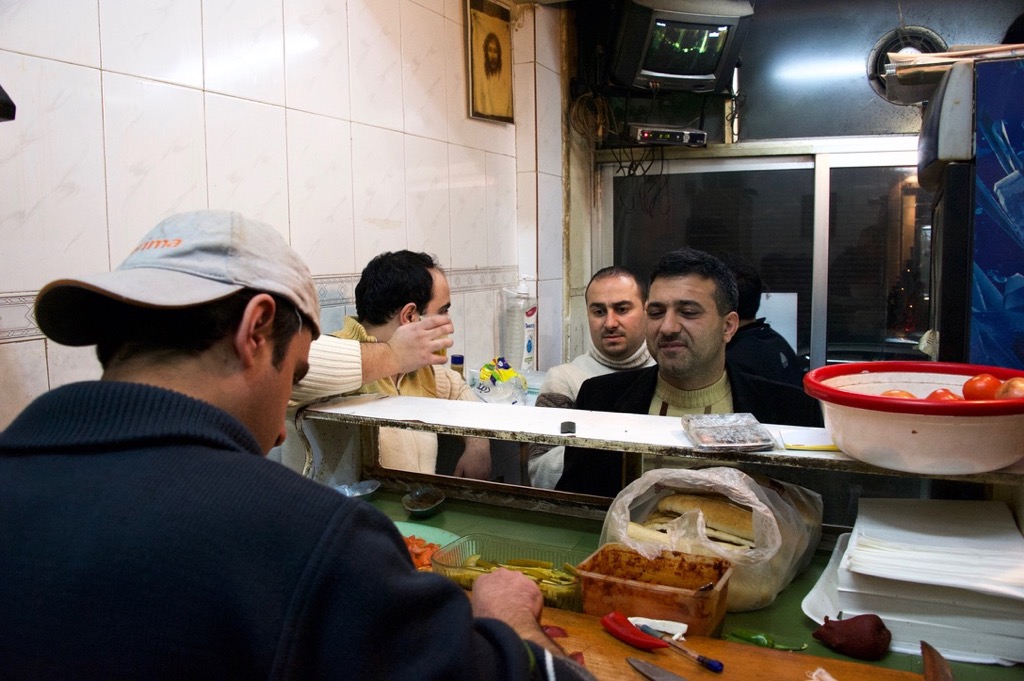 That's where Fadi's red lentil soup comes in. In order to keep his customers warm and happy, Fadi retrofitted a coffee dispenser for his simple yet delicious red lentil soup. It's easy for soup to be overshadowed by sujok, but Fadi's soup is incredible. It merits its own blog post. Before winter is over (or if you find yourself in another bomb cyclone), you need this soup in your arsenal. The good news is that the soup is incredibly simple to prepare.
Fadi offering me soup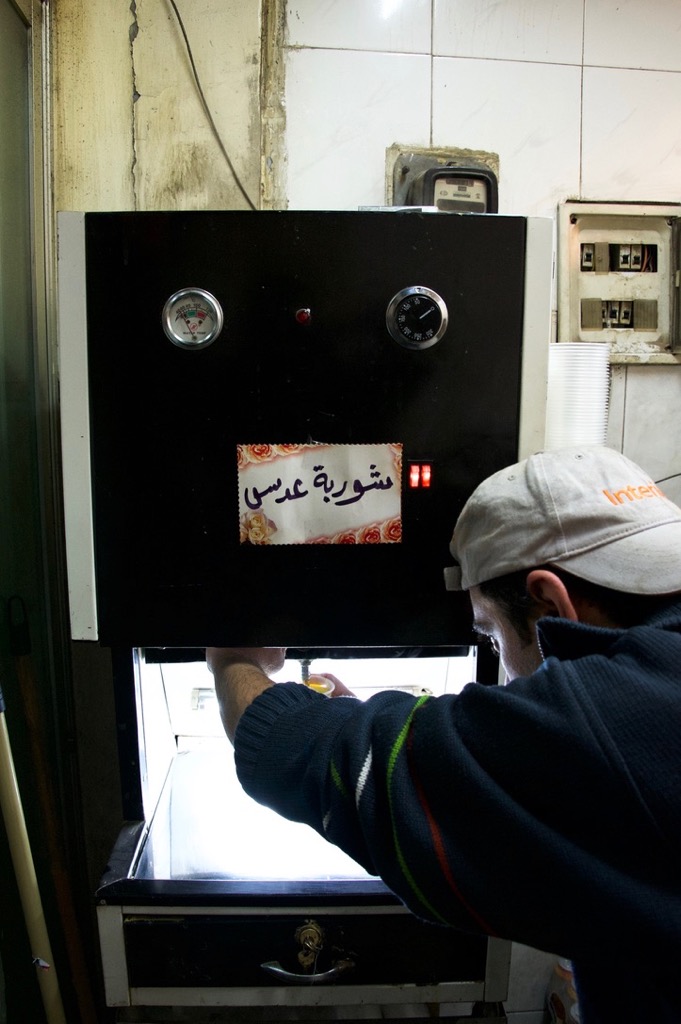 The ingredients are simple. Fadi uses a mix of rice and potato to thicken his soup. And the soup is very forgiving, so don't worry about precise measurements.
mise en place
You also don't need to worry about perfect dicing. Since the soup is pureed at the end, a rough chop does the trick.
chopped veggies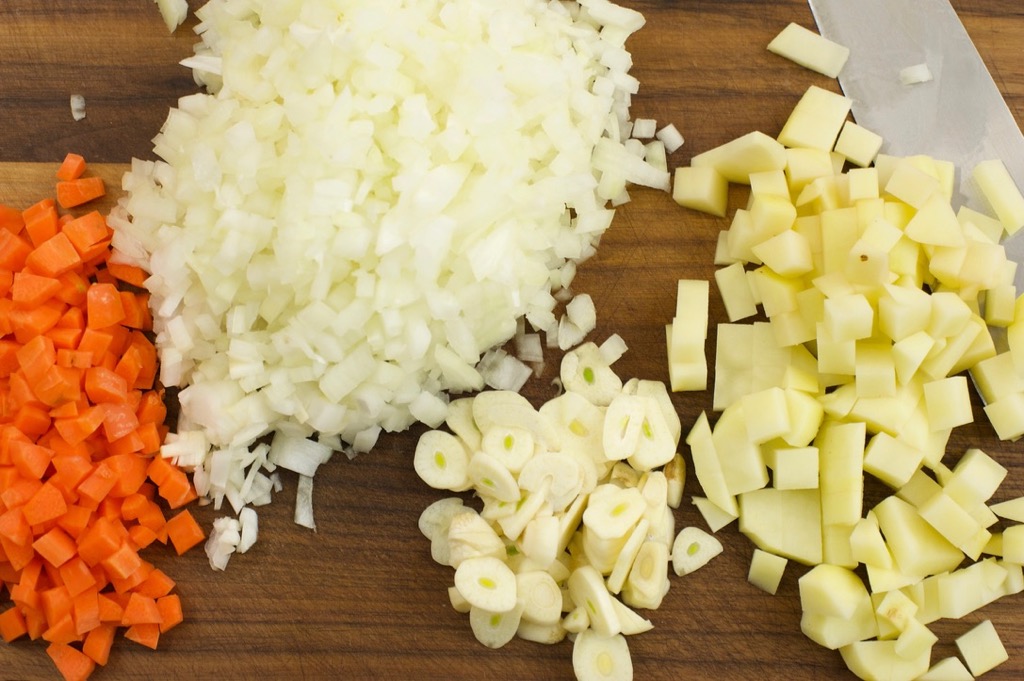 I start by sweating the onions and garlic in a little bit of olive oil. I season with salt and pepper. The key to any good soup is to season in layers. It's better to season gradually as you go along rather than try to season the dish at the very end. It doesn't taste the same and you end up using more salt if you season at the last minute.
sweating the onions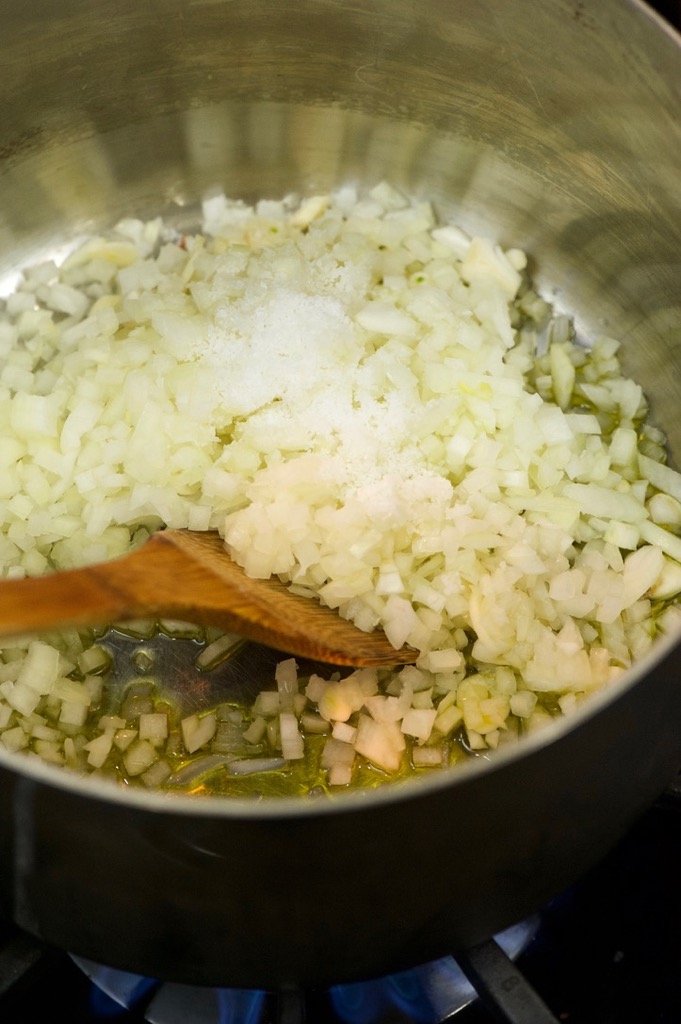 Once the onions have become translucent (~8-10 minutes on medium low heat), you'll want to add the spices. I don't add the spices in the beginning because I want to make sure my onions don't caramelize. It's also easier to tell when the onions are translucent if they're not colored by the spices.
spices: cumin, Aleppo pepper, coriander, and turmeric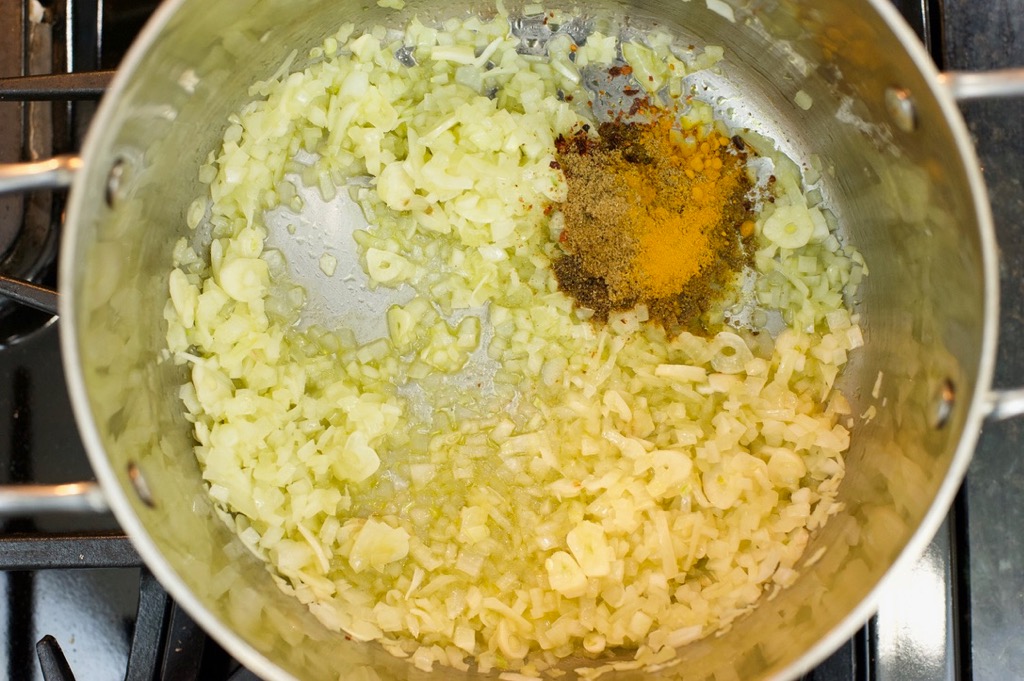 I like to cook the spices for a couple of minutes, which helps draw out their flavors. Once you begin to smell the spices, add the rest of your ingredients.
everything else: lentils, rice, carrots, potatoes, and broth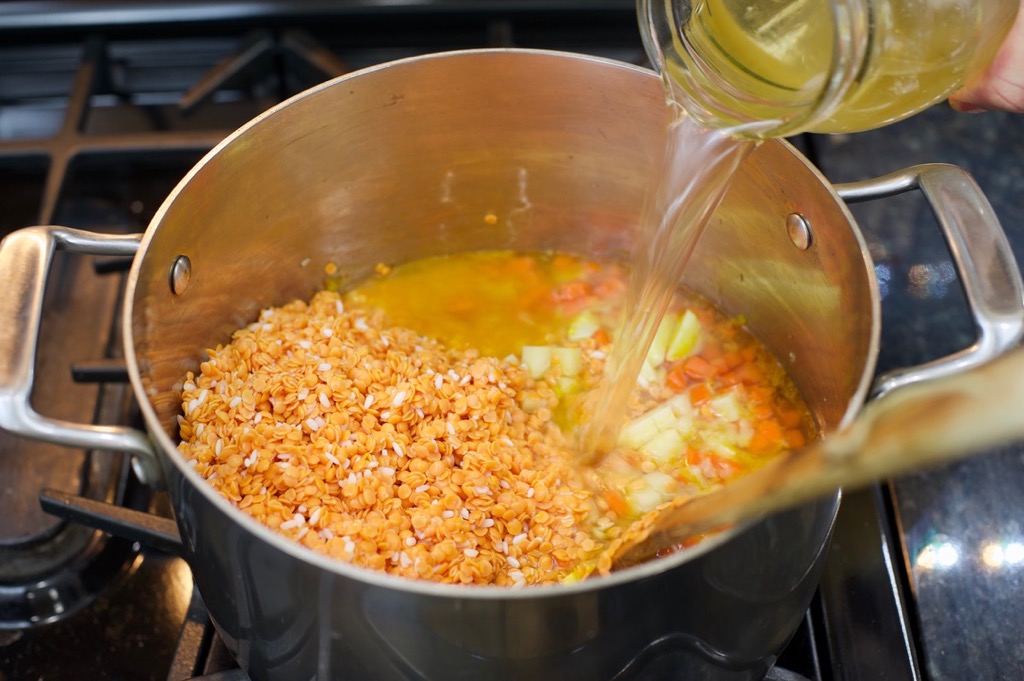 Bring the broth to a boil and then lower the heat to a simmer. Cover the pot partially with the lid and simmer for 30-45 minutes or until lentils, rice, and potatoes are fully cooked.
gentle simmer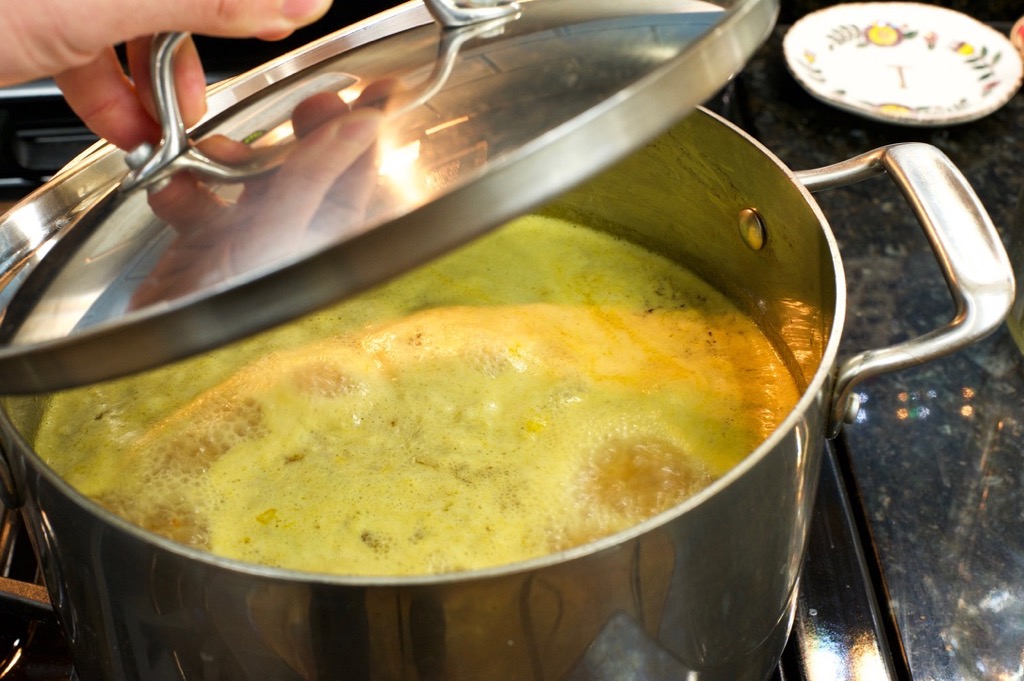 At this point, you can serve the soup as is, but I like to puree the soup for a rich and creamy texture. If you decide to puree the soup in a blender, make sure to leave the lid partially open to allow the steam to vent. Otherwise, you'll end up with soup on your ceiling! This is the perfect job for a hand blender, if you have one.
puree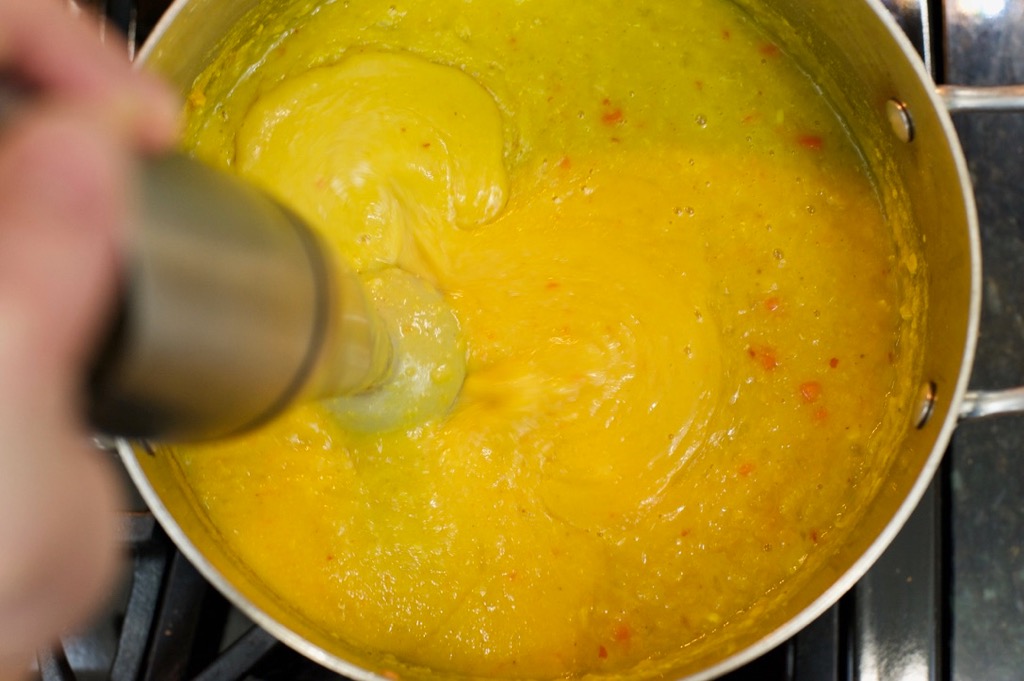 I like to serve the soup with an extra sprinkle of Aleppo pepper, cumin, and a drizzle of extra virgin olive oil.
Fadi's red lentil soup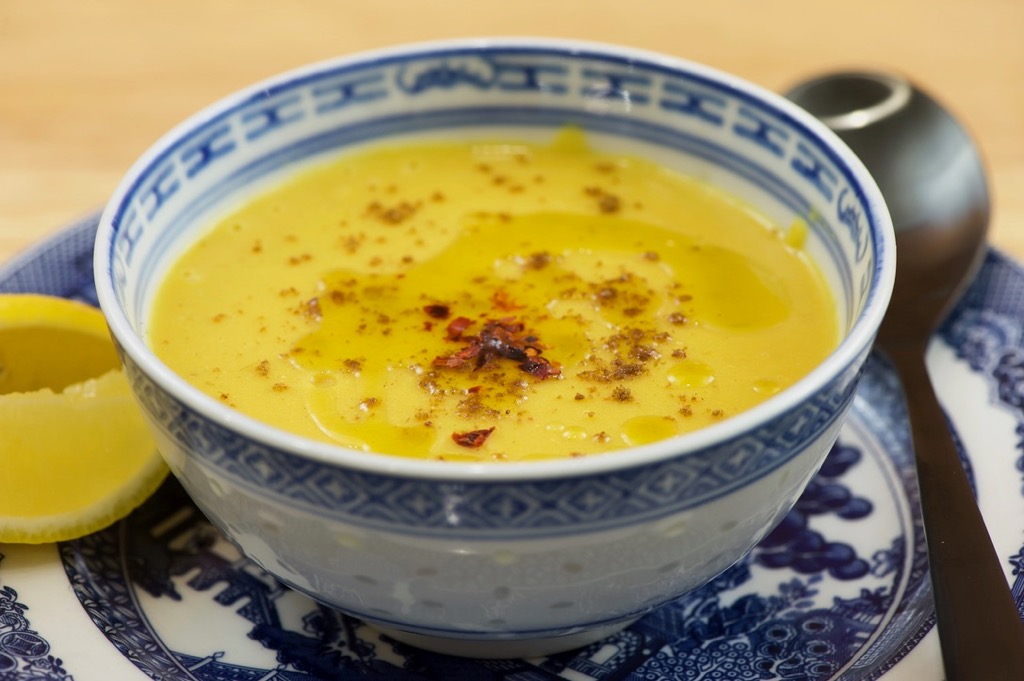 The best part about this soup is that spritz of fresh lemon juice at the end. It brightens up the entire dish!
spritz of lemon juice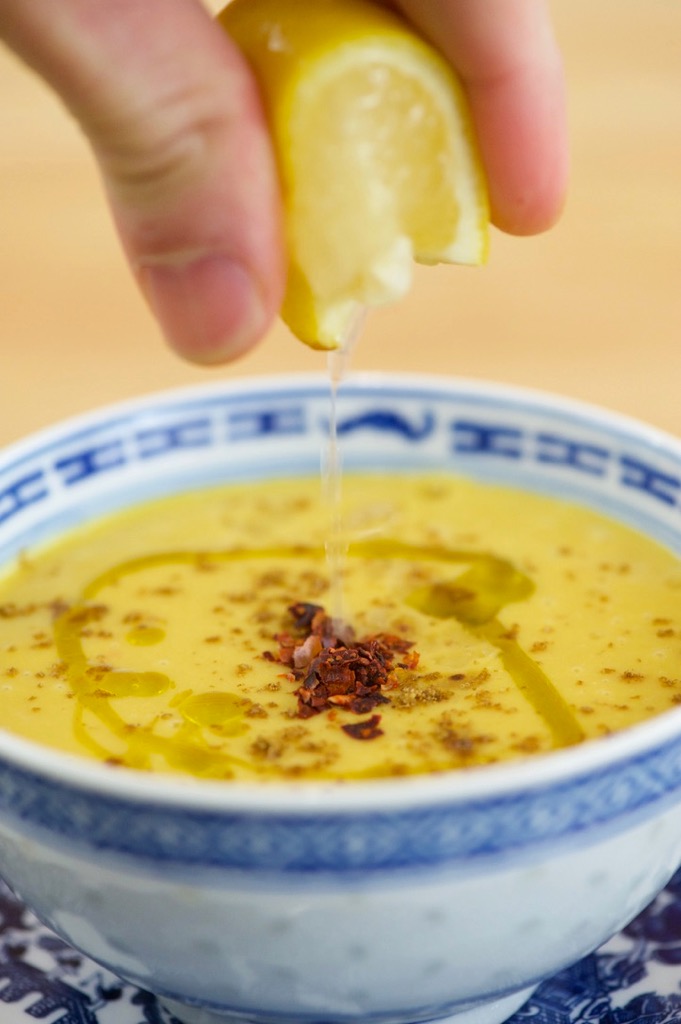 Fadi's Red Lentil Soup
6-8 servings
Components
500g red lentils
10 cups chicken stock
50g rice, preferably medium grain
1-2 yellow onions, roughly chopped
2 carrots, roughly chopped
1 medium russet potato, roughly chopped
4-5 cloves of garlic, roughly chopped
3 tbsp extra virgin olive oil, plus more for garnish
1 tsp cumin, plus more for garnish
1 tsp Aleppo pepper, plus more for garnish
1/2 tsp ground coriander
1/2 tsp ground turmeric
salt and pepper, to taste
Putting them all together
Coat the bottom of a large pot with olive oil. Sweat the onions and garlic with a little bit of salt and pepper over medium low heat. Make sure not to caramelize the onions. You want them to become translucent (~8-10 minutes of medium low heat).
Add the spices (cumin, Aleppo pepper, coriander, and turmeric) to the translucent onions and cook until fragrant (1-2 minutes).
Add the rest of the ingredients and bring mixture to a boil. Partially cover the pot with a lid and lower heat to medium low in order to maintain a steady, but gentle simmer. Simmer for 45 minutes or until rice, potatoes, and lentils are fully cooked. Stir occasionally to avoid anything sticking to the bottom of the pot.
Puree the soup with a stick blender.
Garnish each bowl with a drizzle of extra virgin olive oil and a sprinkle of cumin and Aleppo pepper.
Serve with lemon wedges on the side.
Notes: If you're using a regular blender to puree the soup, be sure to vent the lid of the blender to allow the steam to escape. The soup can be made the day before and heated before serving. In fact, it tastes better the next day!
happiness