First post of 2011. Here it goes:
On the first day of the new year my aunt and I were invited to her brother's house for a traditional Aleppan New Years lunch, Kibbeh b'Labaniyeh (كبة بلبنية): kibbeh balls slowly cooked in a creamy yogurt sauce finished with a saute of minced garlic; the garnish: fragrant flecks of dried mint and a sprinkle of spicy paprika; the taste: heavenly. This is the mac-and-cheese of Middle Eastern food — comfort snuggled in a bowl. Its character is similar to that of a stew, hearty and satisfying. Kibbeh b'Labaniyeh is popular across Syria and Lebanon in the cold winter months, however, Christian families across Aleppo serve this dish as a traditional lunch on New Years to symbolize a clean, pure start to the year ahead. I blogged about it before and included a recipe. You must try it while the weather is still cold.
kibbeh blabaniyeh (
كبة
بلبنية
)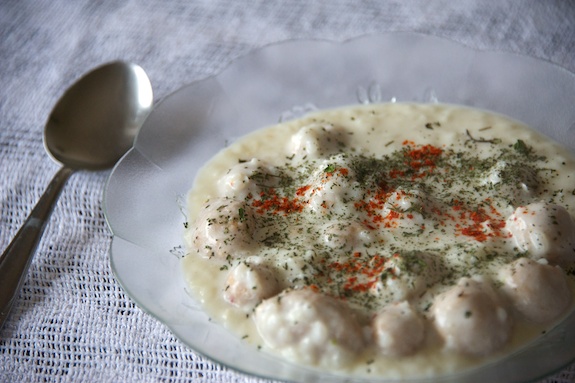 The festivities in Aleppo, however, continue well past New Years day. This is something I thought was interesting and worth exploring. It makes sense that not everyone gets to spend the holidays with their extended network on the day of the actual celebration. That's why in Aleppo families usually host small, relatively informal gatherings days after the holidays, in this case Christmas and New Years, where they invite friends and extended family they didn't have the opportunity to be with. I went to a few of these gatherings with my aunt. Regardless of how informal these gatherings are, you can rest assured food is involved; in Aleppo, it always is.
Coffee, assorted nuts, chocolates, cake, tea, and spreads like hummus are usually the common denominator; these are things that are almost expected at these gatherings. My aunt's sister-in-law, for example, presented the usual spread of starters, and also offered her guests a variety of her homemade fruit preserves, which included preserved walnuts, a preserve that takes over a month to prepare. Very few people still know how to make it properly (I'm working on a recipe).
I became inspired by these gatherings; a wonderful way to celebrate with everyone you love, regardless of the day. Since my aunt has five children, two who live abroad, and each with their own families, I proposed hosting a gathering at her place, and insisted I would help setup. My aunt, actually my grandmother's sister, usually gets invited by her kids to spend time at their homes; I had a feeling she missed having them over at her house. Like a typical Halabiye (Aleppan), the first question she asked was, what should we make?
We decided that the star of the occasion should be rice pudding (رز بالحليب) to go along with the white theme.
My first job for this gathering was to buy the milk for the rice pudding. My aunt sent me to a dukan, or "small shop" in Arabic. Think of a dukan like a convenience store minus the slurpees and abundance of junk food. The dukan I visited sells olives, shankleesh (type of Middle Eastern cheese–see picture below), yogurt, milk, eggs, and other pantry staples.
milk, cheeses and pantry items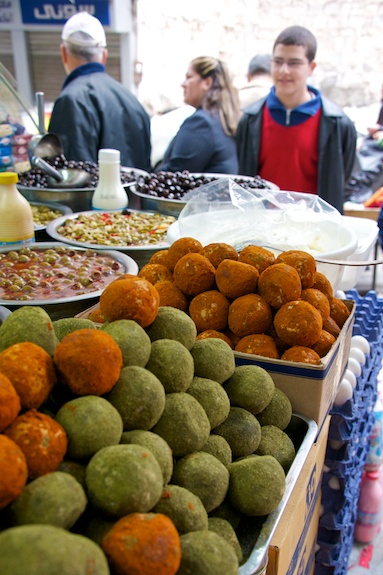 milkman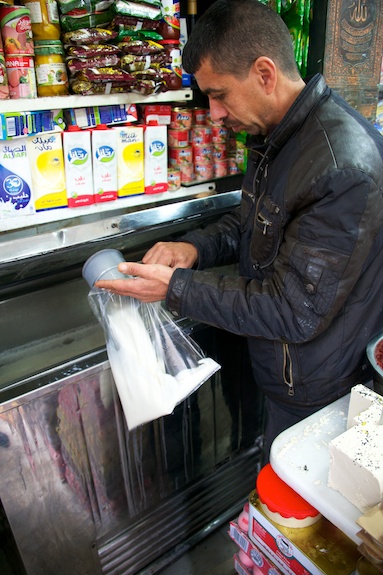 When I asked for milk, the first question I got was "how many kilos?". I have never bought milk in kilogram before, only liters and gallons.
I first asked for three kilos of milk, unsure of how many kilos my aunt needed for the recipe. The milkman opened a large stainless steel cooler against the back wall of the dukan and with a big ladle, began to pour milk into a plastic bag. It didn't look like a lot, so I asked if he could fill me up another bag with three additional kilos. This is fresh, unpasturized milk, which, the milkman told me, had to be boiled before use. I paid 120 Syrian pounds, approximately $2.50, for what turned out to be a gallon and a half of unpasturized milk (1 kilo of milk is approximately equivalent to 1 Liter).
mise en place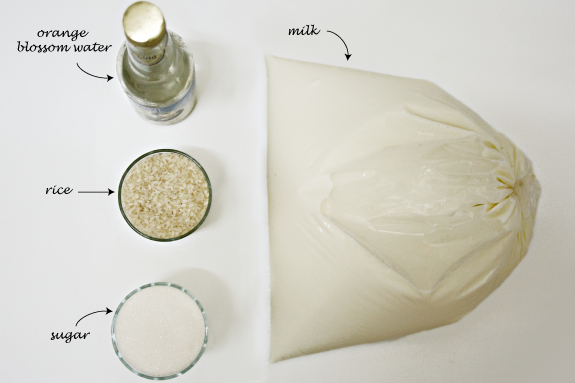 The debate between short grain vs long grain when it comes to rice pudding is endless. A shorter grain has more starch and will yield a thicker, almost risotto-like, rice pudding, while the longer grain rice will retain its texture more and not give off as must starch into the milk. My aunt uses medium grain or what they refer to in Aleppo as riz musry (رز مصري), or Egyptian rice.
medium grain rice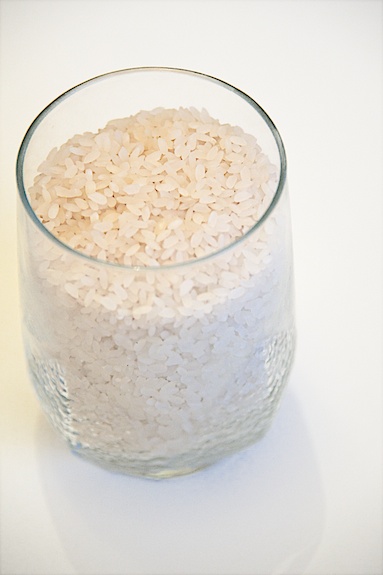 give it a good rinse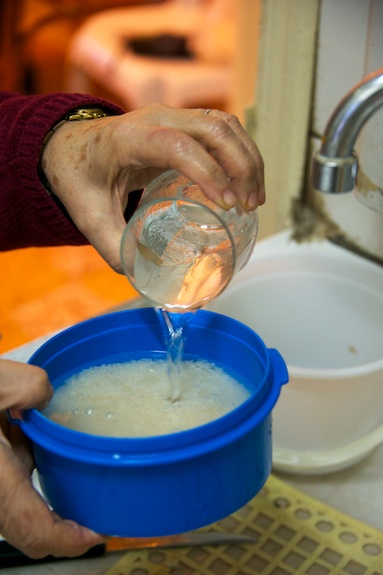 Once the milk comes to a simmer, you add the rice into the milk, along with about 1 cup of water. The extra cup of water helps cook the rice better, according to my aunt, who says that it is meant to replace the water that evaporates during the cooking process. I feel that the extra cup of water also helps cut the richness of the milk.
in goes the rice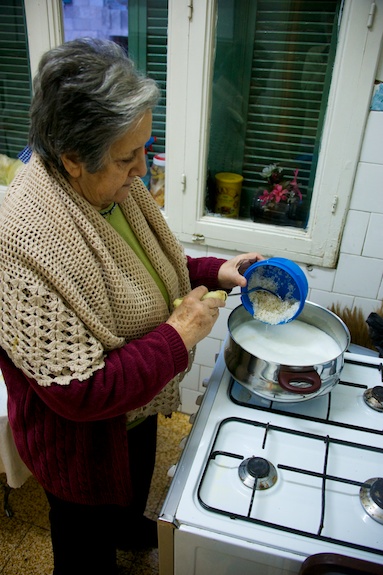 one for everyone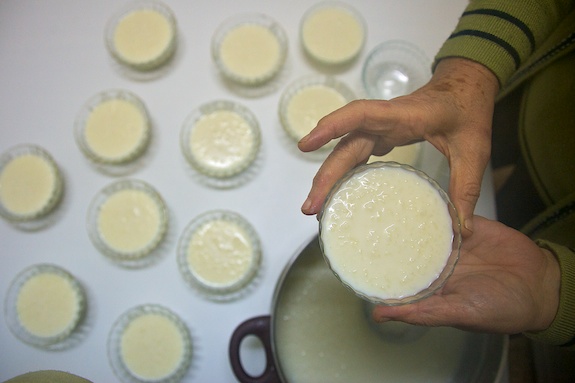 rice pudding (
رز
بالحليب
)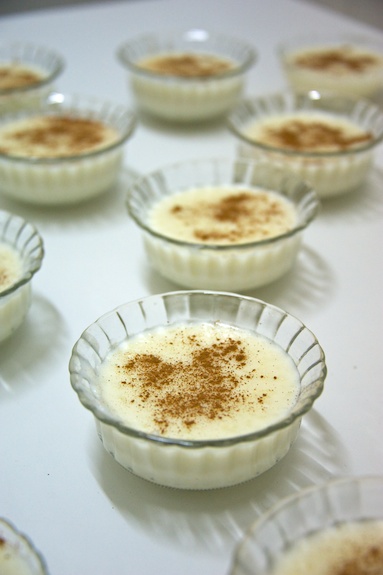 Rice Pudding
yields approximately 12 servings
Components
1 cup medium grain rice
3 liters milk
1 cup granulated sugar
2 Tbsp orange blossom water
1 Tbsp rose water
ground cinnamon, garnish
Putting them all together
Rinse rice under cold water until the water runs clear.
Combine milk and rice in a large pot over medium heat. Stir constantly in a figure-eight pattern to prevent the rice from sticking to the bottom.
Reduce heat to medium-low once milk reaches a simmer. Continue stirring in order for the rice to release its starch.
Cook for about an hour or until the milk reaches the desired consistency. Remember, it will continue to thicken in the refrigerator.
Add sugar and continue to cook for 5 more minutes.
Remove from heat and add rose and orange blossom water.
Ladle into individual cups, garnish with ground cinnamon, and refrigerate uncovered for a few hours or until ready to serve.
excitement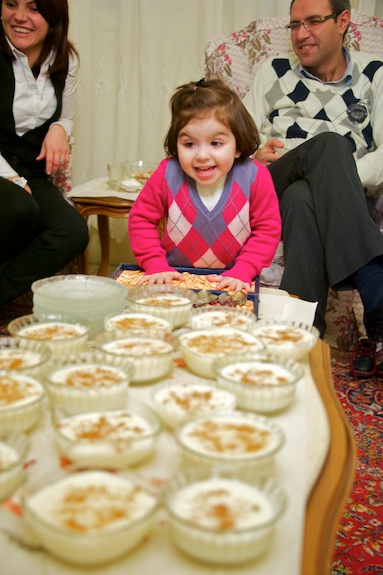 yum!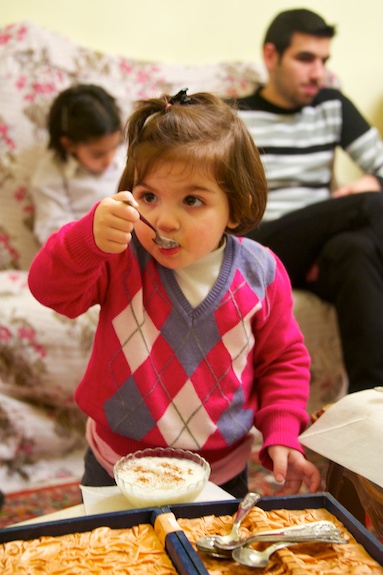 Happy 2011*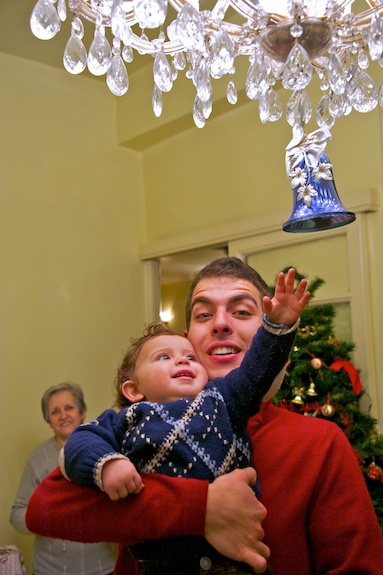 *Photo Credit: Zaki Khanji