I've always known I like to eat things in phases. I remember, for instance, the first time I had a peanut butter and jelly sandwich at my neighbor's house; fireworks were going off in my mouth — sweet and salty fireworks. I was only seven, maybe eight at the time, but I was convinced that I could eat pb&j's for the rest of my life and be very happy. We didn't have pb&j at my house. The closest thing we had was Dibis wa Tahini (دبس و طحينة), which is essentially carob molasses mixed with tahini sauce, served with warm pita bread for dunking. It was good; a less glamorous, slightly messier version of a pb&j, but still not the same. I'll have to blog about this sometime.
I've gotten better about changing things up. My food blog definitely helps with this, but I still find myself cooking favorites every now and then. Lately, it's been this chicken. It's not just any chicken, it's roasted chicken. Actually, it's roasted chicken that's been smothered in butter mixed with Herbs de Provence and it's absolutely delicious. In fact, I don't think it's humanly possible to make this dish only once. It's too good.
I can't count the number of times I've made this chicken in the past month, but I own up to it: My name is Tony, and I'm addicted to this roasted chicken.
mise en place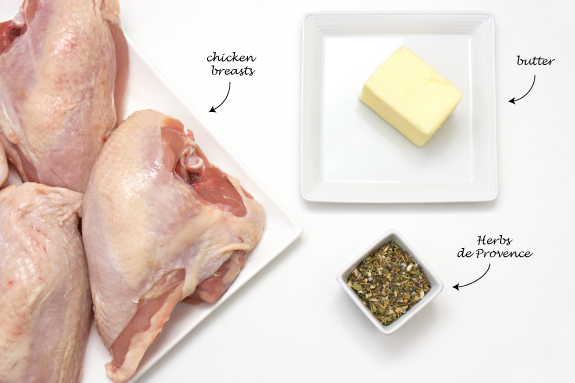 There are only three ingredients to this recipe; five if you count the salt and pepper separately. It's simple and that's part of its appeal. What makes this dish taste incredible, however, is the chicken. It's imperative, if you want fireworks to go off, that you use good quality bone-in, skin-on chicken breast. I think there's a wide-spread illusion that boneless, skinless chicken is more convenient. It's not. I say this because I was under that illusion for a really long time; twenty two years, to be exact. Bone-in, skin-on is tastier and just as convenient. In fact, if I didn't have to tuck butter underneath the skin, I would claim that I could make this dish with one hand tied behind my back. On that note, let me tell you about the butter.
soft butter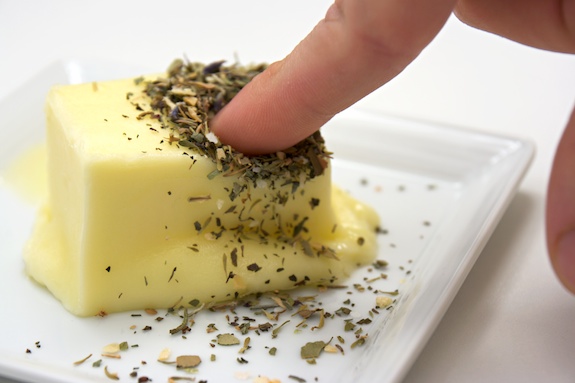 Butter, as any French person will tell you, makes everything taste amazing. I use it sparingly, partly because I haven't been blessed with the French gene to metabolize butter into thin air, but also because I'm accustomed to using extra virgin olive oil (it's in my Middle Eastern blood). For this dish, however, butter is important. You want to use softened butter so that you can mix in Herbs de Provence to make a delectable herb cream to spread underneath the skin of each chicken breast. As the skin begins to crisp in the hot oven, the butter will continuously baste, help develop flavor and thus keep the meat incredibly moist.
quick! hide ze buttah!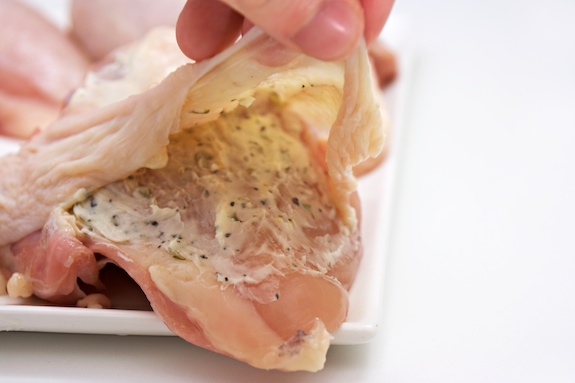 ready to roast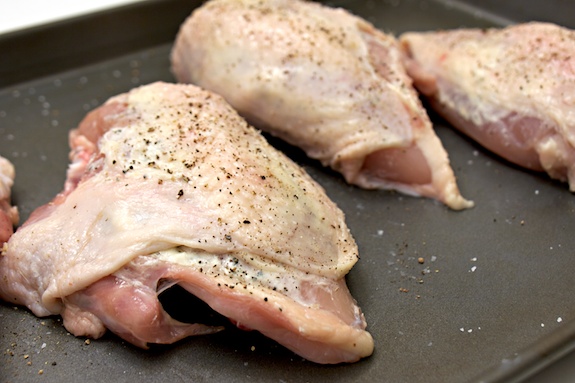 Before the chicken goes into the oven, you want to make sure that it is seasoned well on both sides with salt and pepper, and that your oven is preheated to 450 degrees.
roasted chicken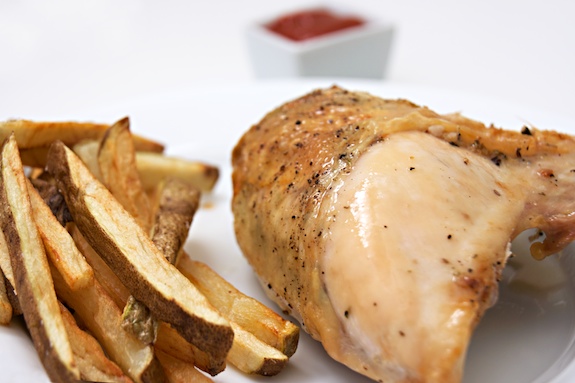 Some people like to eat the skin because it tastes amazing, and I agree (even though it's not the healthiest thing in the world). If I think about it too much, Pleasure and Reason appear out of nowhere and start arguing from opposite shoulders. Pleasure usually crawls over and knocks Reason around pretty badly. Reason will eventually strike back, punching Pleasure a couple times in the guts while muttering medical jargon after each blow. Eventually though, Pleasure laughs it off and knocks Reason into oblivion. That's how it usually ends, to the delight of my cheering taste buds. To avoid this drama, I've come up with a compromise for myself. Out of the four chicken breasts that come in the family-size pack, I eat one piece with the skin on. I store the remaining three in the refrigerator, without the skin, for sandwiches, salads, and pasta throughout the week. This works for me, and also seems to keep Pleasure and Reason in check.
Roasted Chicken Breast
Yields 4 servings
Components
4 chicken breasts, bone-in skin-on
3 tbsp unsalted butter, room temperature
1 1/2 tbsp herbs de provence
salt and pepper
Putting them all together
Preheat oven to 450 degrees F.
Take out the chicken breasts from the refrigerator 10-15 minutes prior to roasting.
Mix softened butter with herbs de provence and a little salt and pepper, to taste.
Very gently slide your finger in between the skin of the chicken, making sure it doesn't fall apart.
Spread a quarter of the butter/herb mixture under the skin of each breast.
Sprinkle the top and bottom of each breast with salt and pepper.
Place the chicken breasts breast-up on a baking sheet and roast in the oven for 25-30 minutes or until the skin is crispy golden brown, and the juices run clear.
clear juices = ready to eat