Do you remember the game where you get to name one person, dead or alive, to hang out with for a day? If I were to play that game right now, I would chose Julia Child, and the first thing I would tell her is thank you. Then I would hug her, if that's allowed.
Since that's only a game, however, I thought I'd express my gratitude to the great Julia Child in a blog post hoping that in some cosmic and mysterious way she'll be reading from wherever she is; probably in a version of culinary paradise where she has more duck fat and copper pots than any mortal would know what to do with.
The idea for wanting to thank Julia started last week when I decided to make her recipe for Boeuf Bourguignon. It made sense. The sky had been gray for over a week, and continues to stay that way, which makes me wonder if we'll ever reach spring, but that's beside the point. The weather was simply an instigator in this chain of events, maybe even orchestrated by Julia herself (that would be funny). In French mathematics, you see, Boeuf Bourginioun equals classic comfort food — the wool socks of French cuisine. It's a tough cut of meat braised in a full-bodied red wine for hours until it begins to fall apart and your entire house takes on the scent of a cozy French bistro on a rainy Friday evening.
For the record, this is the first time I've made anything of Julia's. To me, this was a revelation. Her recipe was divided neatly into different sections so as to make the entire process of cooking French food appear less daunting. This is one of the things Julia was known for: she made French food accessible, if not easy. I had heard this, but was never fully convinced anyone could make something like Boeuf Bourguignon seem simple. French food, I thought, had to be complicated. I also noticed that, stylistically, Julia wrote her recipes in narrative form, and included the ingredients along the sidebar, in order of appearance. Almost as if she were directing a movie and was crediting her cast members — the mushrooms, beef, parsley — for their outstanding performance.
I remember re-reading sections of the recipe thinking that I had missed something. While the recipe did have plenty of steps, they were all fairly basic. Sear the meat; brown the vegetables. These were all things I had done before. After I read the recipe a couple more times to make sure I wasn't going to be ambushed by a militia of French cooking terms half-way through, I started to prepare the ingredients for my mise en place shot.
mise en place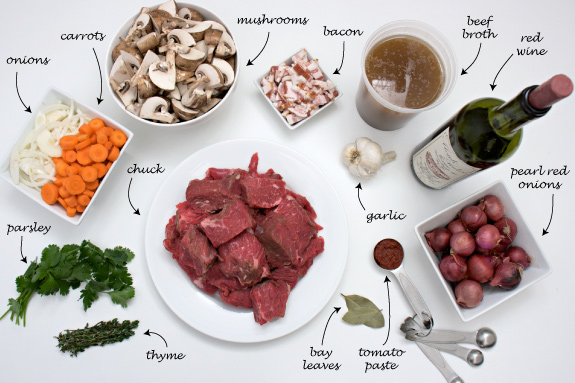 If there's one thing I have learned from cooking, and I'm pretty sure Julia would agree, it would be the importance of mise en place, or having everything in place. I include these photos on my blog for different reasons; one of them is so that I can maintain a certain degree of order in my kitchen. It took me a while to get into this habit, but it has helped me tremendously. A less pragmatic reason for why I do mise en place is because, like Julia, I like to highlight the ingredients that I use. It's my quirky way of crediting the ingredients that make up the dishes on my blog.
give your beef room to sear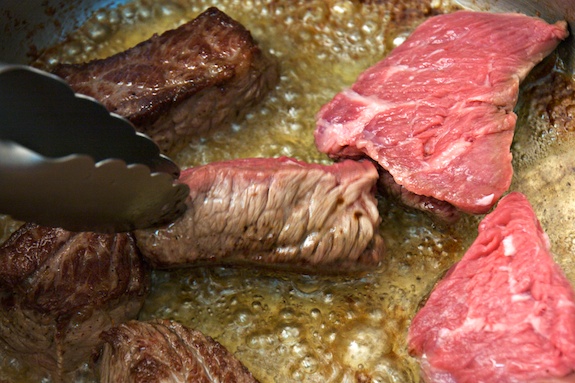 Julia is very clear about this step: there has to be enough room for the pieces of meat to sear in the bacon fat in order to get a nice crust — otherwise the meat would steam and the dish would be ruined. This was very important, so I did it in three batches.
now it's turn for the veggies
The onions and carrots got the same treatment: a good five to seven minutes in bacon fat. In France, bacon fat, or more accurately, pork fat called lardon, is synonymous with flavor. If you have access to lardon from a local butcher, I would go with that, otherwise, bacon seemed to do a pretty good job if you don't mind the subtle smokey undertone that it adds to the dish. I didn't mind one bit. Once the onions and carrots develop a golden brown color you'll want to pour out the bacon fat.
saute the onions and mushrooms sepeartely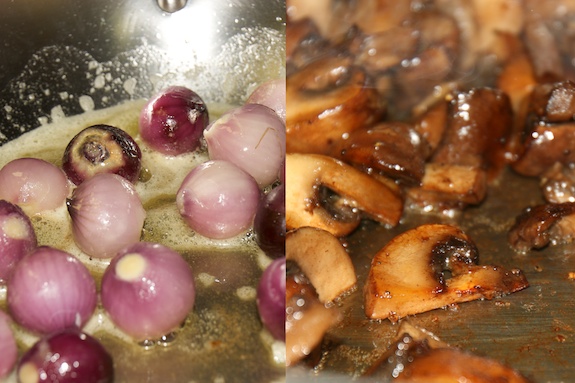 To make things go quicker, I sauteed pearl onions and crimini mushrooms in a separate pan. These ingredients also need room to sear so they develop a golden brown color.
cover everything in red wine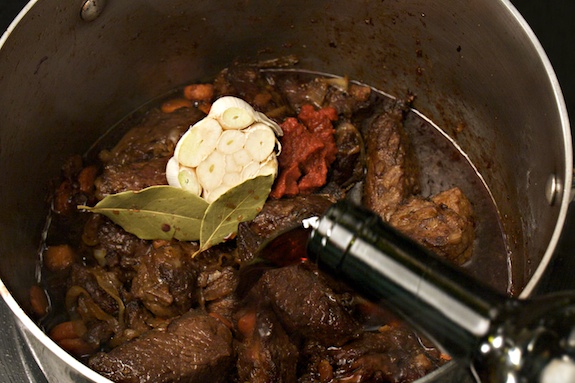 Once the meat is seared and the vegetables have been browned, you'll want to add everything back to the original dutch oven, and submerge its contents in red-wine. The French are masters at this; make sure, however, to save at least one glass for yourself.
Boeuf Bourguignon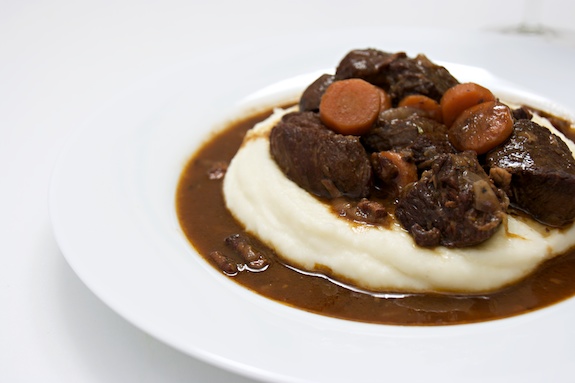 Although the recipe says to braise the beef for three to four hours in a low oven, I actually set my oven cook-time to four hours and went to sleep. I woke up seven hours later, fully rested, to the most heavenly smell. I'm sure Julia would've been proud.
In the words of the great chef herself, bon appétit!
Boeuf Bourguignon
yields approx. 6 servings
Recipe adapted from
Mastering the Art of French Cooking
by Julia Child
Components
6 oz bacon
1 tbsp olive oil
3 lbs chuck, cut into 2-inch cubes
2 carrots, sliced
2 onions, sliced
1 tsp salt
1/4 tsp pepper
2 tbsp flour
4 cups red wine, full-bodied young wine
1-2 cups beef stock
1 tbsp tomato paste
1 head of garlic
1/2 tsp thyme, dried
1 bay leaf
4 tbsp butter
18-24 small white onions
1 lb mushrooms, quartered
3 sprigs of thyme
3 sprigs of flat leaf parsley
Putting them all together
Cut the bacon into thin sticks (1/4 inch thick and 1 1/2 inches long) and simmer in water for 10 minutes. Drain and pat dry.
Preheat oven to 450 degrees.
Sauté the bacon in olive oil for a couple of minutes or until lightly browned. Set aside.
Reheat the bacon fat until it is almost smoking. In the meantime, pat your cubes of beef dry so you can get a good sear.
Making sure not to overcrowd the pan, sear the beef cubes on all sides, in separate batches if necessary.
Brown the sliced onions and carrots in the same bacon fat and then discard the bacon fat.
Peel the skins off the pearl onions. They peel relatively easily if you submerge them in boiling water for 30 seconds and then shock them in ice water. Be sure to pat the onions dry.
Heat 2 tbsp of butter in a large saute pan and cook the pearl onions until golden brown, then set them aside.
Add the remaining 2 tbsp of butter to the saute pan and sear the quartered mushrooms, making sure not to overcrowd the pan.
Make a bouquet garni (bouquet of herbs) by tying together the sprigs of parsley and thyme together with butchers twine. This will help you fish them out in the end.
Slice the head of garlic cross-wise so as to reveal the midsection of all the cloves.
Return the beef, bacon, sliced onions and carrots to the pot. Sprinkle in the flour and lightly toss to distribute the flour.
Set the uncovered dutch oven in the middle position of the pre-heated oven for 4 minutes. Toss the meat and return to the oven for 4 more minutes.
Reduce the oven temperature to 325 degrees F.
Add the pearl onions and mushrooms, bouquet garni, sliced head of garlic, tomato paste, thyme, salt and pepper to the pot. Pour in the red wine and add enough beef stock so that all the contents in the pot are barely covered — this will prevent the meat from drying in the oven.
Cover the dutch oven with a lid and return it to the oven (at the reduced temperature) to braise for 2 1/2 to 3 hours.
The meat is done when you can pull it apart with a fork with very little effort.