I don't know where to begin. This is the problem with neglecting a blog for more than a week. It really is. If you have a blog, I'm sure you know what I'm talking about. Carelessness quickly turns into neglect and finally begins to fringe on complete abandonment. I would never let it get to that.
The last time I signed off, my camera was broken and I was eating gelato — lots of gelato — to diffuse the pain. It worked. Actually, my mom says that if there's anyone who could get through to insurance companies, it's me. I wasn't about to abandon my camera. I called almost daily. In the end, after plenty of hoop-jumping and legal rigmarole, the hotel's insurance settled and reimbursed me for the damages. It was a relief, sure, but there's more.
Originally, my plan was to keep this next thing a secret. It was going to be a surprise, but I'm too excited not to blog about it. A couple weeks ago, I finally bought my plane ticket to go to Aleppo. My grandmother is there now, visiting her sister, and I will get to join them in just a few days. I promise to return with plenty of pictures, recipes and maybe even a few videos.
On that note, I will keep this post short. I've been strategically trying to use all my produce and perishables for the past couple of weeks. A lot of times the dishes that result from this don't make it to be photographed, but my roasted potatoes are different. I realize I've never written about them before, but my roasted potatoes have gotten me through some difficult times.
mise en place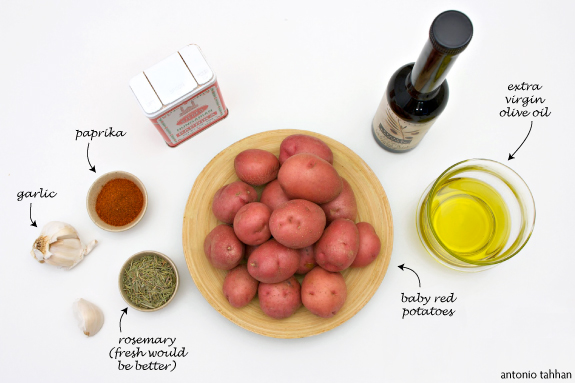 Preparation is simple. It makes a big difference to scout out good potatoes for this dish: small, firm and tight skin. I prefer reds simply because they have a higher sugar content, so they tend to caramelize better than other potatoes in the oven.
a quick rinse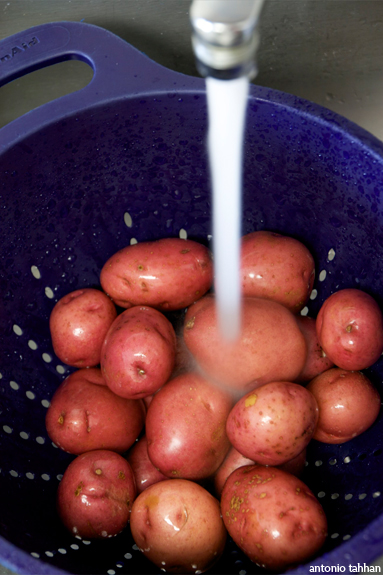 Since potatoes grow underground, you'll want to give them a quick rinse before you roast them. Make sure to pat them dry so that the outsides crisp up.
room to breathe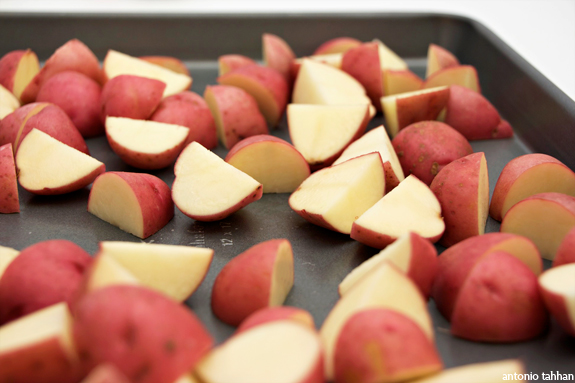 It's also important not to crowd the potatoes in a pan, otherwise they will still steam, regardless of how well you've patted them dry.
my secret weapon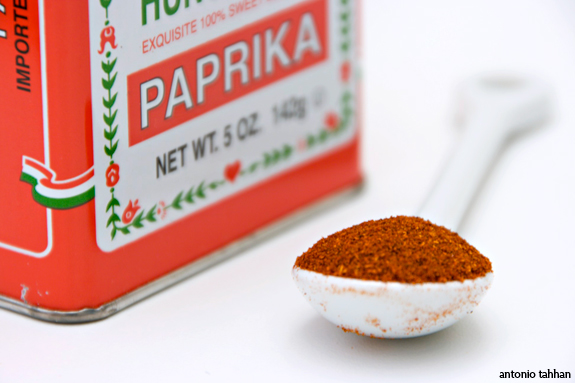 Although I usually use Spanish paprika, or pimentón, it's a lot easier to find the Hungarian variety at my local grocery store. My inspiration for using paprika in my roasted potatoes came from patatas bravas — a classic tapas made from fried tomatoes covered in a spicy pimentón-base sauce. If you can't find Spanish paprika near where you live, Amazon is where I usually buy from.
oven roasted red potatoes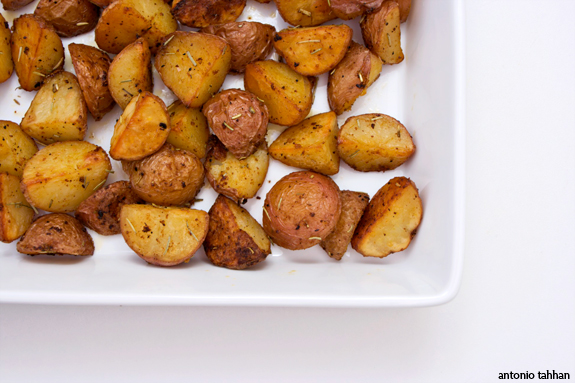 Once they come out of the oven, they can be eaten hot or at room temperature. Enjoy!
Oven Roasted Potatoes
yields 4-6 side dishes
Components
2 lbs baby red potatoes
1/4 cup extra virgin olive oil
2 tbsp dried rosemary (double if fresh)
2 tsp spicy paprika
3-4 cloves of garlic, finely minced
salt and pepper, to taste
Putting them all together
Preheat oven to 450 degrees F.
Wash potatoes and them pat dry.
Cut potatoes into equal sized pieces (I usually quarter them, if they're small enough).
Mix together all the ingredients on a large baking sheet. Make sure the potatoes are not crowded so that they crisp evenly.
Cover with foil and bake for 10-15 minutes, or until potatoes are slightly cooked.
Uncover and continue baking for 30-40 more minutes, or until potatoes are golden brown and cooked all the way through.
notes:Sometimes the potatoes tend to stick to the tray because of their natural sugar content. I recommend lightly tossing them with a spatula a couple times while cooking.