I find that when you don't know how to go about saying something, it's best to come out and say it. I learned this when I was younger. It's like pulling off a bandaid…
My Canon Rebel died last week.
It hurt me to even type that, but it's the truth. If you're wondering whether it's safe to leave your camera with a hotel for a couple hours after checkout, don't do it. I hate to sound jaded, but that's how my Canon met its horrible fate. The hotel is still investigating the matter, which, I hope, is not code for, let's see how we could get out of this. So far they've been relatively kind and helpful, but I'm still waiting for them to make things right.
The last thing I photographed before my trip was a chocolate hazelnut ice cream. I stumbled upon this recipe for gianduia gelato on epicurious and couldn't pass it up — it's like Nutella ice cream. Despite the relatively positive reviews, I added my own twist by spiking the gelato base with hazelnut liqueur. Although it did not bring my camera back, I was happy to find the leftover gelato waiting for me in my freezer after I came home from my dismal trip.
mise en place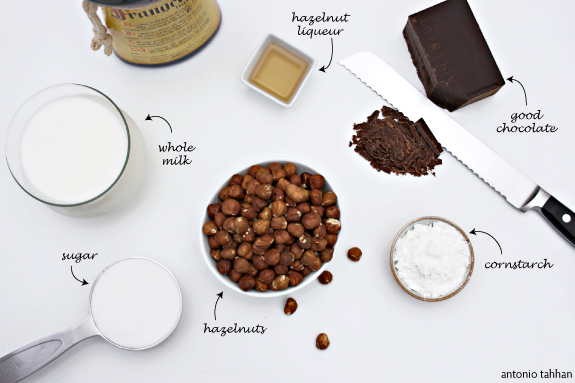 The recipe calls for peeled, toasted hazelnuts, ground and steeped in hot milk. I've always peeled my hazelnuts by toasting them and rubbing them between a kitchen towel. While this method doesn't get rid of all the skin, it does a great job of getting rid of most of it with very little effort. There's also what has been dubbed the Julia Child technique, which requires you to boil the hazelnuts in water with baking soda until the water turns dark. Then you have to allow them to cool before you can peel the skins off. Either method works, although for this recipe, I don't think you need to worry about getting all the peel off because you'll be straining everything two steps later.
peeled hazelnuts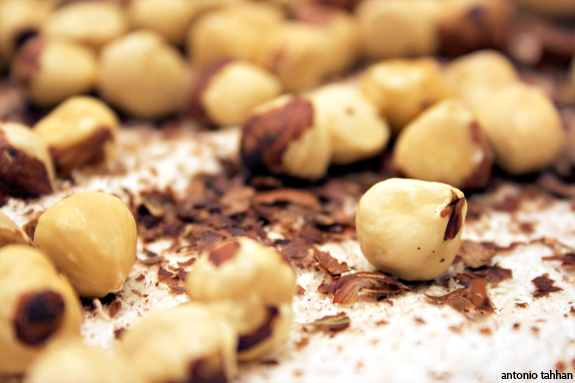 Pulse the peeled and toasted hazelnuts with sugar. Remember, the finer you grind your hazelnuts (i.e. the more surface area there is), the more hazelnut flavor will be infused into the milk. I went with a coarse cornmeal grind, but I feel like I could've gone further than that.
hazelnuts & sugar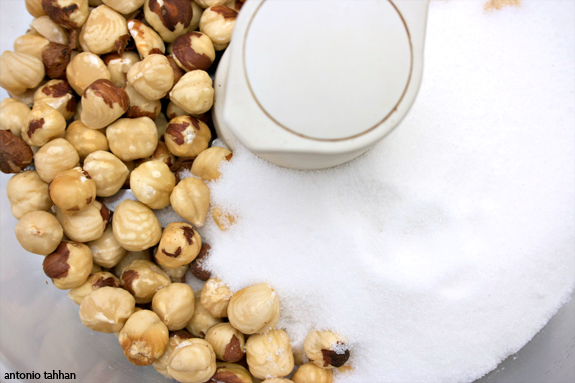 Once the hazelnuts steep in the hot milk for 20-30 minutes, you've essentially drawn out most of their flavor. I do not recommend reusing these. If you're craving gelato with some texture, I recommend setting aside some of the toasted hazelnuts and folding them into the semi-frozen base once it comes out of the ice cream maker.
the last drop has the most flavor, so push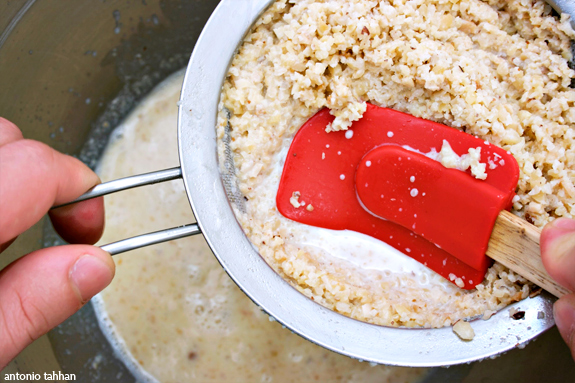 Rule number one: never add cornstarch to a hot liquid without diluting. My solution was to dilute the cornstarch in hazelnut liqueur before adding it to the strained milk mixture.
spiked cornstarch slurry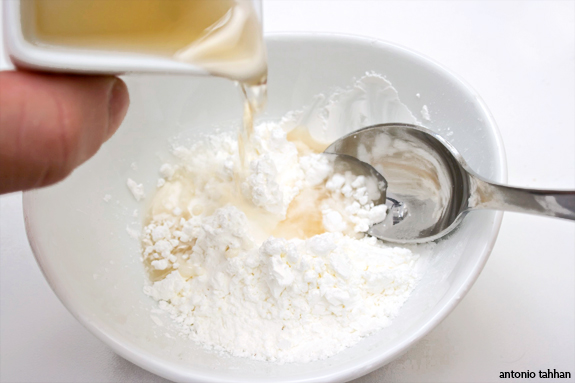 Once the mixture comes to a boil and reaches its maximum thickening potential, mix in your chocolate. I used a Callebaut 60% chocolate.
+chocolate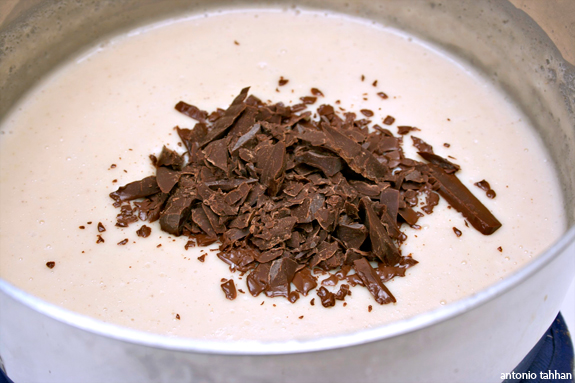 The next step is to let your mixture cool completely before adding it to your ice cream maker. The best thing, in my opinion, is to let it go overnight. The colder the ice cream base is before it goes into the ice cream maker, the less ice crystals will form, and the smoother your ice cream will be.
cooled ice cream base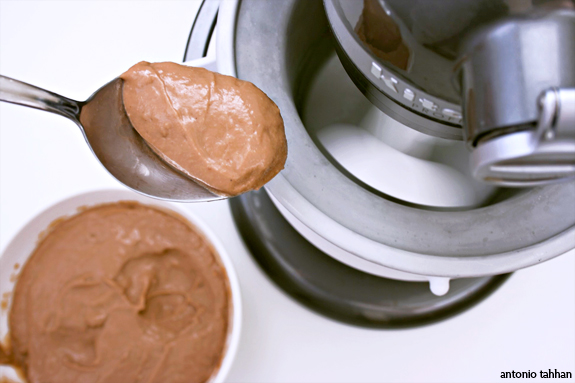 Since this gelato recipe uses cornstarch as a thickener, the base looks almost like a pudding after it is cooled; this is normal. Make sure to taste the base before putting it into the ice cream maker — not only is this a good habit in terms of making sure everything is seasoned correctly, but the base alone makes for an awesome chocolate hazelnut pudding.
gianduia gelato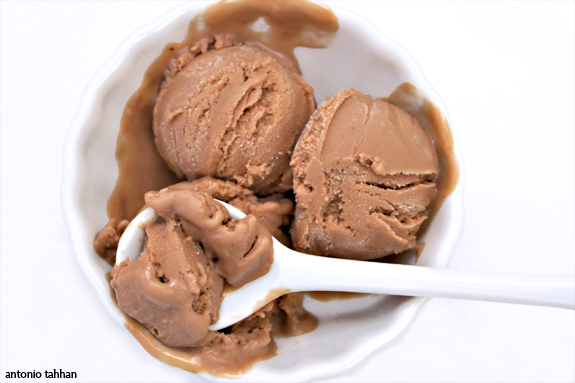 If you use the ice cream attachment on your kitchen aid, as I did, make sure to whip as little air into the gelato base (i.e. keep your mixer on the lowest setting). This will help create the silky, slow-churned texture that gelato is known for.
chocolate hazelnut gelato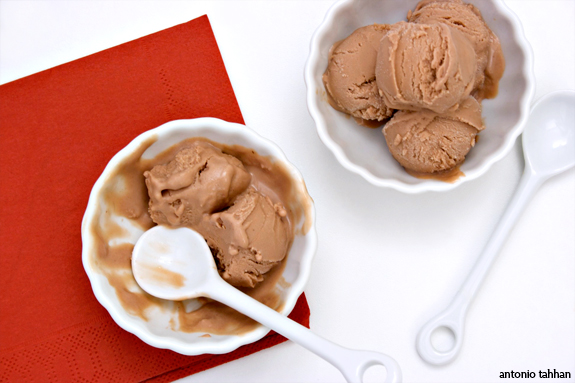 Gianduia Gelato
yields approx 1 quart
Components
2 cups hazelnuts (8 ounces), toasted , skins rubbed off, and cooled
3/4 cup sugar
1/8 teaspoon salt
4 1/2 cups whole milk
3 tbsp hazelnut liqueur
3 tablespoons cornstarch
4 ounces bittersweet chocolate (no more than 60% cacao), finely chopped
Putting them all together
Pulse toasted and peeled hazelnuts with sugar in a food processor. The result should resemble a coarse cornmeal texture.
Combine the hazelnut mixture and the milk in a heavy-bottom medium sauce pan and bring to a boil over medium heat. Once it reaches a boil, cover and set aside for 20-30 minutes.
A couple minutes before the hazelnuts are done steeping in the milk, combine the hazelnut liqueur with the cornstarch to make a slurry. If the mixture is still a too thick (i.e. or clumpy), add cold milk to thin it out some more.
Strain the ground hazelnuts from the milk mixture and discard.
Return the strained milk to the medium sauce pot, stir in the the cornstarch slurry and boil over medium heat for 2 minutes, making sure to stir constantly. The mixture will be thick.
Remove from heat and mix in the finely chopped chocolate.
Chill the base in the refrigerator overnight, or at least for 4-6 hours, then put it into your ice cream maker to make the gelato.
When complete, transfer the gelato to an air-tight container and freeze until ready to eat.
note: recipe adapted from epicurious.com
all done