Seattle was beautiful and I cannot wait to show you pictures, but first, there's a salad I've been meaning to tell you about – it's called fattoush (فتوش).
It seems like the market for Middle Eastern salads (outside of the Middle East) is disproportionally dominated by tabbouleh, a salad, that when made right, combines ultra-finely chopped parsley with tiny pearls of fine-ground bulger wheat and other finely chopped vegetables. Fattoush is quite the opposite, at least when it comes to preparation – it can be thrown together in a matter of minutes, in a very rustic and hearty way that's all about flavor rather than embellishments. Tabbouleh is delicious though, don't get me wrong. Sometimes, however, I just want a quick and tasty, no-frill salad, and for moments like these I make fattoush.
mise en place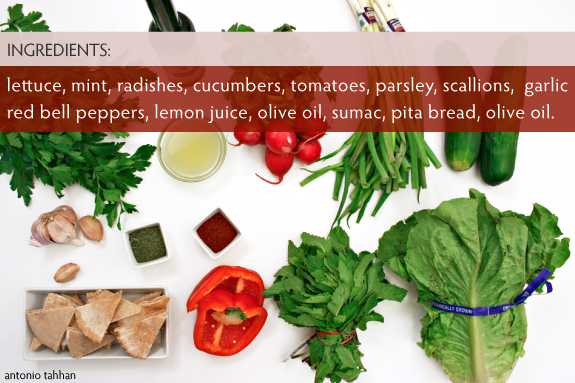 The mise en place can be overwhelming, but in one trip to the farmer's market you can have all these vegetables laid out on your table, too. The most exotic ingredient here is probably the sumac, which is a lemony, sour spice that can be found in most specialty markets these days and certainly any Mediterranean market you know of. If you like cooking Middle Eastern dishes, this is a spice that you should always have on hand.
toast the pita with a sprinkle of sumac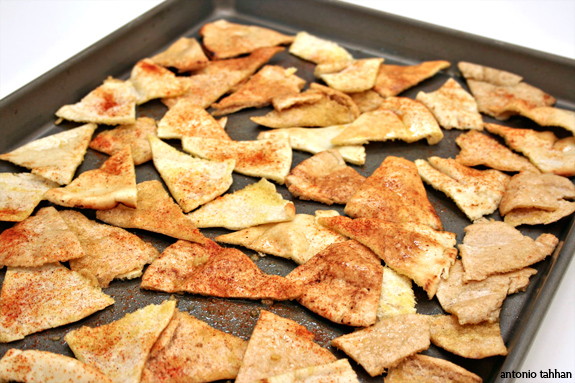 This is the part where some people might disagree: the bread. Probably the best (and most traditional) way you can prepare the bread for fattoush is by pan-frying the triangles in extra virgin olive oil, but that takes a long time and makes a mess of my stovetop. I prefer to toss the pita triangles in olive oil, sprinkle some sumac on the bread (something my grandmother taught me), and throw the whole tray into the oven/broiler, on high.
shake it up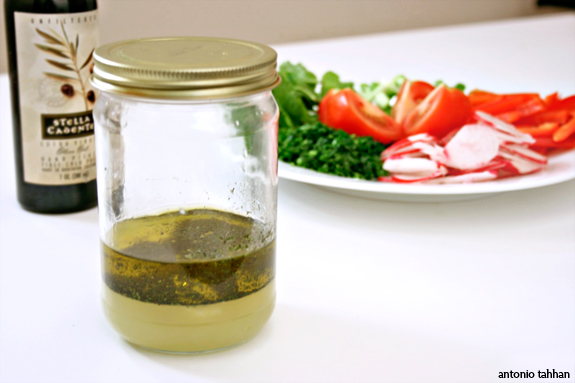 The dressing for this salad is equally simple, as promised. It's a combination of olive oil and lemon juice, with a sprinkle of salt and sumac – that's it. You can add dried mint to the dressing like I did, but that's completely up to you.
Fattoush (فتوش)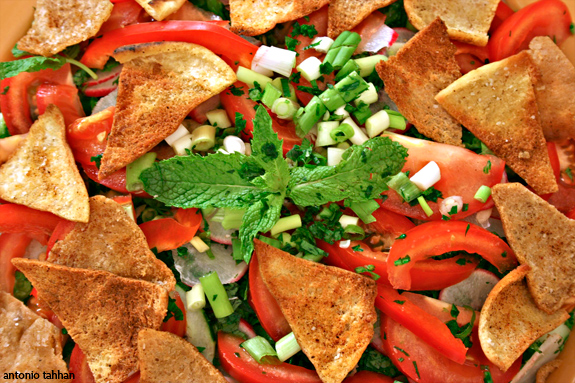 Fattoush
for the salad
Components
1 head romaine lettuce
2-3 medium tomatoes
1 bunch of scallions, chopped
1/3 cup radishes, sliced
1/2 cup cucumbers, chopped
1/2 cup red bell peppers, chopped
1/3 cup mint, chopped
1/2 tsp sumac
1-2 cloves of garlic, finely chopped
2-3 pita breads, cut into triangles
1/4 cup olive oil
salt, to taste
dressing/vinaigrette
2 parts extra virgin olive oil
1 part lemon juice
1 tsp sumac
sprinkle of dried mint, optional
salt, to taste
Putting them all together
Roughly chop all your vegetables, except the radishes, I prefer to slice those.
Chop the pita bread into triangles or small squares, coat with olive oil and 1/2 tsp of sumac and broil until golden brown.
Prepare your vinaigrette by mixing the olive oil and the lemon juice in a jar with the sumac and a dash of salt.
Toss everything together and enjoy.
notes: Joumana pointed out that traditional fattoush calls for purslane (بقلة). There wasn't any readily available to me, but you can add it to your salad for a more authentic and tangy flavor – if not, romaine lettuce is an acceptable substitute.
صحة و هنا – bon appetit