Glasses filled with wine, bursts of laughter, plenty of food to nibble on – this, to me, is the Mediterranean way of life. Even though there is no way I can convince my boss to let me take a siesta in the middle of the day, I can still lead a Med lifestyle vicariously through the food I make. This month I'm entering Jenn's popular Royal Foodie Joust, where bloggers have to strategically incorporate three featured ingredients into their entries. Kittie, last month's winner, chose to feature whole grains, ginger and citrus. YUM!
mise en place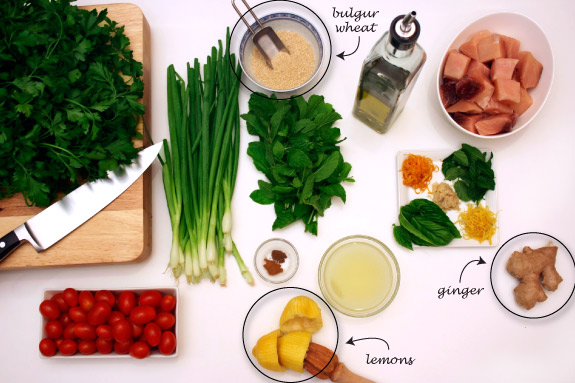 I decided to make a traditional Middle Eastern salad called Tabbouleh alongside citrus-marinated swordfish spedini (Italian word for skewers).  I snuck some grated ginger into the swordfish marinade, used bulgur wheat in the salad and incorporated citrus into both dishes.
parsley bouquet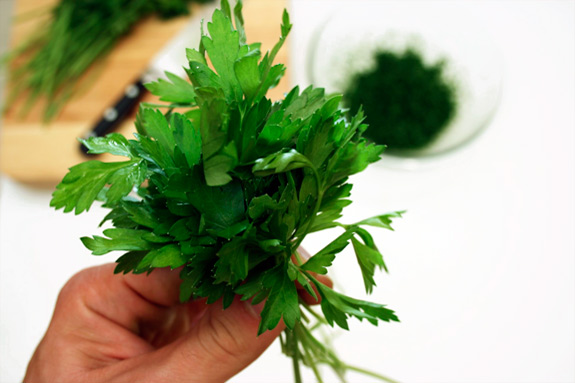 In order to get most of the leaves from the parsley (and not a lot of the tough stems) you want to bundle little bouquets of parsley and mince the leaves ultra fine with your sharpest knife. I remember for large social events and holidays, all the women in my family would gather in the kitchen to chop mountains of parsley and exchange juicy gossip. 
lemon juice + olive oil dressing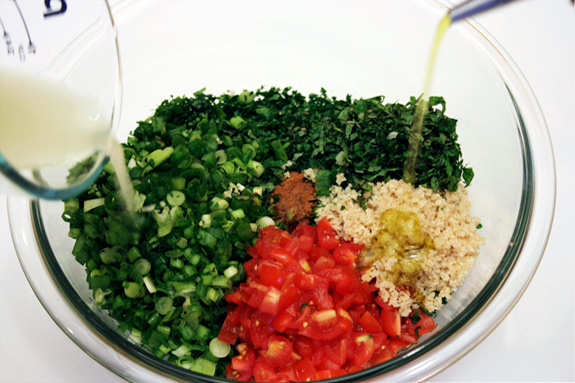 Now that we're on the subject of Tabbouleh, I want clear up the common misconception that Tabbouleh should have only a tiny bit of parsley and a TON of bulgur wheat – NO! The only reason many (non-authentic) restaurants go heavy on the bulgur is because it's a lot cheaper and quicker than chopping up all that parsley. And don't try to whip out your fancy food processor here… nope, it'll only make parsley pesto and that's a totally different post.
swordfish skewer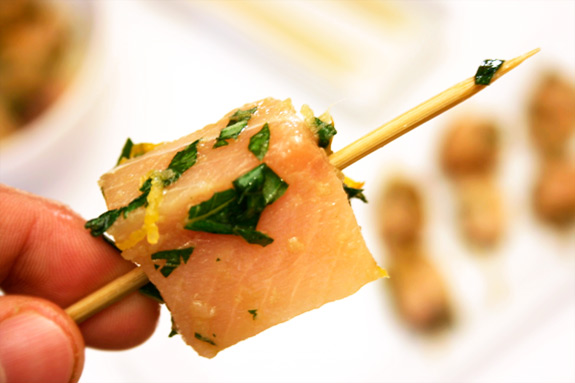 When it comes to fish, I don't like to overdo it with too many harsh herbs and spices. I purposefully chose a combo of clean flavors – specifically, basil, mint, lemon & orange zest, ginger, olive oil, salt & pepper. Let them all mingle in the fridge for a couple hours before throwing the fish on the grill. 
swordfish spedini, tabbouleh & olives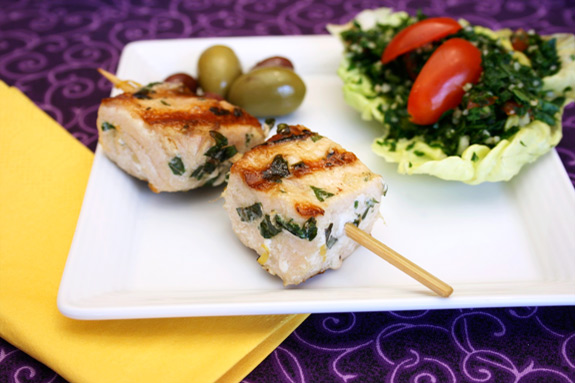 Next time you want to take a break from life and jet off to the Mediterranean, invite friends over for some tapas, mezze, antipasti, whatever you want to call it (small food?) and open a nice bottle of wine. It's lots of fun and definitely my preferred way to host. Spread the Med LOVE!
tabbouleh salad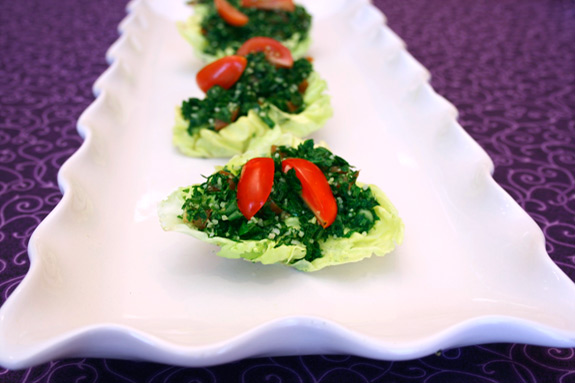 Tabbouleh
yields approx 10 small servings
Components
3 cups parsley, finely minced
2 tbsp bulgur, fine-ground*
2 tbsp water, lukewarm
1 cup scallions, finely chopped
½ qt. cherry tomatoes
100 ml extra virgin olive oil
100 ml lemon juice (approx 1/2 cup)
¼ cup mint, minced
pinch of allspice
pinch of cinnamon
salt, to taste
Putting them all together
Soak the bulgur in lukewarm water (until all the water is absorbed).
Finely mince parsley with a sharp knife (make sure parsley is completely dry before chopping)
Prepare the rest of the vegetables by chopping them as well (they don't need to be as finely minced as the parsley). 
At this point you could store everything in the refrigerator (well covered) for up to a day.
To assemble, toss soaked bulgur wheat, minced parsley and prepped vegetables in a large bowl. Whisk olive oil, lemon juice and spices together and pour over salad.
Wash some hearts of romaine to serve alongside the tabbouleh and enjoy!
* My supermarket carries fine-ground (aka #1 ground) bulgur in the bulk and ethnic isles, but if yours doesn't, Dayna's Market will gladly deliver.
swordfish spedini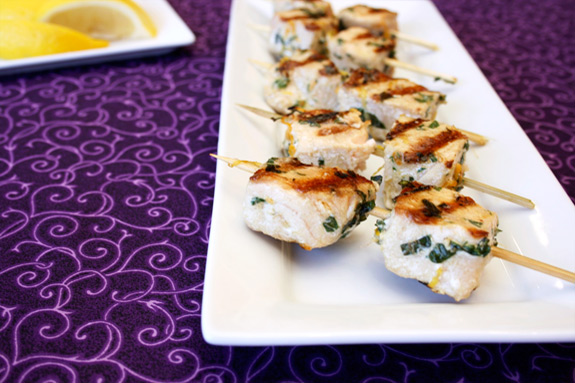 Swordfish Spedini
yields approx. 10 small skewers
Components
1.25 lbs swordfish
1 lemon, zest
1 orange, zest
2 tbsp ginger, grated
basil, chopped
mint, chopped
salt & pepper, to taste
Putting them all together
Soak bamboo skewers in water.
Cut swordfish into 1 inch cubes
Marinade with the rest of the ingredients in the fridge for a couple of hours.
Skewer the cubes and grill (or broil) for a couple minutes on each side.  Until the inside is no longer translucent. 
Serve with lemon wedges
notes If you can't find swordfish, you can make this dish with any hearty fish that can hold up being skewered and grilled. Tuna is a great fish that comes to mind.  Measurements for the marinade don't have to be exact, just use what you've got.  
Posted in appetizers, Italian, recipe, savory by Antonio Tahhan on August 20th, 2008. You can follow any responses to this entry through the RSS 2.0 feed. You can leave a response, or trackback from your own site.