I'm not a liar, I promise. I know that in my croquetas post I mentioned that I hated frying, and I do, but I couldn't pass this up. Last week I made about 200 gnocchi for A Taste of the Mediterranean; after photographing them, I boiled a quick batch for dinner with some leftover pesto and stashed the remaining 180 in my freezer, in individual servings.
mise en place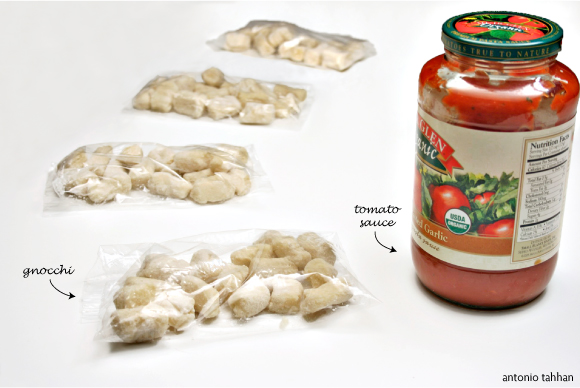 The idea for this snack came to me last Thursday at around midnight while studying for my Arabic exam the following day. If you follow me on Twitter, you'll know this is not my first craving this week. For some reason, probably having to do with the endless hours I spend studying Arabic grammar, I've been craving everything from oatmeal raisin cookies, dates (the edible kinds), to tatter tots. I stopped conjugating irregular verbs for a second and thought about frying up some of the gnocchi I had in my freezer, but I didn't. Instead I continued conjugating and waited until right after my test Friday afternoon to fulfill my craving. As you could tell from the mise en place photo though, I knew that one bag wasn't going to be enough that afternoon.
they puff up like pillows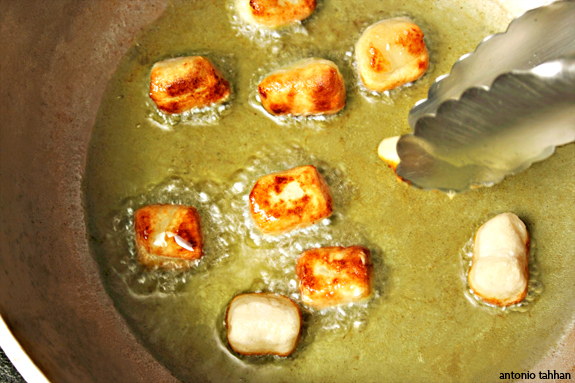 Once you start to plop the gnocchi into the hot oil they immediately begin to puff up like pillows. Fight the urge to nudge them around and you'll be rewarded with beautiful, golden-brown nuggets of Italian deliciousness. As is my advice with all fried foods, also resist the urge to bite into the ones fresh out of the oil. I, of course, didn't follow my own advice (again) and am typing this post with a slight tingly pain at the tip of my tongue.
fried gnocchi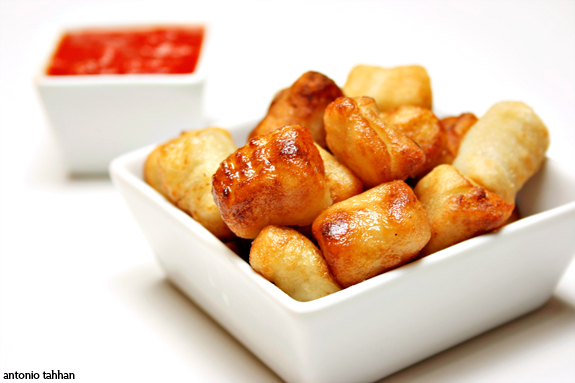 I was in no mood to go shopping or do extra cooking after my exam, so I opted for store-bought tomato sauce my roommate (who recently found out she is allergic to tomatoes) had in the fridge. Another sauce that would probably go well with these is the saffron aioli I made back in the day.
Fried Gnocchi
yields approx 4-6 appetizer servings
Components
48 gnocchi
1/2 cup olive oil, for frying
tomato sauce
Putting them all together
Heat oil in a heavy bottom pan (preferably cast iron) to 350-375 degrees F.*
Fry the fresh or frozen gnocchi in small batches until golden brown on both sides.
Move to a plate lined with paper towels to soak up any excess oil.
Season with some salt, if necessary.
Serve along side tomato sauce or saffron aioli.
note: If you don't have a thermometer and want to know if your oil is hot enough, stick the back end of a wooden spoon into the oil – if bubbles start to form on the spoon, your oil is ready for frying.
dunk in dipping sauce of choice