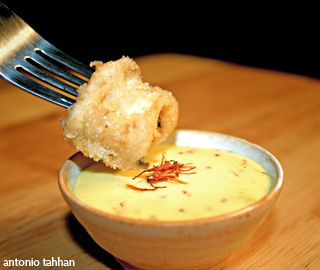 Now, more than ever, chickens and cows are granted a few more days to graze the fields in order for alligators and kangaroos to take center plate. However, despite this overwhelming rush to serve the more exotic, I was recently disappointed (twice) after ordering a simple appetizer of fried calamari. I thought these restaurants played it safe by omitting, what I claim to be, the tastiest part of the squid – its tentacles. And I make this gustatory claim not because I'm trying to compensate for my long overdue appearance on Fear Factor, but instead do so with concrete culinary evidence on my side: the tentacles have more surface area, which makes them crispier, which in my book translates into yummier.
After striking disappointment at both restaurants earlier this month, I knew it was time to build up the courage and re-enter the squid-frying arena. Actively breaking my vow to never fry in my tiny college apartment ever again, I took out a heavy bottomed pot, cranked up my muffled exhaust fan and opened up all three windows of my apartment in (mid-February) Ithaca. In the end, it was totally worth it.
fried calamari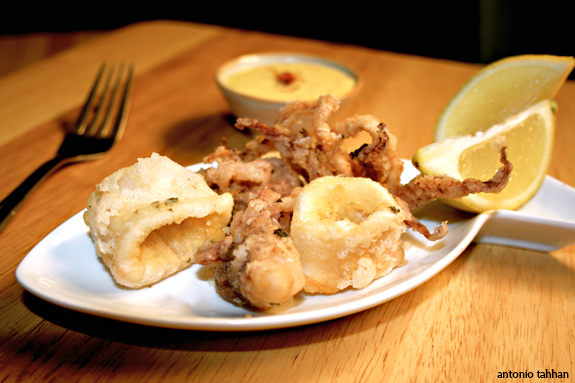 Fried Calamari
(yields 6 appetizer servings)
Components
1 lb. of calamari, cleaned
1 ½ cups of all purpose flour
salt and pepper, to taste
vegetable oil, for deep frying
Putting them all together
Heat vegetable oil to 350 degrees F and prep the squid by cutting the tubes into ½ inch rings and reserving the tentacle pieces.
Season squid with salt and pepper to taste.
Flour each piece lightly, making sure to shake off the excess flour. Fry in small batches until golden brown (approx. 1 minute) and transfer to a paper-towel lined plate.
Serve alongside Saffron Aioli.
saffron aioli
Saffron Aioli
(yields approx. 1 cup)
Components
2/3 cup extra virgin olive oil
1 egg yolk
2 cloves garlic
1 tbsp. lemon juice
1 tsp. Dijon mustard
1 tsp. hot water
pinch of saffron threads
pinch of red pepper flakes
salt, to taste
Putting them all together
Steep saffron threads in hot water for 5-7 minutes.
Place the egg yolks into a food processor and slowly drizzle in the extra virgin olive oil to create an emulsion.
Add the remainder of the ingredients and process until well combined.
Refrigerate until ready to use. (Can be made the night before)
Posted in appetizers, Italian, recipe, savory, Spanish by Antonio Tahhan on February 24th, 2008. You can follow any responses to this entry through the RSS 2.0 feed. You can leave a response, or trackback from your own site.