With winter quickly approaching, everything gets pushed off to the back burner. Getting out of bed, hopping out of the shower – the basic tasks that were once a drag begin to feel even more impossible. I had originally intended on writing this post last night, but I failed. I was laying in bed, snuggled under my warm blankets with my powerbook perched over a pillow, typing away. The arrangement seemed perfect… except, I woke up the next morning to the annoying sound of my alarm, my laptop around my arm and a blog post that was complete rubbish. Needless to say, I'm writing at my desk today. 
Stuffed grape leaves were a treat growing up. Mom, grandmas, and aunts would always gather around the same square table, each with their own pile of grape leaves to roll, while my cousins and I ran around getting into all sorts of trouble. When we were exhausted we would offer the grown ups our finest grape rolling services, but they always kindly declined. The adults sometimes handed us a few leaves to entertain ourselves with; but beyond that we were instructed to play more in order to get hungry and eat more later on. If you're familiar with Middle Easterners, or most Mediterranean cultures for that matter, you'll notice that the more you eat, the happier mom is, and the better off you are. 
This past weekend I decided to make mom proud and make my own stuffed grape leaves. They're different from the Greek or Turkish dolmas in that these are thinner and are served hot after slowly simmering in a garlic-lemon broth. They're a staple in Lebanon, Syria, Palestine and Jordan and have different names depending on where you're from: يبرق (yabraq)، ورق عنب (waraq a'nib)، ورق عريش (waraq a'reesh) are some of the more common ones.
mise en place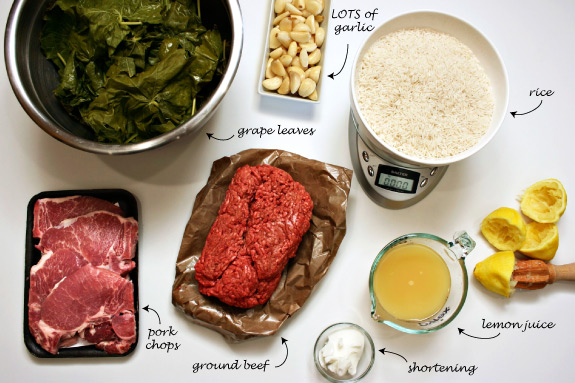 Traditionally you won't find pork chops used in this recipe. Instead, lamb chops or beef ribs are used to keep the stuffed leaves from burning. I couldn't find beef ribs and the lamb chops looked kind of shady, so I opted for the pork chops.
just keep rolling, just keep rolling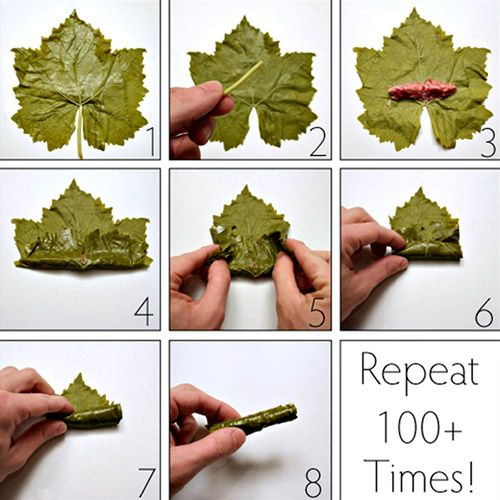 Rolling the grape leaves is where some technique is involved. It takes time to get used to, but you'll have plenty of tries to perfect your skills. The trick is not to roll them too tight (or you end up with a dry dish) and not to roll them too loose (or the broth floods the leaves and you end up with mush).
halfway there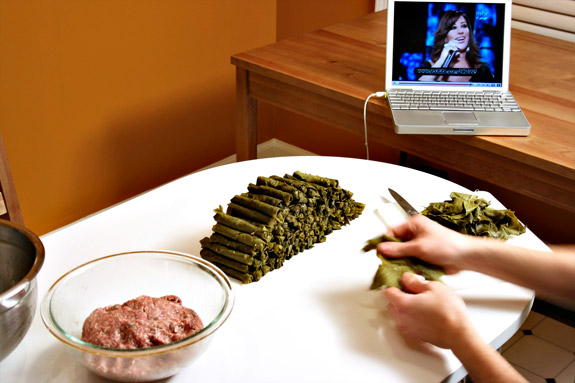 Although this amount is certainly child's play  for a veteran cook like my grandma, it was a major feat for a newbie like me. Luckily for me though, I had my mac and the wonders of youtube to get me through the mission. **Bonus for whoever can name that very famous Lebanese singer that is on my computer screen. 
you can never have to much garlic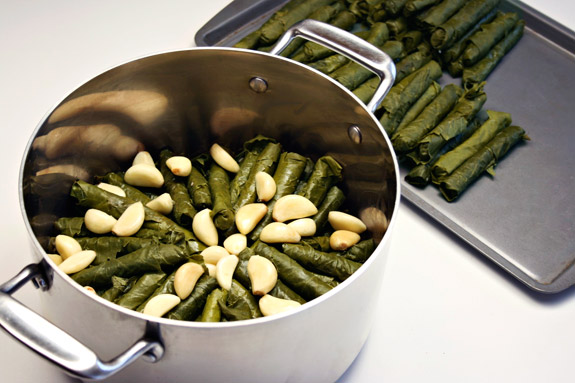 Another important part of the dish is aligning the rolled grape leaves into the pot. This will ensure even cooking and safe unveiling when you go to flip the pot after cooking. Once you line the bottom with the meat and any leftover/torn up grape leaves, you want to carefully position your rolled leaves in a circular fashion. I suggest positioning them in the 3-6-9-12 (clock) position first and start filling in the gaps accordingly. Halfway through you'll want to throw in the garlic cloves that will become soft and sweet after cooking. 
yabraq (يبرق)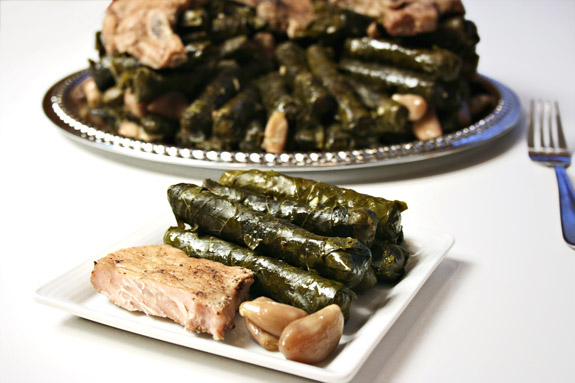 At the end, your hard work doesn't go unrewarded. This, my friends, is what it's all about. صحة و هنا … saha w hana (bon appetit in Arabic).
Stuffed Grape Leaves
approx 6 servings
Components
1 lb ground beef
1/2 lb rice
3 Tbsp extra virgin olive oil
1 lb of grape leaves
pork or beef ribs
salt, to taste
2 tsp allspice
15-25 cloves of garlic (to taste)
1 cup lemon juice
3 cups water
Putting them all together
Soak rice in water for 10-15 minutes, then drain water.
Mix rice, ground beef, olive oil, salt, pepper and allspice together until well mixed.
Fill and roll all the grape leaves with the meat mixture as displayed in the picture.
Season the pork or beef ribs with salt and allspice.
Line the bottom of a large pot with the meat, followed by any unused/torn up grape leaves – this prevents the rolled leaves from burning.
Carefully align half the grape leaves on top in a circular fashion.
Distribute garlic cloves over the top.
Finish layering the rest of the rolled grape leaves.
Mix the lemon juice and water with some salt and pepper to make the "broth." 
Pour the broth over the grape leaves, making sure the liquid reaches the top layer of the grape leaves. 
Cover with a medium plate and bring to a boil. 
Once at a boil, cover the pot with a lid (leave the medium plate inside to serve as a weight) and cook on the lowest heat for 1 and 1/2 hours.
Turn off the heat and drain the broth.
Flip the cooked leaves onto a large decorative platter and enjoy.
note: You can find grape leaves at any Middle Eastern market and some specialty supermarkets.
Posted in Middle Eastern, recipe by Antonio Tahhan on December 3rd, 2008. You can follow any responses to this entry through the RSS 2.0 feed. You can leave a response, or trackback from your own site.