I know it's been a while and I'm sorry, really. Luckily, though, I don't have a laundry list of excuses for you – just one: I got a new job. On weekends I get paid to sell cheese at Whole Foods; yes, you read correctly, PAID to be at Whole Foods.
Many families bring their children along and encourage them to try different cheeses. I think that's great! One family has the most adorable child that always calls me Mr. Man. Every weekend his parents greet me at the cheese counter and I give them the low down on all the new and interesting cheeses we carry. Once they make their selection and are ready to go, the little kid always yells, "bye, Mr. Man!" This weekend I shared this brie recipe with them and thought it would be appropriate to share here, as well.
I understand the holiday season is here and everyone is up to their necks in shopping, cleaning, traveling – the works. You won't need any measuring spoons, fancy equipment or unusual ingredients for this one – just garlic, honey, a wheel of brie and preferably a warm baguette.
mise en place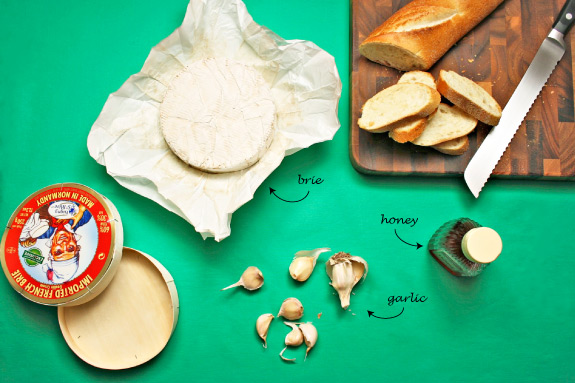 I make this brie all the time for dinner parties and it has never let me down – never. My good friends Marilyn and Diane are huge fans of this appetizer and it always makes me happy to hear their success with this recipe.
slathered in garlic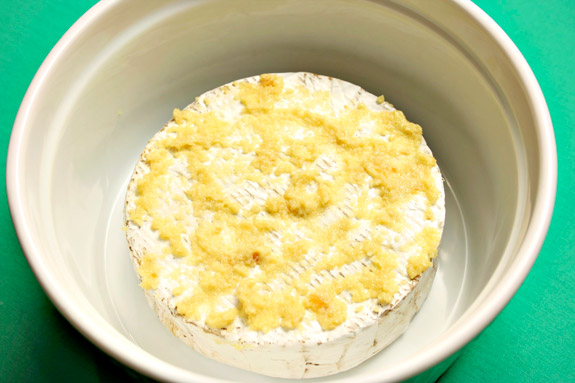 We're off to a good start with the garlic. You want to smash it really finely with the side of your knife so as to create a smooth paste. A sprinkling of salt helps with this process. Once this bakes covered by a layer of honey, the garlic will roast and caramelize.
healthy squeeze of honey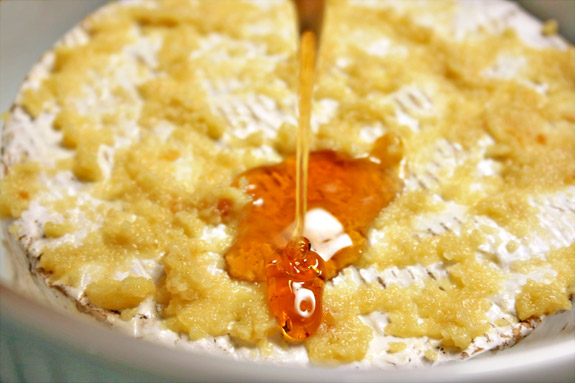 Now comes the sweet part. You'll want to coat your garlic-covered brie with your favorite honey and don't skimp either. Any excess honey will drizzle down to the bottom of your ramekin while baking and form a nice sauce for later.
stringy brie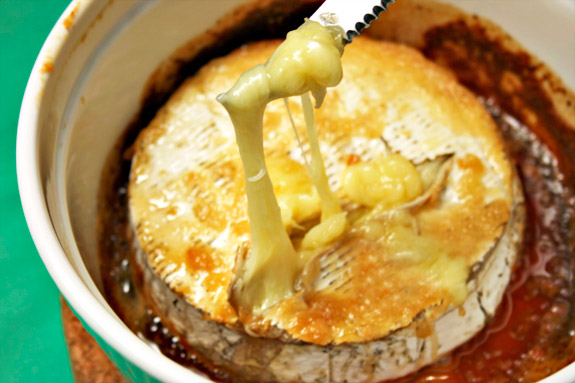 As difficult as it may be, let your brie cool for about 5-7 minutes once it comes out of the oven. Otherwise you'll end up with a pool of brie and miss out on the stringiness. Remember that warm baguette? This is where it would come in handy.
sweet & savory brie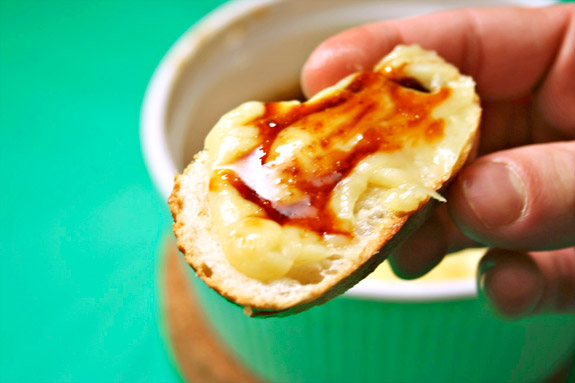 Don't forget to scoop out some of the liquid honey sauce that settles at the bottom of the ramekin.
Happy Holidays!
Baked Brie
approx 8 servings
Components
1 wheel of brie
3-4 cloves, garlic
honey
1 warm baguette
Putting them all together
Preheat oven to 375 degrees F.
Smash garlic into a smooth paste using the side of your knife and some salt. The salt will help brake down the garlic even more.
Spread the garlic over the brie and cover with honey.
Bake in a slightly larger ramekin for 15-20 minutes and enjoy with warm bread.
note: You don't want to use your fanciest brie for this recipe. A standard, good-quality brie works just fine.