It's time I made a dark confession.
You see, when I started this blog, I promised you the whole Mediterranean – and I played favorites. I withheld from you the Aegean nations, the lands of Greece and Turkey. Two ancient countries with rich cuisine that fell through the proverbial cracks of my internet blog. As you know, I grew up in a kitchen that straddles Lebanon and Syria. I've discussed the details of turning humble chickpeas into delightful hummus. I've strolled the streets of Florence in search of traditional Tuscan biscotti. I've even blogged about the time-honored Moroccan tradition of preserving lemons. Yet I have not seen the Parthenon, nor have I savored the moussaka of an Athenian gourmet chef.
Today, dear readers, we will travel together to Greece in spirit and in palate. For food, I decided to raid my Greek friend Peter's blog, who most of you might already know as Kalofagas, the Greek gourmet. I promise to focus on my Turkish deficit later this week. One country at a time.
stepping outside my comfort zone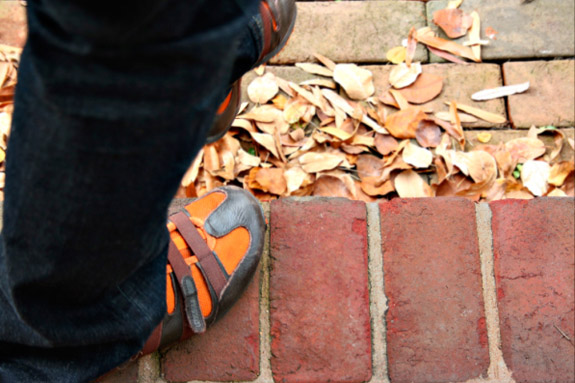 I put on a light jacket and looked for my favorite black scarf buried deep within the box of winter clothes tucked away in the corner of my room. For now, here I was; figuratively stepping out of my comfort zone (i.e. my humble front porch), ready to document unchartered territory on this blog. I went for a walk to clear my thoughts and enjoy the crisp fall air snuggled within the sunny day. It was the perfect weather far basking in the remaining fall foliage.
After my walk, it was difficult not to get excited for the upcoming holiday season. Call me a cliché, but there's something mystical about this time of year that seamlessly brings everyone together. Now that I was officially craving something festive for my Greek adventure, I opened Peter's site for some culinary inspiration. As I clicked through his blog, I realized I was bookmarking every other post. There were simply too many recipes I wanted to try. A simple 'Christmas' search narrowed my overwhelming operation to ten posts, three of which featured sweets. Of these three, it was the powdery white appearance of his Kourabiedes cookies that had me wishing Christmas was right around the corner.
mise en place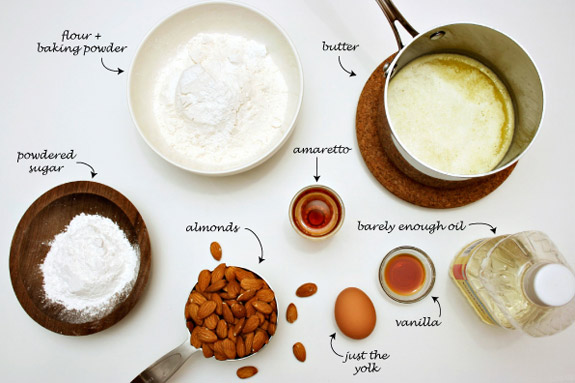 Peter calls for a shot of brandy in his recipe, but I had to make do without any. I did, however, fill up my favorite shot glass with amaretto and prepare the rest of the ingredients.
Cornell pride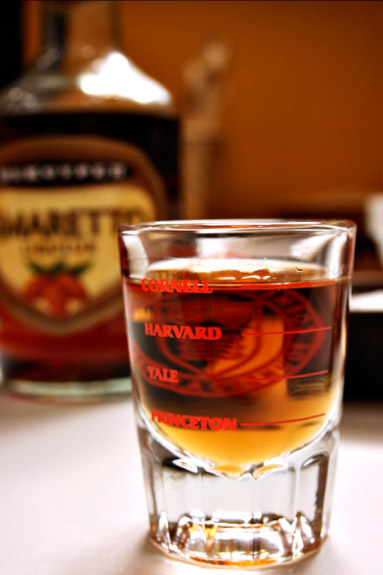 The ingredients for the cookies are basic, but they're classic and well-loved. One of my favorite characteristics of any holiday cookie is the unadulterated buttery undertone that comes through in every bite. This flavor can only be achieved by using clarified butter, essentially butter with all its milk solids removed. This process couldn't be easier and is one that shouldn't be skipped. By removing the milk solids from your butter fat, you raise the temperature at which the butter begins to burn and end up with the desired clean, buttery flavor.
every good cookie starts with butter and sugar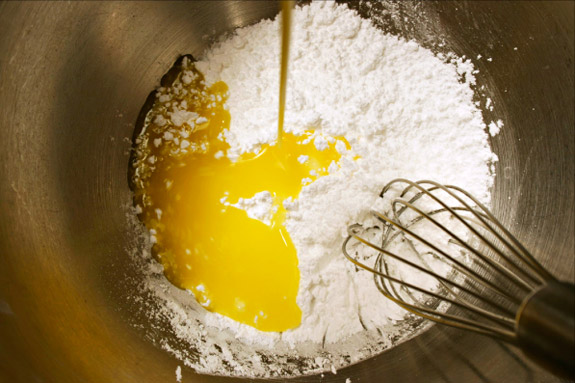 Once you've creamed together the butter and sugar, the dough comes together almost effortlessly. Mix in the egg, amaretto, vanilla, baking powder, vegetable oil, salt and slowly start incorporating the flour so as to not overwork the gluten. Once your dough comes together, gently fold in the chopped, roasted almonds to make it a done deal.
At this point, if you haven't already done so, break off a morsel of your beautiful dough and tell me you wouldn't be happy eating the entire batch straight from the mixing bowl? I would, but then I wouldn't have any Greek cookies to share with you and I'd be back to square one. So I resist the urge to eat the dough and proceed to preheat my oven.
line up the cookie sheet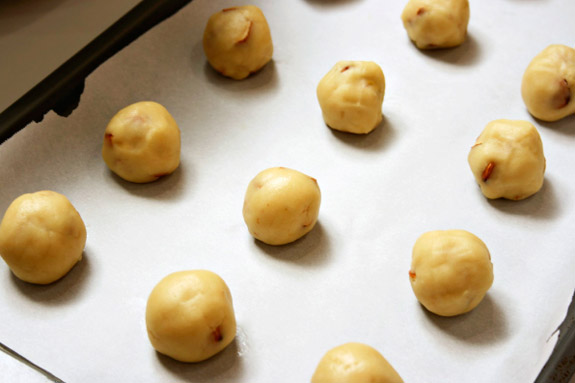 Peter shows off his Greek skills by forming the dough into traditional crescent shapes – I can't be trusted with the dough any longer than I absolutely need to, so I opt for simple spherical shapes instead. The cookies eventually make it safely into the oven, with minor collateral damage, and bake while I prepare them their sugar bath.
Henry Ford would've been proud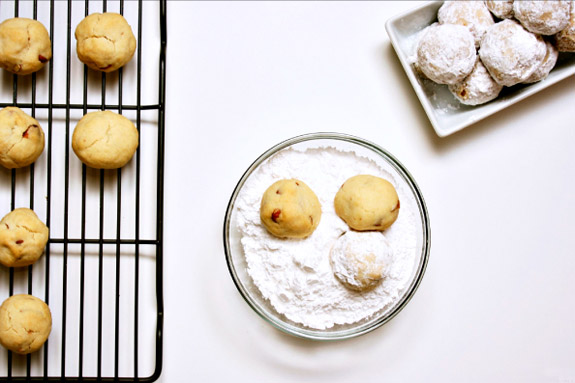 After a 20 minute tanning session, these cookies are ready to rest for a bit and roll around in a bowl of powdered sugar. Greek cookies definitely know how to live the good life. Peter even says that these cookies will last for up to three months in an airtight container. Then again, I doubt these cookies will last nearly for that long, but that's good to know.
Kourabiedes (κουραμπιέδες)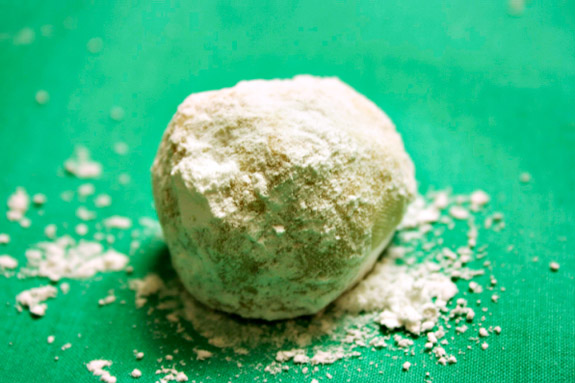 These cookies literally crumble and melt in your mouth; the perfect treat for the upcoming holiday season and any spontaneous, mythical trip to Greece. This cookie is for you, Peter!
Kourabiedes
approx 40 cookies
Components
1/2 lb of clarified butter
1/4 cup powdered sugar
1/3 cup vegetable oil
2 1/2 cups flour
1 cup roasted almonds, roughly chopped
1 shot of amaretto
1 tsp vanilla extract
1 1/2 tsp baking powder
1 egg yolk
extra powdered sugar for coating
pinch of salt
Putting them all together
Preheat oven to 350 degrees F.
Clarify butter by melting it over low heat, carefully skimming off the milk solids that form at the surface and pouring out the butter fat that remains (also discard any white watery liquid that settles at the bottom). Allow butter to cool.
Cream the butter and the sugar until pale and fluffy.
Mix in vegetable oil, egg yolk, amaretto and vanilla extract.
Slowly incorporate the flour and gently knead until a dough is formed.
Fold in the chopped almonds and form cookies into walnut-sized balls.
Bake in a 350 degree oven for 20 minutes or until golden brown.
Allow cookies to cool, roll them in powdered sugar and store in an airtight container.
note: Cookies will last up to three months in an airtight container stored in a cool dark place.
Recipe slightly adapted from Peter Minakis.
opa!