The past couple of days have been rough. I've been in curled up in bed with all the goodie pre-symptoms the common cold has to offer: sinus pressure, sneezing and I'll spare you the phlegmy details. Today will be a short post since I've only got a couple of hours to prepare myself for the army of trick-or-treaters screaming for obscene amounts of sugary sweets. It's my first Halloween in this neighborhood so we'll see how it goes.
In the meantime, I couldn't pass up celebrating Halloween on my blog either. It seems like everywhere I click there are amazingly ghoulish culinary masterpieces on display. Keeping with the whole Mediterranean theme of my blog, I decided to go with an Italian inspired dish. The pretty pumpkin you see below was one of the many gifts I got while I was at the Beekman and it was perfect for what I had in mind. So without further ado, I present to you my Black Witch Hat Pumpkin Ravioli.
The recipe will come soon (depending on my cold and how many kids come pounding at my door).
mise en place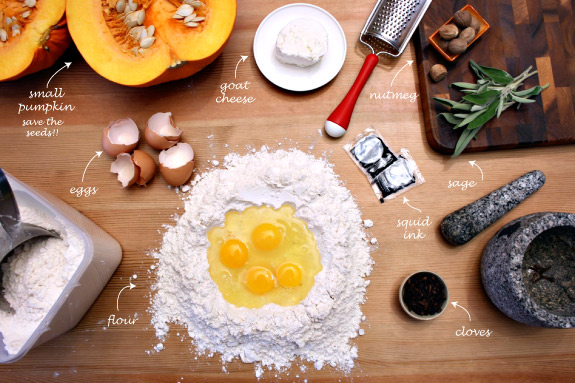 a hint of nutmeg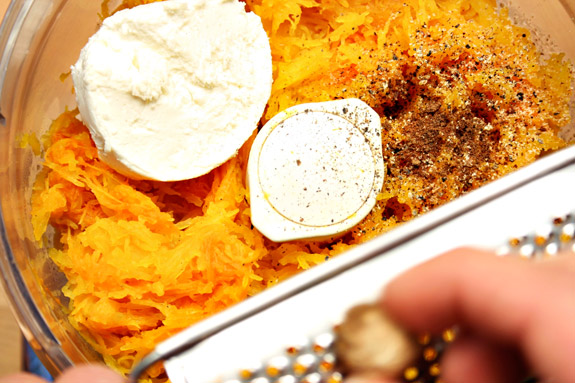 halloween nonna-style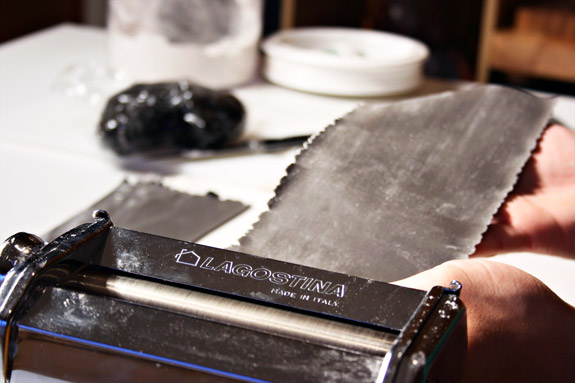 Italian assembly line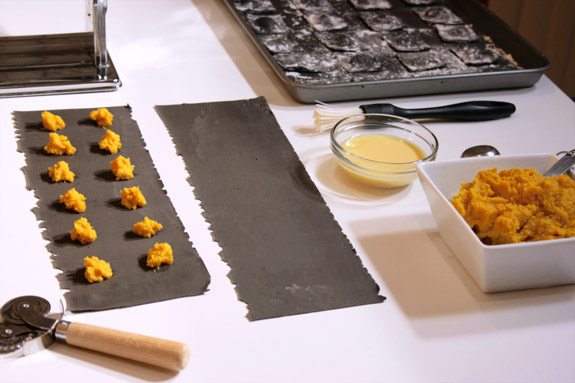 Witch Hat Ravioli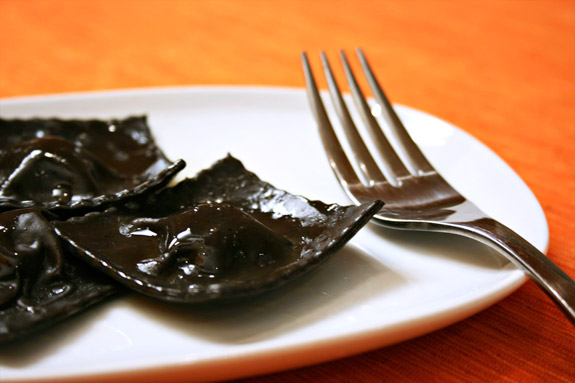 Pumpkin Filled Squid Ink Ravioli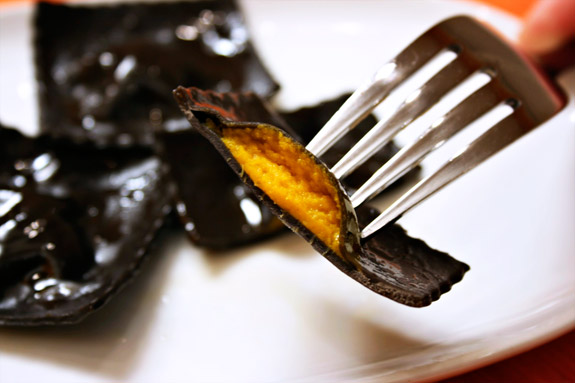 UPDATE (11/1/2008)
There weren't as many trick-or-treaters last night as I had expected, which wasn't necessarily a bad thing. I tended to my cold by drinking plenty warm chai and cozily reading in bed. Now I'm on my way out the door, but wanted to post the recipe for the ravioli before I left.
I also want to submit this entry to Jeanne from Cook Sister for this round of Waiter, There's Something In My… Jeanne is calling for all bloggers to show their gourd love this season. I hope you all had a happy and safe Halloween! Ciao!
Witch Hat Pumpkin Ravioli
makes approx 50 ravioli
Components
3 1/2 cups flour
4 eggs
1 small pumpkin
pinch of cinnamon
pinch of cloves
pinch of nutmeg
4 oz goat cheese
4 oz ricotta cheese
salt and pepper, to taste
squid ink (or black food coloring)
1 stick of butter
egg wash, 1 egg and a little milk
Putting them all together
Preheat your oven to 350 degrees F.
Cut the pumpkin in half and clean out the cavity of the pumpkin. Cut side down, bake both pumpkin halves until they are tender and you can poke your knife with very little resistance (approx. 45 minutes).
Make the pasta dough by creating a well with the flour and slowly incorporating the eggs and squid ink to form a dough.
Knead the dough for 5-7 minutes, cover with plastic wrap and store in the fridge until ready to use.
Once the pumpkin has finished cooking, scoop out the flesh and process in the food processor along with the goat cheese and spices. Taste for seasoning and adjust as necessary.
In the same sheet tray, spread pumpkin mixture and return to the oven for another 15-20 minutes so that the excess liquid in the pumpkin puree is allowed to evaporate.
Refrigerate the mixture until cooled and ready to use.
Using a pasta machine, roll out your dough into long sheets and scoop 1/2 tsp of the chilled filling in 1 inch intervals, giving you room to seal the edges. (see photo)
Brush a little egg wash around the edges of the filling and cover with another sheet of pasta. Seal the ravioli sheets carefully, making sure no air bubbles get trapped inside.
Boil the ravioli for 5-6 minutes, or until pasta is al dente.
For the sauce, melt the butter and sage in a small saute pan. Brown the butter carefully, making sure it does not burn.
Toss the ravioli in the sauce and enjoy!
note: If you can't find squid ink or don't particularly care for it, you can substitute it for black food coloring. If you don't want or don't have time to make your own ravioli, store bough butternut squash ravioli work great with this sauce and are perfect for any autumn dinner.
HAPPY HALLOWEEN!!