Last weekend I checked out from reality and drove to upstate New York to visit my friends at the Beekman. Only a couple hours north of Cornell, I also decided to visit some friends I left behind in Ithaca post-graduation. Everything about this trip was magical, from the gorgeous multicolored foliage that surrounded the highways to the great time I spent with my friends – this was a weekend worth blogging about.
paradise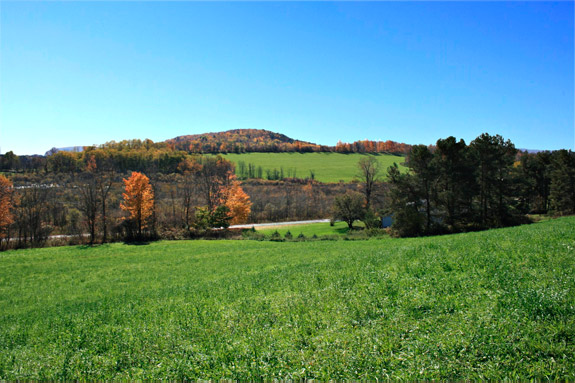 day 1
Luck was on my side as I drove up north; on two separate occasions a simple hand gesture from New York State troopers signaled to slow me down, as opposed to their usual merciless speeding fines and lectures. Even better would have been to avoid the encounters altogether, but I was content with the small slap on the wrist. The rest of the drive couldn't have been better, no deers jumped out in front of me (one of my biggest fears) and my ipod survived the entire trip, a miracle in and of itself.
While I was in Ithaca, I made an obligatory stop at Wegmans (aka my second home while I was in college) and had two lunches with friends, followed by a quick coffee date before getting back on the road. As soon as I arrived at the Beekman, Brent and Josh greeted with even more food. My stomach was telling me no more, but my mouth instinctively kept going for more of the creamy pumpkin risotto and peppery arugula and raspberry salad. Everything, except the short grain rice, was from their garden. I blog about these seemingly minute details because the flavors brought me back to when I was visiting Italy and the Middle East last winter. Although the ingredients were anything but pretty, their flavors were spot on. The arugula leaves were different sizes and carried a real peppery bite as opposed to the pale flavor that I've come to associate with the generic 6 oz bags at the supermarket. We finished our wine in front of the fire place and quietly enjoyed our slice(s) of Josh's ridiculously good apple tarte tatin. It was the perfect ending to my first night at the Beekman.
last raspberry of the season — what a trooper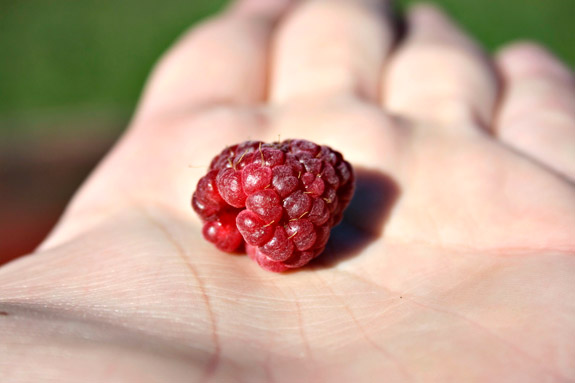 day 2
I was forewarned that today was going to be lots of work, but I was ready to work off my gluttony from the previous day. When I entered the kitchen, the fireplace was already lit and Josh was working on getting breakfast on the table. I swear I did more than just eat that entire weekend. We had a hearty breakfast of scrambled eggs, pork sausage, and goat yogurt; all from the farm, of course. By this point, I was convinced I was going to get a farm of my own one day.
Then came the work. By 8:30am we were outside picking the remaining apples to make fresh cider. One deceptive-looking tree produced seven (COUNT: 7!) bushels of apples. We separated the pretty round apples for pies and desserts and the rest were loaded onto the truck for cider. Josh set some goat meat to braise for dinner, then we headed over to the local apple orchard to press our hand-picked beauties into cider.
apples from one tree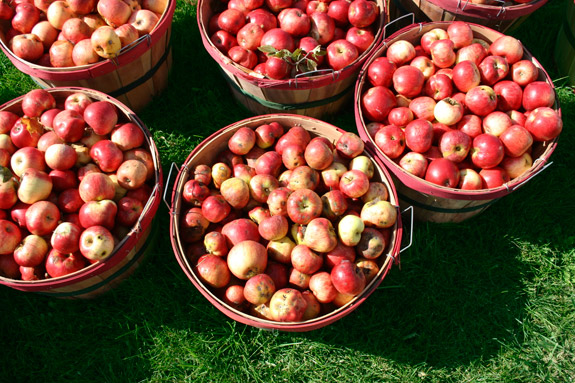 ready to make fresh cider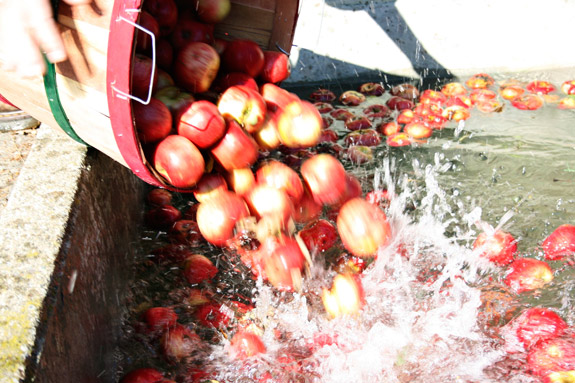 apples float, but pears don't (fun fact)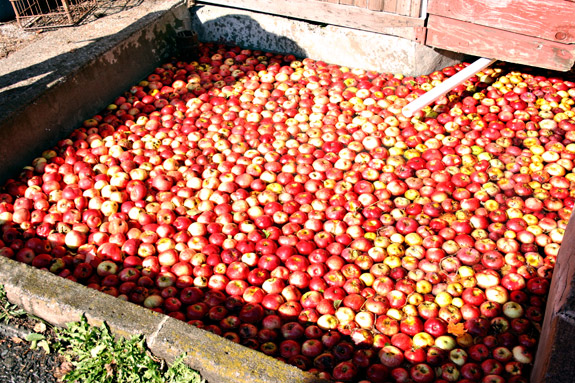 artisan cider-maker (15 yrs experience)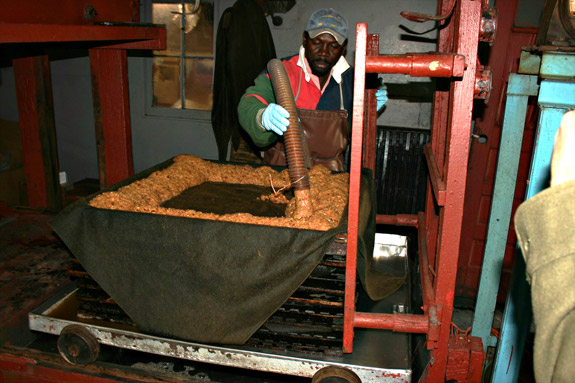 fresh cider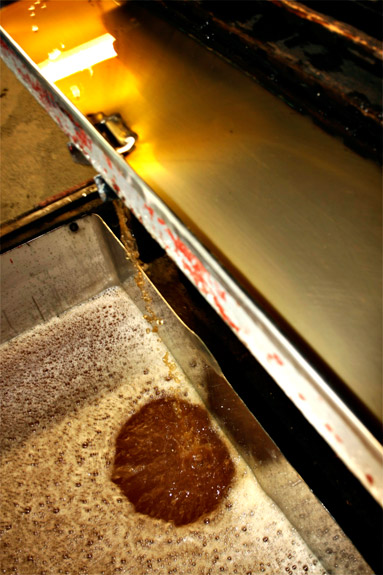 capping at lightening speed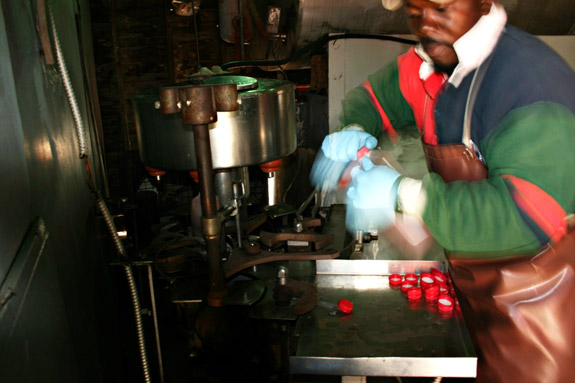 37 gallons of fresh apple cider and a few apple donuts later, we loaded everything into the truck and returned for an early start at dinner. As soon as we walked through the door we were welcomed by the warm aroma of braised goat that Josh had set in the oven before leaving.
After having played with the goats earlier that morning, I thought I would have second thoughts about enjoying a plate of braised goat for dinner. Not really. After having read Omnivores Dilemma, I was happy to see the goats on the Beekman farm roam freely in a field as opposed to the clustered and inhumane industrial settings most animals are subject to. These were happy goats. It also helped, of course, that I was completely detached and took no part in the butchering process.
the cutest goats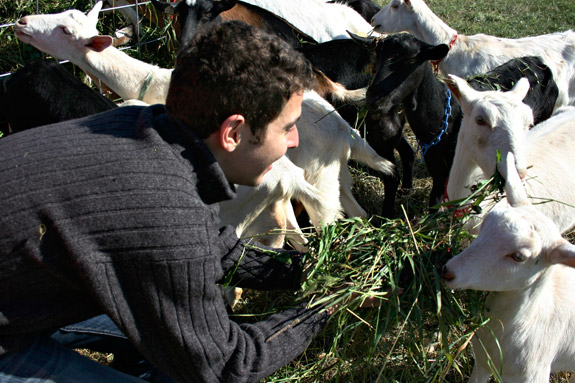 While the goat continued to braise, we went to the garden and picked some fresh vegetables for dinner. It was easy, almost effortless. We ate what was seasonably available and that was that. No qualms about genetically modified produce or harsh pesticides. I rolled up my sleeves and helped pull some fresh parsnips from the ground and we also plucked some fava beans to accompany the goat. The parsnips were roasted and mashed with lots of butter and goat milk to make a creamy, cloud-like parsnip puree, while the fava beans were quickly sauteed in some bacon fat and minced onions. We polished off the meal with plenty of hard apple cider that has been stored in the Beekman cellar since last year and got ready for a night out.
shelling fresh fava beans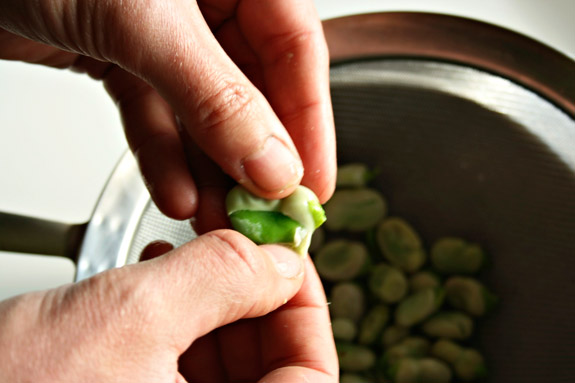 After dinner, Brent and Josh gave me a tour of the town and we picked up some local ice cream for a quick dessert. Of course, ice cream alone wasn't going to be enough. Brent served up the ice cream with homemade cajeta sauce, which is a traditional Mexican caramel sauce similar to dulce de leche. The Beekman cajeta, though, was anything but traditional; jalapeños were steeped in goat milk, that was then used as the base for the cajeta. The combination of the spicy aftertaste in the caramel paired with the cold and velvety ice cream was one of those flavor profiles that made perfect sense.
day 3
On the last day of my perfect weekend, we relaxed. I knew I had a long drive ahead of me and didn't want to get stuck driving at night and miss out on the gorgeous scenery upstate New York has to offer. At the same time, I didn't want to leave the farm. We went outside after breakfast where I got to play with the goats one last time; and then Brent and Josh took me on a walk around the entire Beekman property. We were walking for thirty minutes until I realized we were back where we started. Then it was time to go.
Before I left, they showered me with edible gifts from their garden that I will be using in my next post. I also got to take with me bars of their homemade goat milk and olive oil soap that I've been using incessantly since I got back. Seriously, I wouldn't let anything else get near my hands now – it's that freaking good! Since I have no recipe for you today, I'll leave you with more pretty pictures from my amazing weekend. I'll try to load the rest onto flickr soon, but you know how work can get in the way. I think I need another weekend getaway soon…
looking up from paradise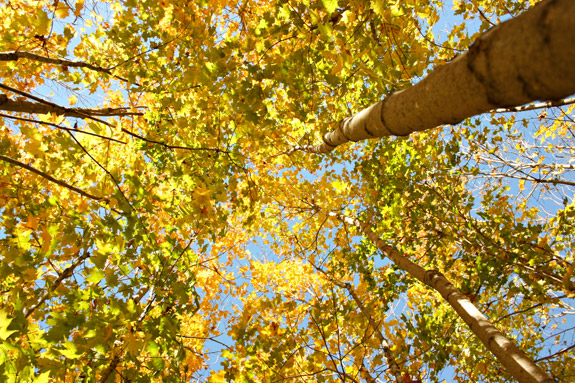 my favorite shy goat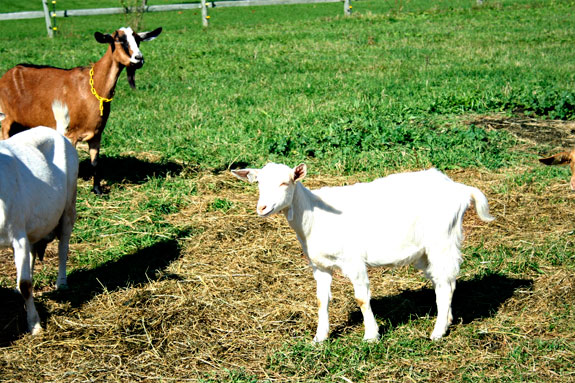 wild grapes