When I was a kid I was baffled by the cruel idea that anything full of flavor was supposed to be unhealthy. Never mind where babies came from, I was more concerned with philosophical questions like, why ice cream tastes better than my steamed broccoli? And until I developed an appreciation for veggies and the usual suspects, my nutrition primarily came in the form of Flintstones chewable multivitamins and vegetables strategically hidden in my food, something my mom was an expert at.
While I was in Italy this past winter I came across these curiously ugly cookies that stood out among the gorgeous layered cakes and tempting pastries. Not only were these cookies pretty ugly, but they weren't cheap either; and had it not been for the three consecutive customers that ordered them in front of me, I would have probably never discovered the wonders of brutti ma buoni, which literally translated means, ugly but good.
mise en place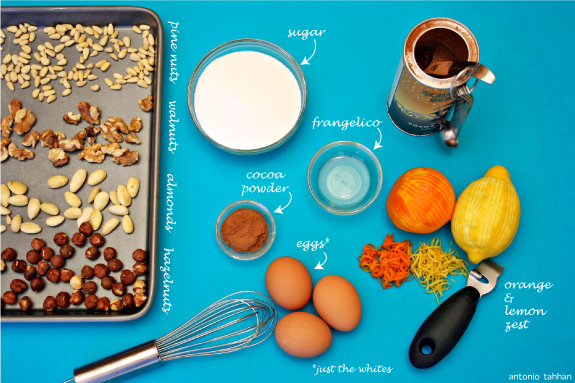 Imagine a decadent cookie that is crispy on the outside, chewy on the inside and has no added fat or flour! It sounds unnatural, almost sacrilege, but these traditional Tuscan cookies are pure genius. All their fat comes from the natural oils in the nuts and are they're cleverly held together by nothing more than beaten egg whites.
it's like magic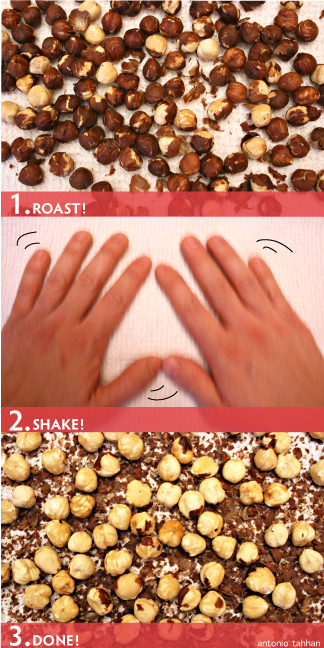 Traditionally, these cookies only had hazelnuts and maybe a few almonds, but I like the combination of the different nuts. You can use any combination you prefer as long as hazelnuts remain in the picture. The neat trick that I tried* to demonstrate via my 3-step diagram is to roast the hazel nuts in a 350 degree F oven for 15-20 minutes; then spread them over a clean kitchen towel, cover them, and rub them against each other. You'll notice some of the nuts are stubborn and hold on to their skins for their dear lives. The best (and most enjoyable) solution to this is to bake more than you need and eat the ones that don't cooperate.
crushed, but slightly coarse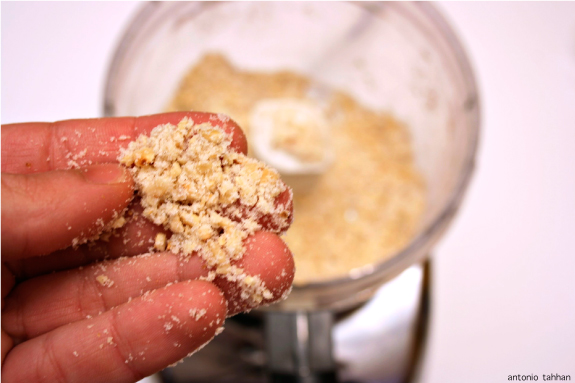 Before the days of shiny and pretty kitchen appliances, Italians would crush the nuts using a mortar and pestle and whisk their egg whites by hand. Sounds outrageous, right? But back then when you said you were cooking, you were really cooking. Today you can use what you want to get that same semi-fine texture on the nuts and stiff peaks on the egg whites.
mounds of nutty-chocolate goodness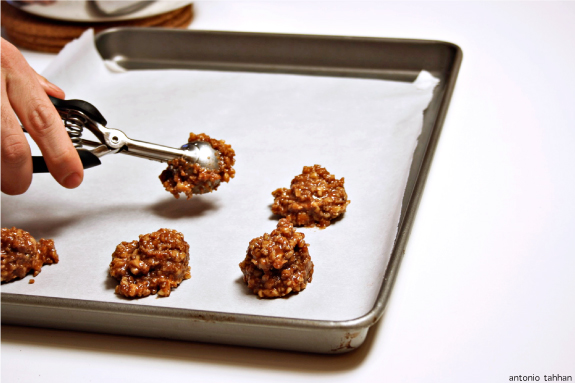 In order for the mainly egg white batter to come together, you have to cook it over medium low heat before baking it. Once the batter thickens you can scoop it onto a sheet pan and bake the cookies in the oven until they're crispy on the outside and crunchy and chewy on the inside.
a look inside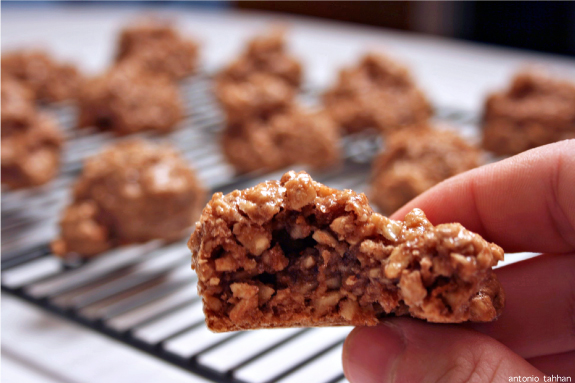 I don't think it's humanly possible to resist a freshly baked batch of cookies cooling on a rack. They're so soft and delicate at this point that eating them becomes effortless, which could be dangerous.
brutti ma buoni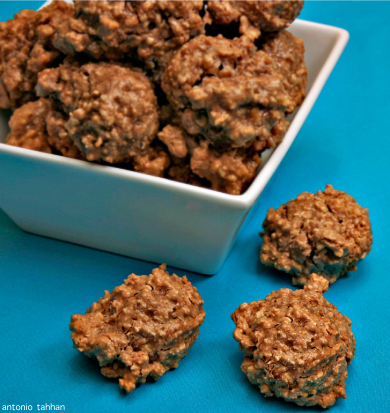 I wasn't joking around when I said these cookies were ugly! You can imagine how these stood out against their dainty neighbors on display at the patisserie. The traditional recipe doesn't even call for cocoa powder, but I feel like the chocolate/hazelnut combo is one that can't be passed up.
Although these cookies are probably healthier than your average butter/flour-saturated cookies, they're not an invitation for gluttony. These cookies still have plenty of sugar and should be eaten in moderation, like all foods. And that's precisely what I've come to realize since my veggie-avoiding years as a child. Flavor along with all its associated "unhealthiness" should not be avoided, but rather enjoyed in moderate amounts.
Brutti Ma Buoni
approx 18 cookies
Components
3 egg whites
1/2 cup hazelnuts, peeled
1/3 cup pine nuts
1/3 cup almonds, peeled
1/3 cup walnuts
zest of an orange
zest of a lemon
2 tsp frangelico (or any nut liqueur/extract)
1 tbsp cocoa powder, dutch process
1 cup sugar
pinch of salt
Putting them all together
Toast the nuts until golden brown and allow to cool.
Whisk the egg whites to a stiff peak.
Mix the nuts with the sugar and pulse in a food processor until you reach a semi-fine consistency.
Fold in all the ingredients into the whisked egg whites (carefully so as to not lose too much volume).
Preheat the oven to 300 degrees F.
In a medium sauce pan over medium-low heat, cook the mixture until slightly thick 20-25 minutes. This will yield a thicker batter that won't flatten out in the oven.
Line a baking sheet with parchment paper and bake the cookies at 300 degrees for 25-30 minutes or until dry on the outside and still slightly moist and chewy on the inside.
note: These cookies are perfect gifts for the upcoming holiday season. Pretty packaging for these cookies is a must, though.