I have no clue what it is about a couple slices of bread, some good quality cheese and a dab of fat that enables the humble grilled cheese to stand a chance in today's culinary colosseum, but it does. As much as I consider myself a foodie and lover of all things gourmet, sometimes I don't want fois gras topped with caviar and doused with fancy white truffle oil – no, thanks. Give me a couple grilled cheeses, a big bowl of soup and a Law & Order marathon (SVU or CI, of course) and I'm a happy camper. The star of this post is the ubiquitous grilled cheese and all the ooey, gooey, mouth-burning goodness that it brings to this world.
Judging from the loads of fall recipes overflowing our RSS feeds, and by the mere fact that it's no longer sunny all the time, fall is here. I'd be remiss as a food blogger not to share with you one of my ultimate culinary gems: Middle Eastern grilled cheese sandwiches.
mise en place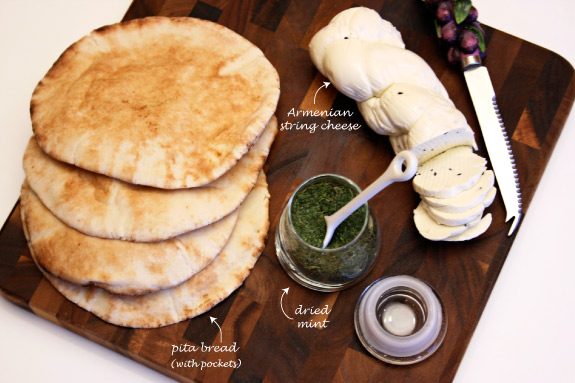 Before you click away frustrated because you don't know where to find Armenian string cheese, don't fret. These days you can find it in most major grocery stores, usually hidden away in their cheese department. Middle Eastern stores will also carry some if you happen to have any around your neighborhood. Some perfectly suitable substitutes also include Halloumi (Greek cheese), Queso Blanco (Spanish "white cheese") or any semi-firm white cheese.
Middle Eastern/Armenian String Cheese (جبنة مشلشلة)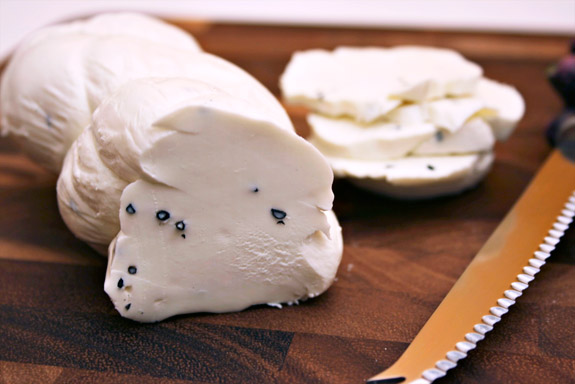 Now for those who are lucky enough find this cheese locally, this is what you'll likely get; a pearly white braided cheese studded with Nigella seeds, or حبة البركة in Arabic, which translated literally means "seed of blessing." In the Middle East this seed serves medicinal purposes and is even considered an anti-parasitic, hence its name. But its unique flavors alone are enough to win me over.
dried mint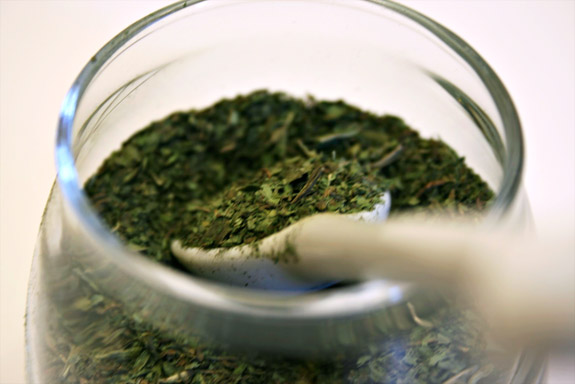 The second component of this Middle Eastern grilled cheese is the dried mint, which of course, also serves medicinal purposes. If anyone ever got a tummy ache, signs of a fever or any such symptoms in my house growing up, my mom would be there to make them one of these sandwiches alongside a mug of warm chai (Middle Eastern Tea). In short, these grilled cheeses are nothing short of amazing.
olive oil instead of butter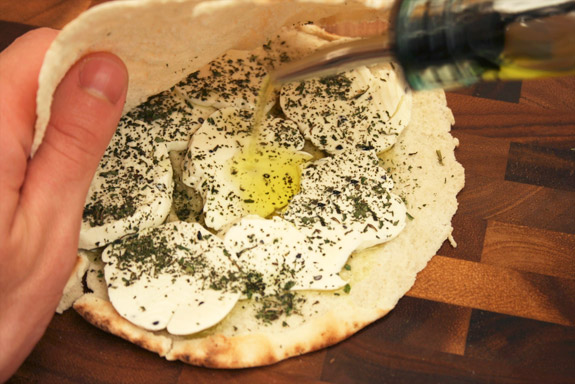 As most of you know, after Executive Culinary Order 2924-5, it is against the law for the preparation of a grilled cheese sandwich to go over the 5-minute prep mark. This variation is no exception. From the time your craving strikes to the time you're screaming in blissful pain because you anxiously bit in too soon, is less than 5 minutes – 4 if you practice.
perfect with hot tea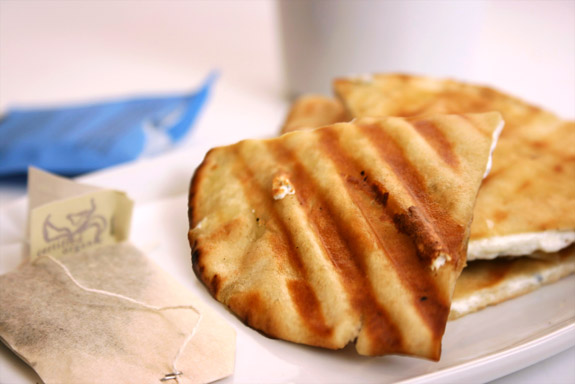 You absolutely do not need a panini press to make these sandwiches. Any method you've used in the past will probably work perfectly. Just be sure to make it under 5 minutes and don't burn your mouth.
Middle Eastern Grilled Cheese
makes 1 sandwich
Components
1 pita bread, with pockets
Armenian String Cheese*
dried mint
extra virgin olive oil
Putting them all together
Place the slices of cheese inside your pita.
Sprinkle with dried mint and drizzle with extra virgin olive oil.
Grill/broil/panini press until golden brown and cheese is melted.
notes: Whole Foods, Wegmans and other major grocery stores should have the Armenian string cheese. You can also look for it online or at any Middle Eastern market.
it's not a grilled cheese without stringy cheese