Post-graduation life is just not the same. No more midday naps nor staying up all night with friends. These days I'm glad if I make it to happy hour and back in time for a good night's sleep. I used to make fun of a recently-graduated friend of mine by calling him abuelito (grandpa in Spanish) because he would go to bed at a reasonable hour. I'm sure this is karma's way of poking fun at me.
One thing I don't skimp on though, despite my lack of time, is the food I eat during the week. Instead of procrastinating on the blog some more, I thought I would write about a typical workweek meal and throw in some of my cooking mantras, too.
mise en place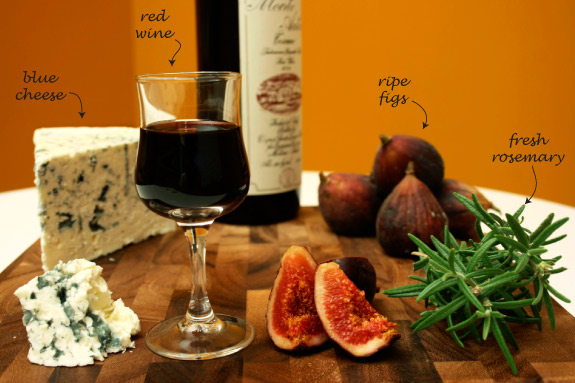 First of all, I really do mise en place for every meal. Even if I prep all my ingredients on the same cutting board to avoid a sink full of dirty dishes, I do mise en place. Why? Mostly out of habit, but also because it makes the actual cooking process more enjoyable and less stressful. Trust me, nothing is worse than being in the middle of cooking a wonderful meal and realizing you added salt to bananas foster instead of sugar. It's even worse to try to fix the horrible mistake by adding tons of sugar to an already ruined bananas foster. It's happened to me. So, yes, prep all your ingredients beforehand.
Last week I discovered a bunch of overly ripe figs in my fridge that I had purchased at the farmer's market a couple weeks prior. As you can tell by their wrinkly appearance, they were beyond sweet and perfect to contrast against something salty, say, like blue cheese. I don't believe food needs to be complicated in order to taste great. Food needs to be balanced and well seasoned. The flavors need to strike that perfect note in your mouth. Figs, rosemary, and blue cheese are three ingredients that form one of the classic culinary chords. I paired these ingredients into a homemade fig jam and used it as a stuffing for a delicious butterflied pork loin.
a perfect pairing: pork, figs, rosemary and blue cheese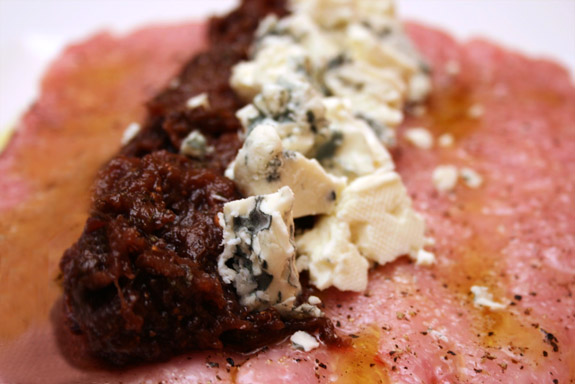 For this dish, I threw some figs, rosemary and red wine in a small sauce pan and let it cook down for almost an hour. You don't have to stand over your pot while the sauce reduces for an hour. I let the sauce do its thing and in the mean time I do other things: snack in the kitchen, pour a glass of wine, and unwind.
grill marks = flavor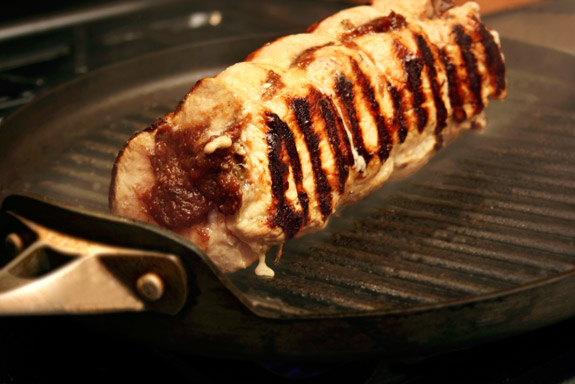 Never skip a good sear. Not only will it give the meat a head start before going into the oven, but it forms a nice crust that protects the meat from drying out on you. Sear the meat on all sides over the highest heat possible. Then it goes into a 400 degree oven until the meat reaches 160-170 degrees F or is opaque throughout and juices have a faint blush.
rosemary, fig & blue cheese pork tenderloin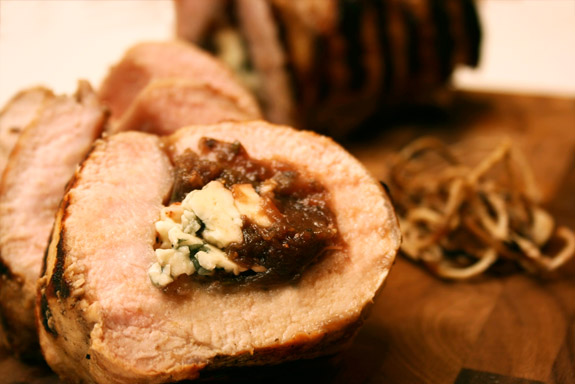 This meal lasted me for a few lunches at work. I alternated it with sides of wild rice, garlic roasted potatoes, and mashed potatoes to keep my lunches interesting.
Fig & Blue Cheese Pork Tenderloin
approx. 6 servings
Components
1 pork loin, butterflied
1/2 glass of wine
10-12 figs, quartered
1/2 lb blue cheese, crumbled
2 tbsp fresh rosemary, chopped
1 shallot, diced
2 cloves of garlic, diced
olive oil, extra virgin
salt & pepper
Putting them all together
In a small saucepan coated with olive oil, sweat the shallot and the garlic until translucent.
Add the figs, wine, chopped rosemary and seasoning and cook for 45 minutes to an hour, until it has reached a thick paste consistency and allow the paste to cool.*
Season the butterflied pork loin and line with fig paste and crumbled blue cheese. Tie the loin around the filling and sear on all sides.
Finish cooking the loin in a 400 degree oven until it has reached 160-170 degrees F or the meat is opaque throughout and the juices are have a slight blush.
Allow the meat to rest for 7-10 minutes covered by a sheet of aluminum foil before slicing.
notes: You can use dried figs and cook the fig paste for less time (this is what I most often do, in fact). Depending on the thickness of your meat, the cooking time will vary. Mine finished in the oven after 15 minutes, but a thermometer or the color of the meat is the best way to gauge proper doneness.