A few days ago, my cousin sent me photos from back in the day that I didn't even know existed. They were of my family's summer getaways in Venezuela, where we used to live before moving to the good ol' US of A. I spent hours looking through the photos – conjuring up memories I had stored away a long time ago. Granted, a lot of them were of me in speedos in Venezuela's many beaches; so I'll skip through those and share with you this one:
grandma, little brother and me (eating, of course).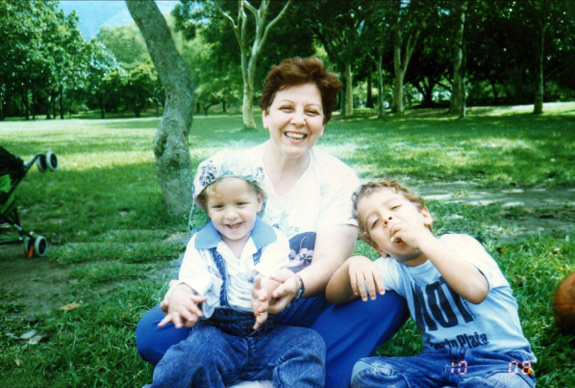 A lot of my Middle Eastern recipes are inspired by my grandmother who is as much a foodie as I am, if not more. She is still a private Middle Eastern caterer in Venezuela and on her visits to our house in Miami, she feeds everyone: family, friends, neighbors… repairmen. My friend Zarina, who met my grandmother for the first time this past summer, describes her as "a food machine." That summer, Zarina would often hear my grandmother waking up at 5am to start making breakfast and the rest of the meals for the day. A food machine, I tell you, and I'm proud to call her my sito (Arabic for grandmother — pronounced sit-toe).
mise en place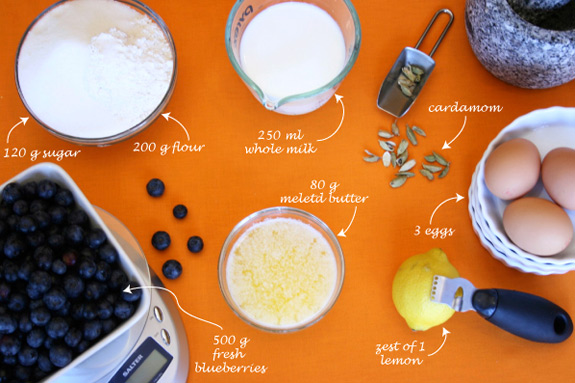 The funny part is that the day I received the photographs from my cousin, I was actually on a mission to figure out what to do with the all the leftover fruits from my fruit tarts. This is when I stumbled upon Fanny's post of her grandmother's cherry clafouti. Fanny has a sweet French food blog called foodbeam where she shares with the world her culinary treasures in her own retro fashion. Anyway, the moment I read the way Fanny idolizes her grandmother and describes the recipe for this custard-like pancake with a funny name, I knew I had to make it.
a match made in heaven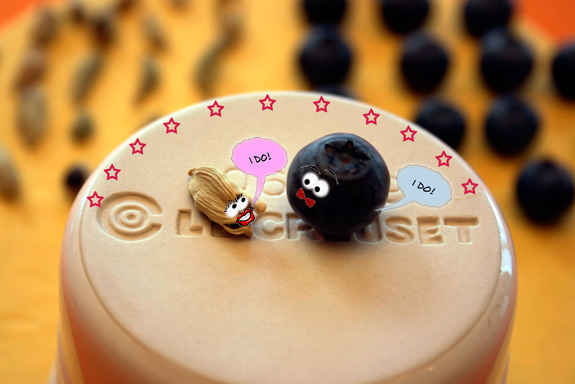 I didn't want to change the recipe too much, because grandma's do know best. I did, however, want to modify the flavors to pair well with the TONS of blueberries I was planning on using. For this, I relied on cardamom. The soothing lemony flavor that cardamom brings to the dish works great alongside the fresh flavors of the gushing blueberries.
a stream of melted butter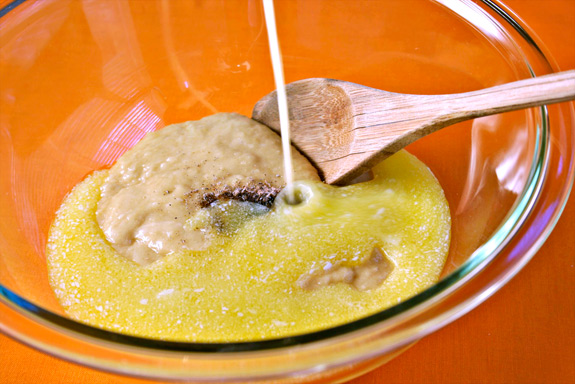 As this recipe is French, you'll just have to live with the 80g of butter that go into this dish. Trust me though, after the first bite you'll forget all about it. It's that good!
fresh summer blueberries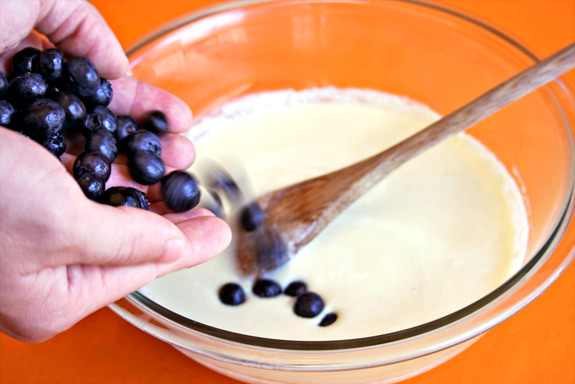 Plus, I'm an optimist, so I focus on the abundance of fresh fruits and antioxidants I'm supplying my body with every bite. 500g of fresh blueberries – 80g butter + 1 tsp cardmom – 120g sugar… I don't know how the math works out exactly, but like I said, you'll be too happy to even care.
blueberry-studded batter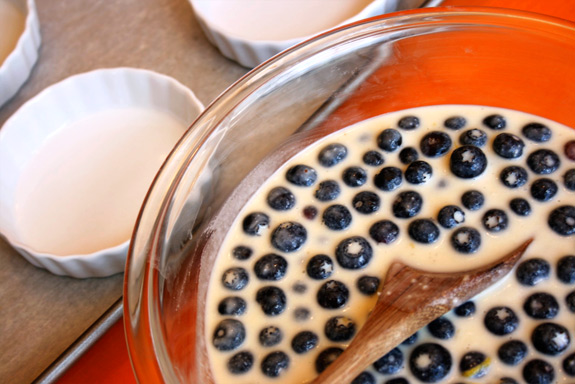 Another thing I fell in love with about this dish is the way the batter envelopes the blueberries while they bake in the oven. And one thing I forgot to take into account is that blueberries are less dense than cherries; so you need a lot more blueberries than cherries to come up with the 500g for the recipe.
blueberry cardamom clafoutis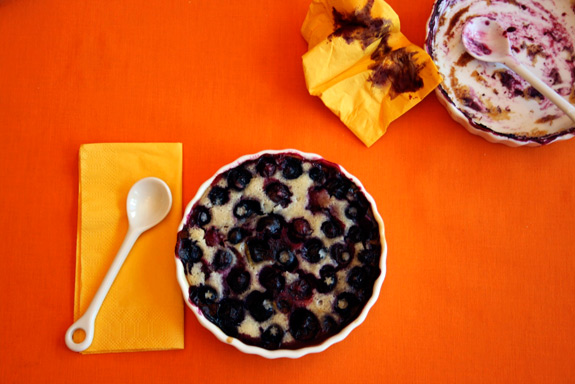 As I expected, I loved the clafouti! And I still can't get over how cool the name is; klah-foo-tee! Aaanyway, I still have more blackberries, raspberries, kiwis and strawberries leftover, so look out for another fruit post soon!
Blueberry Cardamom Clafouti
yields approx. six 4″ ramekins
adapted from Fanny Zanotti
Components
200g flour (≈1 3/4 cups)
120g sugar (≈1/2 cup + 2 tbsp)
a pinch of salt
3 eggs
80g butter, melted (≈ 3/4 stick or 6 tbsp)
250ml whole milk
400g blueberries
Putting them all together
Preheat oven to 400 degrees F and butter your ramekins.
Whisk together the flour, sugar and salt.
Mix in the eggs, one at a time, until smooth and then incorporate the melted butter.
Gradually mix in the milk so that no lumps form.
Add the blueberries and divide the batter into your buttered ramekins.
Bake for 25-30 minutes or until golden and a skewer comes out clean.
délicieux!