Aside from not having stable internet for an entire week, nothing irks me more than to have to deal with the providers to come fix the problem. The customer "care" service probably qualifies as some sort of psychological warfare/torture; what with the annoying elevator music loops during hold and the machine constantly reminding you, "you're call will be answered in the order it was received, please hold for the next available representative." It's enough to make any sane person go mad!
As I'm writing this post the internet problem has finally been resolved, but the past few days have not been pleasant. To help ease my discomfort, I turned to baking. I didn't want to make cookies or brownies… I needed something bright; something that would be sure to lift my spirits.
mise en place (dough)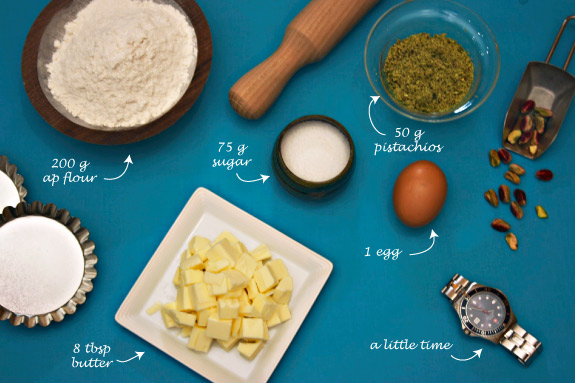 I needed fruit tarts. To me, plump berries and fresh fruits epitomize summertime. For the regular shortbread crust, I gussied it up with some finely ground pistachios. It takes away from some of the bland flour taste and adds a tasty nutty undertone. I brought those pistachios with me from Aleppo – a Syrian city internationally renown for its pistachios. Of course, once these babies run out, that doesn't mean I'll stop making this amazing nutty crust. High quality pistachios work just as well.
crumbly buttery flour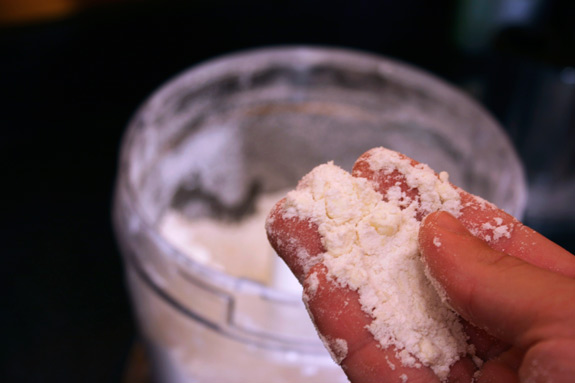 I use my food processor to form the crust because it cuts the butter into the flour perfectly. You pretty much want to end up with tiny beads of butter running throughout the flour. The dough will seem a bit dry, but that's perfectly normal. Once it just barely comes together, you'll want to wrap it in plastic wrap and throw it in the ice box to chill out for a bit.
poke, poke, poke!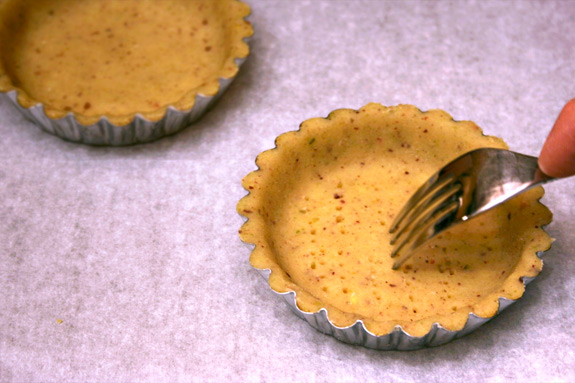 Once it's chilled you can easily roll the dough out into your favorite tart molds. I like these little ones because I could quickly convince myself to go for seconds since they're so darn tiny. Don't dwell on the amount of butter in the dough – just look at the pretty specks that the pistachios leave.
beans, beans their good for your tarts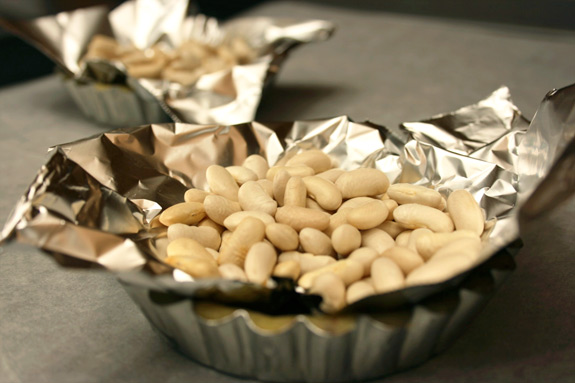 I couldn't resist with the title of this photo. After poking the dough with a fork so it doesn't rise while baking, throw some dry beans on top to secure the job. This will also prevent the crusts from browning too much while you're blind baking them. Now on to the pastry cream.
mise en place (pastry cream)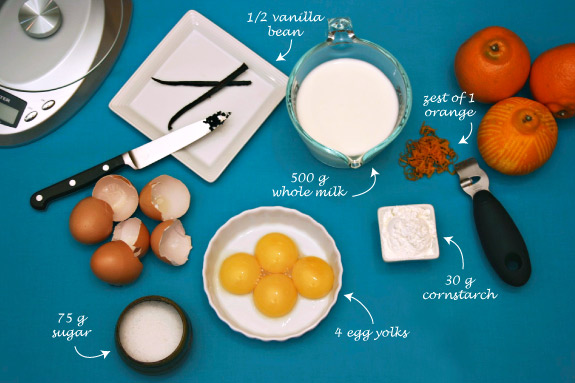 Pierre Hermé is a culinary genius. I adapted this pastry cream recipe from his collection and can say without a doubt that it is one of the best pastry creams I've made at home. I infused mine with some grated orange zest and a vanilla bean.
the possibilities are endless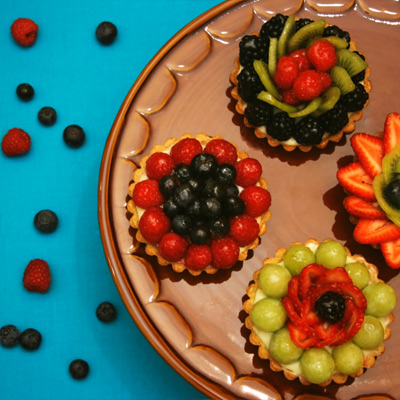 I usually don't like to toot my foodie horn, but these tarts were so yummy. I even went on to make another batch (this time with an almond-infused pastry cream) and they were all so good.
fruit tarts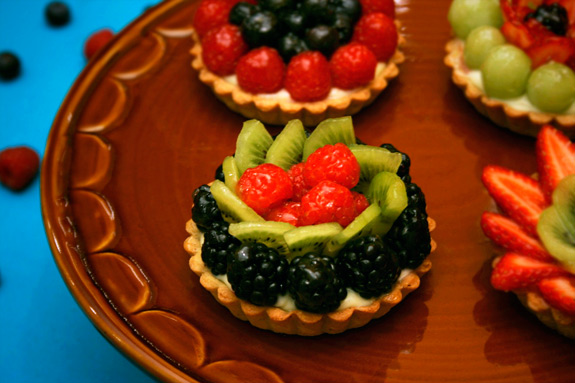 Part of the fun was assembling the tarts and coming up with neat little designs. You seriously can't go wrong with such pretty fruit, though. So make sure to make some fruit tarts (or anything with fruits) before summer's long gone. For the Ausies and Kiwis reading this post, sorry for the tease… soon your summer will come and we'll be the ones keeping warm with soups and stews.
Pistachio Infused Tart Shells
(yields approx. 6 mini tart shells)
Components
200 g all purpose flour (1 1/3 cups)
50 g pistachios, finely ground (1/2 cup)
50 g sugar (1/4 cup)
8 tbsp unsalted butter, chilled
1 egg
pinch of salt
Putting them all together
In a food processor process chilled butter and flour.
Add the rest of the ingredients and process until combined.
Although a bit crumbly, push all the pieces together, wrap in plastic wrap and refrigerate.
Once chilled roll out into tart mold, poke with a fork and cover with aluminum foil and weights (dry beans).
Bake in a 400 degree F oven for 10 minutes. Uncover (remove beans) and bake until golden brown.
Orange Infused Pastry Cream
(yields approx. 900 g)
adapted from Chocolate Desserts by Pierre Hermé
Components
500 g whole milk (2 cups)
4 egg yolks
75 g sugar (6 tbsp)
30 g cornstarch (3 tbsp)
zest of 1 orange, minced
1/2 vanilla bean
1 tbsp butter
pinch of salt
Putting them all together
In a medium sized bowl, whisk together yolks, sugar, cornstarch, orange zest, vanilla bean and salt.
In a small saucepan bring the milk to a boil.
Temper the yolks by slowly adding the hot milk to the yolk mixture while constantly whisking.
Strain the yolk and milk mixture back into the small saucepan. Bring back to a boil over medium heat.
Boil the cream for 1-2 minutes while whisking vigorously. Place the cooked cream into a clean bowl and chill it in an ice bath.
Once sufficiently chilled, cover with plastic wrap and store in the fridge until ready to use.
Notes:Make sure to whisk the cream at every step to avoid clumps. Stir the pastry cream occasionally while it's sitting over the ice bath so that it cools evenly. This will also help produce a silky smooth cream.
Mini Fruit Tarts
(yields approx. 6 tarts)
Components
6 pistachio infused tart shells
900 g orange infused pastry cream
fresh berries and assorted fruits
1/2 cup orange jam (any light colored jam works)
1 tbsp water
Putting them all together
Fill each shell with pastry cream.
Cover with assorted fruits (avoid watery fruits).
To get that pretty glaze on top, mix a bit of water into some light colored jam and heat in the microwave until smooth.
Glaze with a pastry brush and refrigerate until ready to eat.
Notes: Do not assemble too ahead of time to avoid the crust from becoming soggy.
Decisions, decisions… I was about to dig into this little tart with an equally little spoon, until I realized how portable they are. Needless to say, I put the spoon down and dug right in.
my favorite part