Are you a food blog junkie? Do you stop your friends from eating your culinary creations before they've been thoroughly photographed? Do you wake up and check your feed for new posts from your fave food blogs? Most importantly, have you made online foodie friends?
If you've answered yes to these questions, it must come at no surprise that you're a foodie.
foodie haiku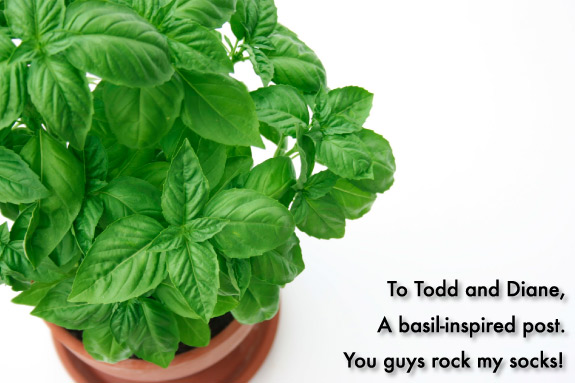 Last week, Diane and Todd from White on Rice Couple sent me the best graduation gift a foodie could ever ask for. It was a care package filled with a bottle of epicurean extra virgin olive oil, a hand-crafted wooden serving platter, exquisite dark chocolates, Vietnamese goodies and pretty party napkins that made for excellent shock absorbers during delivery. The gift also came right after they inspired me to plant my own herb garden (READ: 1 basil and 1 rosemary plant). This week, as you can tell, my basil plant is out of control. I pluck and it just keeps growing! So to show my thanks, I've decided to write a post using my homegrown basil and a couple of their gifts.
mise en place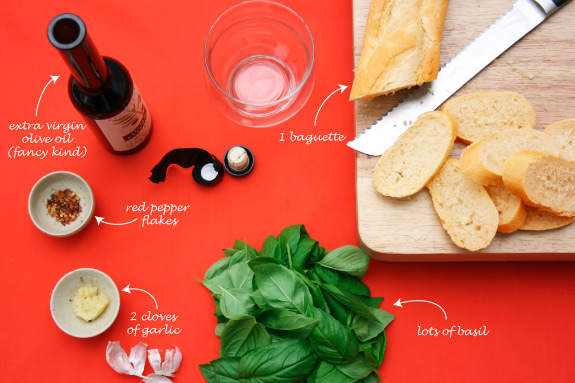 When I opened the bottle of extra virgin olive oil they sent, I was immediately taken aback by its bold fragrance. It was like sticking my nose up close into a big bowl of Mediterranean olives. This kind of oil is certainly not meant to go anywhere near heat and is perfect for salads and dunking bread. I opted for the latter choice, and went with a warm baguette from my local baker.
basil confetti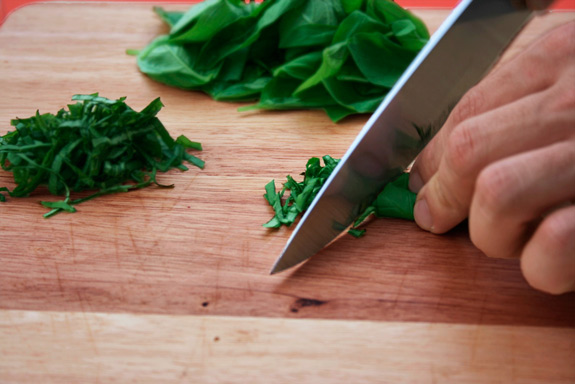 Infused oils is something my mom always makes for when guests are coming over. It's extremely simple and tastes even better when made a day in advance. This recipe is for a spicy basil-infused olive oil and it is by far my favorite variation from my mom's collection.
good quality extra virgin olive oil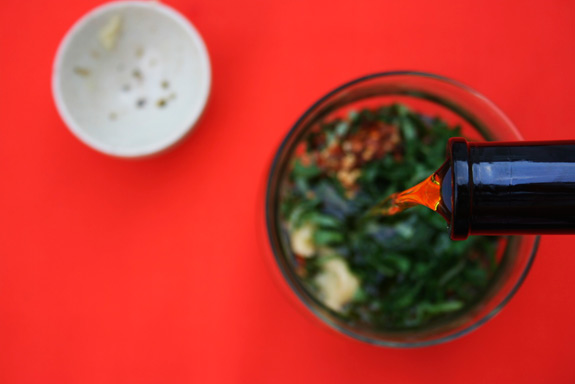 The oil is out-of-this-world! The minty subtleties from the basil play really well against the robust flavors of the unfiltered olive oil.
bread's best friend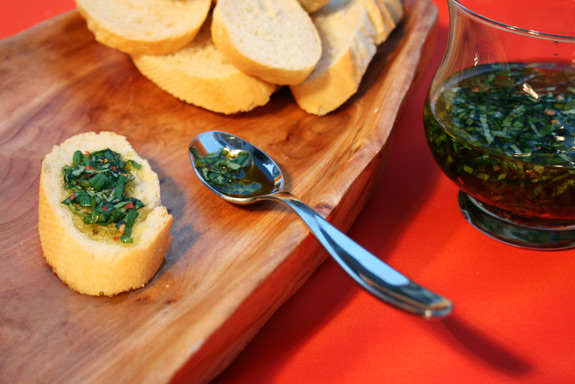 After the oil has had about a day to rest (overnight if you're too impatient), there's probably not much that wouldn't taste amazing with a little drizzle of this concoction. Seriously, drizzle this over some grilled chicken, spread some inside your sandwiches, heck, go at it with a spoon? OK, maybe that's a bit much, but that's not to take away any of its awesomeness.
basil-infused olive oil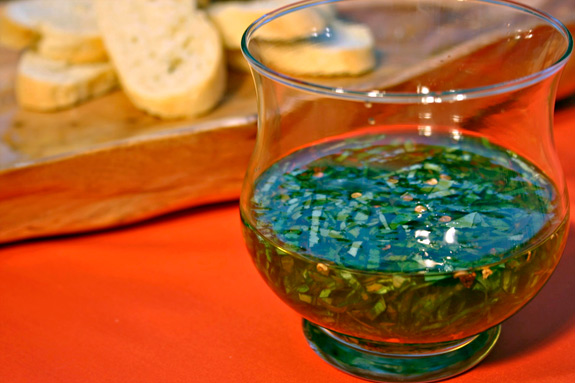 Thanks again, D & T for the amazing gifts! I'm looking forward to using the rest of the oil and the other treats you guys included. The chocolates were gone by the second day, but that was to be expected. You guys are the best!!
Basil-Infused Olive Oil
(yields approx. 300 ml)
Components
250 ml extra virgin olive oil, high quality
lots of basil leaves
1 or 2 cloves of garlic, minced
pinch of red pepper flakes
salt and pepper, to taste
Putting them all together
Chiffonade your basil leaves (i.e. make basil confetti)
In a pretty container, combine basil, red pepper flakes, garlic, salt & pepper and cover with the oil.
Cover with plastic wrap and allow the oil to sit over night.
Serve with bread (or anything, really) and enjoy.
Note: You can store the oil in the refrigerator, but make sure to bring it back to room temperature before using again. It is normal for the oil to congeal in the fridge.