It's summer. It's hot. And I'm all out of Ben & Jerry's Chunky Monkey ice cream (always a sad event). At the grocery store, I was tempted to simply pick up another one of their cartoonish pints and call it a day… but I didn't. What type of foodie would I be if I never make my own ice cream from scratch? For the longest time I didn't own an ice cream maker, so I didn't feel guilty in turning to my friends Ben and Jerry or their buddy Breyer for my ice cream cravings. Now that my machine finally arrived in the mail, I decided to get in the kitchen and give it a whirl.
mise en place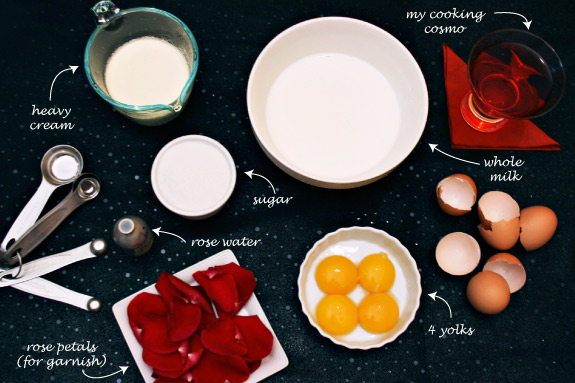 I came back from the Middle East with lots of goodies that would make any foodie swoon. One of my greatest treasures is a small bottle of pure rose water that I had bought at an Aleppan souq. Although ice cream isn't a traditional Middle Eastern dessert, Arabs make plenty use of their rose water. In fact, it isn't uncommon for ladies to dab some behind their ears and use it as a fragrant perfume. I, on the other hand, knew exactly what to do with my rose water!
cold yolks + hot cream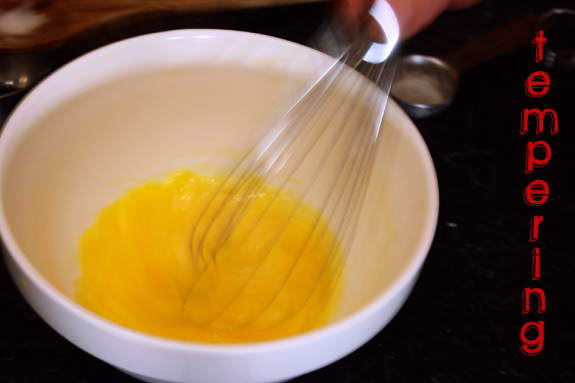 I aimed for an unadulterated rose flavor that wasn't too overwhelming, but that left a note of intrigue with every bite. To achieve this, I made a very simple ice cream custard out of milk, cream, egg yolks and sugar and added a 1/4 tsp of rose water at the very end (before pouring the mix into the machine). Depending on the brand and intensity of your rose water you might choose to add a bit more or less. Also note that the flavor will only intensify as the temperature drops, so make sure to add just shy of what your taste buds consider appropriate.
roses are red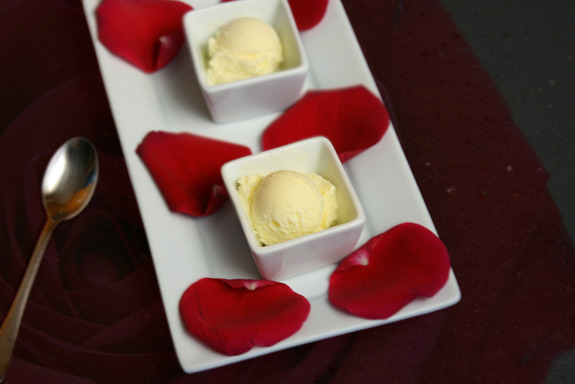 I don't particularly like adding red food coloring to my ice cream because I feel that it gives it an unnatural look. Sort of like that alien green color most brands use to distinguish their mint chocolate chip ice cream flavor. Hopefully this trend will change soon!
the perfect portions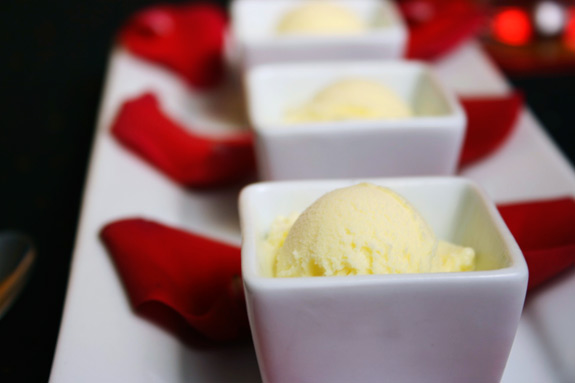 This ice cream hit home for me. Although the vehicle for the rose flavor was not traditional, the undertone of the rose water brought back memories of the delicate Middle Eastern sweets I enjoyed on my trip. With a bold flavor like rose, a small scoop is perfect for that post-meal indulgence or a refreshing snack. This is certainly not the type of ice cream you want pile into a massive bowl and eat your way through while watching a Law & Order marathon.
rose ice cream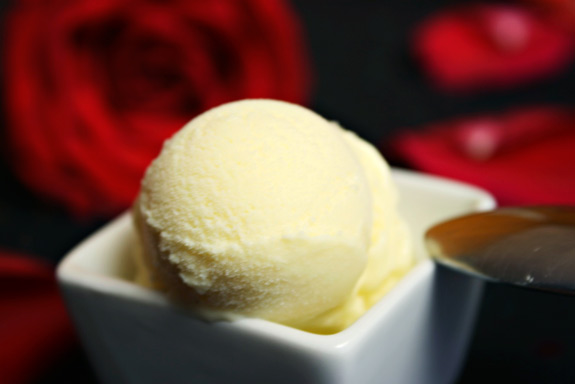 Granted, it does take some work time to crank out a homemade batch, but you will continue to reap the rewards for however long you can resist the ice cream sitting in the ice box. If you do make this flavor at home, consider sprinkling toasted pistachios or almonds on top. I tried it after having photographed these, and fell in love with the flavor combination.
Rose Ice Cream
(yields approx. 1 pint)
Components
400 ml milk
200 ml cream
125 g sugar
4 egg yolks
rose water, to taste
Putting them all together
In a medium saucepan, bring cream, milk and sugar to a boil.
Whisk egg yolks and continue whisking while slowly incorporating the hot cream mixture. This step is called tempering the yolks.
Strain the mixture and add back to the saucepan. Cook on medium heat until the mixture coats the back of the spoon.
Cool the mixture in an ice bath, add the rose water and pour into your ice cream maker.
Follow the instructions on your ice cream maker and store in the freezer until ready to eat.
sexy ice cream