As a blogger, I spend a substantial amount of time perusing other people's blogs. Being that I blog about food, I confess that I frequent the token food porn sites on occasion (read: tastespotting). Who can resist?! Perfect scoops of ice cream, decadent cakes, oh my! This weekend, however, I did – I resisted. I stepped away from my computer and celebrated the 4th of July with the rest of America.
Italy planted on my deck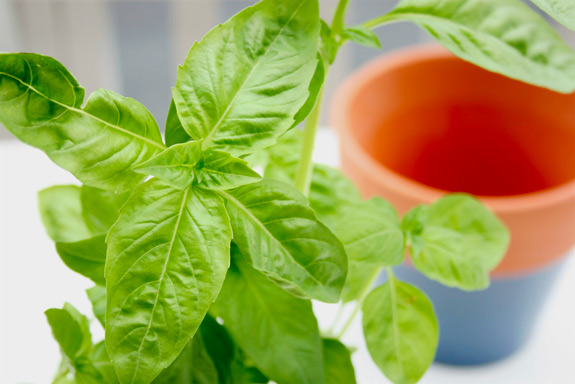 Once the 4th was over, I decided to continue enjoying the rest of my patriotic weekend outdoors. In fact, just the other day Peter, at Kalofagas, posted an entry that showcased his garden and the stunning array of herbs that he has at his disposal. Not only him, but Todd and Diane (aka White on Rice Couple) also have an outrageous garden that I swear has more fruits and veggies than my local farmer's market. Drawing inspiration from two of my favorite bloggers, I decided that this weekend I would start my very own garden. And without even signing on to my computer, I set out to buy my new plants.
the newest member of the family: upright rosemary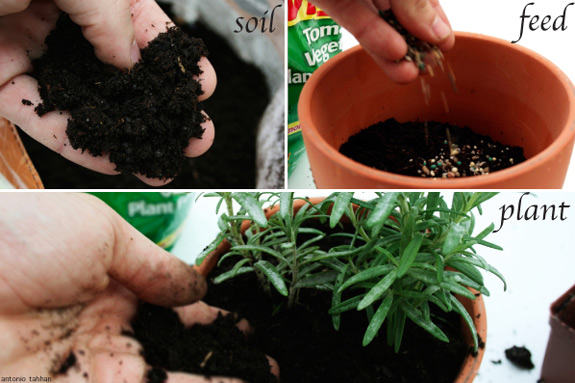 OK, so I don't have a full garden just yet, but I did start my mini-paradise with some sweet basil and upright rosemary. I'm not sure if using chemical plant food is absolutely necessary (or actually good for the plants), but the staff member at Home Depot convinced me that the plants wouldn't survive without it. So if anyone has any opinions about this stuff, I'd love to know.
freshly plucked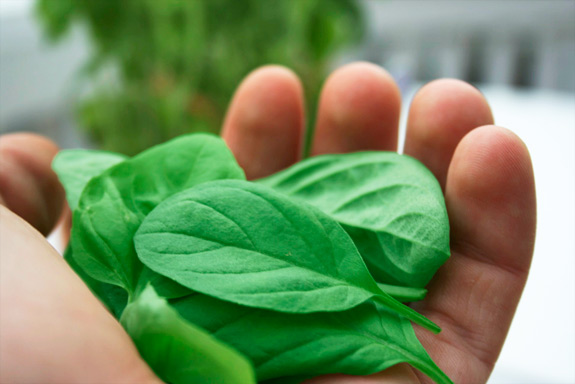 The fragrance that was coming from the herbs was intoxicating. Immediately after I finished my little project, my stomach was craving for some attention of its own. Since this was the 4th of July weekend, I had extra hot dogs sitting in my fridge that were screaming my name. And yes, I do eat hot dogs! Or at least doctored-up hot dogs…
mise en place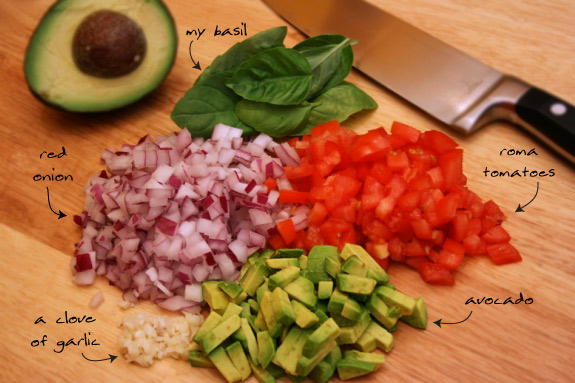 I gently plucked a few leaves off my new basil plant and went straight to the kitchen. I chopped up some onions, tomatoes, a clove of garlic and a spotty avocado I had laying on the counter. Everything came together with a drizzle of extra virgin olive oil a tiny bit of lemon juice. Some grated mozzarella completed the production and made for some killer dogs!
basil avocado relish on hot dogs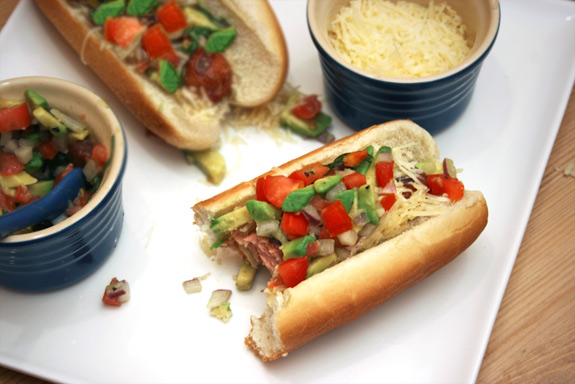 Basil Avocado Relish
(yields approx. 1 1/2 cups)
Components
1 small red onion, diced
4 roma tomatoes, seeded and diced
1 hass avocado
6-7 leaves of basil, rough chop
1 clove of garlic
drizzle of extra virgin olive oil
1 tsp. lemon juice
salt and pepper, to taste
Putting them all together
Toss all the ingredients together and refrigerate until ready to use.
Enjoy all summer long over hot dogs, in sandwiches or even as a dip for chips.