Thank you for all the wonderful emails and congratulatory comments on my Fulbright post. I have a feeling this is going to be an incredible culinary journey that I hope we can take together — you and me, traveling through Syria. It's going to be awesome. Just be sure to bring a hearty appetite (and definitely a pair of loose-fitted pants).
A few readers asked whether I will keep this blog or start a new one. My plan is to continue blogging here and tag my upcoming posts with a Fulbright tag for easy reference. Before I go abroad, however, since I can't cook a huge dinner to thank everyone for their amazing support, although this is what my grandmother would insist on, I decided to give away my mamoul mold instead; my small way of saying thank you. This is the same mold I used for these mini mamoul cookies a while back.
To enter in the drawing, simply leave a comment about your latest, favorite recipe. This is the theme of today's post. On September 15, before I fly to Syria, I will randomly select one commenter from this post and ship the mold to them, anywhere around the world.
traditional mamoul mold giveaway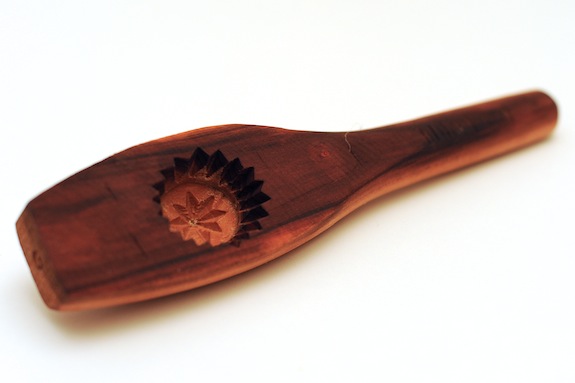 Even though I should probably be packing right now, I would feel terrible if I didn't tell you about this delicious granola I've been making. I've tweeted about it a few times, and last night I made my third batch in less than a week. It's so good, it makes me happy just writing about it.
I got this idea from Molly (via Twitter) after I posted a tweet about how much I love snacking on dates and almonds. She suggested I make a date and almond granola. I thought it was brilliant, so here I am, ready to pass on this gem of a recipe.
mise en place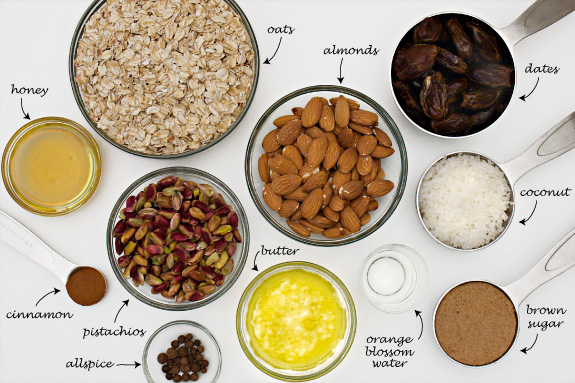 The original recipe comes from Epicurious, but I added my own Middle Eastern spin to it. I replaced the cashews with Aleppo pistachios (فستق حلبي) that I have in my freezer from a previous trip to Syria, and added a splash of orange blossom water to the mix. For my friends who are fasting during Ramadan right now, I think this would be a great recipe to prepare ahead of time for Suhoor (سحور). Suhoor is the meal that is consumed by Muslims at dawn, before fasting in daylight hours during the month of Ramadan. It is traditional to start Suhoor by eating dates as they are incredibly rich sources of energy and vitamins that help keep the body nourished throughout the day.
dates + almonds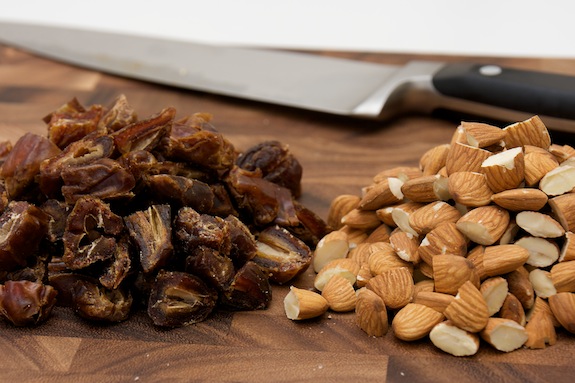 Chopping the dates and almonds is the only prep work necessary to make this granola. The rest is mixing ingredients together and baking them in the oven. This is part the recipe's appeal.
dry ingredients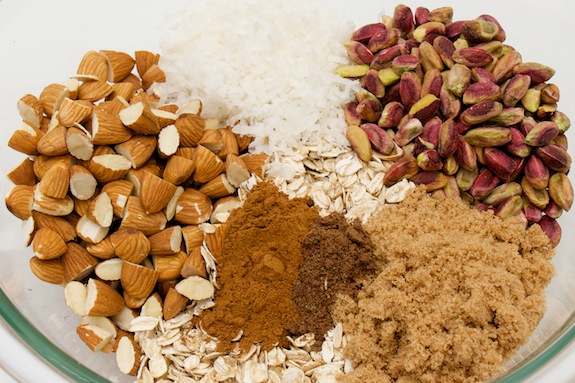 The dates get added later, half-way into the baking process.
honey, butter, orange blossom water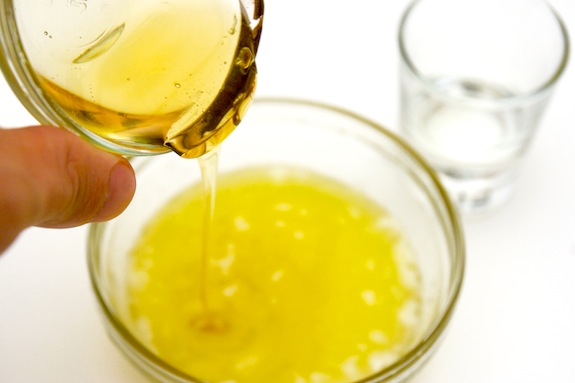 ready to bake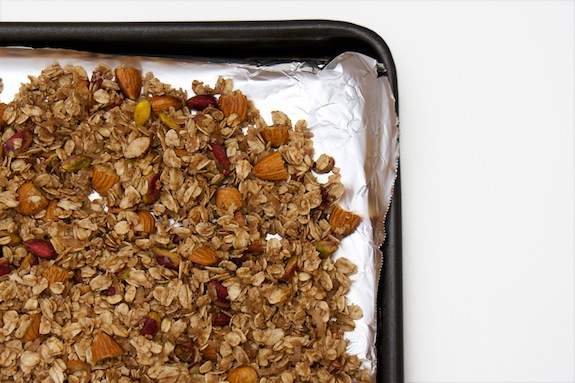 date and almond granola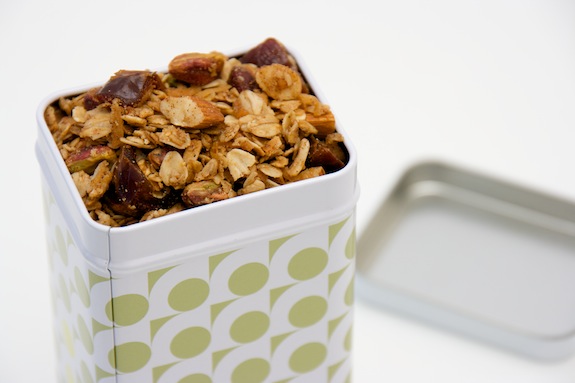 Date and Almond Granola
yields approx 6 cups
Components
2 cups old-fashioned oats
3/4 cup whole almonds, halved
1/2 cup sweetened flaked coconut
1/2 cup unsalted pistachios
1/3 cup (packed) brown sugar
1 1/2 teaspoons ground allspice
1 teaspoon ground cinnamon
1/4 cup (1/2 stick) unsalted butter
1 tbsp orange blossom water
2 tablespoons honey
1 cup (packed) pitted dates, each cut crosswise into thirds
Putting them all together
Preheat oven to 300°F.
Mix first 7 ingredients in large bowl.
Melt butter in the microwave and mix in the honey and orange blossom water, to combine.
Pour the honey and butter mixture over granola mixture and toss well.
Spread out mixture on baking sheet and bake 20 minutes, stirring occasionally.
Add dates. Mix the granola to separate any large clumps.
Continue to bake until granola is golden brown, stirring frequently, about 20 minutes longer. Let cool.
Notes: Recipe adapted from Epicurious. You can make this ahead and store in an airtight at room temperature for two weeks.
Although the granola is good on its own, my favorite way to enjoy it is sprinkled over a bowl of vanilla yogurt. The combination is heavenly. Enjoy!
best with yogurt